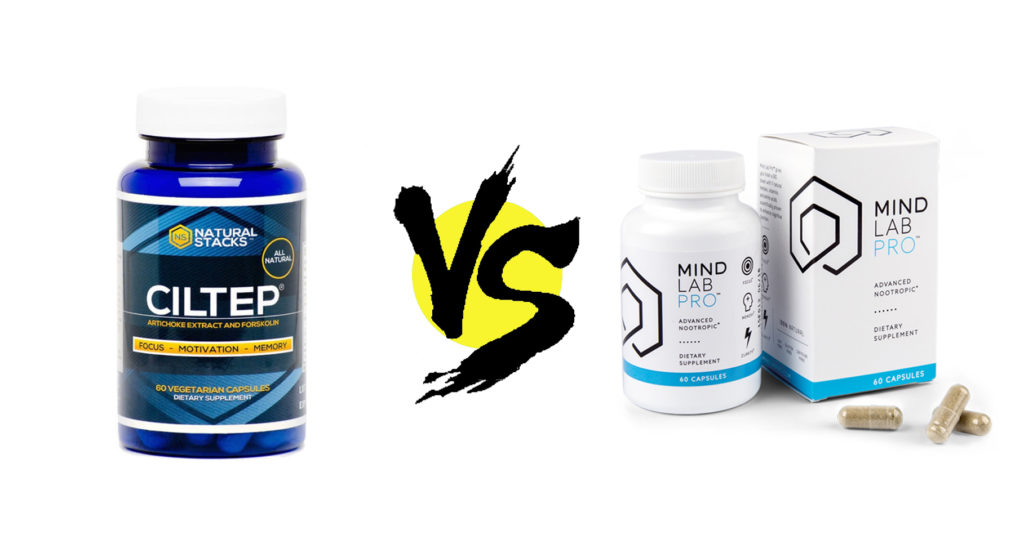 CILTEP vs. Mind Lab Pro is a no-brainer match-up: take both! After all, there's practically zero overlap between these formulas, with exception to vitamin B6, which, I mean like… don't we just urinate the extra B vitamins anyways?
Of course, if you're a major cheapskate like me, supplementing both of these supplements is way off the table. If I'm taking a pre-made manufacturers nootropic stack, it better be a one-and-done deal, supplying all of the nootropics I'll ever need for enhanced mental performance — and nothing less.
Let's read the CILTEP vs. Mind Lab Pro comparison review to see if either stack meets my extremely reasonable nootropic supplement standards.
Formula Design
CILTEP and Mind Lab Pro both provide cognitive benefits that I would deem "universal" (or at least pertinent to us nootropic junkies), but they take profoundly different approaches to cognition enhancement.
Essentially, CILTEP takes the straight and narrow approach to boosting one or two key components of healthy cognition, whereas Mind Lab Pro takes a straight and wide and diverse approach to raising the bar across the entire brain.
Or so their formula designs seem to indicate. But rather than take my word for it …well, uhm, you'll just have to take my words for it. (Words found below. Enjoy.)
CILTEP: Potent Long-Term Potentiation (LTP)
As opposed to the wide-reaching design of Mind Lab Pro, CILTEP focuses on essentially one brain bio-benefit: Long-Term Potentiation (LTP) — which is essentially the strengthening of neural synapses as a result of learning or practicing new behaviors (e.g., learning to play tennis).
Of course, LTP isn't something you can simply receive. Even with a supplement like CILTEP, you'll need to put in the work to achieve stronger neuron-to-neuron connectivity. Yet, CILTEP may enhance the LTP process with two of its ingredients:
Coleus Forskohlii – increases cAMP levels to facilitate better synaptic strength.
Artichoke Extract – inhibits PDE4, an enzyme that blocks cAMP activity.
This two-step approach to cAMP amplification may in turn boost the brain's LTP potential. And the remaining ingredients — L-Phenylalanine and Acetyl-L-Carnitine — well… they may assist with brain chemical and energy status; however, at least in the case of carnitine, the benefits won't manifest until you're way in your later years. Read my in-depth review on CILTEP.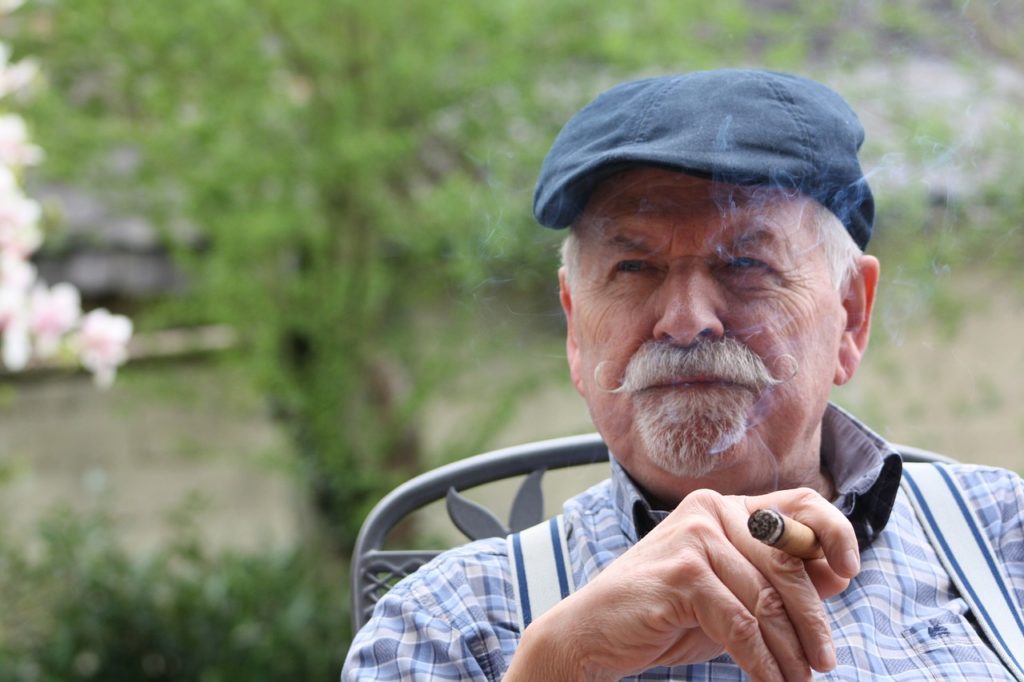 Mind Lab Pro: The Universal Nootropic Stack
CILTEP achieves universality by focusing on a brain benefit that benefits everyone… yet, you'll still need to stack more nootropic supplements with CILTEP to reach 100% optimized brainpower. Mind Lab Pro, on the other hand, earns the "Universal Nootropic" moniker by essentially targeting all of the brain pathways required for cognitive enhancement.
Specifically, those brain pathways include: Brain Energy, Brain Chemicals, Cerebral Circulation, Brainwaves, Neuroprotection, and Neuroregeneration.
And this all comes as a result of Mind Lab Pro's diversely crafted formula design. Instead of targeting one or two brain benefits with a few ingredients, Mind Lab Pro stacks 11 ingredients, each bringing their own unique bio-benefit to the table. (Or capsule — Plantcaps®, to be precise.) By casting a wide net on brain health and function, Mind Lab Pro delivers a formula that supplies something for everyone — if not everything for anyone.
And while Mind Lab Pro doesn't supply any cognitive stimulants — not even caffeine — the formula pairs well with such substances. (Seems worth mentioning to all you caffeine junkies out there.) Read my in-depth review on Mind Lab Pro.
Unique Features
With exception to vitamin B6, none of the nootropics in this comparison review are shared by CILTEP and Mind Lab Pro. And so each ingredient in each formula is a relatively "unique feature" to each supplement… which is why I'll be listing and describing all nootropics between CILTEP and Mind Lab Pro below. Tally-ho!
CILTEP
Artichoke Extract (5% Total Caffeoylquinic Acids) – Well-dosed extract of an ATP and cAMP protecting herbal nootropic. Pairs with the following ingredient.
Coleus Forskohlii (std. for 20% Forskolin) – Natural cAMP spiking extract, used by CILTEP in conjunction with Artichoke Extract for LTP enhancement.
L-Phenylalanine – An amino required for the synthesis of dopamine, epinephrine, norepinephrine, and other neurotransmitters — i.e., your feel-good catecholamines.
Acetyl-L-Carnitine – Somewhat of a staple ingredient in manufactured nootropic stacks, many supplements use ALCAR for its (ineffective — at least for the average healthy user) ATP energy boosting benefits. Yet, CILTEP seems to use ALCAR to protect against forskolin's potentially negative impact on acetylcholine activity. More on ALCAR.
Mind Lab Pro
B Vitamins (as BioGenesis™) – Quality B vitamin brand, supplying vitamins B6, B9, and B12 for healthier brain chemicals and brain circulation. More on B Vitamins.
Citicoline (as Cognizin®) – One-part choline donor, another part cytidine (uridine precursor) donor, citicoline is a powerhouse cholinergic nootropic with significant benefits on brain energy and regeneration. More on Citicoline.
Bacopa Monnieri (24% Bacosides) – One of the fuller Bacopa monnieri extracts of 2018, Mind Lab Pro's Bacopa supplies 9 bio-active constituents for greater memory and learning capacity. More on Bacopa Monnieri.
Lion's Mane Mushroom (Full Spectrum) – Another full spectrum nootropic, this one of the fungal variety. Lion's Mane seems to boost nerve growth factor (NGF), improving the brain's neuroregenerative properties. More on Lion's Mane.
Phosphatidylserine (as Sharp-PS® Green) – A key phospholipid for cellular membrane strength and fluidity, phosphatidylserine may improve cognitive longevity — and Mind Lab Pro went with the good stuff: sunflower-derived Sharp-PS® Green. More on Phosphatidylserine.
N-Acetyl L-Tyrosine – Many supplements go with standard L-tyrosine for their dopaminergic brain boosts. But N-Acetyl L-Tyrosine is the preferred, premium L-tyrosine option. More on L-Tyrosine.
L-Theanine (as Suntheanine®) – The same may be said of L-theanine: many supplements supply it but the Suntheanine® brand is a rare sight. Great for reducing anxiety and increasing calm focus. More on L-Theanine.
Rhodiola Rosea (3% Rosavins, 1% Salidrosides) – Most positive Rhodiola research studies the 3% rosavins, 1% salidrosides extract, which has been found to improve resistance to stress and fatigue. More on Rhodiola Rosea.
Maritime Pine Bark Extract (95% Proanthocyanidins) – A newer addition to the Mind Lab Pro formula, Maritime Pine Bark Extract seems to significantly reduce ADHD symptoms while enhancing the brain's antioxidant status.
Potency & Quality
There's quite a bit to appreciate on both sides of the aisle here. On the CILTEP side of the aisle, I'm seeing:
Easy-to-absorb vitamin B6 (as P-5-P)
Potent, powerful herbal extracts
Blood-brain barrier crossing aminos
And on the Mind Lab Pro side, I'm seeing:
Potent, powerful herbal and fungal extracts
Brands on brands on brands (e.g., BioGenesis, Suntheanine)
Clean, green Plantcaps® branded capsules
Altogether, CILTEP and Mind Lab Pro provide an impressive display highly potent, high quality nootropic ingredients that are packed into clean, vegan capsules. (Although, I'm not the biggest fan of magnesium stearate, listed on CILTEP's side as "vegetable stearate" — which may impair nutrient absorption… a potentially minor grievance on my part.)
Either way you go here, it's a win.
Value: CILTEP vs. Mind Lab Pro

Price
Servings
Price Per Serving
CILTEP
$42.95
20
$2.15
Mind Lab Pro
$65.00
30
$2.17
Depending on where you buy, CILTEP prices may vary — but they generally hover around the price listed above. Mind Lab Pro, on the other hand, only sells through Opti-Nutra, who provide a few order options, including: 2 Bottles for $130 (+ free shipping) and 3 Bottles + 1 Free Bottle for $195 (+ free shipping). However, single bottle to single bottle, CILTEP and Mind Lab Pro average out to similar price per serving values.
CILTEP or Mind Lab Pro: Which is better?
CILTEP targets Long-Term Potentiation.
CILTEP primarily targets LTP enhancement, potentially improving its users' abilities to learn information and skills quicker, with the secondary benefit of L-phenylalanine-powered mood boosts. It's a sweet, simple stack that, while questionably priced, showcases some impressively high quality nootropics. If you want all-around better brain performance, you'll need to stack more supplements with CILTEP. However, if it's LTP you're after, this works.
Mind Lab Pro targets 100% Brainpower.
Whereas CILTEP takes cAMP approach to LTP enhancement, Mind Lab Pro essentially covers everything else — minus all that synthetic stimulant mumbo jumbo. Mind Lab Pro is an impressively high quality nootropic stack that has (in my most humblest opinion) rightfully earned a positive reputation in the nootropic community. With only so many ingredients, Mind Lab Pro seems to work as many users' one-and-done cognitive enhancement stack, hitting all the right cognitive pressure points for all-around healthier cognition.
My Recommendation
Two somewhat equally priced nootropic supplements with vastly different formula designs and nootropic benefits. Which do you choose?
If you know exactly what you want, you go for the stack that meets your needs. It's as simple as that. (And, ironically, if you know exactly what you want, you don't need me to tell you my recommendation.) However, if you're struggling in your decision here, I'll offer you mind: Mind Lab Pro.
No doubt, CILTEP is a high quality nootropic supplement that gets a lot right, setting a positive example of how to do nootropic supplements right. But Mind Lab Pro simply does the whole nootropic thing more righter. And more righter is more better.
Mind Lab Pro > CILTEP
If you you'd like to learn more about Mind Lab Pro and other information on Mind Lab Pro's ingredients, hit the following link: Click here to learn more about Mind Lab Pro.