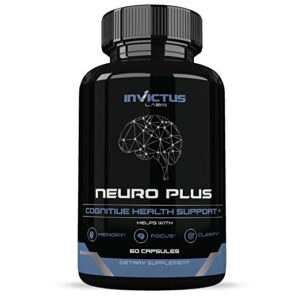 Neuro Plus isn't just like your other "neuro" cognitive health support supplements. It's like them… plus more — hence Neuro Plus, my friend.
Pretty clever, right?
Except what this really means is that Neuro Plus is exactly like other "neuro" cognitive health support supplements, even sharing the exact same formula as other supplement brands. And the "plus" portion comes in the form of… I don't know — having two capsules per serving instead of one?
I can tell you right now: I've reviewed other supplements that share this formula, and I didn't like those supplements. But, to be fair, I'll treat Neuro Plus as a single, standalone brain health stack, wiping the slate clean for the Neuro Plus review. And all you'll need to do at this point is read it. Enjoy.
About Neuro Plus
By Invictus Labs, Neuro Plus is a "Cognitive Health Support" supplement designed to improve Memory, Focus, and Clarity.
Neuro Plus' formula splits into two categories: 1) the vitamins and minerals, and 2) the proprietary blend.
That's right: there's a proprietary blend in this bad boy, which hides 10+ ingredients beneath a low, catch-all dosage.
If this review gives you déjà vu, it's because many supplement brands carry this exact same formula. Begging the question: who's the proprietor of that proprietary blend?
Neuro Plus Ingredients

Ingredients
Amount Per Serving
Vitamin A (as Beta Carotene)
2400 IU (48% DV)
Vitamin C (as Ascorbic Acid)
125 mg (417% DV)
Vitamin D (as cholecalciferol)
100 IU (25% DV)
Vitamin E (as dl Alpha Tocopheryl 50%)
30 IU (100% DV)
Vitamin B1 (as Thiamine Mononitrate)
3 mg (200% DV)
Vitamin B2 (Riboflavin)
1.7 mg (100% DV)
Vitamin B3 (Niacidine)
12.5 mg (75% DV)
Vitamin B6 (Pyridoxal Phosphate)
12 mg (750% DV)
Folic Acid Pure
400 mcg (100% DV)
Biotin 1%
3 mcg (3% DV)
Vitamin B5 (Pantothenic Acid)
12 mg (120% DV)
Calcium (as calcium carbonate)
20 mg (2% DV)
Iron (as Ferrous Fumarate)
1 mg (6% DV)
Magnesium (as magnesium oxide 58%)
50 mg (12% DV)
Zinc (oxide)
10 mg (67% DV)
Selenomethionine (Amino Acid Chelate 0.2%)
50 mcg
Copper Gluconate 13%)
52 mcg (3% DV)
Manganese (Sulphate 20%)
400 mcg (20% DV)
Chromium (Polynicotinate)
12 mcg (10% DV)
Molybdenum (Amino Chelate)
10 mcg
Potassium (Citrate 36%)
50 mg
Proprietary Blend
692 mg
DMAE Bitartrate (Dimethylaminoethanol), L Glutamine, Glutamic Acid, Green Tea Extract, Bacopa Extract, Choline (bitartrate), Inositol, N-Acetyl L-Tyrosine, Bilberry Fruit Extract, Gaba (Gamma Aminobutyric Acid) Grape Seed Extract, Grape Fruit Seed Extract, Olive Leaf, Cinnamon Bark Extract, Licorice Root Extract, Boron (Citrate), DHA (Docosahexaenoic Acid) 14%, Vanadyl Sulfate 19%, Phosphatidylserine 20%, Huperzine A
Serving Size: 2 Capsules
Servings Per Container: 30
Other Ingredients: Cellulose (Vegetable Capsule), Rice Flour, Magnesium Stearate, Silicion Dioxide
Directions: As a dietary supplement take two (2) veggie capsules once a day. For best results take 20-30 min before a meal with an 8oz. glass of water or as directed by your healthcare professional.
Neuro Plus packs a lot of ingredients in its 2 caps serving size. On a first impression basis, this doesn't bode well for Neuro Plus' final review. But I'm not one for first impressions. I'm here to take on the whole thing — piece by piece — so let's do that in the "Ingredients" portion of this Neuro Plus review.
Neuro Plus Review: Ingredients
Vitamins and Minerals
Overall, Neuro Plus supplies a total of 21 vitamins and minerals here, which might be a reasonable amount for a standalone multivitamin supplement… but for a nootropic cognitive enhancer? That's a bit much. And if the poor dosages on several of these ingredients are any indication, it's too much.
As far as cognitive enhancement goes, some of the vitamins and minerals may help, namely the B vitamins. These B vitamins work well with, say, L-tyrosine (which can be found below) in converting amino's to catecholamine neurotransmitters. However, the slipshop design of this formula's multivitamin portion casts plenty doubt on whether or not this stuff actually works.
Proprietary Blend
Because it's highly unlikely that every ingredient in this blend actually works, due to the overall low dosage of this proprietary blend, I'll only cover the ingredients potentially worth covering. Here goes:
DMAE (Dimethylaminoethanol) – An interesting first choice (I say passive aggressively), given that DMAE isn't the most promising nootropic compound. It may help improve cognition otherwise impaired by hyperactivity, but the research simply isn't quite there yet on this guy. More on DMAE.

L-Glutamine / Glutamic Acid – Another questionable ingredient. L-glutamine is the body's most abundant amino acid. Supplementing it may improve, or rather sustain, cognition following exercise, but as a standalone ingredient it barely, if even, qualifies as a nootropic. More on L-Glutamine.
Green Tea Extract – Green tea supplies a rich spectrum of neuroprotective and neuroregenerative antioxidants. Neuro Plus fails to describe the contents of this extract, but generally speaking green tea extract is a healthy choice.
Bacopa Extract – As one of the best herbal nootropics, Bacopa monnieri is a popular item among manufactured nootropic supplements. The Ayurvedic adaptogens seems to improve memory and learning by enhancing the brain's acetylcholine status. More on Bacopa Monnieri.
Choline Bitartrate – Speaking of acetylcholine, choline is the necessary precursor required for acetylcholine synthesis. However, choline bitartrate has a hard time passing the blood-brain barrier, which is why citicoline or alpha-GPC the preferred nootropic choline sources. Waste of capsule space here. More on Choline.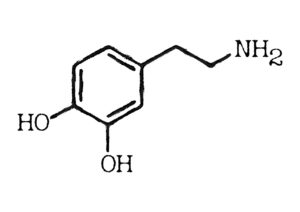 N-Acetyl L-Tyrosine – My preferred tyrosine form (NALT), potentially supplying significant mood and motivation support to this formula. Tyrosine converts to catecholamine neurotransmitters, sustaining cognition otherwise impaired by stress or sleep-deprivation. More on Tyrosine.
Grape Seed / Fruit Extract – My hope for these two extracts is that they supply pterostilbene, the more bioavailable form of the more popular resveratrol, a well-known grape and berry antioxidant. But, again, Neuro Plus fails to detail the contents of these extracts. More on Pterostilbene.
Phosphatidylserine 20% – As a key phospholipid in brain cell membranes, PS helps facilities cell-to-cell communication as well as neuron strength and integrity. Supplementing PS may increase cognitive clarity and longevity. More on Phosphatidylserine.
Huperzine A – Sourced from Chinese club moss (Huperzia serrata), this semi-synthetic nootropic drug improves cognition by inhibiting acetylcholinesterase, the enzyme responsible for breaking down acetylcholine. More on Huperzine A.
Neuro Plus Review: Weak Multivitamin Copy-Cat
"Neuro Plus is different because the ingredients are limited to the most effective research-based ingredients to bring you the best results." — this is a bold claim coming from Neuro Plus, considering that, well, Neuro Plus is absolutely not different.
For example, check out my Neovicta Clarity review. Notice anything different? Me neither, besides the fact that Neuro Plus at least doubles the serving size count to 2 capsules over Neovicta Clarity's 1 capsule formula design.
It's a strange thing, the use and reuse of this particular formula. And it's strange for a couple reasons:
Reason #1 – it's not a good formula.
Reason #2 – it has a "proprietary" blend… so, who's the proprietor??
Ever since I began tapping into the Amazon featured nootropic supplements, I've noticed many supplement brands sharing the same formula. And more often than not the formula's not all that worth sharing. To an extent, I can understand supplement manufacturers imitating well-designed formulas, such as Mind Lab Pro or Alpha BRAIN. But Neuro Plus' formula is pretty bad, sporting weak dosages and ineffective nootropics.
On the whole, there's not much to recommend here, despite the overwhelming quantity of ingredients in this "Cognitive Health Support" stack.
The Pros
A few ingredients do stand out in this formula, most notably N-Acetyl L-Tyrosine, Bacopa extract, and Pyridoxal-5-Phosphate (vitamin B6).
However modestly, the multivitamin portion may increase your brain nutrient levels.
Neuro Plus is one of the cheaper nootropic supplements of 2018.
The Cons
Neuro Plus supplies a formula that simply does not work. Or at least it doesn't work as it's intended — i.e., as a nootropic cognitive enhancer.
Proprietary blends are annoying. This proprietary blend is triply annoying for having an overall low dosage and being sold in other weak nootropic supplements.
Suspiciously positive Amazon customer reviews.
Pricing
$11.99 for 60 capsules, a 30-day supply
$0.40 per serving
The Amazon listing for this product gives Neuro Plus a "$0.20 / Count" measure, which is true for the price per capsule average. However, on a per serving basis, that number doubles to $0.40, which is still very cheap for a nootropic brain health stack.
Who Takes Neuro Plus?
By not committing to any particular target audience, Neuro Plus seems to be casting a wide net, hoping to reel any as many customers as it can from all walks of life. Having said that, the sleek design of the bottle seems geared towards the average, healthy, younger user… who likely wouldn't benefit much by this formula.
Where to Buy It
You can buy Neuro Plus through Amazon. Invicus Labs lists Neuro Plus on their website — however, following their Neuro Plus links will ultimately lead you to the Amazon order page. So, as far as I know, Amazon is the go-to spot for this supplement.
Read my Best Nootropic Supplements on Amazon.
Conclusion: Does Neuro Plus Work?
Not really. At least, I wouldn't gamble on it — even if I was only gambling $11.99.
At best, Neuro Plus might replenish some of your brain's nutrient levels with its multivitamin portion. However, even as a multivitamin supplement, Neuro Plus doesn't do enough to warrant a buy. So, it's "at best" is still pretty bad.
All-in-all, Neuro Plus reads like an overstuffed multivitamin with no heart or genuine passion towards boosting brain health. In other words, it's simply another cash-grab product not worth the cash it's grabbing. My recommendation: pass on this one. There are better nootropic supplements out there.
Final Rating
Formulation Strategy

Brainpower Benefits

Brain Health Benefits

Transparency

Quality

Value