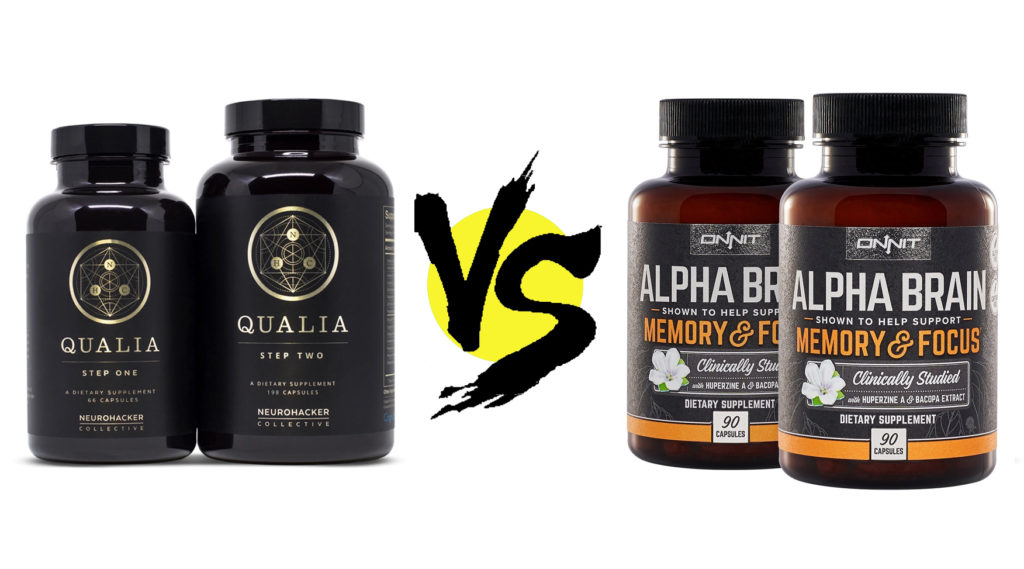 Qualia vs. Alpha BRAIN represents damn near the entire Periodic Table of Nootropic Elements, given that we're seeing over 50 ingredients between these two supplements. However, a majority of those items are coming from one end of this match-up, the Neurohacker Collective end: Qualia.
But bigger doesn't necessarily mean better, especially within the finite limits of a capsule. So, let's read the Qualia vs. Alpha BRAIN comparison review to see which product makes better use of its precious capsule space (that they're both charging a damn arm and leg for).
Formula Design
Qualia has one of the more unique formula designs in the nootropic game with its two-step stack attack on brain health. What's perhaps most unique about Qualia's formula design is that it works at all, considering the dosage and quality requirements of a 40+ ingredient formula.
However, Alpha BRAIN has been in the brain boosting game much longer. And not only that: Alpha BRAIN put in the extra effort to win its customers over, putting its formula to the clinical test. (Now, Qualia didn't do that!) But having said that, here's the real test: the Nootropic Geek test.
Let's get to it.
Qualia: The Original Two-Step Stack
The original Qualia stack, as opposed to the newer, simpler Qualia Mind formula, divides its formula into two separate nootropic stacks:
Step One – 3 veggie capsules taken first thing in the morning.
Step Two – 6 veggie capsules taken (with food) 20 minutes after Step One.
In the first stack, you'll find your get-up-and-go nootropics and energizers, such as caffeine (as Purenergy™), L-theanine (to offset caffeine's jittery side effects), and Rhodiola rosea (to reduce morning fatigue). It's an impressive 12-ingredient stack that's arguably better than the much larger Step Two, which includes contentious ingredients, such as Noopept and DHEA.
Why are these contentious? Noopept is a synthetic nootropic (albeit safe) that eliminates Qualia's all-natural appeal, whereas DHEA is a prohormone and a banned substance (for WADA tested athletes).
Yet, even with these contentious items, Qualia stacks up a mean nootropic brain booster with some of the best nootropic ingredients available. There are few steps Qualia misses with its two-step formula design. Read my in-depth review on Qualia.
Alpha BRAIN: All Natural, Clinically Studied
Similar to Qualia Mind vs. Qualia (Original), the newer Alpha BRAIN Instant is better than the original Alpha BRAIN here. But, frankly, I doubt the ultimate outcome would change much, if we were to replace either Qualia or Alpha BRAIN with their newer, improved formulations. So, let's stick to the original here.
The original Alpha BRAIN is a hugely popular nootropic stack, partly due to Onnit's success and awesome branding, partly due to Joe Rogan's powerhouse podcast. But strictly as a nootropic supplement, Alpha BRAIN does a fine enough job, splitting its clinically researched ingredients into three proprietary blends:
Flow Blend – that alpha brainwave flow, thanks to L-theanine and oat straw.
Focus Blend – cholinergic enhanced memory and (maybe) focus, but mainly memory.
Fuel Blend – vinpocetine for better brain circulation, and thus better brain nourishment.
Yet, it's hard to gauge the individual worth of Alpha BRAIN's nootropics, due to Onnit's use of proprietary blends in this stack. Thankfully, Onnit subjected Alpha BRAIN to clinical testing, at least reassuring us that this formula does something. Read my in-depth review on Alpha BRAIN.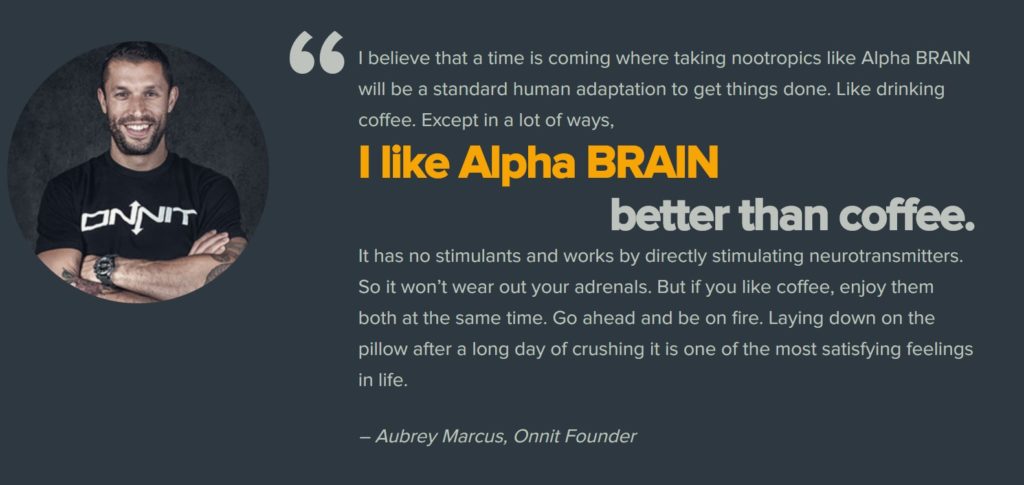 Unique Features
Considering that Qualia utilizes the whole periodic table of nootropic elements, there are few "Unique Features" to list on the Alpha BRAIN side. Yet, don't be fooled: a "few" is still better than none — especially if those few are big-time brain boosters. Let's see how Alpha BRAIN stacks against Qualia's super stack in this round.
Qualia
Noopept – Nullifying Qualia's "all natural" status, Noopept is a fast-acting synthetic nootropic with racetam-like effects similar to piracetam. Not a bad choice, yet it does come with tolerance buildup issues over time. More on Noopept.
DHEA – As a steroidal prohormone, DHEA had its moment of fame within the bodybuilding community, earning itself a spot on the banned substances list. Yet, it doesn't seem to do much good for anything …begging the question: why, Qualia?
Purenergy™ – Two-parts caffeine and pterostilbene, this quality brand of nootropic-enhanced caffeine energy is one of the better energy options for true nootropic nerds. More on Caffeine.
PQQ (as BioPQQ™) – A big-time antioxidant coming in hot as a big-time brand, BioPQQ is the real deal when it comes to PQQ-delivered neuroprotection. More on PQQ.
Citicoline (as Cognizin®) – My preferred nootropic choline source, citicoline outperforms other nootropic cholinergics with its two-part choline + cytidine delivery, of which the latter (cytidine) converts to uridine, a powerful brain-building compound. More on Citicoline.
BioPerine™ – Always a smart choice, BioPerine black pepper extract enhances a supplement's nutrient absorption capacity in tiny doses. So, like, why not add a little bit of da peppa — hmm??
40+ Ingredients – Qualia's stacks are action-packed, stacking over 40 ingredients between the Step One and Step Two formulas …for better or worse.
Alpha BRAIN
Cat's Claw (as ac-11®) – Only Onnit carries the ac-11® brand of cat's claw extract, an antioxidant heavy herb with potential neuroprotective benefits.
Oat Straw Extract – Wow, Qualia doesn't even have oat straw extract?? Alpha BRAIN does, and it's… well, it's a pretty good nootropic, supplying acute bursts of cerebral circulation and alpha brainwave boosts. More on Oat Straw.
L-Leucine – Sort of a question mark ingredient, yet Alpha BRAIN has it and Qualia does not. L-Leucine is an amino with (as far as I know) no known nootropic potential.
Pterostilbene – Qualia has pTeroPure™ pterostilbene bound to caffeine. Alpha BRAIN has the standard pterostilbene, an awesome antioxidant polyphenol. More on Pterostilbene.
Caffeine-Free – Alpha BRAIN has gone the cleaner, caffeine- and stimulant-free route towards cognitive enhancement.
Proprietary Blends – While Alpha BRAIN didn't go full-blown proprietary — i.e., hiding all of its ingredient dosages — they still went the proprietary blend route with their obscure Focus, Flow, and Fuel blends. Qualia didn't do that, Onnit!
Potency & Quality
Here's something wild: not only does Qualia have more high quality nootropics than Alpha BRAIN but Qualia has a higher concentration of high quality nootropics, meaning that Qualia's quality is better than Alpha BRAIN's even on a per ingredient basis.
This is both to Qualia's credit and as a result of Alpha BRAIN's corner cutting.
For example, here are a few corners Alpha BRAIN cut:
Vitamin B6 – should have been Pyridoxal 5 Phosphate.
L-Tyrosine – should have been N-Acetyl L-Tyrosine.
Herbal Extracts (Maybe) – these extracts may be powerful enough to get the job done; however, Alpha BRAIN fails to detail the content of these extracts. If they're awesome, let us know, broooos.
Qualia, on the other hand, doesn't cut any corners, supplying all of its nootropics in generally high quality, high potency formats. Several of the ingredients come in clinically researched branded forms, and the herbs are displayed as standardized herbs. As far as potency and quality goes, Qualia virtually gets everything right, whereas Alpha BRAIN leaves room for improvement.
Value: Qualia vs. Alpha BRAIN

Price
Servings
Price Per Serving
Qualia
$149
22
$6.77
Alpha BRAIN
$34.95
15
$2.34
Neither Qualia nor Alpha BRAIN impress much in the servings count category. This is partially why their "Price Per Serving" numbers are higher than your typical nootropic supplement. Although, Qualia's is exceptionally high, given Qualia's exceptionally high price tag. You may improve Qualia's price per serving, if you buy Qualia's subscription order option. However, Alpha BRAIN also has a "Subscribe & Save" option, so on all accounts Alpha BRAIN is the more affordable option here.
Qualia or Alpha BRAIN: Which is better?
Qualia stacks up a massive formula for a massive price.
No doubt, Qualia is one of the best nootropic supplements of 2018 — or at least it supplies many of the best nootropic supplements on the market. Some, including me, have taken issue with the overall ingredient count between Qualia's two-step formula, concerned that having too many nootropics may individually lessen the impact of each ingredient. Yet, Qualia seems to have successfully crafted a comprehensive brain booster that, if it works for you, may work as a one-and-done brain health stack. Which explains why Qualia is so damn expensive.
Alpha BRAIN has a cleaner, greener — albeit proprietary — formula.
In an effort to be a comprehensive brain booster, Qualia notches in a few unnecessary ingredients that may deter would-be customers. Alpha BRAIN keeps its brain boosts simple, tossing out the unnecessary stimulants and synthetics for a cleaner, greener brain boosting experience. Unfortunately, Alpha BRAIN also goes the proprietary blend route with its formulation, obscuring important information from the consumers — important info such as: what are the ingredient dosages? Yet, there's a reason Alpha BRAIN remains one of the more popular nootropic options: Alpha BRAIN delivers awesome brain-optimizing nootropics that enhance the brain for both long- and short-term performance.
My Recommendation
So, here's the thing… I'm going to give you my recommendation here on which supplement you should take between Qualia vs. Alpha BRAIN. However, my recommendation doesn't exactly align with my personal preference.
Between Qualia and Alpha BRAIN, I recommend: Qualia.
It's an impressive nootropic super stack that clearly knows and understands how nootropics work, and the Neurohacker Collective team seems dedicated to sharpening their product, as indicated by Qualia's newer and improved Qualia Mind addition. Yet, Qualia is expensive as hell. And the Qualia Mind option isn't much better. And, frankly, I feel I can concoct a workable DIY nootropic stack that delivers many of the same key benefits found in Qualia.
So, while I don't personally take Qualia on the regular, it's clearly the better option here. Assuming it's within your price range. If it's not (which is likely the case for most nootropic enthusiasts), then Alpha BRAIN is still an awesome option. (And the even awesomer option: Alpha BRAIN Instant.) So, we're sort of looking at a win-win here, however you spin it.
Qualia > Alpha BRAIN