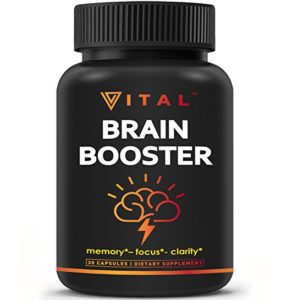 Vital Brain Booster isn't simply a brain booster. It's a vital brain booster, meaning that it's absolutely essential to your survival — i.e. it's VITAL!
But, of course, it's not actually. Well-crafted supplements are designed to supplement a healthy lifestyle and diet. They are supplementary.
But, of course, having said that… a well-crafted supplement is (in my opinion), on some level, vital to an enhanced lifestyle. To go above and beyond, you'll need supplementary boosting action. So, the question here is: Is Vital Brain Booster a well-crafted supplement?
Well, we'll need to read the Vital Brain Booster review to find out!
About Vital Brain Booster
Vital Brain Booster is a, well… brain booster that promises to boost three cognitive measures: Memory, Focus, and Clarity.
A sizable 300 mg Bacopa takes up the bulk of this formula, fulfilling the "memory" health claim.
Affordable — while the ingredients are of decent quality, the price is reasonable. Not too shabby.
Vital Brain Booster Ingredients

Ingredients
Amount Per Serving
Vitamin B-12 (as Methycobalamin [sic.])
500 mcg (8333% DV)
Bacopa Monnieri Extract (whole plant)
300 mg
Phosphatidylserine (20%)
100 mg
Ginkgo Biloba (24% Ginkgo Flavone Glycosides) (leaf)
100 mg
Rhodiola Rosea Extract (Salidroside 3%) (root)
50 mg
DMAE (Dimethylaminoethanol Bitartrate)
50 mg
Serving Size: 1 Capsule
Servings Per Container: 30
Other Ingredients: Gelatin (capsule), Rice Flour and Vegetable Magnesium Stearate. ALLERGEN WARNING: Contains soy (lecithin)
Directions: Take 1 capsule daily preferably with meals or as directed by a healthcare professional.
Vital Brain Booster may lack creativity in its name, yet the ingredients are fairly spot on… for the most part. First impression. Let's get the second, third, and forth impressions out of the way before giving my TOTAL formula analysis below. Check it:
Vital Brain Booster Review: Ingredients
Vitamin B12 (as Methylcobalamin) – Solid dosage (500 mcg), correct form (methylcobalamin is better than cyanocobalamin). Vital Brain Booster's B12 isn't a bad addition, particularly for the B12-deficient older folk and vegans. More on Vitamin B12.
Bacopa Monnieri Extract – As a legendary Ayurvedic adaptogen, Bacopa may assist with stress levels, as well as boost memory and learning. However, you'll need to supplement this baby daily for a few weeks to achieve peak Bacopa brain benefits. More on Bacopa Monnieri.
Phosphatidylserine (20%) – Soy-derived phosphatidylserine, this key phospholipid plays an important role in brain cell membrane structure and fluidity. Supplementing PS may improve brain cell-to-cell communication and neurotoxin removal. More on Phosphatidylserine.
Ginkgo Biloba Extract (24% Ginkgo Flavone Glycosides) – Ginkgo is an ancient herb, potentially dating back to the dinosaur days. And while Ginkgo bears an association with dinosaur (i.e., elderly) health, the herb seems to also benefit healthy, young nootropic users by enhancing their working memory. More on Ginkgo Biloba.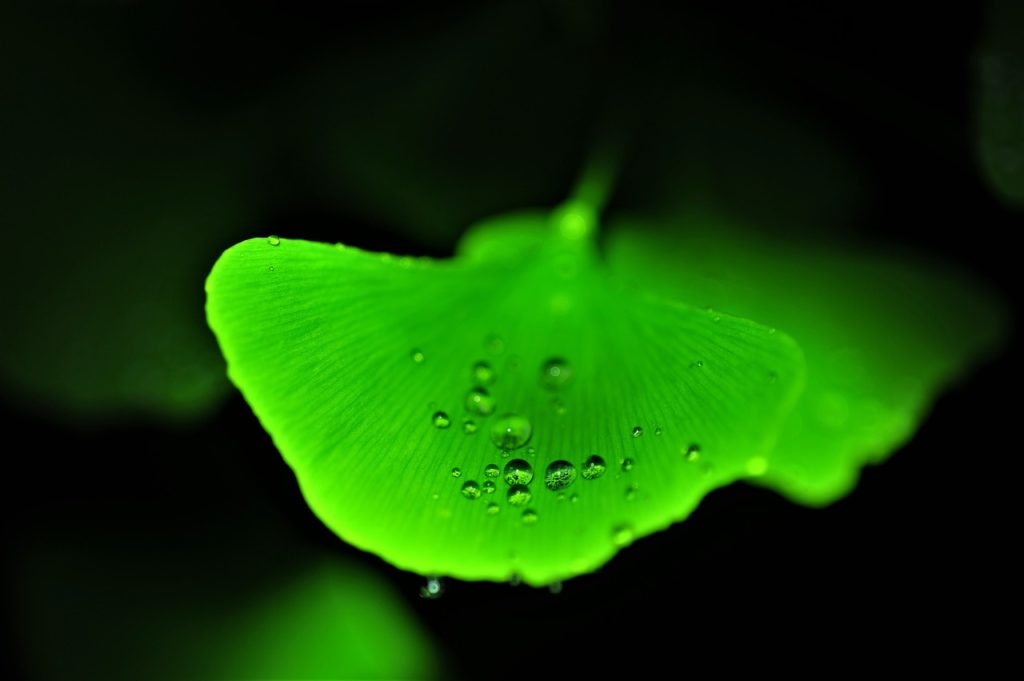 Rhodiola Rosea Extract (3% Salidrosides) – Arguably* my favorite herbal adaptogen. (*I argue with myself all the time, intensely.) Rhodiola helps bolster the brain and body's defenses against cortisol stress while reducing the negative effects of fatigue. The result: clearer thinking for longer. More on Rhodiola Rosea.
DMAE (Dimethylaminoethanol Bitartrate) – Sort of a strange addition here. Often supplemented as a beauty compound, DMAE holds marginal nootropic value, potentially improving cognition affected by hyperactivity. Not too sure this will do much for the average, healthy user, though. More on DMAE.
Vital Brain Booster Review: Short, Simple, Subtle Stack
The key word here being: subtle. And I get it: "subtle" is often a euphemism for "ineffective" when it comes to nootropic supplements. However, I'd like to make a brief case for subtly here, as I think Vital Brain Booster's subtle cognitive benefits are actually coming from a good, effective place.
The not so subtle counterpart to Vital Brain Booster would be the caffeine-laden, stimulant-heavy mental performance enhancer. Everyone enjoys this type of cognitive enhancement for a few reasons, such as: it feels good, it works quick, and… it feels good.
Yet, the caffeine-laden, stimulant-heavy boosters often come with negative, jittery side effects that may counter-productively impair cognition and mental performance, if taken in large enough dosages.
Vital Brain Booster, on the other hand, only slightly feels good, in that special "Ah, I can think purdy good now" sort of way — as opposed to that of the flushing dopamine rush variety. For example, Vital Brain Booster's Rhodiola doesn't increase energy so much as decreases fatigue, the latter of which feels good but in a more subtle way than the former. And, frankly, it's the simpler, subtler feel good that I prefer, as it isn't followed by the post-energy crash.
Many stimulating supplements claim "no-crash" results. Vital Brain Booster actually delivers "no-crash" results.
Having said all that, Vital Brain Booster is perhaps too subtle for my tastes. (Which, I guess, is euphemistic for "Vital Brain Booster" isn't as effective as I'd like.) And this is due to the supplement's somewhat meh dosages. Granted, this issue can be easily remedied by doubling the daily serving size …but then you're also doubling the product's price.
But, of course, that's not a problem, if you're loaded AF like me. (That's a lie. I'm poor AF.)
The Pros
Vital Brain Booster mixes healthy brain boosting nootropics for more subtle "no-crash" cognition enhancement than your usual stimulant-based stack.
For the most part, the ingredient quality is above average — e.g., the herbs are in potent extract forms, B12 is methylcobalamin…
Vital Brain Booster is one of the more affordable nootropic options of this quality on the market, allowing you to potentially double down on the daily dosages (which I recommend).
The Cons
Without doubling the dosages, Vital Brain Booster's effects are perhaps too subtle, due to dosage concerns.
Not too sure why Vital Brain Booster invests in DMAE. Could have used that 50 mg for, say, more Rhodiola Rosea, a more effective nootropic herb.
Rice flour isn't my favorite thing to see in a supplement's "Other Ingredients", given that this is useless capsule filler (perhaps further explaining the poor dosages in this formula).
Pricing
$19.99 for 30 capsules, a 30-day supply
$0.67 per serving
If you buy Vital Brain Booster through Amazon, you may order the Subscribe & Save option, saving you 5% per bottle price — or 15% per bottle, if you're subscribed to 5 products or more. Not the worst idea, if you're a frequent Amazon shopper and a frequent Vital Brain Booster user.
Who Takes Vital Brain Booster?
It's hard to say by the customer reviews, which all generally describe a positive "increased concentration, increased focus" experience. Essentially, anyone whose work output may improve by cleaner, clearer focus and concentration may enjoy this product's subtle boosts on cognition.
Where to Buy It
You can buy Vital Brain Booster through Amazon and Vital Vitamins online store. Buying through the latter also grants you a Subscribe & Save option to save 15% on each bottle per month.
Conclusion: Does Vital Brain Booster Work?
Vital Brain Booster promises a "Brain Fuel Complex in one convenient capsule" and provides more or less that. However, the one convenient capsule only provides so much "Brain Fuel Complex" — in my opinion, not enough brain fuel for most of you to feel satisfied.
Doubling the daily dosage may help with this. But then you're essentially halving the value of Vital Brain Booster, which (again, in my opinion) isn't up to par with other supplements that you could buy for twice the price of Vital Brain Booster.
Having said that, it's not a bad nootropic option. It does seem to do what it promises: provide brain fuel. I'd rank Vital Brain Booster as one of the more honest brain health supplements on the 2018 market. Frankly, it's cheap enough that I'd recommend at least giving it a try, if you're on the fence. You can do much, much worse than this bad boy.
Final Rating
Formulation Strategy

Brainpower Benefits

Brain Health Benefits

Transparency

Quality

Value

Average