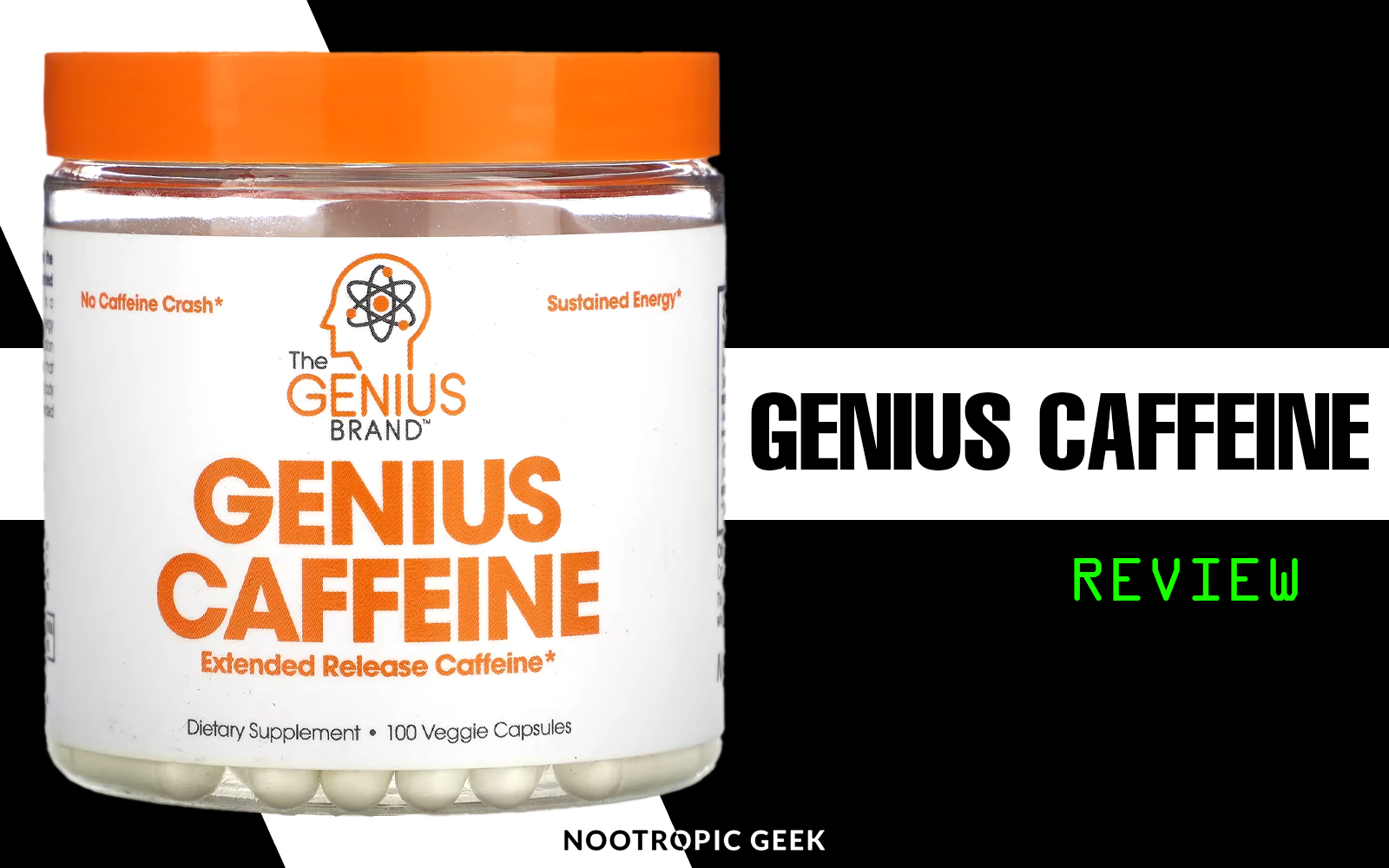 Summary: Genius Caffeine Review
For about fifteen bucks, you get 100 capsules of 100mg of extended release caffeine. That's a great deal. Caffeine pills are notoriously scummy, as far as nootropic supplements go, but Genius Caffeine does the caffeine pill right. Granted, you won't find any of the other nootropics that go best with caffeine: L-theanine, L-tyrosine, etc. But you will find a lot of caffeine at 15 cents per serving.
Hit the following link to learn about my favorite nootropic supplements:
About The Genius Brand, Genius Caffeine
By The Genius Brand, Genius Caffeine is a caffeine pill supplement that (surprise surprise) supplies caffeine.
The caffeine is sold as "extended release" for "smooth, long-lasting energy," which is debatable; although the caffeine here is quality and effective.
All in all, at the low price and high serving count, Genius Caffeine is a great value supplement, as far as caffeine pills go.
Genius Caffeine Ingredients

Ingredients
Amount Per Serving
Vitashure™ (Microencapsulated SR Caffeine) (providing 100mg of caffeine)
167mg
Serving Size: 1 Vegetable Capsule
Servings Per Container: 100
Other Ingredients: Hypromellose (Capsule), Cellulose, Organic Rice Hulls, Ascobyl (Vitamin C) Palmitate
Directions: As a dietary supplement, take one (1) capsule up to three times a day with meal.
Genius Caffeine's formula supplies… caffeine! This should be a quick and easy review.
Let's take a look under the hood of this bad boy.
Genius Caffeine Review: Ingredients
Vitashure™ Microencapsulated SR Caffeine: Okay, so Genius Caffeine doesn't just supply caffeine but rather supplies "an innovative controlled-release, micro-encapsulation" caffeine that theoretically takes longer to digest than regular ol' caffeine, thereby lasting longer throughout the day. This doesn't quite pan out, as I'll detail below, but it does ramp up the energy and focus as caffeine does. The 100mg dose here is solid, especially at 100 capsules per bottle. More on Caffeine.
Read My Best Sleep Supplements List
Genius Caffeine Review: Does Extended Release Caffeine Work?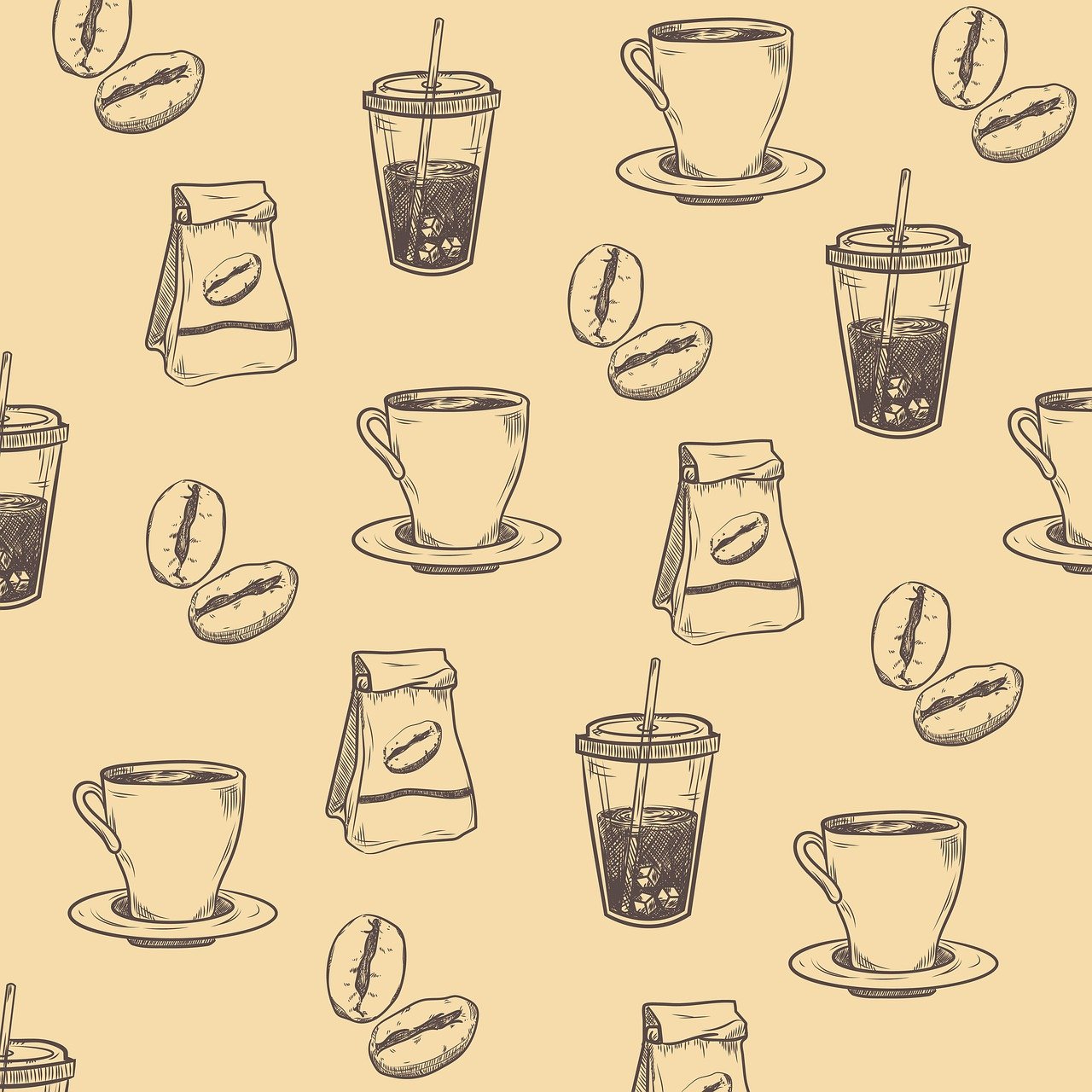 Let's get straight to the point: no, extended release caffeine doesn't work.
This is easy to verify by simply taking any supplement that promises "extended release caffeine" for "smooth, long-lasting energy." Essentially, what Genius Caffeine feels like… is caffeine. The kind of caffeine rush you can expect with a pre-workout supplement supplying 100mg caffeine per serving.
I've long been skeptical of the "extended release" promise of supplements like Genius Caffeine. And research seems to validate this skepticism, as suggested by this study on caffeine vs. time-release caffeine supplementation:
In the study, while it was observed that time-release caffeine had a more stable, sustained effect on plasma concentrations of caffeine over time (versus the earlier spike in plasma concentrations with regular caffeine), the subjective and metabolic differences were insignificant.
Essentially, whatever differences there are between extended release vs. regular caffeine, they don't manifest in any noticeable, meaningful sense. When you hear "smooth, long-lasting energy," the expectation is something more akin to the effects of smart drug stimulants, like adrafinil. This obviously isn't the case with caffeine.
Having said that…
Despite how negative that all sounds, Genius Caffeine is a good supplement. Or rather it's a good caffeine pill, so long as you remove any expectations attendant on the "extended release" promise here.
In fact, Genius Caffeine is a really good supplement, when you take into account the price, which is about as affordable as it comes for a caffeine pill ($0.15 per serving). If you ignore the hype and settle with the fact that this is simply a good, clean caffeine pill, you'll be happy with Genius Caffeine.
Read My Best OTC Adderall Alternatives List
The Pros
Easily, the biggest pro for this supplement is the value (see: PRICING below). Especially considering how expensive coffee is getting, you really can't do much better than the $0.15 per serving on offer here.
Caffeine is often a crutch in the nootropic supplement game, but Genius Caffeine delivers exactly what it promises: a quality source of caffeine in a clean, effective capsule.
The Cons
The "extended release" concept makes sense but doesn't quite pan out in terms of both research and experience. It's more of a marketing gimmick, even if it does reasonably connote "quality" as far as caffeine pills go.
It's hard to argue against the pricing here, though it is easy to argue against a caffeine pill that only supplies caffeine. Adding some nootropics would make this formula actually impressive and worthwhile.
Pricing
$14.99 for 100 capsules, a 100-day supply
$0.15 per serving
Great cost per serving. The price gets even better when you hit the Subscribe & Save option, which gets you a 20% discount.
Who Takes Genius Caffeine?
Brainiacs with busy schedules who don't want to wait in line at Starbucks or for their coffeemaker to brew before they start their day. The extended release is certainly appealing to anyone who wants a one-and-done source of daily energy.
Where to Buy It
You can buy Genius Caffeine virtually anywhere: Target, Walmart, Amazon, etc. etc., as well as The Genius Brand online store.
Conclusion: Does Genius Caffeine Work?
Yes, Genius Caffeine works, because caffeine works. But does the "extended release" aspect of this work? Not really.
If what you're looking for is a simple caffeine pill with caffeine and nothing else, Genius Caffeine has exactly what you need. And at 15 cents per serving, you really won't find anything better at a comparable price.
15 cents per serving?? Very nice.
Personally, I prefer my caffeine with a few complementary nootropics — at least L-theanine and L-tyrosine — however, you can easily stack Genius Caffeine with other nootropic supplements, as I imagine many will do with this formula.
Read My Best MCT Oil Supplements List
Final Rating
Formulation Strategy

Brainpower Benefits

Brain Health Benefits

Transparency

Quality

Value