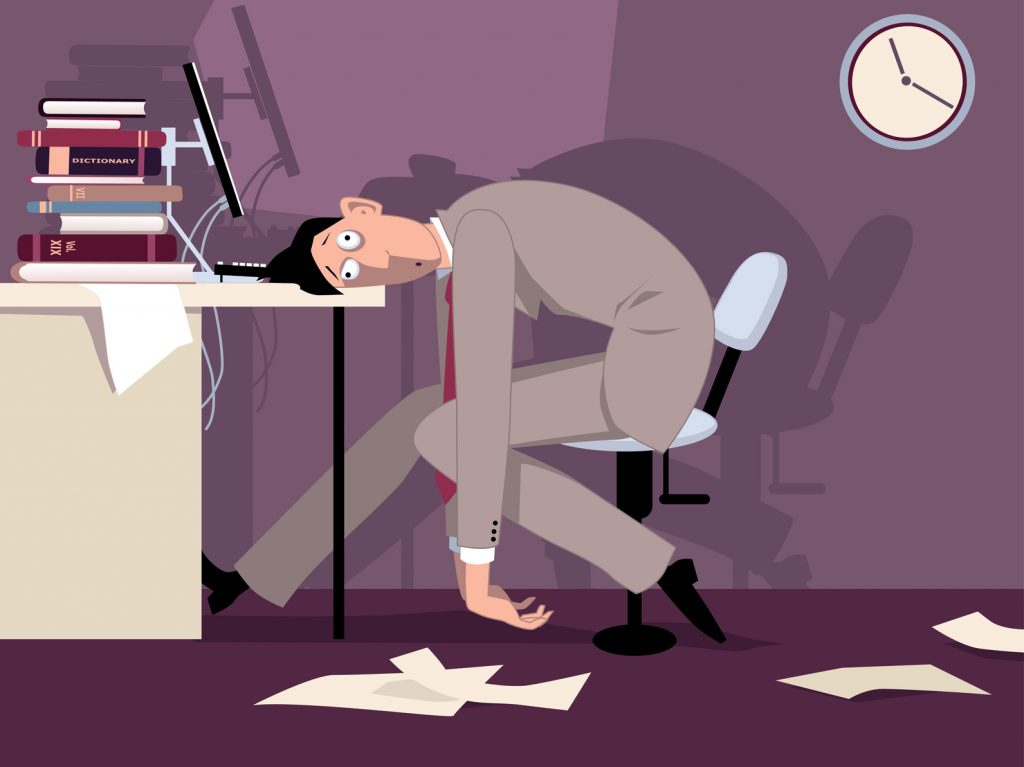 Smart drugs reliably enhance productivity, yet with an important caveat:
Productivity isn't always, well… productive.
You pop an addy, get the dopamine flowing, feeling good, and next thing you know hours pass you by as you: A) grind through an entire catalog of Rainbow Six: Seize ranked strategy YouTube videos, B) explain the harrowing complexity of climate change with sorta-friend-sorta-stranger on FB, C) count every hair follicle on your body.
Fortunately, adrafinil isn't as extreme as its pharmaceutical counterparts… but I'm also not sure its benefits are worth the costs.
TL/DNR: Adrafinil is a wakefulness-promoting agent that works by metabolizing into modafinil, the true nootropic structure of adrafinil & a prescription-barred cognitive enhancer. While adrafinil is legal to purchase, it remains  WADA banned substance for competitive athletes as a PED stimulant. Plus, compared to modafinil, adrafinil seems to be more harmful on the kidneys.
How Adrafinil Is Supposed to Work
Here are the essential basics of Modafinil vs. Adrafinil:
Modafinil, or Diphenylmethylsulfinylacetamide
Modafinil (brand name: Provigil) is a eugeroic, or wakefulness-promoting agent, used for the pharmaceutical treatment of sleep disorders, e.g. narcolepsy, excessive daytime sleepiness, sleep apnea, etc. The off-label use of modafinil generally involves enhancing cognition and is illegal, unless accessed by prescription. Due to modafinil's accessibility issues, a lot of recreational smart drug users turn to:
Adrafinil, or Diphenylmethylsulfynyl-2acetohydromaxic acid
Viewed as the "legal" version of modafinil for slightly different structure & easy accessibility. The legal status of adrafinil is earned by a super-duper nifty little metabolic trick: Adrafinil essentially shares the same structure as modafinil, with exception to one slight difference, and that structure becomes bio-active in the body once the body metabolizes adrafinil into modafinil.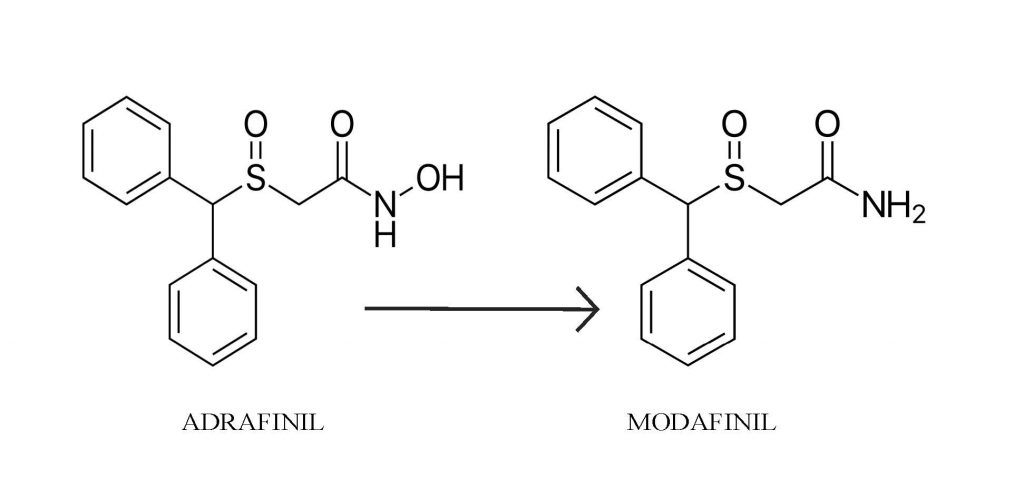 Basically, adrafinil catabolizes into modafinil, legally delivering the same illegal bio-effects of modafinil. Thus begging the question: What the hell??
Laws can be very dumb, but whatever. I won't argue against the legality of adrafinil here, because at least it's something.
Basically, adrafinil is easier to buy and delivers the same benefits as modafinil, except that modafinil is much more powerful than adrafinil. Either way, the proposed bio-mechanisms of adrafinil/modafinil are:
Dopamine/Norepinephrine Reuptake Inhibition
The major selling point of adrafinil/modafinil: The inhibition of neurotransmitter dopamine & norepinephrine reuptake rather than the amphetaminic surge of dopamine & norepinephrine levels. This is an important distinction and the reasoning for adrafinil's/modafinil's lower side effect risk as compared to Adderall & other amphetamines. The reuptake inhibition simply increases activity of already present dopamine & norepinephrine levels, potentially reducing the neuroactivity of neurotransmitter GABA, a "relaxing" pro-sleep brain chemical.
Alpha Adrenergic Receptor Stimulation
Adrafinil stimulates α adrenergic receptors to heighten the neuro-response to excitatory catecholamines, e.g. epinephrine, norepinephrine, dopamine — again without increasing neurotransmitter levels. This theory has been backed by animal research that found adrafinil's actions inhibited by α adrenergic inhibitors, e.g. prazosin, yohimbine, phenoxybenzamine. Furthermore, blocking catecholamine synthesis was found to have no effect on adrafinil activity, providing further support for this (& the previous) bioaction.
Adrafinil Benefits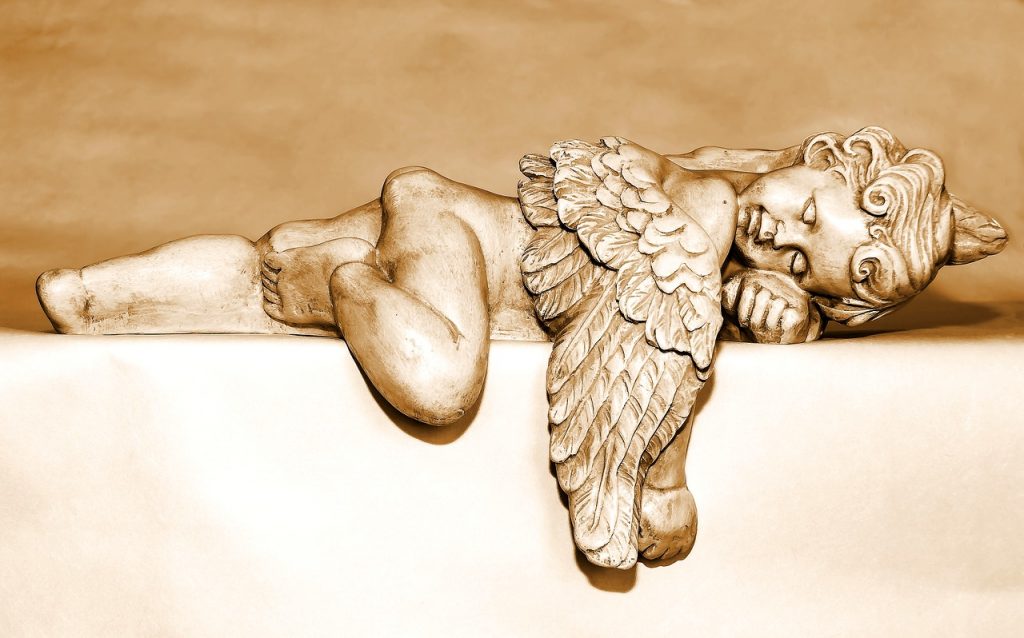 While modafinil predominantly functions as an alternative to Adderall et al, adrafinil serves as a legal alternative to modafinil. And thus is viewed by many as an inferior nootropic to its bio-active analogue. Yet, adrafinil remains one of the more popular options for enhanced wakefulness & alertness, namely for its ability to ward off fatigue in defense of focus.
In a clinical sense, this qualifies adrafinil &, even more so, modafinil as legitimate pharmaceutical treatments to sleep disorders, e.g. narcolepsy.
In an academic sense, they're git-er-dun drugs for cram-study seshes & all-nighters.
Both of which aren't necessarily good for you, but I mean… I get it.
On that note, adrafinil disqualifies as a Dr. Giurgean nootropic for its risk potential: Modafinil/Adrafinil might lack the side effects of, say, Adderall, yet they're still at risk of adverse effects, such as insomnia, loss of appetite, light-headedness, tolerance build-up, and so on. And adrafinil is believed to carry more of a risk than modafinil for its metabolic requirements for bio-activation. Yet, if used correctly, the nootropic may deliver exceptional bursts of focus & energy in substitute of the more extreme-O smart drug experiences.
Modafinil/Adrafinil in Sport
Adrafinil only legally substitutes modafinil for the recreational user. For competitive athletes, or anyone subjected to PED screening, both modafinil & adrafinil are off-limits for us, due to their shared presence on the World Anti-Doping Agency (WADA)'s List of Prohibited Substances and Methods under "stimulants."
Researchers Have Suggested Adrafinil Might:
Improve discrimination learning in dogs (adrafinil)
We're dealing with aged beagle dogs in this study, so take that into consideration. Whereas the next 3 (human) studies evaluate modafinil, this is one of the few adrafinil studies, most of which are preclinical animal trials. To determine adrafinil's effects on learning, the dogs were administered either 20 mg/kg adrafinil or placebo before performing size or intensity discrimination tasks. As compared to placebo, the adrafinil group demonstrated significant improvements in learning. The researchers reasoned that an "effect of adrafinil on motivation may partially account for these findings; however, adrafinil did not significantly affect response latency. […] The improved learning may also result from enhancement of vigilance due to facilitation of noradrenergic transmission in the central nervous system."
Improve neuropsychological task performance & ADHD (modafinil)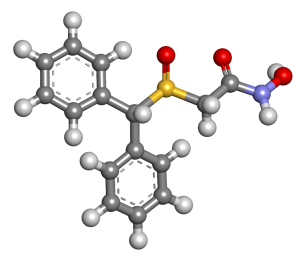 With modafinil's similar clinical profile to conventional stimulants (e.g.methylphenidate) in mind, the researchers performed this study to assess the cognitive enhancing extent of modafinil using cognitive memory & attention tests. 60 healthy male adults received either placebo or 100 mg or 200 mg adrafinil prior to performing the tests, the results of which found modafinil to significantly improve performance on tests of digit span, visual pattern recognition memory, spatial planning, and stop-signal reaction time. Subjective reports of feeling more alert, attentive, and energetic were also noted, leading to the conclusion: "These data indicate that modafinil selectively improves neuropsychological task performance. This improvement may be attributable to an enhanced ability to inhibit prepotent responses. This effect appears to reduce impulsive responding, suggesting that modafinil may be of benefit in the treatment of attention deficit hyperactivity disorder."
Improve fatigue, motivation, reaction time, & vigilance (modafinil)
In this smaller study, only 18 healthy adults were administered either placebo or 4 mg/kg modafinil (~300 mg on average) to evaluate the drug's effects on "the generality of modafinil-induced overconfidence" — the underlying question(s): Does modafinil promote overconfidence in one's cognitive abilities? Is that confidence matched by modafinil-enhanced cognition? The results found improved fatigue levels, motivation, reaction time, & vigilance with modafinil, with only a non-significant tendency towards overconfidence for task-level assessments of performance. The conclusion: "The present findings highlight the need for continued research on the many complex interactions involving fatigue states, occasional versus long-term stimulant use, and subjective assessments of fatigue and cognitive performance."
Enhance task enjoyment, planning, & working memory (modafinil)
The aim of this parallel design study: Evaluate the effect of 200 mg modafinil on non-verbal cognitive functions in healthy volunteers, with a particular focus on cognitive load, motivation factors, & creative problem-solving. As compared to placebo, the modafinil group demonstrated significant improvements on spatial working memory, planning, & decision making, as well as visual pattern recognition memory following delay. While mood ratings were unaffected, subjective ratings of task enjoyment were improved by modafinil, whereas effects on creativity were inconsistent & statistically insignificant. The conlusion: "Modafinil reliably enhanced task enjoyment and performance on several cognitive tests of planning and working memory, but did not improve paired associates learning. The findings confirm that modafinil can enhance aspects of highly demanding cognitive performance in non-sleep deprived individuals."
Translating Modafinil Research to Adrafinil Usage
While adrafinil metabolizes into modafinil, the clinical findings on modafinil don't necessarily apply to adrafinil in a straightforward manner. A quick search through reddit will reveal that adrafinil experiences tend to be more varied & less stable than those of modafinil. All-in-all, clinical trials suggest modafinil is a reliable wakeful-promoting drug, whereas anecdotal adrafinil reviews find the compound less grounded in any singular experience.
How to Take Adrafinil
Research suggests 100 – 300 mg modafinil, translating to 300 – 900 mg adrafinil.
Retail adrafinil typically provides 300 mg servings.
To avoid insomnia, do not supplement adrafinil in the evening.
Long-term safe supplementation typically follows a 3 times per week, no more than 5 months "on-off" cycling plan.
My Experience with Adrafinil
A friend of mine gifted me his remaining sample of adrafinil before moving to a new state. (He didn't want to move with a big bag of nootropic powders.) And so I went into adrafinil not necessarily planning–nor caring–to try any… but I did. And it was aight.
Not super duper good enough for me to want to take it everyday. But it was aight.
Granted, because it was in powder form, it tasted like bleck, and so I'm sure that's a factor involved in my increasingly dreading trying anymore with each subsequent serving. But, frankly, when I also heard that adrafinil isn't great on the liver, I didn't care to continue trying it.
So, instead, I bought and ordered a sample of modafinil and… yea, modafinil is waaaaayyy better. And way more powerful. Not "Adderall powerful," which I consider a good thing, because Adderall's more of a party drug in my humble experience and opinion. But powerful and long-lasting enough to git shit done in a way that I never experienced with adrafinil.
Not that I consider either adrafinil or modafinil to be healthy nootropic options. But I'm incredibly grateful for modafinil, as it helped me get through a pretty rough time with work and life and yada yada, and, with the help of my daily nootropic stack Mind Lab Pro to even provide the brain health support net for my modafinil usage, I felt that my experience with modafinil was generally positive.
Adrafinil, on the other hand, is comparatively not worth it.
Is Adrafinil a Good Nootropic?
Adrafinil is one of the most popular nootropics currently on the market for its decent boosts on wakeful, alert cognition. The drug isn't as good as modafinil and seems to even have more liver-damaging side effects as compared to modafinil. Although, granted, modafinil's wake-promoting effects do make sleep deprivation a legitimate issue.
Some traditional nootropic enthusiasts (á la Dr. Corneliu Giurgea) don't qualify adrafinil/modafinil as a nootropic. More modern users claim it is the nootropic, the real-life Limitless drug.
Personally, I don't think adrafinil is that great both in terms of health and performance enhancement. Some adrafinil users may disagree. Of course, with this grade of mental performance enhancement, your mileage may vary. But either go big or go home with this one. Or go big at home. Whatever works for you.
To learn more about nootropics, read my Best Nootropic Supplements to Buy in 2019.
Overall Adrafinil Nootropic Power Rating
Brain Energy

Neurotransmitters

Cerebral Circulation

Brainwaves

Brain Regeneration

Neuroprotective

Average