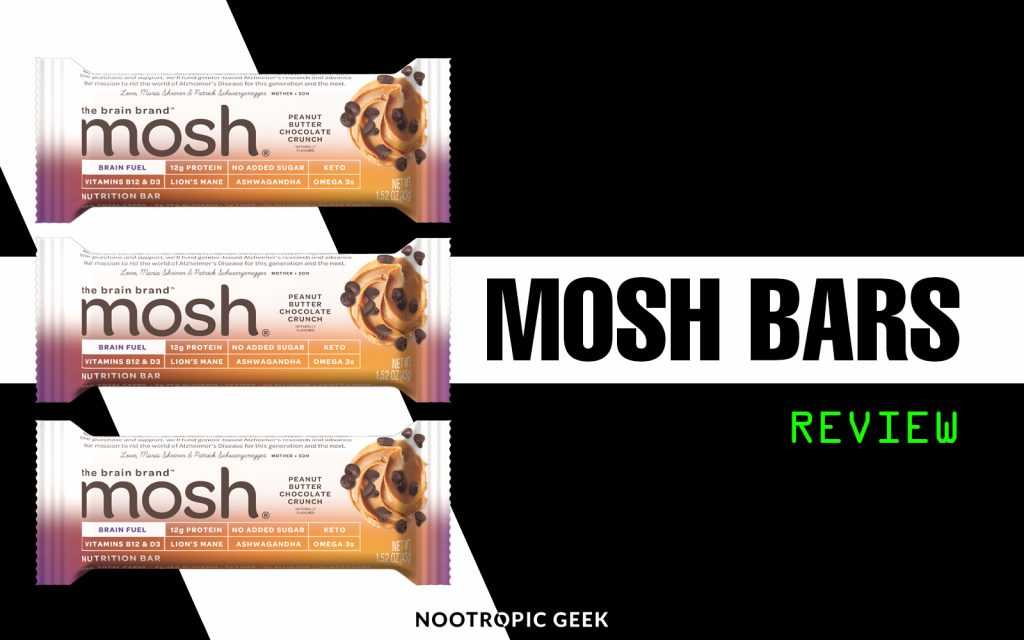 Summary: MOSH Protein Bars Review
As a nootropic head, I am also a big fan of protein bars, which means I'm especially a big fan of brain healthy protein bars such as Mosh. People seem a little confused on what this snack bar is all about: is it a protein bar or a brain support bar? Well, relax, because I have the answer: it's both! While I'm on my nootropic energy bar review kick, I've enjoyed eating many of these sort of "healthy" snack bars, and I can say that Mosh is pretty good as far as taste and satiety goes. However, I wouldn't call this my favorite nor the best brain health protein bar—both in terms of efficacy and value. All the same, Mosh qualifies as a truly healthy snack, which is more than enough to warrant adding these bars to your pantry and/or gym bag… or your cargo pockets or shirt pockets, or wherever it is you nerds store your snacks these days.
About MOSH Protein Bars
Founded by Maria Shriver and Patrick Schwarzenegger, Mosh (by the Brain Brand) encompasses a range of variously flavored protein bars with some modest brain health benefits… or is Mosh a brain bar with modest protein benefits? Both!
With 12g of protein, Mosh isn't an outright complete post-workout protein bar, but this amount of protein coming by way of a tasty snack is effective towards helping exercisers with their daily macro needs.
The two main nootropics in Mosh's Brain Blend (lion's mane and ashwagandha) are a couple of my favorite brain boosters; although I'm skeptical of the efficacy of this particular blend, given the lack of info around these ingredients' dosages.
Mosh lists itself as keto-friendly, despite having carbohydrates, but listen: the carbs here are healthy and modestly dosed. They certainly won't interfere with your keto diet (or intermittent fasting) while also delivering the nutritional and metabolic effects of carbs that your body needs. Emphasis on NEEDS.
MOSH Protein Bars Ingredients (Blueberry Almond Crunch)

Ingredients
Amount Per Serving
Total Fat
8g (10% DV)
  Sat. Fat
0.5g (3% DV)
  Trans Fat
0g
Cholesterol
<0mg (0% DV)
Sodium
105mg (5% DV)
Total Carb
19g (7% DV)
  Fiber
7g (25% DV)
  Total Sugars
<1g
    Incl. 0g Added Sugars
(0% DV)
Veg Glycerin
2g
Protein
12g (22% DV)
%DV – Vit. D 15% • Calcium 0% • Iron 0% • Potas. 2% • Vit. B12 100%
Serving Size: 1 Bar (43g), 160 Calories
Ingredients: Almonds, Protein Blend (Whey Protein Isolate, Whey Protein Concentrate, Grass Fed Milk Protein Isolate), Allulose, Tapioca Fiber, Vegetable Glycerin, Brain Blend (Flaxseed, Bovine Collagen, Lion's Mane, Vitamin B-12, Vitamin D3, KSM-66 Ashwagandha), Natural Flavors, Blueberries, Sunflower Lecithin, Sea Salt, Tapioca Starch, Calcium Carbonate, Citric Acid
Typically, peanut butter and chocolate flavored anything is my favorite of that brand. When all is said and done, Mosh's Peanut Butter Chocolate Crunch (copied and pasted in the image above) will probably be my favorite flavor… But your boy is on a blueberry kick right now, so right now my favorite Mosh bar is Blueberry Almond Crunch.
Hence why I only included the Blueberry Almond Crunch Supplement Facts here. (Other flavors include Cookie Dough Crunch,  Lemon White Chocolate Crunch, Cookies & Cream Crunch, PB Chocolate Crunch, and Dark Chocolate Crunch… To be clear, it's more of a chew than a crunch, but of course "crunch" sounds more appetizing.)
All the same, I'm less interested in the minute "flavor" differences between these bars and more interested in the main nootropics shared between them all — as well as their general macro content (protein, fats, carbs), which I'll cover after the ingredient breakdown.
With that in mind, let's take a look at Mosh's brainier ingredients.
MOSH Protein Bars Review: Ingredients
Vitamin B12: As we get older, vitamin B12 levels decline (with many other nutrient levels). Not that you're taking Mosh for the B vitamins, but it's always reassuring to see a little extra vitamin B12 (100% DV in this case) in our bars. B12 is a key micronutrient for healthy cognitive function, though it's unlike that you're deficient in this if you're researching healthy protein bars online. More on Vitamin B12.
Vitamin D3: I live in one of those unfortunate states that actually experiences winter during wintertime, which makes vitamin D supplementation essential for me during the short, cold days of the season. Healthy D means healthy immunity and testosterone levels.
Lion's Mane: That lion's mane is so hot right now. With more and more people waking up to the immense health benefits of mushrooms (reishi, cordyceps, lion's mane, etc.), fungal nootropics such as lion's mane (arguably the best fungal nootropic) have become the main selling point of many types of supplements — nootropics, immune support, even protein bars it would seem. Lion's mane in particular is unique for its well-documented neurotrophic properties, with some research suggesting lion's mane may help support NGF (nerve growth factor) levels. More on Lion's Mane Mushroom.
Ashwagandha: One of my all-time favorite adaptogens, ashwagandha is another somewhat exotic nutraceutical that's gaining in popularity. Believed to help mitigate anxiety and some neurodegenerative conditions (as well as assist with fat loss), ashwagandha is an excellent herb for supporting daily brain and body performance. A hefty dose of potent ashwagandha can knock you on your ass (its anxiolytic properties are no joke), but you're really not at risk of that here. More on Ashwagandha.
Omega-3s: The flaxseeds here, as part of Mosh's Brain Brend, provide the omega-3s, which are vital to healthy cell membranes and brain function. Granted, I wouldn't expect a ton of omega-3s in a Mosh bar, but a little extra omega-3 doesn't hurt.
Collagen: Arthritic relief, bone support, healthy skin—there are a few health benefits associated with collagen, which I typically view as a more cosmetic nutrient than an outright performance enhancer. Some research on collagen suggests it may even benefit brain repair. Again, not a bad addition here.
MOSH Protein Bars Review: Brain + Body Fuel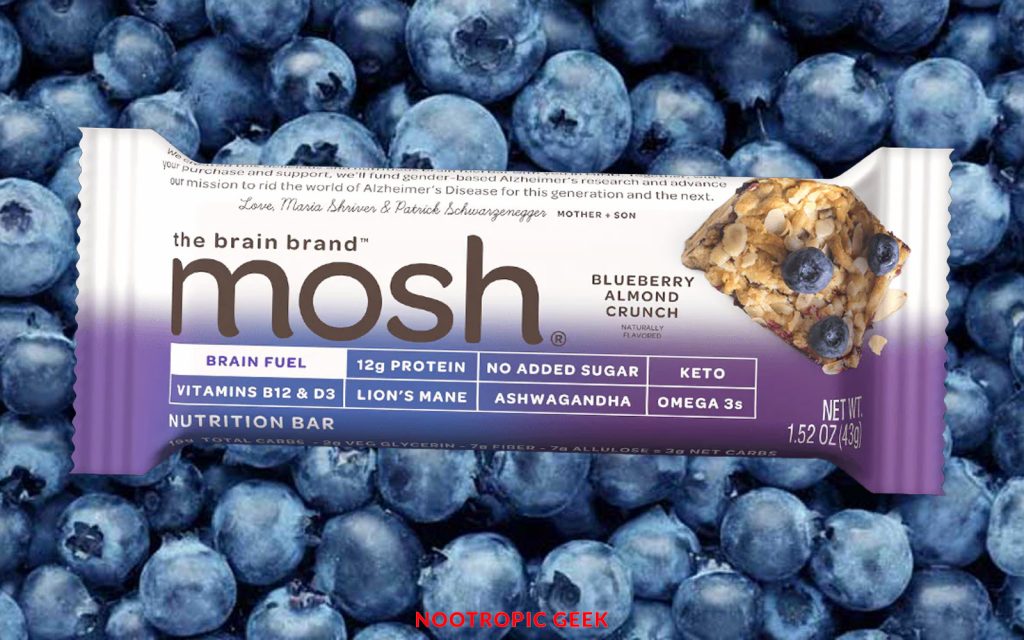 Like the war against drugs, the war against snacks was a doomed effort from the start.
For awhile, health enthusiasts and nutritionists oversteered against bad snacking habits by recommending against snacking altogether. Typically, what these people have in mind when they think of "snacks" are bags of potato chips eaten in their entirety while binge-watching whatever garbage Netflix show people are watching these days.
However, the fact of the matter is: people love their snacks.
This is where protein bars like Mosh come into play.
The idea behind Mosh is to offer a snack that's healthier than a bag of chips and that may even offer some advantages, both in terms of health and performance, for those looking for a quick fix of energy and appetite control between their meals. Plus, as many know now, getting more protein alongside healthy carbohydrates is key to sustaining healthy weight and metabolism.
Mosh is a decent bar for exactly this: getting a little more protein while satiating your snack cravings with some healthy "low net" carbohydrates. The additional nootropics (lion's mane and ashwagandha) are a bonus, though I'd say a somewhat overstated one.
Personally, I wouldn't bank much on the nootropic side of these bars. While the ingredients in the Brain Blend are some of my favorite for brain health support, Mosh is too vague on the dosage levels within this blend for me to stake too much confidence in their purported nootropic benefits. In other words, if you're looking to achieve the benefits associated with lion's mane and ashwagandha, you'll need more than a daily Mosh bar (or two).
All the same, this is certainly a healthy snack option for both brain and body. I felt good snacking on these after my workout and throughout the day, as I tended to my extremely important work (running this website …and stuff lol). Maria Shriver and Patrick Schwarzenegger came up with a decent snack bar, but I wouldn't exactly call it groundbreaking within its category of protein + brain support snacking.
The Pros
Mosh's choice of macros are top notch—the 12g of protein (while not exactly the level you'd expect from a complete post-workout supplement) is reassuring as an additional source of protein.
The overall quality and cleanliness here is great. Mosh certainly delivers as a "healthy" snack bar.
Excellent variety of flavors.
The Cons
The efficacy of Mosh's Brain Blend is somewhat dubious. It's doubtful that these nootropics are dosed enough to do much of anything, at least in terms of performance enhancement.
Mosh isn't outrageously overpriced, only slightly. You can find a cheaper bar of similar (if not better) value.
Pricing
$43.99 for 12 Pack, a 12-day supply
$3.67 per serving
Mosh also offers a variety pack (15 bars for $53.99) and a trial pack (6 bars for $24.99). For all buying options, you can get 20% off if you opt for the "Subscribe & Save" autoshipment option.
Who Takes MOSH Protein Bars?
Is Mosh a protein bar or a brain support bar? The marketing is somewhat split between the two, as I imagine Mosh sees "protein bar" as a greater sell than "brain health bar"—but really it's both. Granted, it's not a lot of protein, but 12g protein is significant for a brain health bar.
From their website, Mosh describes itself as:
BREAKFAST TO GO
WORKOUT RECOVERY
GUILT-FREE SNACK
Personally, I wouldn't expect any major brain boosts with this bar. Certainly, it is healthy, as far as protein bars go—for both the brain and the body—but Mosh works best as a decent stack to tide you over and manage your appetite/energy levels between work, working out, etc.
Where to Buy MOSH Protein Bars
You can buy Mosh bars online at their website, on Amazon, and (per Mosh's FAQ page) at "select fine retailers including Erewhon Markets."
Conclusion: Do MOSH Protein Bars Work?
With Mosh, you'll feel good about having a little extra protein and a little extra brain support while getting what you really want out of a snack bar: a delicious dose of healthy carbs to keep your mind and body afresh between meals.
Truly, all these macros here are healthy: the protein is clean, the fats are great for the brain, and the carbs provide clean energy and gut support.
While I wouldn't call this an outright nootropic protein bar, Mosh is a pretty tasty snack bar with some decent nutritional bona fides.
Final Rating