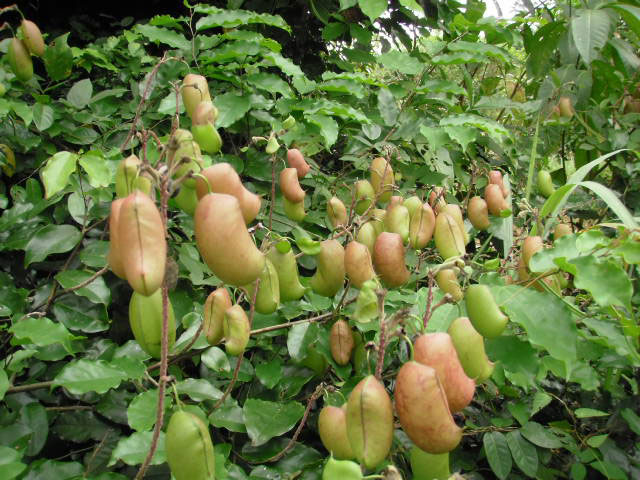 Learning that serotonin is the chemical component of happiness was great, because it gave me something to blame my poor, wretched behavior on:
I am in no way responsible for my attitude, dood. It's serotonin's fault.
That is until I learned of 5-HTP, the precursor compound to serotonin that can be supplemented for quick attitude adjustments. Suddenly, being an A-hole was my fault again, which is total bogus, man.
Except that's not really how it works, is it? 5-HTP is great for mood, but supplementing it doesn't suddenly convert you to happy, healthy, non-douchey person. It may help mood & cognition, but there are some potential drawbacks to supplementing the compound as well–especially if consumed for a long period of time.
But I'm getting ahead of myself. Let's check out the review to see how 5-HTP helps mood & attitude, how it doesn't, and everything else we need to know about this happy-joy nootropic.
TL/DNR: Due to 5-HTP's precursor status to serotonin, the compound plays an important role in mood regulation & emotional balance. For clinical purposes, 5-HTP possesses exciting antidepressant potential. As a recreational nootropic, 5-HTP also reliably uplifts mood, but may compromise a healthy serotonergic equilibrium if supplemented for too long.
How 5-HTP Is Supposed to Work

5-hydroxytryptophan, or 5-HTP for all you lazy folk, is a natural precursor to chemical wellbeing: Serotonin (5-HT). As a precursor compound to serotonin, the neurotransmitter directly related to feelings of happiness, wellbeing, & security, 5-HTP plays an important role in the regulation of mood & emotional balance.
As we age, risk of depression & emotional imbalance increases. One of the primary reasons being: HTP deficiency.
When 5-HTP levels are off, serotonin levels are off, emotions are off, & depression, stress, anxiety are on.
For the aging brain, this is obviously problematic. However, one glance at the /r/Nootropics subreddit reveals that users of all ages are supplementing 5-HTP for cognitive benefits, indicating that 5-HTP might possess nootropic advantages for a much larger demographic than the aged and/or depressed.
While preliminary research suggests of 35% increases in mood for 5-HTP in the context of antidepression, the compound may provide emotional/cognitive benefits to all through the following mechanisms:
Precursor Production of Serotonin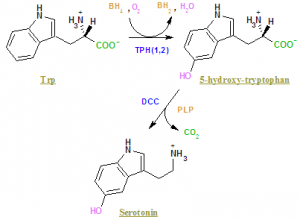 The primary biomechanism of 5-HTP is its modulatory role of neurotransmitter serotonin, acting as a precursor compound involved in the production of serotonin. In the body, 5-HTP is produced from tryptophan (Trp), an essential nutrient commonly found in eggs, dairy, fish, nuts, & soy. However, dietary Trp has a harder time crossing the blood-brain barrier, whereas 70% of 5-HTP consumed orally is able to enter the bloodstream & thus cross the blood-brain barrier. This illustrates the serotonergic benefits of 5-HTP even in an otherwise healthy diet.
Secondary Support on Dopamine & Norepinephrine
This mechanism remains largely hypothetical & unsubstantiated, however some research indicates that 5-HTP might also support neurotransmitter activity of dopamine & norepinephrine, brain chemicals also involved in mood & general well-being.
5-HTP Benefits
The primary benefits of supplementing 5-HTP relate to mood & emotional balance, particularly as they relate to serotonin levels & activity. As such, 5-HTP may alleviate conditions linked to serotonin-deficiency, including: depression, stress, anxiety, panic, tension, & irritability.
Due to the secondary benefits of healthy serotonin activity, 5-HTP's benefits seem to extend beyond mood control, assisting with behaviors related to:
Sleep – thanks to serotonin's conversion to melatonin.
Diet – stress-related binge eating may decrease on 5-HTP.
Better sleep & eating? I'm happy already!
Researchers Have Suggested 5-HTP Might:
Ameliorate symptoms of anxiety disorder
This double-blind, placebo-controlled study on 5-HTP & clomipramine (tricyclic antidepressant) sought to investigate 5-HTP's effect on anxiety disorder relative to pharmaceutical grade treatment. Administration of 5-HTP began at 25 mg daily, increasing to a 150 mg daily max after 14 days. The results demonstrated that, while weaker than clomipramine, 5-HTP significantly ameliorated anxiety disorder symptoms (as compared to placebo).
Mildly alleviate chronic tension-type headaches
In this study 65 patients (reduced from an initial 78) with chronic tension-type headaches were administered either 5-HTP or placebo for an 8-week trial, after a "washout" period of 2 weeks, followed by a washout period of another 2 weeks. The results found that 3oo mg daily 5-HTP led to a decrease in analgesic usage, as well as a reduction in headache incidents during the 2-week follow-up period. In conclusion the researchers stated, "5-HTP may be a moderately effective medication in the treatment of chronic tension-type headaches, without the sedation of that is a side effect of the more widely used tricyclic antidepressants."
Improve bipolar & unipolar depression
A small, older study (dating back to 1980), but notable for its time-length: One year on 5-HTP, next year on placebo. Vice versa for the second group of the study. The results: Both groups demonstrated fewer depression relapses during the 5-HTP year than their time on placebo, with the groups' mean depression being higher during the placebo year as well. The conclusion: "5-HTP was found in the present study to reduce the relapse rate in recurrent vital depressions with both a unipolar and a bipolar course."
Inhibit panic & anxiety events of panic disorder
This placebo-controlled study investigated 5-HTP's effect on panic disorder by administering 5-HTP (200 mg) or placebo to 24 healthy & 24 panic disorder participants and assessing their responses to panic-inducing challenges (which is just a tad effed when you think about it… "for SCIENCE!"). Compared to placebo, the panic disorder participants experienced a decrease in panic & anxiety when given 5-HTP. The healthy subjects were unaffected by the experiment. The conclusion: "[5-HTP] acts to inhibit panic, which supports a modulatory role of serotonin in panic disorder."
How to Take 5-HTP
5-HTP supplements typically range between 50 to 100 mg dosages.
5-HTP is commonly supplemented in capsule or powder form.
Research indicates that higher dosages upwards of 200 to 300 mg are associated with 5-HTP's mood benefits.
Stack 5-HTP with B Vitamins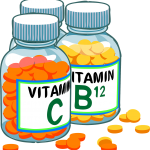 Vitamin B6 is also viewed as an important mood booster and a key factor of cognition. However, its cofactor role for L-Amino Decarboxylase (AADC), an enzyme responsible for the conversion of 5-HTP to serotonin, makes B6 essential to the nootropic functionality of 5-HTP as well. Stacking B6 as P-5-P (and the other B vitamins) with 5-HTP may help further enhance 5-HTP's serotonergic potential. More on Vitamin B6.
My Experience with 5-HTP
When I'm feeling particularly cloudy & in the dumps, my first move is to pop some N-Acetyl-L-Tyrosine for serotonin & dopamine support. However, on the days that I'm particularly particularly cloudy & in the dumps, and I feel that my depression isn't related to a tangible, rational event, then I consider supplementing 5-HTP.
But I'm not big on supplementing 5-HTP long-term, nor would I recommend it for long-term supplementation based on my experience.
Why?
Gastrointestinal issues & brain burnout.
(I won't go into too much detail.)
From what I've gathered not everyone experiences GI discomfort when supplementing 5-HTP. The side effect pops up in the scientific literature every now & then, but not so often that the compound deserves a big, red warning label.
Personally, the "as-needed" basis of 5-HTP supplementation has worked for me, reliably delivering the feel-goods when I need them (alongside B6 & EGCG, the latter for cardioprotection). However, to avoid the 5-HTP burnout that reportedly occurs after a few weeks with some users, I stick to nootropics like tyrosine for my mood boosts.
Is 5-HTP a Good Nootropic?
Is 5-HTP a necessary nootropic?
This seems to be the more interesting & important question.
I'd say unless depression, stress, & anxiety describe your daily emotional state, 5-HTP isn't a required daily supplement for you. And even under conditions of emotional imbalance 5-HTP should be consumed smartly to avoid throwing the natural serotonergic processes further out of whack.
Not to sound like an alarmist: Realistically, you'll know whether or not 5-HTP is working for you, and continue accordingly with or without the supplement.
However, if you're unsure whether you should be taking 5-HTP or a pharmaceutical antidepressant, ask your physician. Not me.
I'm measuring 5-HTP primarily for cognitive enhancement. Not treatment.
Overall 5-HTP Nootropic Power Rating
Brain Energy
Neurotransmitters
Cerebral Circulation
Brainwaves
Brain Regeneration
Neuroprotective
Average