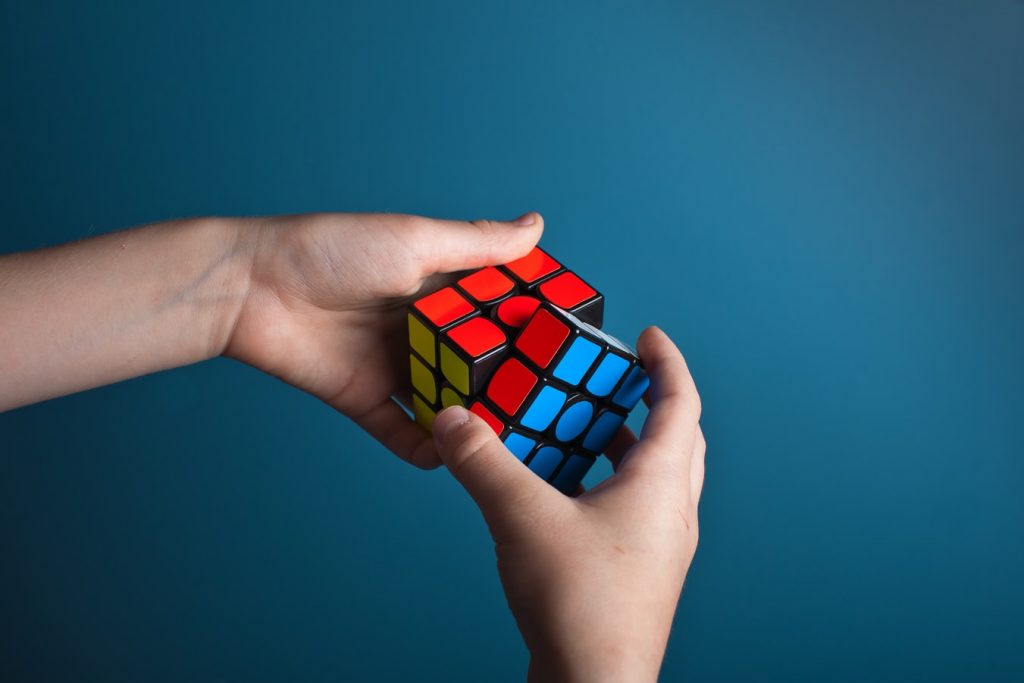 Does anyone do anything themselves anymore in our "cruise control" culture? The word "automatic" has been increasingly creeping up on us, taking on the force of a devil — or so it'd seem by our rising fear of automation. However, props goes to the nootropic community who has kept the do-it-yourself (DIY) human spirit alive …by taking chemicals that help us "neurohack" our brains to optimum performance levels …sort of like a computer…
You know what, let's not even go down that rabbit hole.
Plus, something that's cool about the current nootropic market of 2023 is how many nootropic options we have, ranging from standalone ingredients to comprehensive premade stacks. Depending on your personal goals, it may benefit you to customize a small stack of a few ingredients or buy a premade supplement with a standalone ingredients added — or to buy several premade nootropic supplement stacks.
Whatever floats your boat.
I have below a few of the best pre-made nootropic stacks to buy in 2023. I chose these supplements because they're not only awesome on their own but they stack incredibly well together (by design). If you're looking for better cognitive performance or overnight mental recovery or all-around better energy, these stacks have your back …and brain — and probably other stuff, too.
Best Pre-Made Nootropic Stacks to Buy in 2023
Mind Lab Pro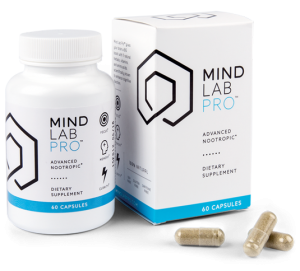 I consider Mind Lab Pro a one-and-done nootropic stack. However, you may also stack Mind Lab Pro with just about anything else without worrying about negative ingredient interactions or adverse effects. On the contrary, several of Mind Lab Pro's ingredients are actually necessary to make other cognitive enhancers work better.
For example:
Racetams are great, but the racetam headache? Not so much. This is due to a lack of choline to keep up with racetam's boost on acetylcholine activity. Mind Lab Pro's citicoline helps on this front.
Likewise, catecholaminergic brain boosters, such as modafinil, may also result in brain burnout after awhile due to a lack of catecholamines. Mind Lab Pro's N-acetyl L-tyrosine helps restore catecholamine levels.
Not to mention Mind Lab Pro's L-theanine, which is a nootropic favorite, almost essential if you're a nootropic enthusiast who still enjoys coffee: L-theanine helps mitigate the jittery effects of caffeine while sustaining the stimulant's energy and focus benefits.
All-in-all, Mind Lab Pro is an incredibly impressive nootropic stack that targets only the key bio-pathways involved in boosting brainpower. Other supplements think being "comprehensive" means taking a "shotgun spread" approach to enhancing brain performance, filling their formulas with way too many ingredients. Mind Lab Pro only supplies what's needed with its 11-ingredient formula, enhancing a few cognitive cogwheels to keep everything else up there turning.
Want some? Buy Mind Lab Pro here.
Unique Features
I view Mind Lab Pro as a great foundation to any supplement stack, premade or otherwise. In fact, I've increasingly enjoyed adding standalone cognitive enhancers to my nootropic regimen — e.g., phenylpiracetam, sulbutiamine, Noopept, etc. — but I wouldn't enjoy these nootropics as much if it weren't for Mind Lab Pro's brain health support and neurochemical replenishment. Even the occasional modafinil's greatly improved by Mind Lab Pro's N-acetyl L-tyrosine content.
And it's a nootropic stack that improved with consecutive, daily use — e.g., Mind Lab Pro's Bacopa monnieri extract accumulates over time, reaching peak cognitive effect after a few weeks. No worries about tolerance build-up here. Mind Lab Pro gets better over time.
Potency & Quality
Everything in this formula is of exceptional quality and potency. Definitely a standard-bearer in terms of ingredient quality, supplying a few patented ingredient forms such as: Cognizin® (Citicoline), Sharp-PS® Green (Phosphatidylserine), Suntheanine® (L-Theanine), and BioGenesis™ (B Vitamins).
Extra Geek Points
Having a great formula is one thing. It's another to encase that great formula in great capsules.
You may not even think "great capsules" matter to a supplement, but they may actually make or break a supplement. Mind Lab Pro's use of Plantcaps® capsules, a vegan capsule constructed out of fermented tapioca (pullulan), removes all unnecessary additives and manufacturing lubricants that'd otherwise impair the formula's efficacy or introduce unwanted health risks. Truly a clean, impressive supplement inside and out.
Want some? Buy Mind Lab Pro here.
To read my full Mind Lab Pro review, click here.
Performance Lab Sleep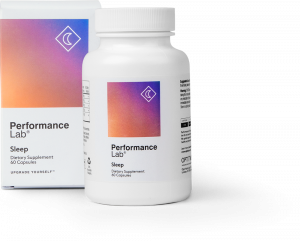 Sort of a funny addition here, given that Performance Lab Sleep does the opposite of enhancing cognitive performance. For example, you wouldn't take this sleep aid stack immediately prior to an important exam.
However, it is an awesome cognitive enhancer in the long run. In fact, I've increasingly favored this supplement over all of my other health supplements, as it's significantly helped me catch up on the sleep debt I've accumulated over the past decades. It's genuinely amazing how simply getting enough sleep at night helps with brain health and performance across the board.
Attention, memory, mood — everything improves with better sleep.
Performance Lab Sleep is the best sleep supplement I've come across in a long time. It improves sleep quality with the use of three ingredients:
Montmorency Tart Cherry Extract – supplying natural melatonin and antioxidants for quicker sleep onset, deeper sleep, and improved overnight recovery.
L-Tryptophan – a serotonin and melatonin precursor amino that improves sleep quality and mood levels, helping Performance Lab Sleep users wake up in a brighter, better mood.
Magnesium – this essential mineral is key to relaxing overexcited neuron activity prior to sleep, even within the neuromuscular junction, thereby preventing sleep-disruptive muscle twitches.
You don't need a complicated sleep aid supplement to improve sleep quality. Too much sleep promoting activities may leave you feeling groggy and stuck to your bed in the morning, counter-productively impairing daytime productivity. Performance Lab Sleep's simple formula is just enough to work without negatively affecting daytime brain performance. Quite the opposite, actually.
Want some? Buy Performance Lab Sleep here.
Unique Features
Most melatonin-driven sleep aid supplements use synthetic melatonin, which varies in actual bio-active melatonin concentration. This variation makes synthetic melatonin ingredients unreliable, as you're unable to 100% predict how much melatonin you're actually getting. Plus, these stacks tend to overdo it on the dosages.
By using natural melatonin sourced from tart cherries, Performance Lab Sleep supplies a cleaner, more reliable melatonin concentration. Prior to Performance Lab Sleep I avoided melatonin due to the morning headaches. However, since my first Performance Lab Sleep serving, I've used this stack nightly without a single case of morning grog.
Potency & Quality
CherryPURE®, TryptoPure®, BioGenesis™ — all of Performance Lab Sleep's ingredients come in potent, patented forms, which are much better than the cheap, generic versions of these ingredients. And, again, the potency and quality of melatonin is important here, having a significant effect on the quality of your sleep and morning performance.
Extra Geek Points
Not only is natural melatonin more reliable and healthier than synthetic melatonin but the tart cherry extract used here also supplies antioxidants that assist with combating oxidative stress and joint damages. Athletes with exceptional repair and recovery demands may particularly benefit by this stack's recovery-enhancing antioxidant content.
Want some? Buy Performance Lab Sleep here.
To read my full Performance Lab Sleep review, click here.
Performance Lab Energy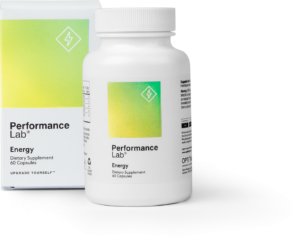 For better energy, we all take the same thing: caffeine. Usually in the form of coffee, but we also have green tea — and I suspect that energy drinks are making a comeback now that more and more of them have sugar-free options. After all, wasn't sugar the whole problem with energy drinks in the first place?
Sure, but it wasn't the only problem. Plus, caffeine and stimulants aren't exactly the best approach to better energy. Rather the type of energy you need if you're looking for healthy energy boosts is natural, cellular energy, the type of energy improved by Performance Lab Energy.
By avoiding stimulants and instead supplying a rich complex of antioxidants, Performance Lab Energy helps improve energy levels by enhancing energy production at the source: mitochondria, the body's powerhouse organelles. While stimulants cheaply flush the brain with synthetic energy, resulting in a comedown cognitive crash, these ATP boosters optimize the brain and body's natural cellular energy producers, sustaining long-term energy levels overall.
The ingredients used by this stack include:
Acetyl-L-Carnitine – somewhat of a nootropic staple, ALCAR helps transport fatty acid fuel to mitochondria for ATP energy production.
R-Lipoic Acid – viewed as the "universal antioxidant," R-lipoic acid protects mitochondria against oxidative stress, improving mitochondrial output.
Coenzyme Q10 – another key antioxidant, CoQ10 co-facilitates the conversion of food energy into ATP while also protecting mitochondria.
PQQ – or pyrroloquinoline quinone, this antioxidant stimulates mitochondrial biogenesis, the creation of mitochondria.
And not to mention BioPerine® Black Pepper Extract, a spicy ingredient that helps enhance nutrient absorption, thereby improving the overall bio-availability of this formula.
Want some? Buy Performance Lab Energy here.
Unique Features
Performance Lab Energy is a unique formula altogether. Not too many supplements take this approach to energy enhancement. Most nootropics and energy boosters cheaply go the stimulant route, which …okay, fine. I get that stimulants have their uses and benefits. But they're not the best for actual-factual energy enhancement — at boosting the type of energy that assists with cognitive performance, muscle repair, strength gains, neurogenesis, overnight recovery, etc.
Potency & Quality
Again, all ingredients here are of exceptional quality. The ingredient brands used in this formula include: Microencapsulated Bio-Enhanced® R-Lipoic Acid, MicroActive® Q10, BioPQQ®, and BioPerine®.
Extra Geek Points
Extra geek point for the use of BioPerine®. In tiny doses, piperine, the bio-active spicy constituent of black pepper, may significantly improve the rate of nutrient absorption. Some ingredients actually fail to work without the assistance of, say, piperine. By using this well-known, well-researched black pepper extract, Performance Lab Energy significantly improves the overall bio-availability and efficacy of its formula.
Want some? Buy Performance Lab Energy here.
To read my full Performance Lab Energy review, click here.
In Conclusion
These aren't the only health supplements — nootropic or otherwise — that work well with these premade nootropic stacks. What's particularly cool about the Performance Lab line of supplements is how they're all designed to work together, yet still work independently. Performance Lab mixes the likes of brain boosters, sleep aids, sports performance ergogenics, fat burners, and more.
To see the complete Performance Lab line-up, check out their website: link here.
Otherwise, stay tuned here for more on the best nootropics, premade or DIY. Or maybe tune out for a bit — disengage from the machine, the internet; turn off the computer, lest you become one!
Read my Best MCT Oil Supplements list here.