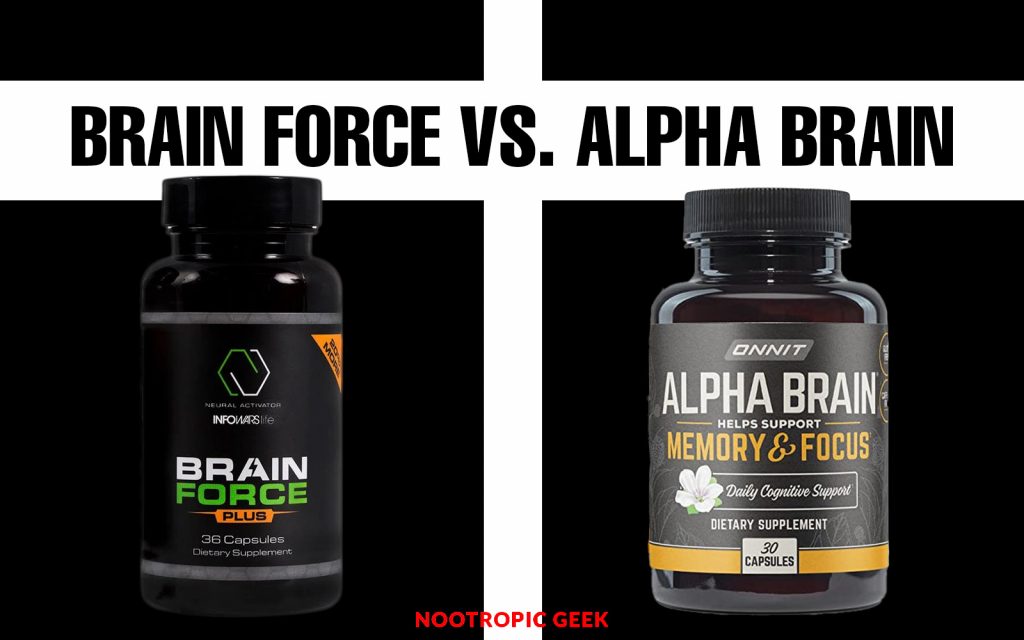 Listeners of Joe Rogan's podcast will know that the ex-Fear Factor host is friends with Infowars' Alex Jones, the controversial conspiracy theorist who seems to pop in & out of headlines from time to time. I aim to put that friendship to the test by sizing up their associative nootropics side-by-side: Joe Rogan's Alpha BRAIN versus Alex Jones' Brain Force. Admittedly, neither supplement is all too impressive, though they're both two of the most recognizable supplements in the nootropic brain health game. Personally, I favor Alpha BRAIN over Brain Force, though the former hides its formula beneath proprietary blends.
For more awesome nootropic supplements, read my:
Formula Design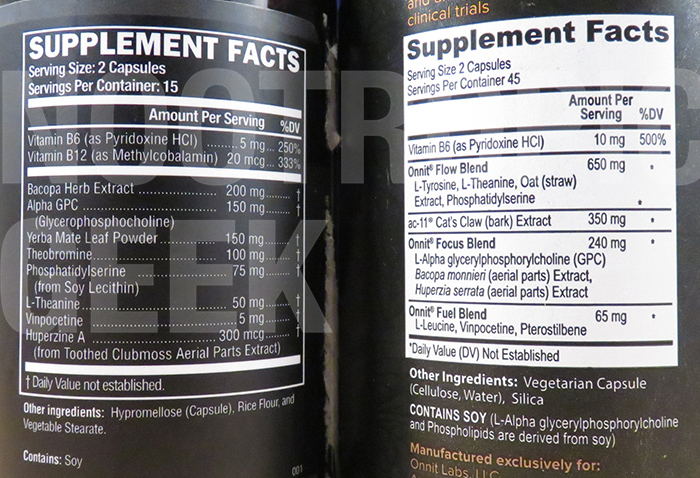 In terms of ingredient choices, Brain Force & Alpha BRAIN have much in common. Powerful natural nootropics such as Bacopa Monnieri, Phosphatidylserine, L-Theanine, Huperzine-A, and Alpha-GPC are shared between the formulas, in addition to mood-booster Vitamin B6.
Yet, there remain a few key differences that set these products apart, namely in the underlying purposes of their overall formula designs:
Brain Force Plus Review: Infowars' Anti-Mind Control
These days, Infowars is a divisive subject in the media. Regardless, the network's intent on "freeing the mind" from all of the "toxic weapons" in our diet & culture seems genuine with this well-crafted, Earth-grown blend of nootropics that nourish the brain as much as they boost cognition.
Not that there aren't any questionable ingredients in this stack–for instance: Theobromine, the non-nootropic "love drug" stimulant in chocolate, and Yerba Mate Powder, which reads like a potentially sneaky source of undocumented caffeine.
Even so, the ingredients listed above (that can also be found in Alpha BRAIN) provide a diverse range of brain benefits that may support cognitive performance for students, workers, & anyone else in need of extra brainpower.
Alpha BRAIN Review: Brain Wave & Chemical Support
There are three key functions supported by Alpha BRAIN, which are represented by the titles of the product's proprietary blends:
Flow: As in "brain flow," namely alpha brain wave flow, which is associated with creative thinking & "relaxed wakefulness."
Focus: The mix of Alpha-GPC, Bacopa, & Hup-A supports focus-enhancing neurotransmitter status for boosted learning, memory, & cognition.
Fuel: Via enhanced cerebral circulation & neuroprotective antioxidant pterostilbene.
Aside from these blends, the star ingredient in this stack is AC-11, a branded extract of Cat's Claw, which is being touted as a nootropic, but currently lacks the research to validate this claim. Even so, I like its presence here for its exceptional potential in this formula. Read my in-depth review on Alpha BRAIN.
Unique Features
In my mind, when I imagine Brain Force & Alpha BRAIN sitting side-by-side, I actually imagine Joe Rogen standing next to Alex Jones — the de facto official faces of these products.
Many people lump these two in the same political basket and treat them as almost equally unmentionable taboos. (Alex Jones being the greater he-who-shall-not-be-named of the two.) When I look at the contents of the formulas, there isn't much to set them apart, with the exception of a few unique features, including:
Brain Force Plus
Vitamin B12: Not as nootropic as B6, but Brain Force deserves props for providing the superior methylcobalamin form of the vitamin.
Yerba Mate Leaf Powder: As a caffeine source, Yerba Mate is better than coffee for its wide array of antioxidants. Yet I'm not huge on caffeine sources in nootropic stacks in general.
Theobromine: Another interesting addition to the formula for its "stimulant" status. Theobromine & (possibly) caffeine aren't ingredients I'd necessarily use while admonishing the "toxic weapons" in our diets.
Brain Force Plus: The "Plus" version of this formula adds 6 capsules and swaps out Vinpocetine for Black Pepper, all for the same price. While I like Vinpocetine, I also like Black Pepper's nutrient absorption benefits.
Alpha BRAIN
AC-11® Cat's Claw: Only Onnit has this specific Cat's Claw extract, giving Alpha BRAIN a unique advantage overall nootropics–depending on the true nootropic potential of this herb.
Oat's Straw Extract: Works well with L-Theanine for further supporting alpha brain waves.
L-Tyrosine: Solid addition to this formula, although I'd prefer the N-Acetyl-L-Tyrosine form.
Pterostilbene: Potent antioxidant found in red wine, believed to be superior to the better known Resveratrol antioxidant.
Potency & Quality
One thing that Alpha BRAIN needs to learn from Brain Force: transparency matters.
While Alpha BRAIN's proprietary blends look solid enough, they do obscure the individual ingredient dosages for each nootropic, effectively (and deliberately) obscuring the formula's effectiveness. This is typically one of the first things I look for in a nootropic supplement, so it's never a good look, even for a well-regarded one as Alpha BRAIN, when they hide their ingredient dosages.
Yet, this doesn't let Brain Force entirely off the hook. Just because I can see all of its ingredient dosages, doesn't make them all automatically good. For instance, the 50 mg L-Theanine is weak sauce, leading me to believe that Alpha BRAIN might actually supply more of this powerful nootropic than Brain Force.
What's more, Alpha BRAIN supplies double the vitamin B6 found in Brain Force. Not that this is a huge deal, but it's potentially indicative of all-around greater potency on Alpha BRAIN's side.
All in all, between Brain Force & Alpha BRAIN, the differences in potency & quality between these formulas can range anywhere from equal to Alpha BRAIN being better. Brain Force Plus has some dosages that could be improved. The latter needs to show its dosages. Yet, I simply have more faith in Alpha BRAIN, based on what I can see.
Value: Brain Force Plus vs. Alpha BRAIN

Price
Servings
Price Per Serving
Brain Force Plus
$39.95
18
$2.22
Alpha BRAIN
$34.95
15
$2.33
Take Note: At time of writing, Brain Force Plus is selling at half price at the Infowars store, making it the drastically cheaper option between the two. For both, I'm not too thrilled with their meager serving counts: 18 and 15, respectively. Both Brain Force Plus and Alpha BRAIN are being altogether cheap and inconvenient; however, there are different buying options that could lower their respective prices per serving, making either one a more reasonable, higher value choice.
Brain Force Plus or Alpha BRAIN: Which is better?
Brain Force Plus is better for mental energy.
This mental energy mostly comes by way of caffeine and theobromine stimulation, both of which (but especially the former) aren't exactly the most innovative, in terms of nootropic brain boosting. However, combined with the brain healthy, focus enhancing ingredients, this mental energy seems manageable, if not beneficial to sustaining healthy mental production.
Alpha BRAIN is better for brain waves & chemicals.
Brain Force has L-Theanine, but Alpha BRAIN has L-Theanine & Oatstraw, providing more alpha brain wave support. Brain Force has Huperzine-A, but Alpha BRAIN has Huperzine-A & L-Tyrosine, providing more neurochemical support. In essence, Alpha BRAIN accomplishes all of the nootropic bio-benefits of Brain Force and then some.
My Recommendation
It's difficult to talk about Brain Force Plus and Alpha BRAIN objectively, as both are backed by strongly contentious personalities. (Alex Jones more so than Joe Rogan.) But listen: I don't really care about all that. All I care about are the supplements.
And frankly… neither are excellent nootropic supplements.
Nonetheless, I do recommend one stack over the other, simply for having more nootropics than other. I'm the Nootropic Geek, b*tch. I like nootropics. So I'm going to go with the formula that has more nootropics.
And that formula is: Alpha BRAIN.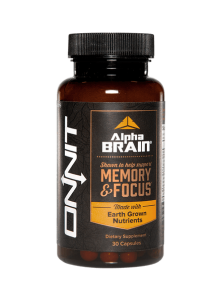 Alpha BRAIN > Brain Force