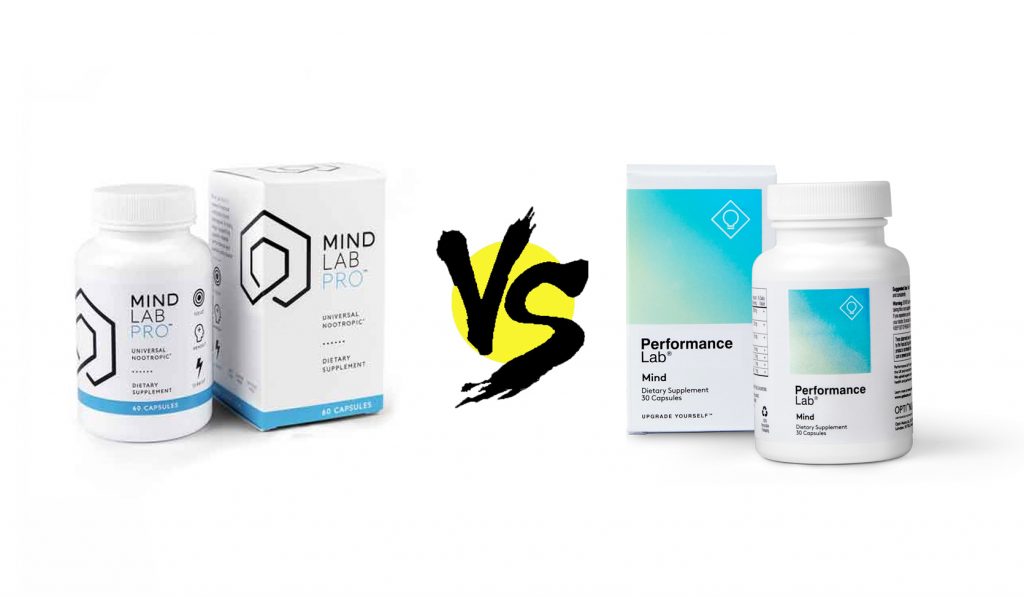 If you've already looked at a side-by-side comparison of Mind Lab Pro vs. Performance Lab Mind's supplement facts, you're probably wondering: what exactly are the differences between these formulas? Is Performance Lab Mind essentially the short version of Mind Lab Pro?
Uhm, well… yes. That actually sums Performance Lab Mind up nicely: it's the short version of Mind Lab Pro.
Except that shortness comes with its own benefits, making Performance Lab Mind an attractive formula for all you brain-geek nerds, especially if you're planning to stack one of these supplements with other nootropic stacks. In which case, it'll perhaps be to all you nerd's benefit to explain the benefit of Performance Lab Mind's shortness as compared to that of Mind Lab Pro's more comprehensive formula design.
With that in mind, let's get one with the Mind Lab Pro vs. Performance Lab Mind comparison review, my doods.
Formula Design
It's a fair question: what's the difference between Mind Lab Pro vs. Performance Lab Mind? Not much, really: both are listed on my Best Nootropic Supplements to Buy in 2020 list, and both share the same ingredients; although, Mind Lab Pro has more ingredients than Performance Lab Mind. However, their differences in formula design may change how you use each supplement.
Mind Lab Pro vs. Performance Lab Mind: Ingredients
Mind Lab Pro Supplement Facts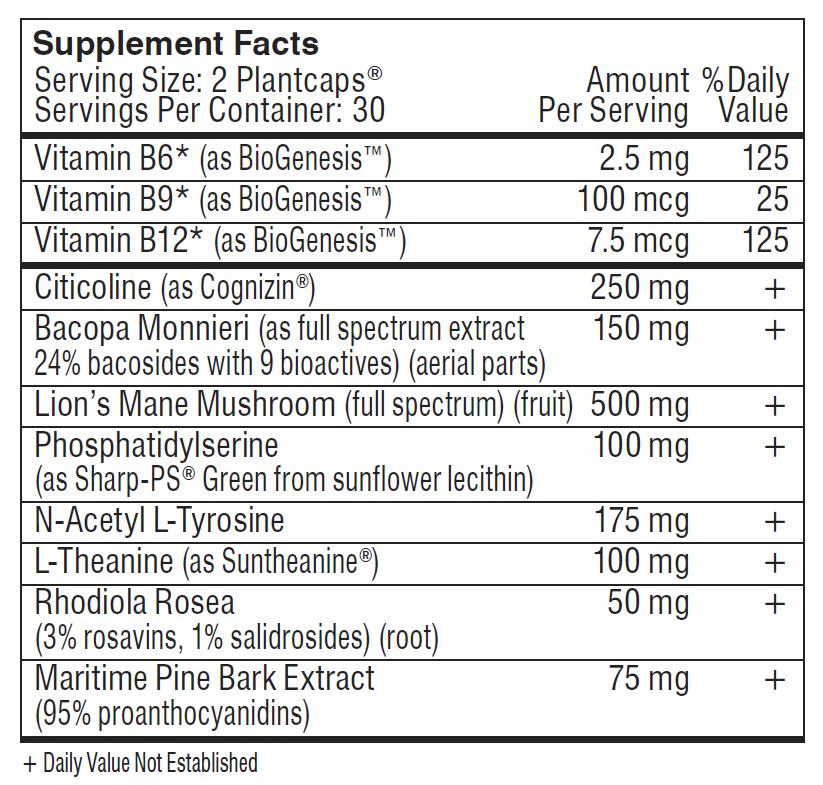 Mind Lab Pro Directions: Take two (2) capsules in the morning or early afternoon, preferably with food. This may be increased to a maximum of four (4) capsules in a 24-hour period. Do not exceed four (4) capsules in a 24-hour period unless otherwise directed by a health care practitioner.
Performance Lab Mind Supplement Facts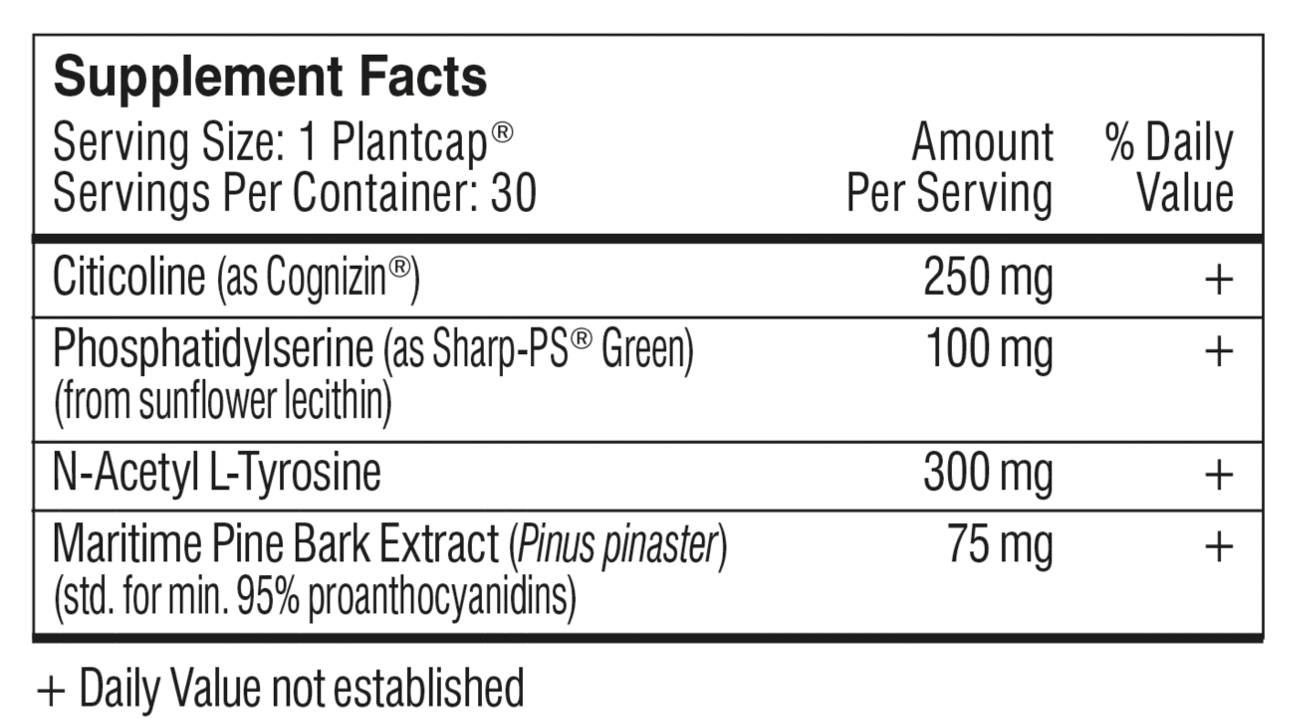 Performance Lab Mind Directions: Take 1-2 capsules of Performance Lab® Mind with your first meal of the day, preferably with a source of dietary fat such as coconut oil to assist with absorption of Performance Lab® Mind's phospholipid nutrients. For best results use daily and consistently.
Mind Lab Pro: 11 Ingredients, 6 Pathways, 100% Brainpower
Mind Lab Pro refers to itself as the Universal Nootropic™, and I think that's legit: this formula takes a, what I call, "pressure point" approach to cognitive enhancement by hitting just the right brain bio-pathways involved in improving mental performance. Whereas some stacks take a total balls-to-the-wall approach to brain boosting by hitting all cognitive pathways (see: Qualia) and other stacks compromise their formulas with stimulants (see: Genius Consciousness), Mind Lab Pro's stim-free nootropic formula only addresses what's important, taking care of a few cogwheels that, in turn, naturally put the rest of the brain's cogwheels in working order.
Altogether, Mind Lab Pro's 11 ingredients target the 6 following bio-pathways:
Brain Energy
Brain Chemicals
Blood Flow
Brainwaves
Neuroprotection
Neuroregeneration
The result is an all-around well-nourished, neurochemically charged brain. It's a great stack for mental clarity, concentration, and energy (and not the jittery, caffeinated, jolt-like energy), as well as cognitive longevity, thanks to the stack's additional antioxidant and stress-relief benefits.
Read my in-depth review on Mind Lab Pro.
Performance Lab Mind: The Simpler, More Stackable Stack
Compared to Mind Lab Pro, Performance Lab Mind essentially operates as a slimmer version of MLP. The four ingredients found in Performance Lab Mind (that are also supplied by Mind Lab Pro) are:
Citicoline – delivers choline for neurotransmitter acetylcholine activity.
Phosphatidylserine – improves cell membrane health and structure.
L-Tyrosine – replenishes catecholamine precursor for improved focus and mood.
Maritime Pine Bark Extract – bolsters the brain's antioxidant status and circulation.
Really, if you had to choose only four ingredients from the pool of natural nootropics, these four would be your best bet. They cover both short-term brain boosts (e.g., tyrosine's mood boosts, citicoline's energy enhancement) and long-term cognitive protection (e.g., pine bark's antioxidants, phosphatidylserine's cellular repair).
Obviously, if you're looking for a complete, comprehensive brain stack, Mind Lab Pro offers more ingredients, some of which offer even greater short-term mental performance benefits — e.g., L-theanine's quick improvements on mental calm and focus. However, Performance Lab Mind's simpler stack design may allow you to better stack this formula with other hefty nootropic stacks, especially if you're planning to stack this stack with other Performance Lab supplement stacks.
Read in my in-depth review on Performance Lab Mind.
Unique Features
By having the same ingredients as Performance Lab Mind and more, Mind Lab Pro technically has more unique features than Performance Lab Mind. Having said that, the simplicity and refinement of Performance Lab Mind's formula is somewhat of a unique feature in and of itself. So, with that in mind, here are the respective "Unique Features" for each product:
Mind Lab Pro
Bacopa Monnieri (Full Spectrum Extract) – One of the best herbal nootropics supplied in a potent, full spectrum extract form; great for memory, learning, and other high-order cognitive processes, and, really, just all around clearer, calmer thinking. More on Bacopa Monnieri.
Lion's Mane Mushroom (Full Spectrum) – Need a new brain? Sorry, that's impossible (for now). However, what is an option for you is building on the brain you already have with Lion's Mane Mushroom's NGF-promoting activities, which increase new neuron growth and repair. More on Lion's Mane Mushroom.
L-Theanine (as Suntheanine®) – Rarely do I do coffee without L-theanine, an anxiolytic compound sourced from green tea that complements caffeine by reducing its jittery side effects while maintaining its focus and energy benefits. More on L-Theanine.
Rhodiola Rosea (3% Rosavins, 1% Salidroside) – Rhodiola in the morning for a smooth, stress-free wake-up ooorrrrr Rhodiola in the afternoon for a replenishing, stress-removing pick-me-up. Either way, Rhodiola is great for combating daily stress and fatigue. More on Rhodiola Rosea.
B Vitamins (as BioGenesis™) – B6, B9, B12 — the best B's, my baby; Mind Lab Pro supplies these three B vitamins in nature-identical BioGenesis™ fermented forms. These B vitamins are key for sustaining positive mood and cerebral circulation. More on B Vitamins.
Performance Lab Mind
Again, Performance Lab Mind shares four ingredients with Mind Lab Pro: Citicoline (as Cognizin®), Phosphatidylserine (as Sharp-PS®), L-Tyrosine (as Ajipure®), and Maritime Pine Bark Extract. It's a smart, simple foundation stack, and I view the simplicity here as a sort of "Unique Feature" to Performance Lab Mind. Few formulas can accomplish such significant brain boosts with so few ingredients, and clean, green ingredients such as these that may be easily stacked with other customizable nootropic stacks.
As part of the Performance Lab line of supplements (shown here), Performance Lab Mind covers brain health and performance. Other stacks, such as Performance Lab Sleep (review here) and Performance Lab Energy (review here), pair well with Performance Lab Mind — and, it would seem, intentionally so.
Potency & Quality
Mind Lab Pro and Performance Lab Mind are equals in the "Potency & Quality" category. Briefly, the high quality marks hit by these supplements include:
Nature-Identical Forms – the patented NutriGenesis® fermentation process supplies vitamins and minerals in their "nature identical" forms, meaning that they're not registered by the body as cheap, synthetic crap.
Bio-Active Extracts – many supplements use plain powders for their herbal ingredients; however, for capsulated supplements, you'll want concentrated herbal extracts that only supply the compounds that work for improving health and performance.
NutriCaps® Capsules – speaking of capsules: many supplements also overload their formulas with unnecessary additives and fillers, whereas MLP and PLM come in clean, vegan, patented NutriCaps®. No colorants or junky fillers.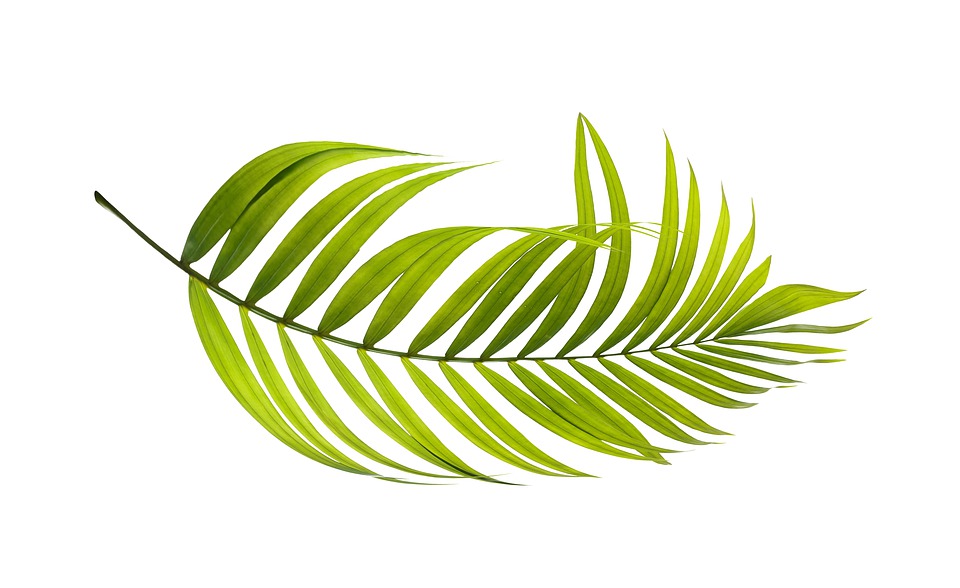 Quantity is an important aspect here as well. Having good quality ingredients is one thing. However, having good quality ingredients at sufficient enough dosages is another thing entirely. Both Mind Lab Pro and Performance Lab Mind do great jobs at supplying high quality ingredients at adequate dosages.
High potency and high quality all around.
Value: Mind Lab Pro vs. Performance Lab Mind

Price
Servings
Price Per Serving
Mind Lab Pro
$65.00
30
$2.17
Performance Lab Mind
$49.00
30
$1.63
Both of these prices represent the single-bottle order prices for Mind Lab Pro and Performance Lab Mind. However, here's the neat-o thing about these supplements: both of these products offer a free box when you buy three boxes per order. In other words, if you buy 3 boxes of Mind Lab Pro, you get one for free (+ free shipping and handling), and the same applies for Performance Lab Mind.
Mind Lab Pro or Performance Lab Mind: Which is better?
Mind Lab Pro provides comprehensive brain support.
If you're looking for a one-and-done nootropic stack, Mind Lab Pro works. It supplies an impressive mix of nootropics without resorting to caffeine or cheap stimulants to pick up any slack, instead hitting a simple, yet complex synergy of brain boosting results. Even so, its inclusion of L-theanine does pair well with stims, such as caffeine, so you may (and perhaps should) stack this supplement with, say, your morning coffee or pre-workout supplement, etc.
Performance Lab Mind offers a solid base stack.
Performance Lab Mind simplifies Mind Lab Pro down to its (arguably) four most important ingredients, covering the bases of cholinergic enhancement, dopaminergic replenishment, neurological recovery and repair, and cerebral circulation — and more. It really is pretty cool how much territory this stack covers with so little. And if you view this stack as part of the total Performance Lab supplement series design, the mix-and-match stack combo possibilities here are incredibly diverse.
My Recommendation
Here's how I take Mind Lab Pro and Performance Lab Mind: usually I take Mind Lab Pro when I'm content with supplementing only one supplement for awhile. I'll use it as a base stack upon which I'll heavier duty nootropics, such as phenylpiracetam, phenibut, etc. — although, I'll still take Mind Lab Pro without these synthetic additions.
When it comes to stacking several nootropic stacks, I switch to Performance Lab Mind to ensure that, say, I'm not receiving too much L-theanine or too much Rhodiola, as I receive those ingredients elsewhere. Admittedly, the decision here essentially comes down to your overall nootropic stack design preferences.
On that note, if you're looking to supplement other Performance Lab supplements, I recommend taking Performance Lab Mind. But if you're looking for a one-and-done nootropic formula, Mind Lab Pro seems your best bet. The choice is up to you:
Want Mind Lab Pro? Buy Mind Lab Pro here.
Want Performance Lab Mind? Buy Performance Lab Mind here.