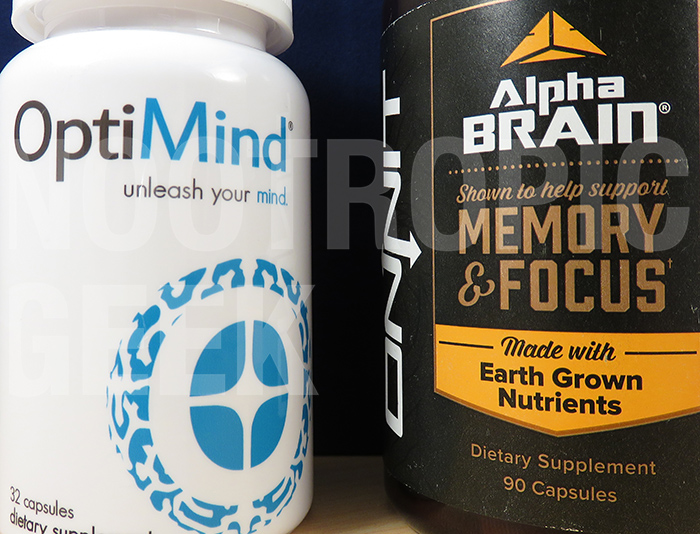 If you are interested in nootropics, then you probably already know that OptiMind and Alpha Brain are Big Dogs in the market — with far-reaching ads, massive media presence, hundreds of reviews, and dozens of famous and semi-famous endorsers.
In fact, even if you're a nootropic NOOB, OptiMind and Alpha Brain might still be "Oh yeah, I heard of that!" kind of brain-boosting stacks.
So can these two behemoths live up to their self-generated hype? Which one is better for boosting your brainpower?
I'm about to break it down for you in this geeky nootropic review.
Formula Design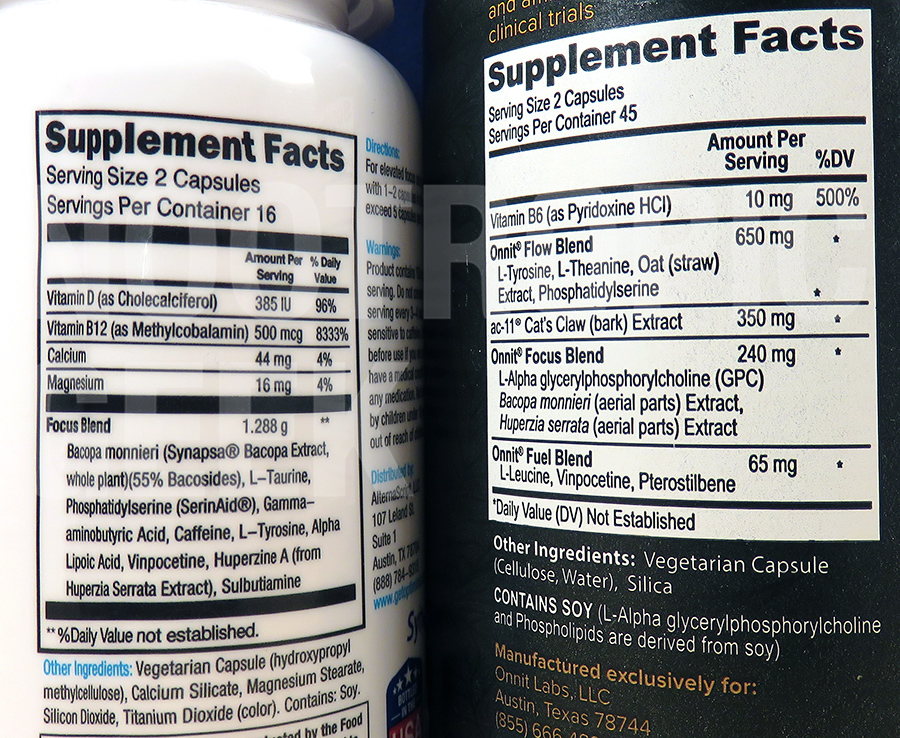 OptiMind and Alpha Brain both supply L-Theanine, Phosphatidylserine, Bacopa Monnieri, Huperzine-A, L-Tyrosine and Vinpocetine.
These are some of the best nootropics on the planet, and feature several of my personal favorite brain-boosters. So both supplements should be awesome picks, right? And both should do basically the same thing?
Not so fast.
Even though they have some similar ingredients, these two nootropic stacks are customized for different benefits:
OptiMind: Brain Chemicals to Clear Away Brain Fog
OptiMind's formula is more targeted for brain chemical support, especially those that help to sharpen focus and memory. With Tyrosine, sulbutiamine, GABA and premium methylcobalamin B12, it supplies some key nutritional support for neurotransmitters that may be diminished by stress and the aging process. It seems to promote acetylcholine, dopamine and serotonin.
OptiMind claims that this brain chemical effect translates to a clearing of brain fog and perking up of mental energy. Of course, its caffeine also contributes to its alertness-boosting benefits.
Alpha Brain: Brain Chemicals + Brain Waves for "Flow State"
Alpha Brain primarily targets brainwaves to create a relaxed-yet-alert "Flow State," augmented by its brain chemical support via ingredients like Bacopa, Huperzine-A and L-Tyrosine. Meanwhile, its mysterious AC-11 cat's claw herbal extract supplies a purported wide range of benefits for overall brain health, especially age-related brain health issues.
Alpha Brain's main benefit is the Flow State, which seems like a state of efficient, quick and clear mental processing that is good for competing or being super productive.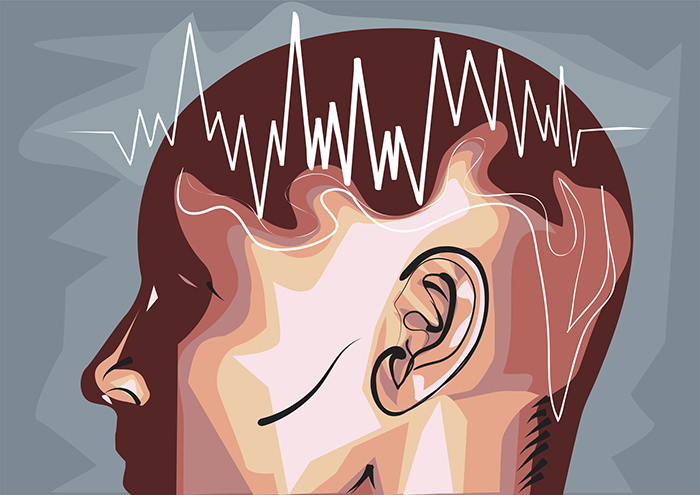 Unique Features
These products share several ingredients, but both OptiMind and Alpha Brain retain some key differences in the forms of those ingredients, among other things:
OptiMind
Synapsa® Bacopa Extract (55% Baccosides): Better than Alpha Brain's plain Bacopa monnieri because it is standardized. That means greater nootropic activity, and with Bacopa that translates to learning, attention & memory benefits.
SERINAID® Phosphatidylserine: A nice premium form of what may be the greatest memory-enhancing, brain-building phospholipid, better than Alpha Brain's plain phosphatidylserine…. but it's worth noting both of these forms of PS are from SOY, which I avoid.
Sulbutiamine: An advanced form of Vitamin B1 (Thiamine) that has a sexy nootropic reputation for mental performance-enhancement. A lot of promise here, but not the strongest evidence.
Methylcobalamin B12: This is the activated. enhanced-potency form of B12 that is better for brain health, especially when it comes to brain chemicals. Methylcobalamin B12 is a great nootropic pick.
Caffeine: OptiMind has got it, which means part of its brain-energizing effect is not nootropic in nature, and is simply an alertness boost from Caffeine.
Alpha Brain
AC-11®: Alpha brain is the only formula to have this extract of Cat's Claw, which reputedly boosts a little bit of everything for brainpower; its best evidence is for age-related cognitive decline.
L-Theanine: Found in green tea, L-Theanine is probably the best nootropic for boosting Alpha brainwaves for a state of "wakeful relaxation", i.e., Alpha Brain's famous "Flow State."
Oatstraw: Here is another great herb for tuning and modulating brainwaves, which stacks nicely on top of L-Theanine for 2X brainwave-boosting nootropic bioactivity.
3-Pronged Support: Alpha Brain has 3 blends for "Focus, Fuel & Flow" as opposed to OptiMind's single blend for focus.
Potency & Quality
Neither one of these formulas shows all of their dosages. Boooooooo. This stinks because both OptiMind and Alpha Brain have some great nootropic ingredient choices. But we cannot evaluate their potency unless we know what the dosages are — so both formulas lose quality points right off the bat.
But, we will say that Alpha Brain shows MORE of their hand — since they give dosages for multiple blends, we can better take a guess at dosages. I really dislike guessing, but looking at the separate prop blends in Alpha Brain, I would say that most of the dosages are probably sufficient to unlock some brain benefits. And, Alpha Brain's star ingredient — AC-11 — has its dosage shown on the label… a nice fat 350 mg.
OptiMind on the other hand picks up some quality points by their use of superior ingredients than Alpha Brain, including standardized herbs and premium branded ingredients that may help to increase the potency of whatever their mystery dosages actually are.
Synapsa Bacopa looks particularly impressive — at 55% Bacosides, it supplies a higher concentration of active nootropic compounds than even my best-rated nootropic stack (which supplies bacopa that is standardized to 45% bacosides). Students take note, 'cause Bacopa is one of the more promising nootropics for academic performance.
I also give OptiMind a bonus for using the methylcobalamin form of B12. That's good stuff, but many nootropics opt for cheaper B12 that doesn't work as well for the brain.
Value: OptiMind vs. Alpha Brain

Price
Servings
Price Per Serving
OptiMind
$43.31
16
$2.70
Alpha BRAIN
$34.95
15
$2.33
OptiMind or Alpha Brain: Which is better?
OptiMind is a better formula for brain chemicals.
It looks like a big dose of L-Tyrosine, leads the way in dosage (since it is the first ingredient listed in the proprietary blend). This is great for stress-induced brain chemical depletions (even though they don't use NALT, the better Tyrosine form). Several other OptiMind ingredients stack on top of the Tyrosine with complementary brain chemical support, adding up to a decent formula for focus, memory and learning.
Alpha Brain is OK for brain chemicals, but does more. 
This is because we can get a better gander at their dosages, and they look pretty good. It also has a neat 2X brainwave synergy that really works for creating a flow state. The wildcard of course is that AC-11 cat's claw nootropic. We can't get too excited about it without more research, but the fact that Alpha Brain is the only brain supplement in the world that can use it tells us there's something special about AC-11.
My Recommendation
OptiMind is a good mix of nootropics. However, it's hard to tell if the ingredients are dosed properly due to its prop blend, and its caffeine is a shortcut to alertness — not a nootropic. If its doses do hit the right level for benefits, then OptiMind could be an awesome formula for memory, focus, mental sharpness and calm mental clarity during stress.
Alpha Brain brings uniqueness to the table. A little bit of this, a little bit of that… but the sex appeal lies in its "Flow State" and AC-11 cat's claw. Alpha Brain's focus, flow, and fuel offer a smart, well-organized nootropic strategy, while its brainwave support brings calm mental clarity that just feels GOOD.
Both of these are decent nootropic stacks, with many ingredients in common. But Alpha Brain looks better dosage wise, and offers a more diverse set of brain-boosting activities. Therefore, if you ask The Geek…
Alpha Brain > OptiMind