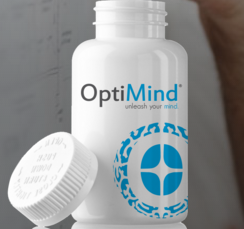 Unleash your mind.
This is terrible advice, coming from OptiMind.
The mind is a terrifying place: Who knows what horrors lurk in the deep recesses of the mind? What Freudian secrets are kept locked & hidden from our consciousness. We can't let those secrets out?!
I know I personally don't want to know what's going on up there.
But I would like to enhance my mind. Maybe that's what OptiMind means by unleashing it? Perhaps I should quit taking product advertisements so seriously? Perhaps I should quit talking to myself and get on with the review?
Perhaps…
About OptiMind
Owning a best-seller status in the nootropic world, OptiMind® is 12-ingredient manufactured stack designed to optimize neurotransmitters.
The purported benefits of OptiMind's brain chemical support are: Focus Longer, Wake Up Effortlessly, Feel the Effects Today.
OptiMind's autosubscription service is suspect, potentially scammy for its reported abuse of cancellation policies.
OptiMind Ingredients

Ingredients
Amount Per Serving
Vitamin D (as Cholecalciferol)
385 IU (96% DV)
Vitamin B12 (as Methylcobalamin)
500 mcg (8333% DV)
Focus Blend
1,315 g
L-Tyrosine, Taurine, Phosphatidylserine (Serinaid®), Bacopa Extract (50% Bacosides), Gamma-aminobutyric Acid, Caffeine, Alpha-Lipoic Acid, Vinpocetine, Sulbutiamine, Huperzine A (from Huperzia Serrata Extract)
Serving Size: 2 Capsules
Servings Per Container: 16
Other Ingredients: Vegetarian Capsule (HPMC), Calcium Silicate, Magnesium Stearate, Silicon Dioxide, Titanium Dioxide (color). Contains: Soy.
Directions: For elevated mental performance, start with 1-2 capsules in the morning. Depending on your body type and tolerance, you may take more during the day as needed. Do not exceed 8 capsules per 24-hour period.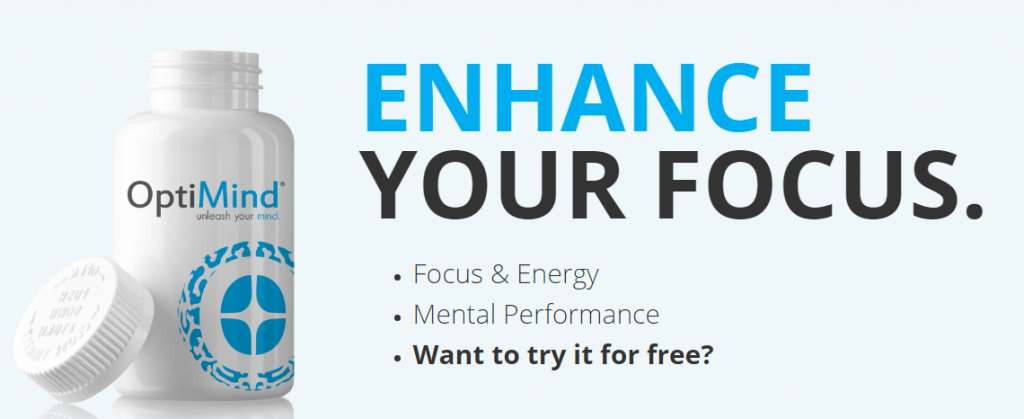 The vitamins are well-dosed, but the rest of the formula is… well, questionable. And unanswerable until OptiMind decides to lift the dosage masking proprietary blend. Regardless, let's take a look at each ingredient individually to get a sense of what the H is going on here:
Vitamin D (as Cholecalciferol) – When vitamin D is low, neurotransmitter status is off, in addition to a number of other bodily issues (e.g. testosterone levels).
Vitamin B12 (as Methylcobalamin) – Vitamin B12 is a conditionally essential vitamin for vegetarians & elderly, but vitamin B6 is the better cognitive enhancer. More on Vitamin B12.
Focus Blend
L-Tyrosine – During high stress & activity, the brain burns tyrosine, in effect burning focus & increasing the mental burden of stress. Supplementing L-tyrosine may enhance mood & focus throughout stressful circumstances (although, N-Acetyl-L-Tyrosine is better). More on L-Tyrosine.
Taurine – Energy drinks make common use of this relaxant for its GABA promotion & antioxidant potential. May have a slight anti-stress effect. More on Taurine.
Phosphatidylserine (as Serinaid®) – Quality brand of a quality nootropic, Serinaid is soy-derived phosphatidylserine, a lipid membrane constituent & major neuroprotector. More on Phosphatidylserine.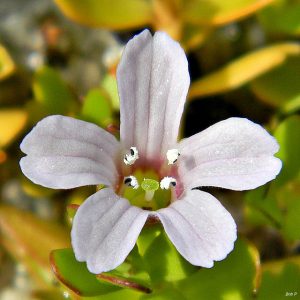 Bacopa Extract (50% Bacosides) – This Ayurvedic adaptogen is prime for students, enhancing learning & memory while minimizing stress. Requires long-term supplementation to reach peak effect (although, this potent extract may expedite the process). More on Bacopa.
Gamma-aminobutyric Acid – GABA is a natural calming neurotransmitter, integral to healthy sleep & relaxation. Dietary GABA isn't the best delivery option of GABA (or really even a good one) due its inability to cross the blood-brain barrier. Picamilon is the nootropic answer to this.
Caffeine – You know what caffeine is: Cheap-o stimulation. Not a true nootropic, unless matched with L-theanine. OptiMind doesn't have L-theanine.
Alpha-Lipoic Acid – Referred to as the "Universal Antioxidant," Alpha Lipoic Acid is a… well, it's an antioxidant, reducing free radical damage on neurons for enhanced neuronal longevity. More on Alpha Lipoic Acid.
Vinpocetine – In small doses, Vinpocetine may significantly improve cerebral circulation, increasing delivery of oxygen & nutrients to the brain. More on Vinpocetine.
Sulbutiamine – Not too thrilled with Sulbutiamine's low placement on this proprietary blend as it requires much higher dosages than vinpocetine & huperzine A. This energizing, albeit under-researched nootropic drug seems to reliably increase mood & motivation, potentially reducing social anxiety as well. More on Sulbutiamine.
Huperzine A – This natural-synthetic primarily operates as an acetylcholinesterase inhibitor, resisting acetylcholine breakdown for enhanced learning, memory, & cognitive functions. More on Huperzine A.
OptiMind: Neurotransmitters & Autosubscriptions
The name of the game OptiMind plays is: Neurotransmitters.
Most of the nootropics chosen by OptiMind seem to operate by promoting or supporting brain chemical status in one way or another:
L-Tyrosine – Promotes dopamine & serotonin
Taurine – Promotes glutamate & GABA
Phosphatidylserine – Promotes acetylcholine, dopamine, & serotonin
Bacopa – Promotes acetylcholine
GABA – This is a neurotransmitter
Sulbutiamine – Potentially promotes dopamine & acetylcholine
Huperzine A – Promotes acetylcholine
The emphasis on acetylcholine & happy-time dopamine & serotonin creates a clever admixture of motivational memory boosts, making OptiMind a prime formula for both workplace & playplace cognitive enhancements.
The additional emphasis on GABA is a good idea for ensuring the mind is calm & relaxed, but implementing direct GABA was a bad idea for its low oral bioavailability. (Picamilon would have been the more effective option.)

The Downside(s) of OptiMind
Ingredients aside, there are a couple issues I have OptiMind:
The Proprietary Blend
The Autosubscription Service
Autoscriptions aren't inherently bad, so long as the company honors their cancellation policies & so on. According to customer reviews, OptiMind isn't the most honorable company when it comes to this. Plus the customer service reps are commonly reported as A-holes.
The obvious way to circumvent the hassle is to avoid the autosubscription service altogether, which is what I recommend for this product. (Unless, of course, you really really like it.)
The Pros
OptiMind mixes a well-chosen batch of neurotransmitter supporting nootropics, prioritizing caffeine lower on the list than the actual brain enhancers.
The quality isn't outstanding, yet OptiMind impresses by choosing the right vitamin forms, the branded phosphatidylserine, & potent Bacopa extract.
Sulbutiamine is a rare sight in manufactured stacks, potentially giving OptiMind an edge on the market. (Although, it'd be nice to know the drug's dosage.)
The Cons
The reason we don't know the drug's dosage is due to OptiMind's proprietary blend, which is doubly annoying due to caffeine's presence.
Autosubscriptions are not worth the convenience when the company makes backing out difficult. This nefarious technique borders on scam.
OptiMind isn't a cheap product, especially if you resort to buying the bottles on a non-subscription basis.
Pricing
SINGLE BOTTLE SUBSCRIPTION
$43.31 for 32 capsules, a 16-day supply
$2.71 per serving
DOUBLE BOTTLE SUBSCRIPTION
$63.65 for 64 capsules, a 32-day supply
$1.99 per serving
TRIPLE BOTTLE SUBSCRIPTION
$89.31 for 96 capsules, a 48-day supply
$1.86 per serving
Price varies based on subscription load, however OptiMind offers non-subscription bottle buying, albeit at an increased cost (e.g. 1 bottle costs $60 rather than $43.31).
Who Takes OptiMind?
OptiMind's clean blue & white design casts a wide net for their target audience, seeking the attention of professionals, academics, & general brain health enthusiasts. Most of OptiMind's ingredients have the younger thinkers in mind, given the energy drink style noots, however a couple ingredients may alleviate age-related cognitive decline.
Where to Get It
You can buy OptiMind buy autosubscription & non-subscription methods directly through the OptiMind website. Online retailers such as Amazon seem to sell the bottles at a cheaper price.
Conclusion: Does OptiMind Work?
Some reports say yah. Other reports say nah.
Personally, I trust the ingredients, but not their use in this supplement. Not to say that the ingredients don't work in this supplement, however I've personally used them individually & in other manufactured supplements to greater effect than what I experienced with OptiMind.
OptiMind feels good. Feels like a generous burst of mental energy.
And it may enhance brain health & cognition if taken over time.
Yet, this comes at the cost of sulbutiamine tolerance build-up & an increase in daily caffeine intake, which isn't the best for long-term brain health. But, hey, if you're down for that, then coolio, yo — go for it. You could do much, much worse.
Final Rating
Formulation Strategy

Brainpower Benefits

Brain Health Benefits

Transparency

Quality

Value

Average