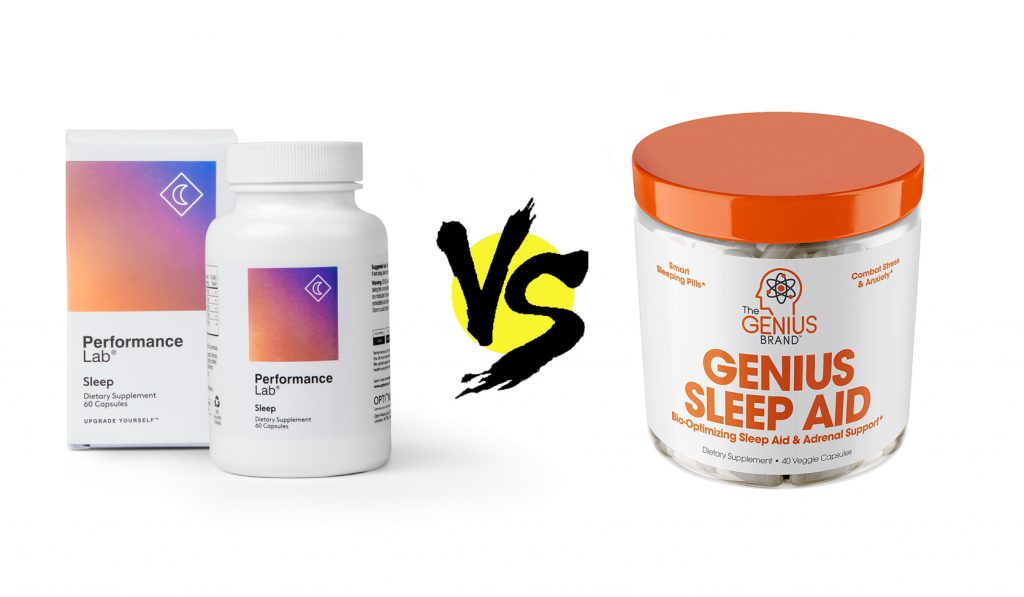 Here it is, my Performance Lab Sleep vs. Genius Sleep AID review, a side-by-side comparison of the two of the most popular sleep aid supplements online. Which do you buy: the one that's cheaper or the one that works?
Because that's more or less what we're look at here.
Which is strange because the primary working ingredient of both supplements is the same: melatonin. Although it's not 100% the same, and, as I'll explain, the difference between these two products' melatonin makes almost all the difference between these two stacks. So, like, let's read this Performance Lab Sleep vs. Genius Sleep AID comparison review, baby.
Formula Design
Two melatonin-driven sleep aid supplements, yet one's melatonin is better than the other's. But melatonin's not the only cool thing about these formulas. Let's check them out:
Performance Lab Sleep vs. Genius Sleep AID: Ingredients
Performance Lab Sleep Supplement Facts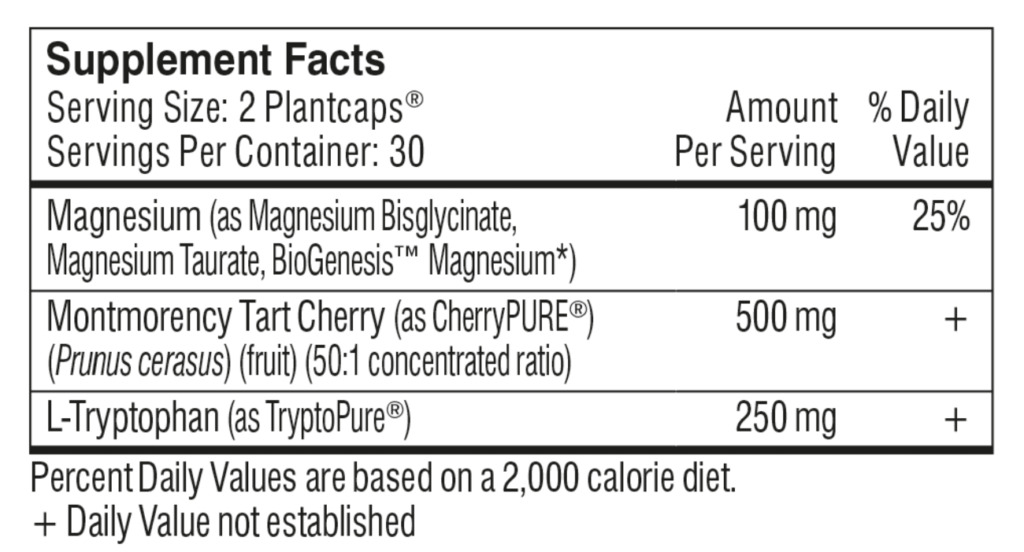 Directions: Take 2 to 4 capsules, 45-60 minutes before sleep. For best results use daily and consistently.
Genius Sleep AID Supplement Facts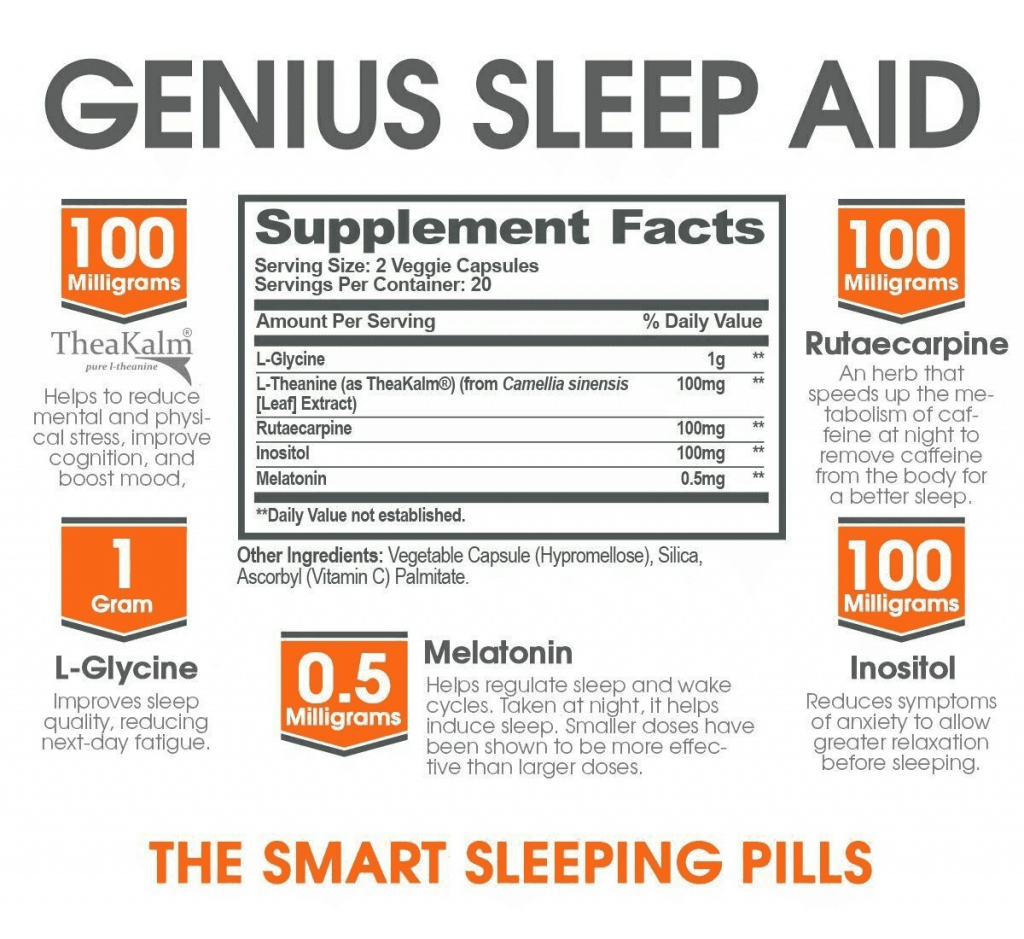 Directions: As a dietary supplement, take 2 capsules 30 minutes before bed. Genius Sleep Aid is best when taken 5 nights per week with two days off. We recommend using on nights where good sleep is especially important.
Performance Lab Sleep: Smart Tart Cherry Extract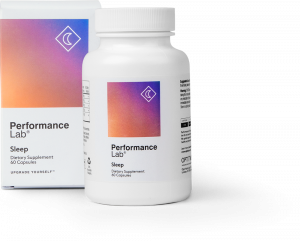 By far the coolest and most unique part of Performance Lab Sleep's formula is its use of montmorency tart cherry extract (as CherryPURE®). Maybe you know this, maybe you don't: tart cherry juice helps with sleep. And it helps with sleep because tart cherries have the highest natural source of melatonin.
That's pretty dope, dooood.
CherryPURE® isolates this natural, cherry-extracted melatonin, supplying it with a mix of cherry antioxidants that help with joint and muscle recovery, to quicken sleep onset and improve sleep quality. And I love it: Performance Lab Sleep has immensely helped me with my stubborn sleep issues. (My main sleep issue is stubbornness itself — I have to force myself just to go to bed.)
On top of the cherry stuff, Performance Lab Sleep also supplies the amino L-tryptophan (as TryptoPure®), an serotonergic precursor that assists with sleep and emotional wellbeing, and magnesium, an essential mineral that helps combat overactive neuro-activity and sleep-disruptive muscle twitches. It's a simple, yet effective formula that's easily qualified for my Best Sleep Supplements to Buy in 2020 list.
Read my full review on Performance Lab Sleep.
Genius Sleep AID: Caffeine, Be Gone!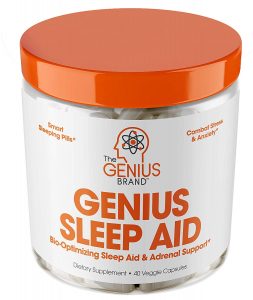 The Genius Brand is a big name, seemingly due to their domination of the Amazon market. Genius Sleep AID is their sleep aid supplement, another melatonin-driven formula that also supplies the unique addition of rutaecarpine, an alkaloid that seems to work as a caffeine cleanse.
Caffeine's great during the day, yet such stimulants may interrupt sleep at night. Rutaecarpine helps clear the body of caffeine, theoretically allowing the body to achieve fuller, deeper sleep. This is great news for all us stim junkies.
The other high point of this formula is L-theanine, a nootropic amino acid sourced from green tea that I actually prefer as a daytime cognitive enhancer. By promoting alpha brainwaves, the brain frequencies associated with calm, meditative thinking, L-theanine helps calm the mind, inducing a state of focus, without necessarily sedating the mind. That mental calm may either help you work better or sleep better. And that's purdy cool.
However, the rest of the formula is sort of meh… L-glycine and Inositol might help with sleep; however, their dosages seem to be too small to work at clinical levels. Not to mention that the melatonin is your usual synthetic stuff, unlike the natural cherry extracted melatonin of Performance Lab Sleep. There is a difference between the two: synthetic melatonin varies in efficacy, whereas natural melatonin extract provides a reliably consistent concentration.
Personally, I found this stack relatively ineffective compared to Performance Lab Sleep.
Read my full review on Genius Sleep AID.
Unique Features
Melatonin is the only shared ingredient between these two formulas, and even their melatonin ingredients differ. The other unique features of these formulas include:
Performance Lab Sleep
L-Tryptophan (as TryptoPure®) – You know what puts me in a bad mood? No sleep. And you know what prevents me from sleeping? Bad moods. L-tryptophan's serotonergic mood support (and indirect melatonin support) helps alleviate sleep-disruptive bad moods, even contributing towards a better mood in the morning.
Magnesium (as BioGenesis™) – Actually, there are three types of magnesium here — BioGenesis™, BisGlycinate, and Taurate — all great, easy-to-absorb forms of this mineral. This mineral helps impair overactive brain processes prior to sleep. Magnesium Taurate in particular provides sleep-supportive taurine.
Natural Melatonin – Sourced from tart cherries, Performance Lab Sleep's natural melatonin outperforms synthetic melatonin by: (A) being natural, of course; and (B) providing a consistent, standardized, reliable concentration of bio-active melatonin. Plus, tart cherries supply antioxidants, great for overnight recovery and neuroprotection.
Genius Sleep AID
L-Glycine – Popular amino acid among bodybuilders, L-glycine also seems to improve "subjective sleep quality" at 3g dosages. With that in mind, this 1g L-glycine seems to be on the low end here.
L-Theanine (as TheaKalm®) – One of my favorite nootropics supplied in premium, patented form, L-theanine is great at both boosting daytime cognition and nighttime relaxation. More on L-Theanine.
Rutaecarpine Powder – An interesting choice here. Rutaecarpine may assist with sleep quality by cleansing the body of any residual caffeine.
Inositol – In heavy dosages, inositol seems to possess anti-anxiety, pro-sleep effects. However, 100mg doesn't seem to cut it in this case.
Synthetic Melatonin – Compared to Performance Lab's cherry melatonin, Genius Sleep AID's seems cheap. Fortunately, they only supply a modest 0.5mg, so you shouldn't expect any next-morning grog with this supplement.
Nootropics for Daily Mental Performance
Sleep is great, but what about daytime enhancement? Well, frankly, getting better sleep is a key component to daytime mental performance. However, if you're looking to take your brain game to the next level, consider stacking a sleep supplement with a nootropic stack. Read my Best Nootropic Supplements to Buy in 2020 list here.
Potency & Quality
Natural melatonin vs. synthetic melatonin — this is the clearest distinction in terms of potency and quality between Performance Lab Sleep vs. Genius Sleep AID. As I've already suggested (I think several times), the typical, synthetic melatonin used by sleep aid supplements lacks bio-active consistency.
The actual bio-active content of synthetic melatonin varies unpredictably. Sometimes it works, sometimes it works too well, resulting in a difficult-to-wake morning.
Not that these are issues with Genius Sleep AID, which supplies a small amount of melatonin anyways. But all the same, it's an inferior form to Performance Lab Sleep's tart cherry extracted melatonin. Not to mention that Performance Lab also supplies exceptional L-tryptophan and magnesium forms as well.
To Genius Sleep AID's credit, the manufacturers have given us TheaKalm®, an advanced version of L-theanine. And the capsules are vegan, with only a few additives. But even on that end, Performance Lab Sleep outperforms Genius Sleep AID with its vegan Plantcaps®, all-natural capsules constructed out of fermented tapioca (pullulan).
Value: Performance Lab Sleep vs. Genius Sleep AID

Price
Servings
Price Per Serving
Performance Lab Sleep
$40.00
30
$1.33
Genius Sleep AID
$19.95
20
$1.00
Price per bottle, Genius Sleep AID is cheaper, albeit with a lower serving count. However, you may cut the "price per serving" cost of Performance Lab Sleep if you buy the supplement in bulk. Meaning that if you buy two bottles per order, the price reduces by 5%. And if you buy 3 bottles per order, the price reduces by 10%, lowering the price per serving to $1.20.
Performance Lab Sleep or Genius Sleep AID: Which is better?
Performance Lab Sleep is better for mood and recovery.
And, well, frankly, Performance Lab Sleep is also better for sleep. My personal experience has found Performance Lab to be the most effective sleep quality enhancer that hasn't also resulted in next-morning fog or grog. Prior to using this stack, I tended to avoid melatonin supplements, due to a bad personal history with the ingredient — i.e., difficulty waking up in the morning, feeling slow and lethargic and headache-y, etc. Performance Lab Sleep's melatonin is mild, yet effective, making me wake up feeling like I slept longer than I actually had.
Genius Sleep AID is cheaper.
There are great ideas found in Genius Sleep AID, such as the use of rutaecarpine (for pre-sleep caffeine cleanse) and pro-sleep aminos (L-glycine, L-theanine). However, due to dosage concerns and the use of synthetic melatonin, this formula pales in comparison to Performance Lab Sleep's more effective, natural sleep enhancement stack.
My Recommendation
This is an easy call for me: Performance Lab Sleep is better than Genius Sleep AID.
Yes, Genius Sleep AID is cheaper, but this seems to be a reflection of Genius Sleep AID's cheaper ingredients and weaker dosages. It simply didn't help me fall asleep as much as I'd hoped for, whereas Performance Lab Sleep works every time, making it one of my favorite supplements that I use daily (er, nightly). If you have difficulty sleep but are skeptical of melatonin stacks, give Performance Lab Sleep a try. It works great, but not too great. Just great enough to fall asleep and still wake up in the morning feeling refreshed and ready to go.
Want some? Buy Performance Lab Sleep here.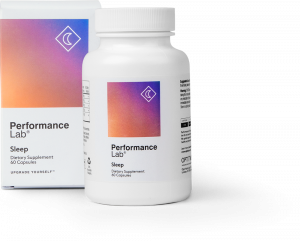 Performance Lab Sleep > Genius Sleep AID