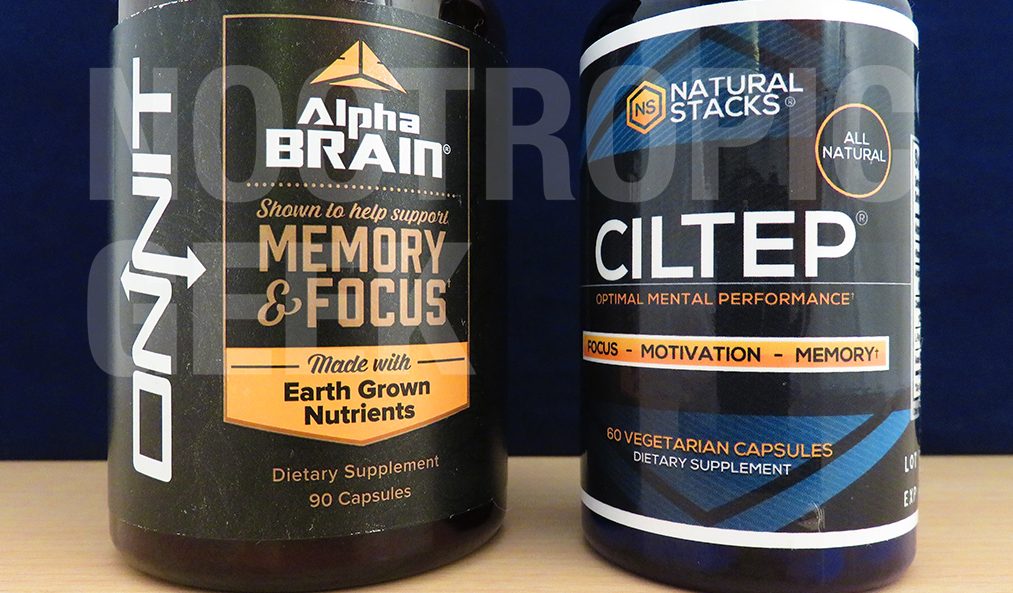 The Geek is competitive. The Geek wants to WIN.
So of course, I am interested in any kind of competetive advantage that I can gain over my opponent.
That's why I decided to review Onnit Labs' Alpha Brain and Natural Stacks' CILTEP together.
Both of these nootropic stack supplements position themselves as brain-boosters for ambitious, competitive, performance-driven people who want to excel every day.
So what happens when two competitive formulas face off in an actual competition? Read my review and find out!
Formula Design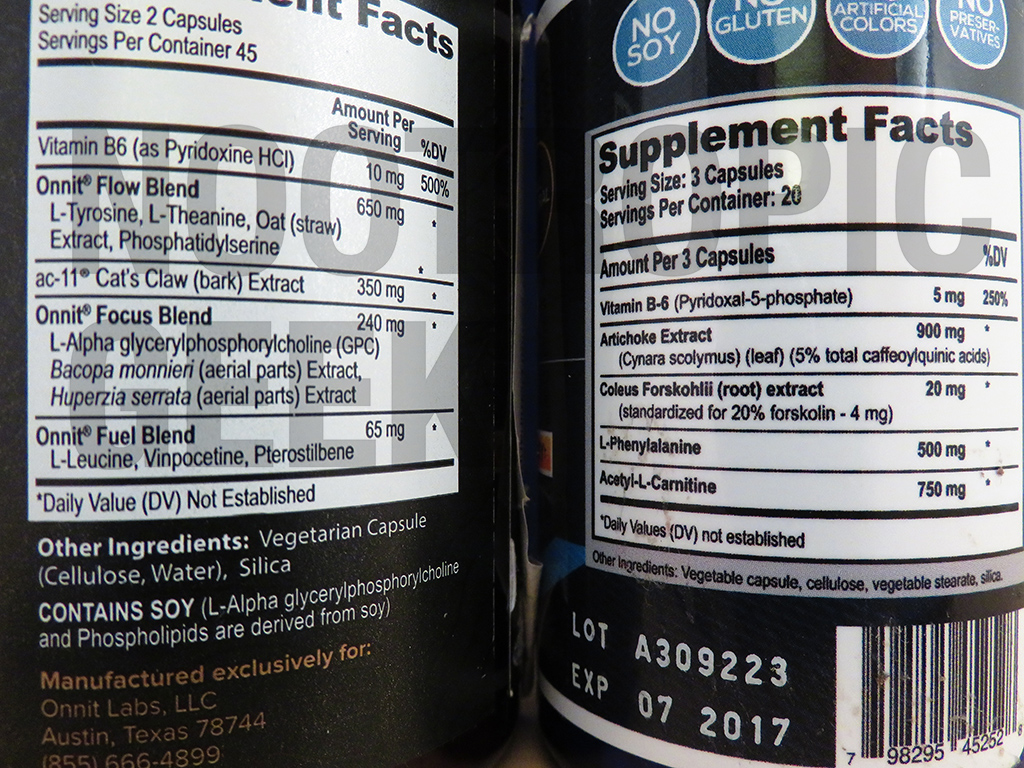 It is a little challenging to compare/contrast formula strategies with Alpha Brain and CILTEP.
Both of these nootropic stacks seem to target the same demographics, with each boasting a list of user endorsements that includes professional athletes, stuntmen, bodybuilders, competitive gamers and adrenaline junkies.
But even though they seem to be made for the same kind of users, Alpha Brain and CILTEP have completely different philosophies on how to boost brainpower:
Alpha Brain: "Flow State" via Alpha Brainwaves
Onnit Labs Alpha Brain is driven by Alpha brainwave support that is intended to bring about a state of calm mental clarity. But Alpha Brain goes beyond that pathway with ingredients that support neurotransmitters, brain-building, mental energy, and more… with a wildcard ingredient thrown in (AC-11) that does who-the-heck-knows.
The end result is a "Flow State" that is claimed to be good for verbal ability, concentration, motivation, etc. — a set of benefits that seem to be good for productivity & performance.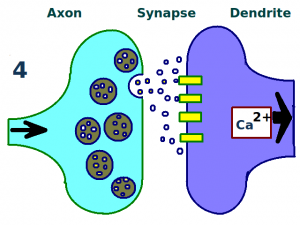 CILTEP: Brain Chemical Boost via Long-Term Potentiation
Natural Stacks CILTEP has a narrower focus than Alpha Brain: It is laser-focused on boosting brain chemicals and promoting "secondary messaging" Long Term Potentiation (LTP); a state of peak cell-to-cell neural communication that is energized, active and long-lasting.
It all adds up to formula that is designed to achieve their tagline of "Motivation. Concentration. Memory." CILTEP makes additional claims for mood and sociability.
Unique Features
Let's take a look at some of the other formula features that make Alpha Brain and CILTEP different:
Alpha Brain
AC-11®: An Onnit Alpha Brain exclusive, AC-11 is a patented type of cat's claw herb from South America. According to the makers of AC-11, it does EVERYTHING for mental performance. According to the research (which is early at best), it helps keep the brain sharp during the aging process.
Brainwave Support: L-Theanine + Oatstraw gives you two of the best herbs for boosting "wakeful relaxation" Alpha brainwaves.
Oatstraw: Here is another great herb for tuning and modulating brainwaves, which stacks nicely on top of L-Theanine for 2X brainwave-boosting nootropic bioactivity.
3-Tier Nootropic: Alpha Brain has a tight strategy, using three bends to support three aspects of cognition: Flow (wakeful relaxation), Focus and Fuel (brain energy). (CILTEP is way more nebulous).
Nootropic Diversity: Alpha Brain supplies more evidence backed nootropics than CILTEP, including some of my personal favorite cognitive enhancers, like PS (Phosphatidylserine), Bacopa monnieri, and L-Tyrosine.
JOE ROGAN! Love him or hate him, this guy is all over Onnit Labs materials, including for Alpha Brain. Personally, I think he's a good advocate for mind expansion.
CILTEP
Artichoke + Coleus: Like Alpha Brain's AC-11, these ingredients represent exotic herbal nootropics that boost brainpower in novel ways. Also like AC-11, CILTEP's artichoke and coleus are sexy at first glance, but don't have that much research.
Long-Term Potentiation. Also called LTP, this is CILTEP's key differentator: A unique nootropic strategy designed to unleash brainpower boosts that last up to 14 hours. Of course, that's all theory…
Dopamine & Acetylcholine support: Apparently LTP burns through these brain chemicals, so CILTEP includes some nootropics that help improve their production — smart move. CILTEP offers more neurotransmitter support than Alpha Brain.
Vitamin B6 (as P5P), L-Phenylalanine, and ALCAR: Smart stacking here as CILTEP reinforces its formula with additional brain chemical nootropics, including premium P-5-P, which is one of my favorite brain-boosters. More on Vitamin B6 as P-5-P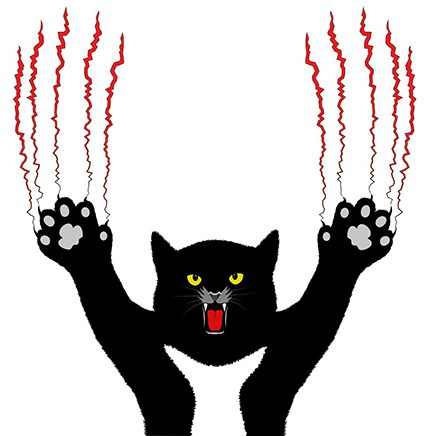 Potency & Quality
CILTEP gets the edge here, and there are a few reasons why. First off, CILTEP shows all of their dosages, whereas Alpha Brain does not.
Now, Alpha Brain does show dosage for their AC-11 and Vitamin B6. And, since Alpha Brain splits its other ingredients into THREE proprietary blends, we can better guesstimate the nootropic ingredient dosages in each one.
But The Geek doesn't want to "guesstimate." God dammit.
So I like that CILTEP shows all dosages, and give them an advantage in quality perception as a result. It looks like CILTEP might get the nod in actual quality too, beyond just the look of its label.
CILTEP and Alpha Brain both use Vitamin B6, which is great because it's an awesome nootropic. CILTEP supplies 5 mg, and Alpha Brain 10 mg… so you might say, "Alpha Brain is better!" Not so fast.
CILTEP uses B6 as pyridoxal-5-phosphate (P5P): The active, enhanced-potency form.
Alpha Brain uses el-cheapo B6 as pyridoxine, which is OK, but not as good as P-5-P.
If you ask me, I'll take 5 mg of P-5-P over 10 of pyridoxine any day.
CILTEP also uses artichoke standardized to 5% total caffeoylquinic acids and Coleus standardized for 20% forskolin. This is important because it guarantees active nootropic compounds are present in the herbs.
Alpha Brain has ZERO standardized herbs, so CILTEP gains another quality advantage.
What Alpha Brain has really got going for it in the quality department is AC-11® Cat's Claw. It's a premium branded ingredient, backed by patents and some clinical research. CILTEP has no such branded ingredient.
Both CILTEP and Alpha Brain have mostly clean-looking labels; both are vegetarian and free of useless additives, synthetic colors, etc.
However, if you're avoiding soy, be advised that Alpha Brain's Alpha-GPC is derived from soy. That could be a "dirty" label for some people.
Value: Alpha Brain vs. CILTEP

Price
Servings
Price Per Serving
Alpha BRAIN
$34.95
15
$2.33
CILTEP
$42.95
20
$2.15
Alpha Brain or CILTEP: Which is Better?
Both of these nootropic supplements require a leap of faith.
Alpha Brain has a lot resting on its AC-11 cat's claw extract, but believe me, it's not NEARLY as evidence-backed as they would have you believe. But that's just one ingredient, and Alpha Brain smartly hedges its bets with several other nootropics that have a lot more scientific validation.
CILTEP has many more of its eggs in one basket because its main brain-boosting strategy — Long Term Potentiation — is unique in nootropic stacks (at least that I've seen). In other words, CILTEP's brain strategy is theoretical.
CILTEP is better for brain chemicals.
I like CILTEP's LTP strategy; it makes sense as a novel way to boost dopamine & acetylcholine. CILTEP also improves neurotransmitters with L-Phenylalanine, ALCAR & B6 (as P5P). These supply raw materials for brain chemicals, because LTP will burn through those faster as it increases focus and concentration.
Alpha Brain is a better overall nootropic formula.
It's frustrating to not see their dosages, but what we DO see is that Alpha Brain has some of the greatest nootropic ingredients. I especially like its L-Tyrosine, L-Theanine, Phosphatidylserine, and Bacopa. Like CILTEP, Alpha Brain supports production of brain chemicals for brainpower… But Alpha Brain does a lot more, too.
My Recommendation
CILTEP does 1 thing, but it does it very well: Brain chemicals. It is laser-focused, but limited; for example, I can't believe there's no choline-class brain-builders in CILTEP.
Alpha Brain addresses many aspects of mental performance… but not TOO much. It has 3 main areas — focus, flow, and fuel — which makes me more confident they are not spreading themselves too thin.
With theoretical nootropic stacks like these, you really gotta give 'em a try and see if they work for you. But based on labels alone, one simply has more evidence-backed nootropics that work more reliably for brainpower. Therefore, I do declare…
Alpha Brain > CILTEP