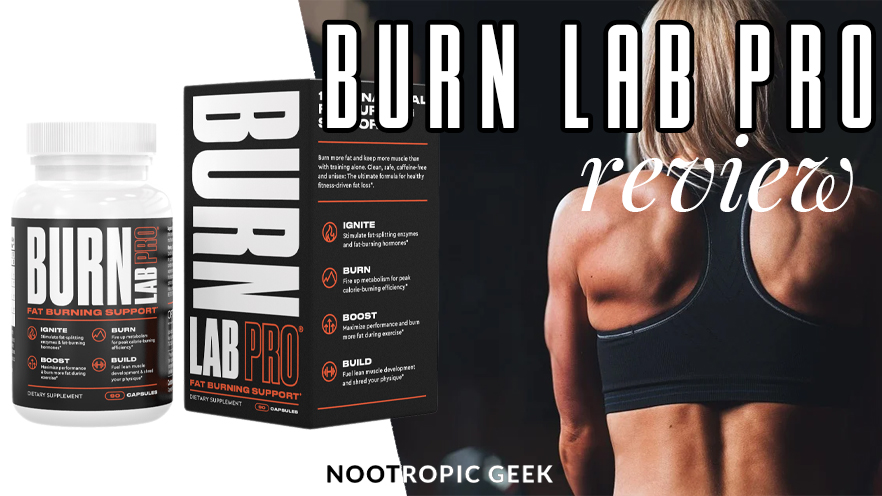 The Best Stim-Free Fat Burner Formula
As virtually every health and fitness enthusiast understands now, there's a world of difference between sheer "weight loss" and "fat loss." Whereas "weight loss" strategies and "weight loss" pills focus solely on the reduction of caloric intake, "fat loss" strategies and supplements take a more reasonable approach: increase energy expenditure and lean muscle mass to ensure healthier, more long-term fat loss.
In other words, an effective "fat loss" strategy involves some weight gain, specifically muscle weight gain. Though this ultimately leads to a net loss in weight for many bodybuilders, it's still important to frame fat loss as an achievable goal of muscle growth.
This is why Burn Lab Pro is one of the smarter and healthier and more effective fat loss formulas I've come across in awhile. Focusing on both lean muscle growth and thermogenic fat loss, namely within the context of intermittent fasting, Burn Lab Pro follows the science on fat loss without wasting any time on gimmicky "stimulant" ingredients or "hybrid" formulations.
Only all-natural, straight-to-the-point fat burners.
As one of my favorite breakout formulas of 2020, Burn Lab Pro has quickly become a staple of my pre-workout supplement regimen. Let's read my Burn Lab Pro review to find out why.
But First… Why You Should Stack Burn Lab Pro With Performance Lab Caffeine+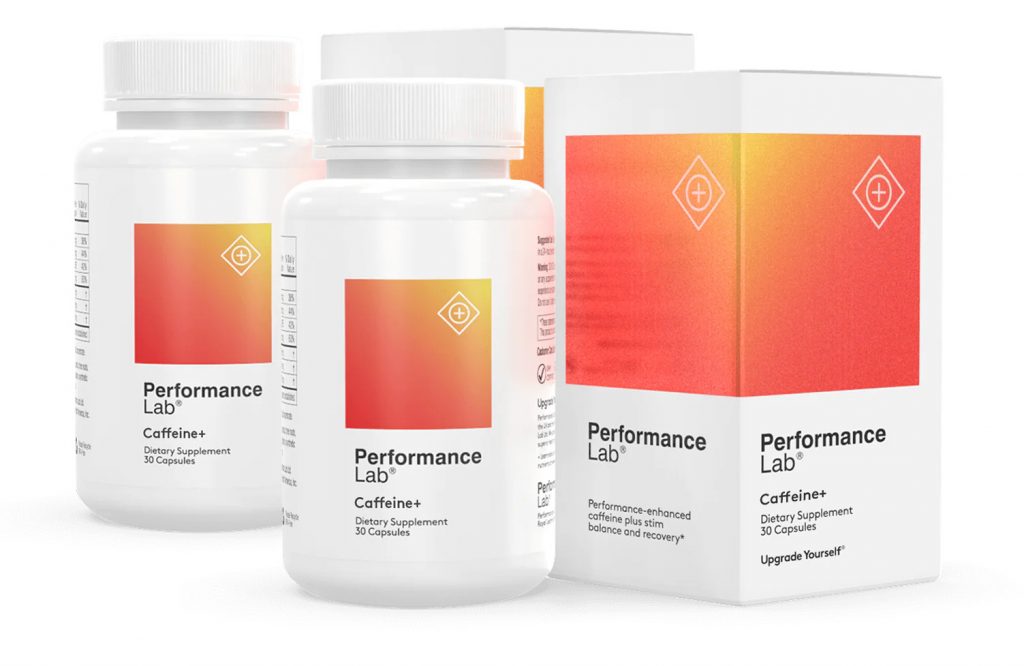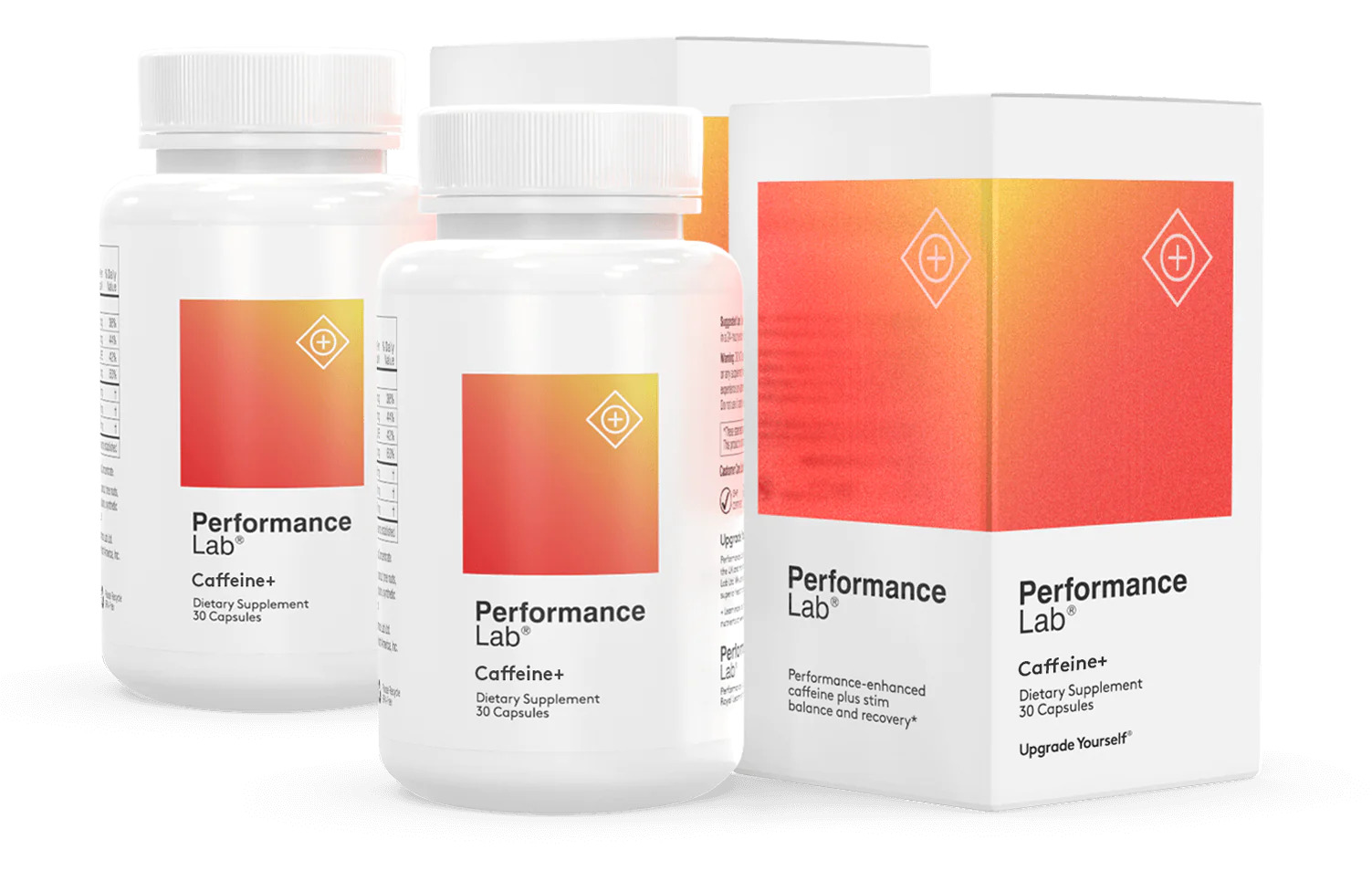 Stim-free fat burning is great for healthy, sustainable fat loss. But, no doubt, some stimulation may go a long way, both in terms of fat loss and exercise performance. This is why I occasionally stack Burn Lab Pro with Performance Lab Caffeine+, a nootropic-enhanced "caffeine pill" supplement that combines naturally sourced caffeine with calming L-theanine and attention-sharpening L-tyrosine — and more.
Altogether, this formula splits into two sub-stacks:
Performance-Tuned Stimulation: a popular nootropic duo, caffeine + L-theanine delivers the focus-sharpening, fat-burning benefits of caffeine minus the side effects, thanks to L-theanine's complementary calming effects on caffeine.
Caffeine Balance and Recovery: the additions of L-tyrosine and a probiotic-cultivated B-complex helps replenish the catecholamine levels (e.g., dopamine, norepinephrine, epinephrine) lost to caffeine's stimulatory activity.
The combination of caffeine and natural nootropics essentially delivers all the thermogenic, cognitive-enhancing effects of caffeine while minimizing the stimulant's post-energy "crash" side effects. This is a great optional add-on to Burn Lab Pro, especially if you enjoy some caffeine with your workout.
Supplement Facts: Natural Caffeine (from Coffea robusta seeds), Suntheanine® L-Theanine, Ajipure® L-Tyrosine; NutriGenesis® Caffeine Balance B-Complex: Riboflavin+ (Vitamin B2), Vitamin B6+, Folate+ (Vitamin B9), Vitamin B12+
Want some? Get the Best Deal on Performance Lab Caffeine+ here.
Read my Performance Lab Caffeine+ Review here.
About Burn Lab Pro
Burn Lab Pro is a stim-free, fat-burning, muscle-sparing formula designed to maximize calorie-burning during exercise, particularly fasted exercise.
Taken as a pre-workout stack, Burn Lab Pro directs the use of stored fat to fuel exercise performance and anabolic strength gains.
All-natural, stim-free, synthetic-free — Burn Lab Pro is safe to take for athletes and exercisers of all types and dietary lifestyles, whether vegan or carnivore.
Burn Lab Pro Ingredients

Ingredients
Amount Per Serving
GTF Chromium (as NutriGenesis®)
90 mcg (257% DV)
Calcium
262.5 mg (20% DV)
HMB (β-Hydroxyl β-Methylbutyrate) (from Calcium HMB)
1500 mg
ForsLean® (Coleus forskohlii) (root) (10% forskolin)
375 mg
Capsimax® Cayenne Pepper Extract (Capsicum annuum) (fruit) (2% capsaicinoids)
75 mg
BioPerine® Black Pepper Extract (Piper nigrum) (fruit) (95% piperine)
3.75 mg
Serving Size: 3 NutriCaps®
Servings Per Container: 30
Other Ingredients: NutriCaps® Pullulan Capsule, NuFlow® Rice Concentrate
Directions: For best results take 2-4 capsules 15 minutes prior to training.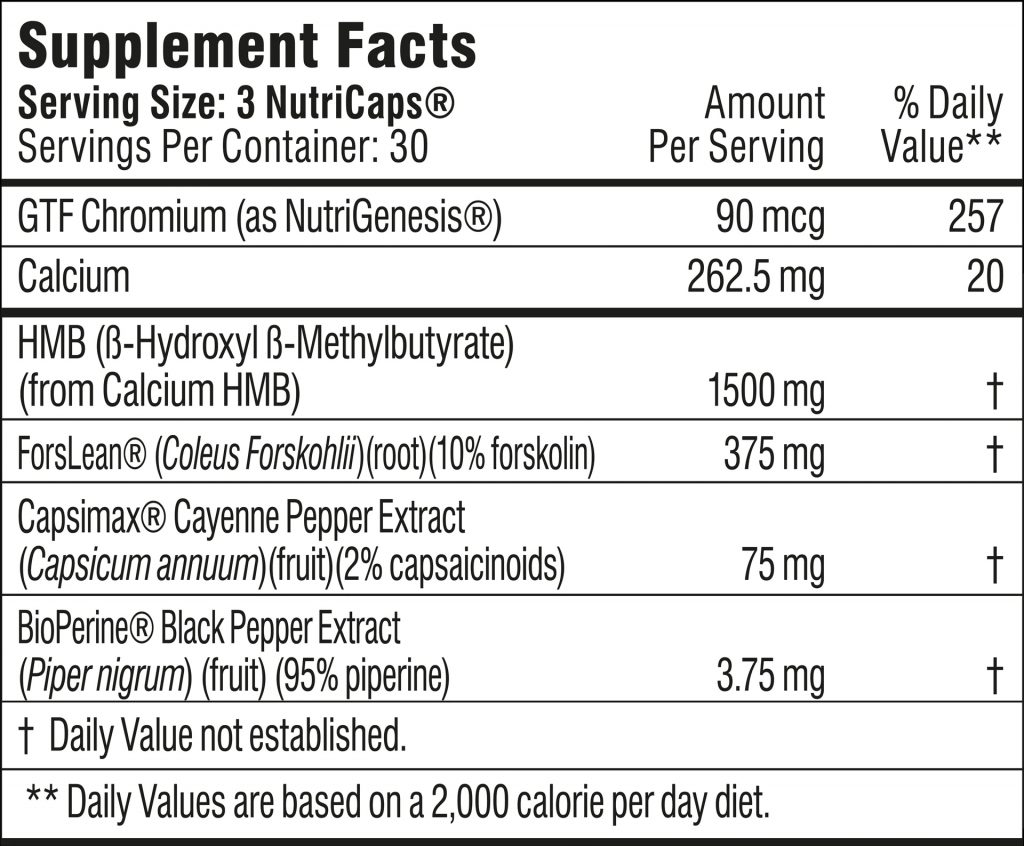 Obviously, Burn Lab Pro is not a nootropic formula, so I'm a little out of my wheelhouse here. Having said that, I'm familiar with the world of workout supplements — in fact, I've been taking them longer than cognitive enhancers — and, in this formula, I'm seeing some of my favorite workout-related ingredients. Check it:
Burn Lab Pro Review: Ingredients
HMB (β-Hydroxyl β-Methylbutyrate): a metabolite of leucine, the most anabolic of the three BCAAs (leucine, isoleucine, valine), HMB indirectly assists with fat loss by sparing muscle tissue from fasting-related proteolysis (protein breakdown) during fasted exercise. For intermittent fasting, HMB is a virtually a must-have workout supplement.
ForsLean® Coleus Forskohlii Extract: an advanced form of Coleus forskohlii, one of the go-to herbs for fat burning, Forslean helps boost fat breakdown and fat mobilization, thereby enhancing your thermogenic calorie-burning capacity during exercise for maximum fat loss.
Read my Best Nootropic Supplements for Exercise here.
Capsimax® Cayenne Pepper Extract: big "spice food" fan here, making cayenne pepper one of my go-to food additives. As a cayenne pepper extract with a standardized potency, Capsimax is one of the better cayenne pepper extract supplements, backed by plenty of research and positive reviews that find this extract useful in increasing thermogenesis and regulating appetite.
BioPerine® Black Pepper Extract: virtually every supplement, fat burners and otherwise, should have black pepper extract in its formula. In addition to enhancing thermogenesis and inhibiting adipogenesis (the formation of new fat cells), black pepper extract increases nutrient absorption, improving the bioavailability of the other ingredients sharing its formula.
NutriGenesis® GTF Chromium: an insulin-regulating mineral, chromium assists with metabolic homeostasis by combating insulin resistance for healthier energy production and use, while also offering significant appetite control and muscle fuel.
Read my Best Nootropic Supplements for Exercise here.
Want some?
Get the Best Deal on Burn Lab Pro here.
Burn Lab Pro Review: My Experience
Early in the COVID lockdown, I bought a bike and have since rode the thing virtually everywhere I go. Once the gyms reopened here, I started riding my bike to my gym, which is several miles away, as a sort of pre-workout "warm up" — and also to help shed off the extra pounds I quickly gained during the first couple months of lockdown.
That's right, your friend, the Nootropic Geek, got a little chunky at the start of this mayhem. It's not easy for me to admit.
This is why I also turned to Burn Lab Pro midway through lockdown, and why I'm continuing to use this supplement.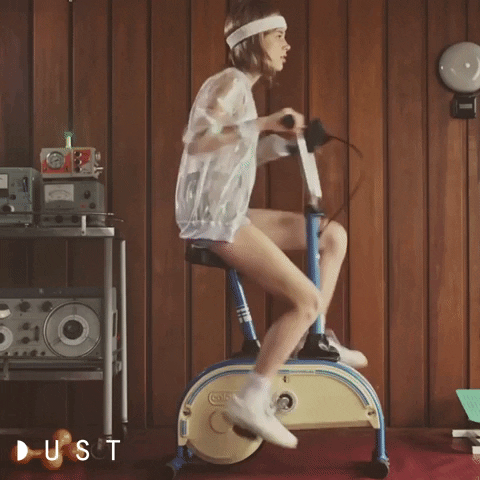 Fat burner supplements have the same problem that many nootropic supplements have: too many are cheap-O crap whose principle ingredient is caffeine.
That Burn Lab Pro is a completely caffeine-free, stim-free fat burner stack is the first thing that caught my eye about this supplement. The second thing that caught my eye was how this supplement enhances lean muscle gains as much as thermogenic fat loss. For intermittent fasters, this is key: building lean muscle is a more effective strategy for fat loss than sheer calorie reduction.
And by sparing muscle tissue against the catabolic effects of fasted exercise, Burn Lab Pro essentially encourages the body to use stored fat as "exercise fuel" as opposed to muscle protein, resulting in not only increased fat loss but improved exercise performance as well.
The only downside here that I noticed is that Burn Lab Pro made me very, very sweaty. Which isn't actually much a downside — few things feel better than sweating really hard from a good workout — but I'm already sweaty as is, so just trust me when I say I get grotesquely sweaty when taking Burn Lab Pro.
But that's partly how you know the fat burning is working. That Burn Lab Pro does this without resorting to stimulants is all the more impressive.
Want some?
Get the Best Deal on Burn Lab Pro here.
The Pros
There are plenty of stim-free fat burner formulas out there, but few work quite as well as Burn Lab Pro, which smartly focuses on fasted exercise-related fat loss more so than simple calorie-burning or calorie-reduction.
Working with only all-natural, vegan-friendly, eco-friendly ingredients, minus any stimulants or synthetics, Burn Lab Pro is a clean formula as much as it is an effective one.
Encapsulating its formula in NutriCaps®, a prebiotic-infused capsule constructed out of fermented tapioca, Burn Lab Pro avoids any artificial additives, colorants, preservatives, etc. that might otherwise interfere with the formula's efficacy.
The Cons
Pricing
1 Bottle
$59.00 for 90 capsules, a 30-day supply
$1.97 per serving
2 Bottles
$118.00 for 180 capsules, a 60-day supply
$1.97 per serving
3 Bottles (+ 1 Box Free)
$177.00 for 360 capsules, a 120-day supply
$1.48 per serving
Of these three options, the third (3 bottles + 1 free) is the best. Not only do you get 4 bottles for the price of 3, but shipping is also free.
Who Takes Burn Lab Pro?
Athletes and exercisers of all types — whether competitive or recreational, aerobic or anaerobic. For most people, I imagine, achieving a combination of strong, lean muscle mass and low body fat percentage is a key fitness goal. By simultaneously protecting lean muscle gains and burning excess fat, Burn Lab Pro is the ideal stack for those seeking a lean, cut, strong physique.
However, don't expect your body composition to suddenly improve with Burn Lab Pro if you're not also working out. This is a great stack to take while intermittent fasting (IF) to help you better enjoy the metabolic benefits of IF while mitigating IF's potential performance-impairing downsides.
Where to Buy It
Burn Lab Pro is sold exclusively through the Burn Lab Pro website: www.burnlabpro.com
Conclusion: Does Burn Lab Pro Work?
Yes, Burn Lab Pro works. Which is significant because not too many supposed "weight loss" stacks do.
And many that do work aren't exactly good for you.
By stacking all-natural fat burners at potent concentrations, without cheaply relying on heart-racing stimulants or risky synthetics, Burn Lab Pro helps kickstart your fat-burning mechanisms prior to exercise, increasing your thermogenic fat loss capacity while sparing lean muscle tissue against the protein-breakdown effects of fasted exercise.
No doubt, it can be incredibly tiresome consistently working out, yet feeling like you're not seeing the results you should. Odds are there are other areas in your daily habits you can improve to net better results (i.e., your diet and your daily activity outside of exercise). But adding Burn Lab Pro to your workout routine can help ensure that you're at least getting the most out of your trips to the gym.
Granted, I'm primarily a nootropic enthusiast. But, even so, I'm familiar with exercise supplements enough to know that this is a valuable one.
Want some? Get the Best Deal on Burn Lab Pro here.
Read my Best Nootropic Supplements of the Year list here.
Final Rating