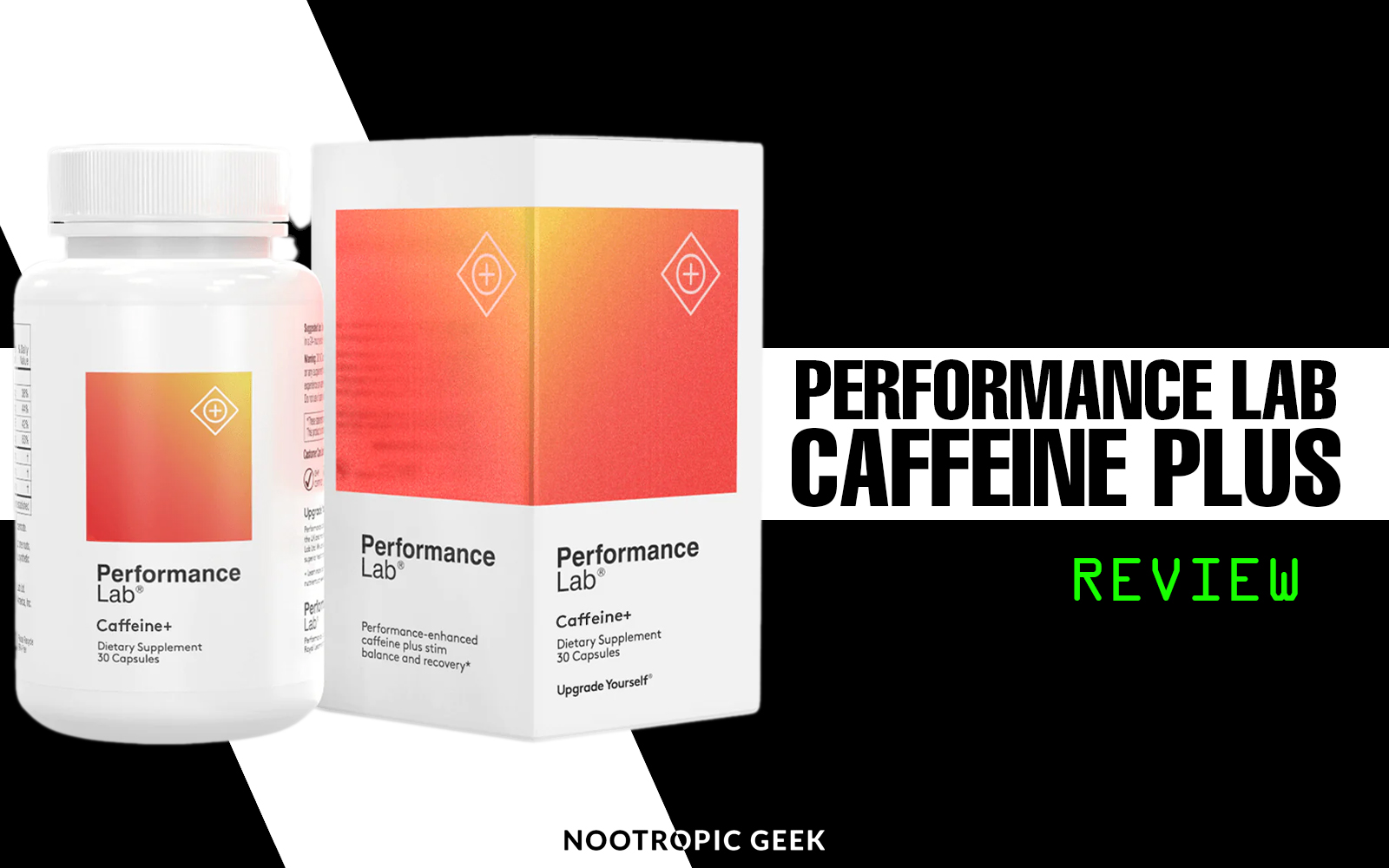 Summary: Performance Lab Caffeine+ Review
The only stim stack you'll ever need, Performance Lab Caffeine+ is a perfectly refined natural caffeine supplement that pairs the familiar energy boost of caffeine with a couple complementary nootropics (L-theanine and L-tyrosine) and a smart B-vitamin complex to replenish vitamins and neurochemicals depleted by caffeine's stimulatory effects. Thanks to its smart, sleek, and straightforward formula, Performance Lab Caffeine+ is a great source of natural energy to add to your daily nootropic stack for clean, smooth stimulation. Clarity. Focus. No jitters and no crash. An excellent choice.
For more on all my favorite nootropic supplements, hit the following link:
About Performance Lab Caffeine+
Performance Lab Caffeine+ is a clean, natural stim stack that promises to deliver "a calm, controlled caffeine kick without the downsides."
L-theanine and L-tyrosine are the two main ingredients that deliver on this promise, respectively sustaining calm focus and replenishing depleted neurochemicals to even out the caffeine rush.
NutriGenesis® Caffeine Balance B-Complex also helps sustain mood and energy levels, counterbalancing caffeine's depletion of vitamins B2, B6, B9, and B12
The NutriCaps® pullulan capsules are a highlight of all Performance Lab supplements, making these some of the cleanest nootropic stacks that money can buy.
Get the Best Deal on Performance Lab Caffeine+ Here
Performance Lab Caffeine+ Ingredients

Ingredients
Amount Per Serving
NutriGenesis® Caffeine Balance B-Complex
Riboflavin (Vitamin B2)
500 mcg (38% DV)
Vitamin B6 (from NutriGenesis®)
750 mcg (44% DV)
Folate (Vitamin B9)
170 mcg DFE (42.5% DV)
Vitamin B12 (from NutriGenesis®)
2 mcg (83% DV)
Natural Caffeine (from Coffea robusta seeds)
50 mg
L-Theanine
100 mg
L-Tyrosine
250 mg
Serving Size: 1 NutriCap®
Servings Per Container: 30
Other Ingredients: NutriCaps® Pullulan Capsule, NuFlow® Rice Concentrate
Directions: Take 1 capsule for stimulation. Take up to 5 capsules daily.
Do I really need to explain or vouch for caffeine, the world's favorite natural smart drug? No, not really. However, Performance Lab Caffeine+'s fresh take on the coffee bean stimulant is worth looking into.
Here's a breakdown of Caffeine+'s formula.
Performance Lab Caffeine+ Review: Ingredients
B-Vitamin Complex: When you consume caffeine, you urinate. And when you urinate, your B vitamin levels drop, negatively impacting your mood, energy, and all-around cognition. Performance Lab Caffeine+ smartly provides a unique B-vitamin complex (B2, B6, B9, and B12) that altogether supports serotonergic and catecholaminergic neurochemical levels and brain energy production. What's more, Performance Lab uses the patented NutriGenesis forms of these vitamins, which are more bioavailable and effective than the standard, cheap variants. More on B Vitamins.
Natural Caffeine: Caffeine doesn't need any introduction. Odds are you have some in your system as you read this. Performance Lab Caffeine+ delivers a smartly scalable amount of 50mg, allowing you to take one serving a solid as-needed boost or two to three servings for greater energy and focus. It's all about intake control here, which is valuable when it comes to stimulants. More on Caffeine.
L-Theanine: Many nootropic heads know about the unique advantages of pairing caffeine with L-theanine, an amino acid found in green tea associated with mental calm, focus, and performance. Research suggests that this combo has shown "improvement in short-term sustained attention and overall cognition." Performance Lab supplies premium L-theanine as Suntheanine®, a 100% pure and clean source of this cognitive enhancing amino. More on L-Theanine.
L-Tyrosine: What's perhaps not as well-recognized as the caffeine + L-theanine combo is the caffeine + L-tyrosine combo. L-tyrosine is one of my all-time favorite nootropics and a daily staple of my morning coffee/caffeine stack. This amino acid is pro-catecholaminergic, meaning it stimulates the production of catecholamine neurotransmitters (dopamine, epinephrine, norepinephrine). When you're overstimulated and/or sleep deprived, your body burns through tyrosine to stay afloat. Adding L-tyrosine to your stimulant stack is a smart way to keep your catecholamine levels up, along with your mood and mental performance. More on L-Tyrosine.
Get the Best Deal on Performance Lab Caffeine+ Here
Performance Lab Caffeine+ Review: My Experience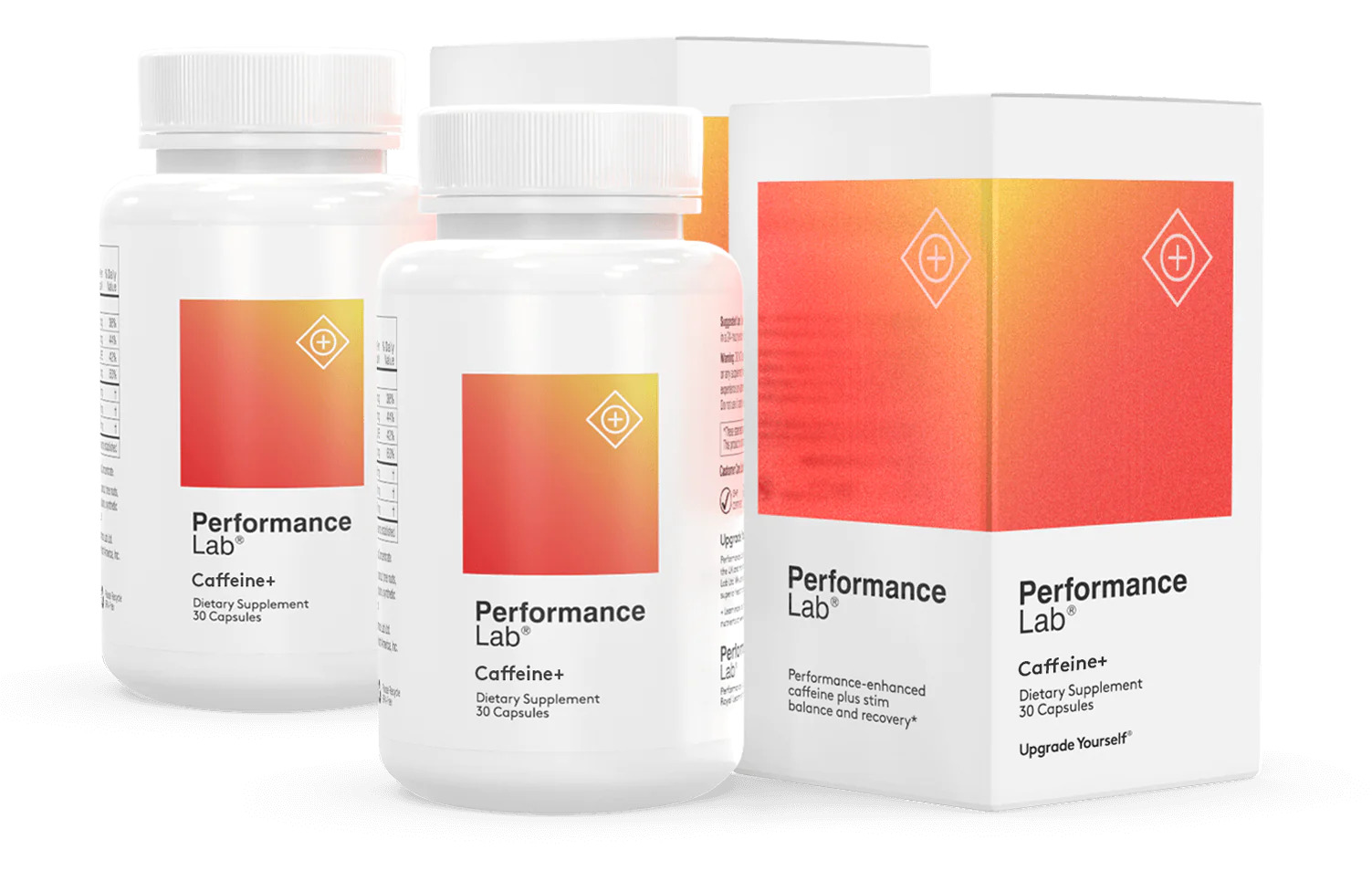 Formerly known as Performance Lab Stim, Performance Lab Caffeine+ is exactly as the new title says: it's caffeine plus more.
"More" meaning nootropics.
And these are the exact nootropics you'd want to stack with caffeine to maximize its focus- and performance-boosting benefits while minimizing its downsides: the jittery side effects, the post-energy comedown and crash, etc.
I take Performance Lab Caffeine+ almost on a daily basis. Oddly enough since I started taking Caffeine+, my overall caffeine intake has gone down, as I feel I get more of what I need with this stack.
No doubt, this is hugely thanks to Caffeine+'s smart addition of L-tyrosine, which you feel just as much as the familiar rush of caffeine. If caffeine feels like an energy rush, L-tyrosine feels like a brain recharge. As much as I try to stick to a healthy sleep schedule, I also have the American disease of workaholism, which often keeps me up at night. Caffeine+'s L-tyrosine helps to keep my mind fresh and mood happy throughout the day after a relatively sleepless night.
As far as the actual performance side goes with Performance Lab Caffeine+, the caffeine + L-theanine combo here does exactly what the combo is known to do: boosts energy and focus while polishing off caffeine's rough edges and keeping any anxiety associated with stimulants at bay.
Overall, Performance Lab Caffeine+ is easily the best caffeine pill you can buy. I highly recommend if you're looking for a clean, effective source of natural stimulation — without any of the downsides.
Performance Lab Supplements
What makes Performance Lab one of my favorite supplement manufacturers is how their products are designed to be taken either alone or altogether as a complete health and fitness stack. Depending on your particular needs, you can customize your own Performance Lab supplement stack, without worrying about any negative ingredient interactions.
Here's a solid stack of supplements to pair with Performance Lab Caffeine+:
Performance Lab Mind: A daily foundational stim-free brain boosting stack for focus, clarity, memory, mood, and long-range brain health. Take Caffeine+ for acute performance enhancement and Mind for long-term cognitive health support.
Performance Lab Energy: There are stimulatory and non-stimulatory approaches to energy enhancement, and Performance Lab Energy takes the non-stimulatory approach by instead promoting natural cellular energy production.
Performance Lab Sleep: What goes up must come down. Whether taking a nootropic stim stack or not, having a little (natural, cherry-sourced) melatonin on your side is a great idea to offset any sleep disruption caused by late-night blue light exposure. Easily my favorite melatonin sleep supplement.
Performance Lab MCT: If Caffeine+ stimulates mental performance and Energy promotes cellular energy production, Performance Lab MCT boosts energy and cognition by supplying MCT oil, a natural source of ketogenic energy that not only sustains cognition but assists with any sort of keto-friendly diet and/or fat-burning regimen.
To learn more about the Performance Lab line of supplements, you can hit up their impressively informative website here: performancelab.com
The Pros
Caffeine + L-Theanine + L-Tyrosine: this really is the best caffeine stack, further bolstered by a smart addition of B-vitamins to counteract caffeine's vitamin-depleting diuretic effect.
The 50mg caffeine dosage is also a stroke of genius here, as it allows for scalability in terms of servings. One serving will suffice, but you can certainly double or even triple the dose as-needed.
The quality of Caffeine+ (and of Performance Lab supplements in general) is unmatched by other supplement companies, especially by other caffeine supplements, which are typically cheap and full of junk. Performance Lab Caffeine+ is all-natural and all-clean. Safe for use by all, regardless of dietary restrictions.
The Cons
Pricing
1 Month Supply
$44 for 30 capsules, a 30-day supply
$1.47 per serving
2 Month Supply (2 Boxes)
$88 for 60 capsules, a 60-day supply
$1.47 per serving
3 Month Supply + 1 Box FREE (4 Boxes)
$132 for 120 capsules, a 120-day supply
$1.10 per serving
Personally, I take Performance Lab Caffeine+ on an as-needed basis, so my bottles typically last longer than a month each. Having said that, if you're looking to take this long-term, the third order option (3 Month Supply + 1 Box FREE) offers the most bang for your buck in terms of cost per serving.
Who Takes Performance Lab Caffeine+?
This is like asking who drinks coffee? Virtually anyone and everyone could take Performance Lab Caffeine+ as a quick means to boosting your energy and mental performance. This is a solid, effective caffeine pill, especially if you're looking for a quick mood and productivity stack that comes with just the right nootropics to help take off the jittery edge and post-energy crash.
Where to Buy It
You can only buy Performance Lab Caffeine+ at the Performance Lab website here: performancelab.com
Conclusion: Does Performance Lab Caffeine+ Work?
Yes, Performance Lab Caffeine+ works. And it works beyond the reliable effectiveness of caffeine, thanks to its smart complementary additions of calming L-theanine and replenishing L-tyrosine — not to mention the mood-boosting B-vitamin stack.
What's frustrating about nootropic caffeine supplements is that they're typically either too complex or too simple in their formulation. Performance Lab Caffeine+ hits the perfect Goldilocks sweet spot, delivering a clean, direct energy kick with no comedown and crash.
An all-around great supplement to add to your daily nootropic stack. I highly recommend.
Want some?
Get the Best Deal on Performance Lab Caffeine+ Here
Final Rating