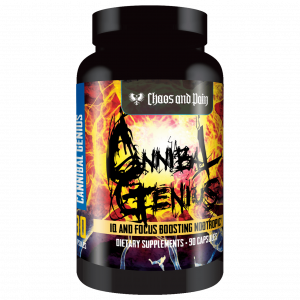 Cannibal Genius comes with a warning:
Cannibal Genius contains powerful stimulants, so it is not advisable to take this within 4 hours of bedtime."
Which in alpha male language translates to: THEN I'M NOT GOING TO BED!!
Because only a weak willed creature would ever heed a warning! And Chaos & Pain, the creators of Cannibal Genius, are not ones to pander to the weak willed, which is why most of their supplements are geared towards the insane-o muscleheads.
Having said that, Cannibal Genius definitely reads like a nootropic for the musclehead, given its use of non-nootropic stimulants. Not to say that it doesn't have nootropics, but, uh… I'll explain all of that in the review.
About Cannibal Genius
Manufactured by Chaos & Pain, a blog turned supplement creator, Cannibal Genius is an alpha male cognitive enhancer for "Intense Focus!"
While most nootropics users think of focus in the cerebral sense of the word, Cannibal Genius focuses on the more aggressive gym-oriented brand of focus.
Despite the extreme design & label, Cannibal Genius does sport several notable cognitive enhancers. However, there's one issue: Their dosages.
Cannibal Genius Ingredients

Ingredients
Amount Per Serving
Alpha GPC 50%
150 mg
Ginkgo Biloba
120 mg
Acacia Rigidula
100 mg
Bacopa Monnieri
50 mg
Acetylcarnitine
50 mg
Theanine
50 mg
Naringin
25 mg
Noopept™ (N-phenylacetyl-L-prolylglycine ethyl ester)
20 mg
Sulbutiamine
10 mg
Bioperine
5 mg
Vitamin D3
0.156mg
Serving Size: 1 Capsule
Servings Per Container: 90
Other Ingredients: Gelatin, microcrystalline cellulose, magnesium stearate.
Directions: Cannibal Genius contains powerful stimulants, so it is not advisable to take this within 4 hours of bedtime. It is an incredibly potent nootropic but can be taken daily if you wish. Take 2 capsules of Cannibal Genius 30 minutes prior to studying, reading, lifting, board meetings, or any other time you require cognitive enhancement.
There are a lot of two-digit dosages, which usually isn't a good sign: Most nootropics require at least 100 mg to have an effect (and 100 mg in most cases isn't near enough). Let's check out the ingredients to see what exactly is going on here:
Cannibal Genius Review: Ingredients
Alpha GPC 50% – Of the choline donors, Alpha-GPC has the highest nootropic concentration of choline, a precursor material to neurotransmitter acetylcholine & membrane constituent phosphatidylcholine. More on Alpha GPC.
Ginkgo Biloba – Older men & women are recommended Ginkgo for its circulatory benefits, but this ancient natural nootropic may also enhance short-term memory for all ages. More on Ginkgo Biloba.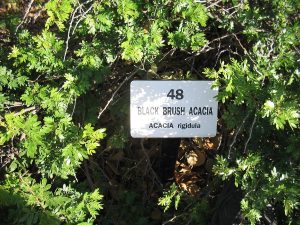 Acacia Rigidula – The FDA isn't too happy with this stimulant herb, which reportedly may produce false positives on a drug test for amphetamines. For the most part Acacia rigidula (also known as Vachellia rigidula or Chaparro Prieto) remains untested with an unproven safety rating.
Bacopa Monnieri – On the flipside, Bacopa is backed by a lot of research, much of which demonstrates this Ayurvedic adaptogens anti-stress, pro-memory benefits. Its long-term support on memory & learning make it particularly useful to students. More on Bacopa.
Acetylcarnitine – ALCAR boosts brainpower insomuch that it boosts brain energy. It seems to work by increasing mitochondrial output of natural ATP energy, a natural energy as compared to, say, caffeinated stimulation. More on ALCAR.
Theanine – L-Theanine is a common go-to among nootropic stackers for its reliable boosts on focus & relaxation. Except unlike pharmaceutical relaxants, Theanine's calmness comes without mind-dulling sedation. More on L-Theanine.
Naringin – Rumor on the street is Naringin might potentiate the effects of stimulants. This may or may not be true, but for the most part this compound is used specifically for shedding weight. Not any bona fide cognitive purposes.
Noopept – This racetam-like substance is similar in structure & effect to piracetam & aniracetam, except more potent–with some users describing the experience as "psychostimulating.". More on Noopept.
Sulbutiamine – Commonly taken for social anxiety, Sulbutiamine is only two vitamin B1 molecules bonded together. A rather innocuous combo that seems possess significant anxiolytic value. More on Sulbutiamine.
Bioperine – Always a good idea to toss in a little Bioperine, a black pepper extract (piperine) that enhances nutrient absorption and thus the overall bioavailability of this formula.
Vitamin D3 – Not sure this is entirely essential here, but a little D vitamin can't hurt. (Apparently, some Cannibal Genius formulas carry 625 mcg Vitamin D, which is a lot of Vitamin D. Hard to tell if there's been a reformulation or if this is due to sloppy label errors. Not a good look.)
Cannibal Genius Review: Interesting Ingredients, Weak Dosages

That's really the best way to sum up this formula: Under Dosed.
However, that only highlights one of the issues with this nootropic formula. The other issue lies in the fact that you can't increase servings to alleviate the first issue, due to a couple of odd ingredients:
Acacia Rigidula – Not sure what a safe dosage is, but probably shouldn't overdo it on this stimulant until we figure out what's what with it.
Vitamin D – There's already enough of this vitamin in one serving. Amping it up isn't the worst thing in the world, but isn't sustainable for the average user over time.
With regards to the manufacturers, Chaos & Pain, there's one reddit comment that I thought perfectly summed them up:

And that's exactly right: Chaos & Pain are best known for their extreme-o products, an oddity in the world of nootropic supplements. With that in mind it makes sense that Chaos & Pain would go with a risky "stimulant" product for their nootropic that drops the ball on the ingredients that matter (w/r/t dosages).
You may experience some focus with this stack, but it's doubtful to be of the nootropic variety. Which is a shame considering that they could've made something worthwhile with their unique combo of Noopept, Sulbutiamine, & Alpha-GPC.
The Pros
Noopept & Sulbutiamine are rare nootropic drugs to premade manufactured stacks. I'm always looking for supplements that can implement them smartly & safely.
The Alpha-GPC could still use more milligrams, but at least it's decently dosed. Ginkgo is looking good as well.
Cannibal Genius is cheap, selling its pills for $0.89 per 2 capsules.
The Cons
Almost every ingredient is under dosed, nullifying over half of this formula.
Double-stacking the servings to rectify the previous con isn't entirely viable due to the risk of Acacia Rigidula and possibly Vitamin D (if the dosage is 625 mcg).
And let's talk about that dosage for a second: Sloppy & inconsistent supplement facts is usually indicative of sloppy & inconsistent manufacturing.
Pricing
$39.99 for 90 capsules, a 45-day supply
$0.89 per serving
Who Takes Cannibal Genius?
Extreme-o Meatheads. The Chaos & Pain blog is actually decent reading, if you can find it. But most of their content is geared towards the aggressive, kind of creepy in that cool metalhead sort of way, weightlifters. Their nootropic seems designed for the same audience.
Where to Get It
You can buy Cannibal Genius directly through Chaos & Pain's website as well as eBay (but no Amazon).
Conclusion: Does Cannibal Genius Work?
The customer reviews on Chaos & Pain's website speak highly of the product, however… I'm always suspicious of: A) Reviews displayed on the manufacturer's website, and B) Especially if they're delivered with pristine grammar. (Was that an appropriate use of the ABC listing methodology? Eh, whatever.)
Cannibal Genius' customer reviews are backed by both A) & B), which leads me to think that the formula is essentially hyped up stimulation, in both a pejorative & literal sense: It's overhyped by shady reviews and delivered overhyped effects, thanks to the stimulation.
Which, by the way, I don't necessarily qualify stimulation as true brain healthy nootropism.
On that note, Cannibal Genius seems to work for pre-workout, pre-activity, pre-whatever stimulant energy. But I wouldn't necessarily take it for truly enhanced brain health & function.
To learn more about the best nootropic supplements to buy in 2019, click here.
Final Rating
Formulation Strategy

Brainpower Benefits

Brain Health Benefits

Transparency

Quality

Value

Average