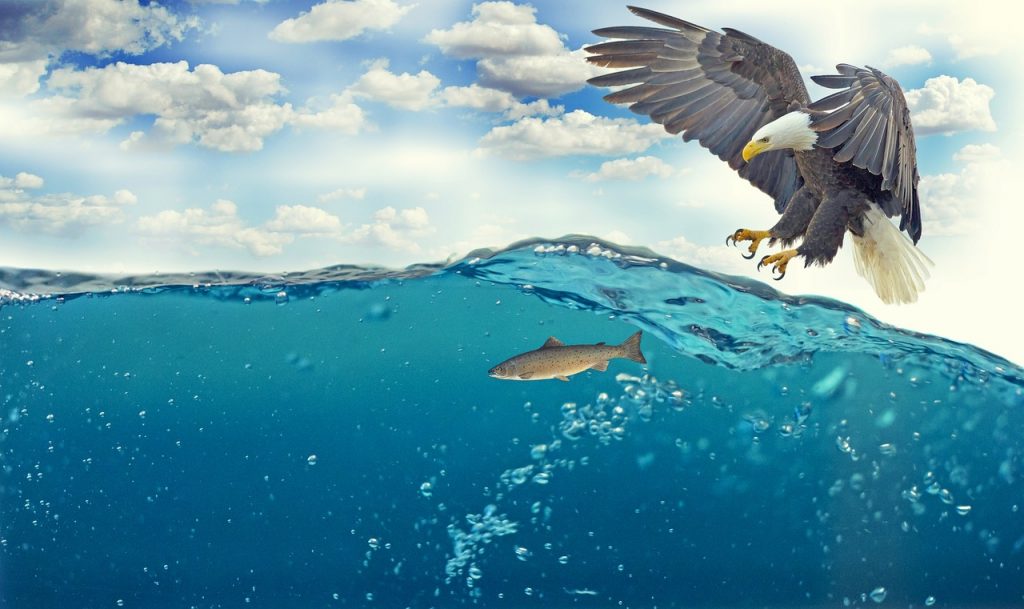 The eagle stalks the salmon not for the nutritional sustenance or a full belly.
The eagle stalks the salmon for the nootropics, baby.
More specifically, the Dimethylaminoethanol (DMAE), a dietary component of various fish species and an increasingly big name in the brain health game.
Unfortunately, the eagle, like many in the brain health game, might be misguided in its nootropic quest, because, from a scientific standpoint, DMAE is followed by a giant question mark. As in how does this nootropic work? What are its benefits? Does it work??
Naturally, these are important questions that you'll want to (and should) know before supplementing a nootropic. Let's see if they have answers w/r/t DMAE.
TL/DNR: DMAE is a natural compound produced in the brain that may support memory & concentration. While research on this nootropic is scarce, numbers suggest it may provide unique benefits to cognition impaired by hyperattention & neurodegeneration.
How DMAE Is Supposed to Work
Dimethylaminoethanol, or DMAE (or deanol, my least favorite), is an organic compound similar to choline that's naturally produced in the brain. (So why do I need to supplement it??)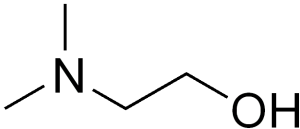 Within the brain, DMAE primarily operates as a precursor to acetylcholine (ACh), a neurotransmitter with a well-demonstrated positive association with memory, learning, & other cognitive functions. Low acetylcholine levels lead to a diminished cognitive state, a problem of increasing prominence as you age. (Does that answer your question??)
The only problem: DMAE has yet to clinically demonstrate benefits on ACh.
DMAE has an anecdotal reputation as a memory enhancer & an anti-aging agent (most notably in skin creams), but only some customer reviews report of cognitive benefits, whereas some report of no effect.
So what the hell is happening here?
Here's what we know so far:
Potential Cholinergic Support
Word on the street (& some labs, maybe), DMAE primarily operates as a cholinergic agent, the suggestion being that it increases brain levels of a choline, a precursor compound to phosphatidylcholine & acetylcholine. This would potentially align DMAE among the likes of citicoline & alpha-GPC, however these latter two choline compounds are backed by better evidence than DMAE, which (as you'll read below) only has a few, weak, dated human trials in its support — as well as a rat study that found no significant evidence of DMAE's choline increase leading to an increase in acetylcholine.
Antioxidant Enhancement
Based on the research, DMAE as an antioxidant neuroprotector makes more sense than DMAE as an outright acetylcholine booster. The antioxidant bioaction of DMAE is believed to improve brain cell membrane fluidity, potentially imbuing DMAE with anti-aging properties. (Although, the research indicates that centrophenoxine might be a better option for this.)
DMAE Benefits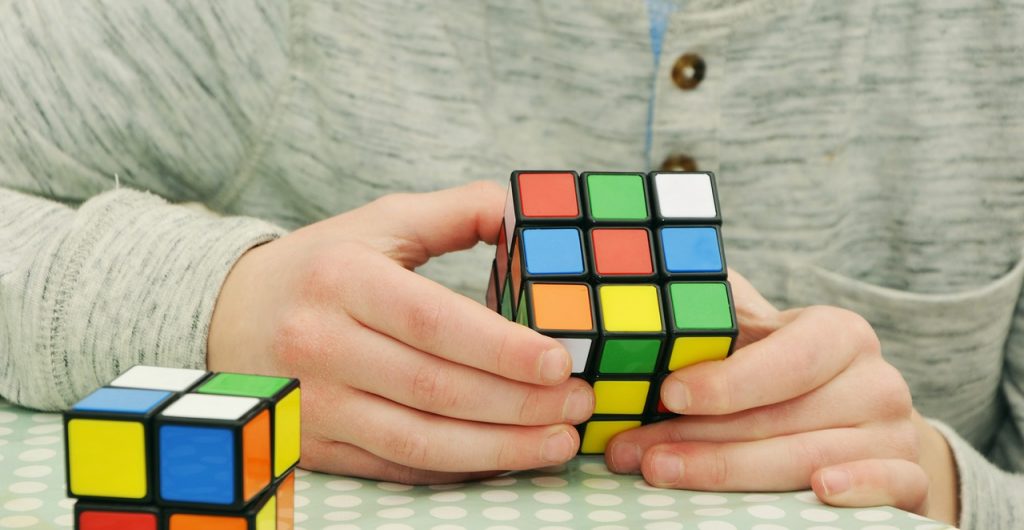 Anecdotally, DMAE is believed to support Memory & Concentration, with a number of /r/Nootropic redditors claiming improvements on the latter benefit (concentration) under conditions of ADD/ADHD. There is just a little bit of research available that backs DMAE therapy for ADD/ADHD, but I'll need to see more clinical research before fully trusting this form of treatment.
Likewise, I'll need to see more research in general to attain the full scope of DMAE's cognitive advantages. Hypothetically, there may be something there with DMAE's cholinergic & antioxidant capabilities, with one 1973 study in particular finding generally improved lifespans of mice due to DMAE & centrophenoxine administration. On that note, I agree that DMAE may have a generally positive outcome on cognition, namely in diminished cognitive states. But I couldn't tell you exactly which demographic should or shouldn't be taking this nootropic.
Researchers Have Suggested DMAE Might:
Increase brain choline levels, not acetylcholine (rat study)
This rat experiment evaluated the effect of DMAE on acetylcholine synthesis (in vitro & vivo). Following DMAE administration, the researchers observed a significant increase in choline concentration within the plasma & brain, however acetylcholine concentration was not significantly altered. In conclusion, the researchers stated: "[DMAE] may prove therapeutically useful when the production of choline is reduced or when the utilization of choline for the synthesis of acetylcholine is impaired."
Improve cognitive impairment in neurodegeneration
In this small, weak study, 14 senile participants with memory impairment were administered deanol in progressively heavier daily dosages (1800 mg max) for a 4 week span to determine the nootropic's benefit on cognitive impairment. The study was undertaken based on the presumption of deanol's acetylcholine boosting potential, and while memory was not significantly altered by deanol administration, various behavioral factors of depression, irritability, anxiety, & motivation were improved. This lead to the suggestion that "although deanol may not improve memory, it may produce positive behavioral changes in some senile patients."
Enhance concentration, reduce hyperactivity
I'm digging even deeper here, unearthing a comparative study published in 1960 that compared DMAE to the sedative trimeglamide with regards to their effects on children with behavioral disorders — namely hyperactivity. The methods included one group receiving 50 mg DMAE twice daily, a second group receiving 250 mg trimeglamide twice daily, and a third receiving placebo. The results: DMAE increased concentration, while trimeglamide alleviated tantrums & hyperactivity. The conclusion: "The author suggests the concomitant use of these two drugs in overly aggresive, emotionally disturbed children."
How to Take DMAE
Retail DMAE bitartrate dosages typically range between 150 to 250 mg.
Daily recommendations often advise a 250 mg dosage 1-3 times daily.
In studies, DMAE has been administered anywhere from 50 to 1800 mg dosages, demonstrating generally safe effects — although, we'll need more research to verify a safety rating.
My Experience with DMAE
Occasionally, I find DMAE in the manufactured pre-workout supplements that I try every now & then. In the context of exercise, DMAE is purported to enhance the "mind-to-muscle" connection, which, judging by the research reviewed above, seems like bullshit.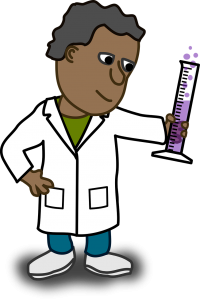 Or at least unsubstantiated bullshit:
Unsubstantiated by the science.
Unsubstantiated by my experience.
My experience with DMAE finds the compound ineffective at altering my cognitive state. And I've supplementing DMAE both in a PWO & nootropic context, observing changes only when other ingredients are involved.
I've read of racetams enhancing the DMAE experience, and I may consider the stack in the future, potentially tossing in citicoline to round out any cholinergic edges. However, on that note, I don't feel too pressed to retry DMAE, considering that citicoline seems to adequately enhance my cognition in ways that are associated with DMAE.
Premium nootropic stacks seem to opt for centrophenoxine over DMAE, so I'll likely be looking into that compound over DMAE at some point in the near-ish future.
Is DMAE a Good Nootropic?
DMAE is a conditionally good nootropic, based on conditions that we haven't yet fully realized. Which isn't the most insightful conclusion to this review, but it's the best I can give.
Frankly, DMAE is a cheap ingredient, averaging around $8 to $9 dollars per monthly supply. That alone should warrant your consideration, even if you're only moderately curious on what this nootropic could do for your cognition.
Maybe DMAE works? Maybe it doesn't?
The answer seems to change based on the needs of the user, with DMAE's benefits seemingly geared towards hyperactivity and/or inattention. Although, there are better nootropics available for memory & brainpower.
Overall DMAE Nootropic Power Rating
Brain Energy
Neurotransmitters
Cerebral Circulation
Brainwaves
Brain Regeneration
Neuroprotective
Average