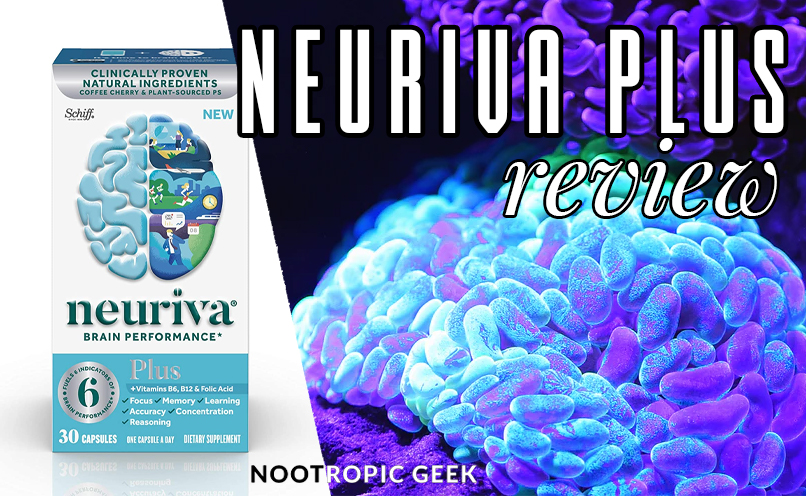 Summary: Neuriva Plus Review
Yo, this is the Nootropic Geek review of Neuriva Plus, a popular over-the-counter brain booster sold in physical retail stores (Walgreens, Walmart, etc.) as well as on Amazon. Despite its brand name recognition, this is truly a weak entry into the nootropic market. An all-around poorly designed, ineffective cognitive enhancer, Neuriva Plus is oddly overpriced and underwhelming. I suggest skipping on Neuriva Plus and opting for a better, healthier, more valuable nootropic stack. Here are some of my favorites:
About Neuriva Plus
Neuriva Plus is a "Brain Performance" nootropic stack that promises to elevate focus, memory, learning, accuracy, concentration, and reasoning.
Primarily driven by coffee extract and phosphatidylserine, Neuriva Plus is more intended for brain health than brain performance.
Even from the brain health angle, Neuriva Plus fails to deliver due to poor ingredient quality and an overall weak formula design.
Neuriva Ingredients

Ingredients
Amount Per Serving
Vitamin B6 (as pyridoxine hydrochloride)
1.7 mg (100% DV)
Folate (400 mcg folic acid)
680 mcg DFE (170% DV)
Vitamin B12 (as cyanocobalamin)
2.4 mcg (100% DV)
Coffee Fruit Extract (Coffea arabica)
200 mg
Phosphatidylserine
100 mg
Serving Size: 1 capsule
Servings Per Container: 30
Other Ingredients: capsule (hydroxypropyl methylcellulose, carrageenan, titanium dioxide, pectin), microcrystalline cellulose, rice bran, silicon dioxide, magnesium stearate, CONTAINS SOY.
Directions: Adults (18 years and older) take one (1) capsule daily.
Not exactly the most complex or comprehensive nootropic stack, especially for a supplement that makes some fairly broad "all-in-one" brain health and performance claims. But having said that, let's take a closer look at the formula's ingredients anyways:
Neuriva Plus Review: The Ingredients
Coffee Fruit Extract: A decaffeinated (sorry) coffee extract that goes by the name of NeuroFactor and that supplies a unique mix of brain-healthy polyphenols believed to promote brain-derived neurotrophic factor (BDNF). Not a bad ingredient for brain health, but this isn't really much of a "performance" nootropic. Not to the degree that's promised by this product's overhyped claims.
Phosphatidylserine: Always a good idea to add more phosphatidylserine (PS) to your diet. Involved in the formation of brain cell membranes, PS plays a key role in neuron-to-neuron communication — not to mention memory. More on Phosphatidylserine.
Vitamin B6: Of the B vitamins, vitamin B6 deserves special attention as a cognitive enhancer, namely due to this vitamin's well-documented role in neurochemical synthesis (e.g., dopamine and serotonin). However, pyridoxine hydrochloride is the cheap version of this vitamin, which should instead have come as P-5-P (pyridoxal-5-phosphate). More on Vitamin B6.
Vitamin B9: Better known for its role in prenatal multivitamin supplements, vitamin B9 is also a smart B-vitamin for mental and emotional health.
Vitamin B12: Similar to Neuriva's vitamin B6, the vitamin B12 here is a good idea but delivered in poor form (cyanocobalamin). Methylcobalamin would've been the better choice here. Strange for Neuriva to cut corners here considering they have so few ingredients in this formula as is. More on Vitamin B12.
The Ultimate B-Vitamin Stim Stack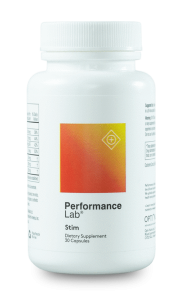 Neuriva Plus supplies decaffeinated coffee extract for brain health. However, for heightened performance, opting for natural caffeine with a similar (albeit better) B-vitamin complex may offer better nootropic results. The model stack I have in mind is Performance Lab Stim.
The formula splits into two stacks:
Performance-Tuned Stimulation: natural caffeine + L-theanine
Caffeine Balance and Recovery: L-tyrosine + B-vitamin complex
The idea here is to deliver the fast-acting feel-good cognitive benefits of caffeine while mitigating its jittery downsides with calming L-theanine and neurotransmitter replenishing L-tyrosine and B-vitamins. In other words, you get the performance boost of caffeine without the attendant comedown and crash.
Want some? Get the Best Deal on Performance Lab Stim here.
Read my Performance Lab Stim review here.
Neuriva Plus Review: My Experience
Let's cut straight to the point: Neuriva Plus is a bad supplement and you shouldn't buy it.
Really, there isn't much to say about my experience with this nootropic supplement because I didn't notice any results with it. And, to be honest, I wasn't expecting any results after initially looking at the formula. Off the bat, I could tell that Neuriva Plus is:
Poorly Formulated – only two common nootropics with a few B-vitamins?
Low Quality – the B-vitamins are in cheap, hard-to-absorb forms.
Artificial Additives – if the "Other Ingredients" outnumber the main ingredients, odds are you're looking at a fake cheap-O product.
This isn't to say that NeuroFactor (coffee extract) and phosphatidylserine (Sharp-PS) are bad ingredients. Especially for a brain health stack, these two ingredients can significantly elevate your daily brain health function …or, at least, with daily use, they may eventually elevate your brain health and performance.
But considering the multiple brain performance claims made by this supplement ("Neuro Plus fuels 6 indicators of brain performance: Learning, Memory, Focus, Reasoning, Accuracy, and Concentration!"), I'd say that what you're getting with Neuriva Plus isn't what you might expect based on this supplement's ad copy.
Coffee extract and phosphatidylserine — two nootropic ingredients found in many better nootropic formulas — won't deliver on these benefits alone in any significantly noticeable way. If you're looking for a BDNF-boosting nootropic stack that also acutely enhances cognitive performance, you can do much better than Neuriva Plus.
Read my Best Pre-Made Supplements list HERE
The Pros
This coffee extract and phosphatidylserine are truly beneficial for brain health and smart to take on a daily basis.
The Cons
I would put the B-vitamins in the "Pro" category here if they weren't of such poor quality and meh dosages.
Neuriva Plus isn't exactly providing anything groundbreaking here with coffee extract, which is a fairly common ingredient in many nootropic supplements (that supply this ingredient and then some).
Value wise, Neuriva Plus doesn't cut it. For nearly $40 bucks you're getting a poor quality, poorly formulated product with negligible effects on cognition. Not worth the investment IMO.
Pricing
$38.51 for 30 capsules, a 30-day supply
$1.28 per serving
Who Takes Neuriva Plus?
I place Neuriva Plus in the "Walgreens nootropic" category, not solely because this product is sold at Walgreens but because it's just flat-out not good (like many over-the-counter "brain health" supplements sold at Walgreens, Walmart, etc). As such, I imagine Neuriva Plus appeals to the casual shopper looking for a "brain health" supplement and/or the elderly.
Having said that, Neuriva Plus does make an attempt to be "new" and "modern" for the more nootropic-savvy "bio-hacker" crowd with its emphasis on employing "Real Science!" that is "Neuroscientist Approved!" (Highly dubious and deceptive claim.) I find it hard to imagine any young hip bio-hacker finding interest in this stack, but if by chance you're a young hip bio-hacker considering this stack, I'd recommend not taking this one.
Neuriva Side Effects: Is It Safe?
I wouldn't expect any side effects from Neuriva Plus, namely because I wouldn't expect really any effects at all. Or any effects drastic enough for you to worry about adverse effects. On the whole, these ingredients are safe and natural, though the "Other Ingredients" are cheap and largely artificial.
Where to Buy It
Neuriva Plus is sold in many retailers, including Walgreens, Walmart, Kroger, Rite Aid, and CVS Health, as well as online at Amazon.
Read my Best Nootropics on Amazon list HERE
Conclusion: Does Neuriva Plus Work?
Let's just go with no, Neuriva Plus does not work.
Sure, technically (and clinically), coffee extract and phosphatidylserine may work and help elevate certain aspects of your brain health over time. But these two ingredients alone (plus the meh B-vitamins) don't warrant the price tag here. Really, it's just not an exciting product at all, and the ad copy for this supplement does cross the line for me and feels annoyingly deceptive.
My recommendation: don't buy the hype on this product. You can do much better.
Read my Best Nootropics for Memory list here.
Final Rating
Formulation Strategy

Brainpower Benefits

Brain Health Benefits

Transparency

Quality

Value