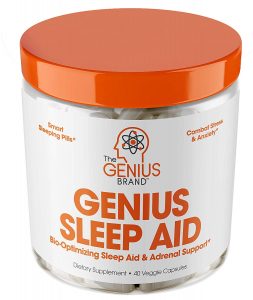 Stop reading this and go to sleep! Do you realize how awful the blue light rays emitted from this screen are for you? It's keeping you up at night, rotting your brain, and turning you into a walking day-zombie. And that's seriously not good for your mental health, let alone your physical appearances.
No wonder no likes you!
Okay, that's not fair. (I don't know you.) But, frankly, it's a good guess: odds are you're considering this supplement because you're tired of being tired, and you want something that will get your ass to sleep at night at a reasonable hour, so you can wake up at a reasonable hour — at least reasonable enough to get your life in order and your health in check and your physique in fit form. And, well, I suppose Genius Sleep AID may just do all of that for you, if poor sleep is the only thing standing in your way.
But it also might not work for you at all.
It's really hard to say until you read this Genius Sleep AID review. So, I guess… actually, you must read this review. Sleep just isn't happening tonight.
About Genius Sleep AID
By the Genius Brand, makers of Genius Consciousness and Genius Joy, Genius Sleep AID is a "Bio-Optimizing Sleep Aid & Adrenal Support" stack driven by aminos, melatonin, and a couple other compounds.
The melatonin is reasonably dosed (0.5mg), not enough to leave you feeling like a pile of excrement the next morning. Yet, its quality isn't the best.
The other ingredients seem particularly geared towards lessening stress and anxiety. Decent ingredients, not so decent dosages.
Genius Sleep AID Ingredients

Ingredients
Amount Per Serving
L-Glycine
1g
L-Theanine (as TheaKalm®) (from Camellia sinensis [Leaf] Extract)
100mg
Rutaecarpine
100mg
Inositol
100mg
Melatonin
0.5mg
Serving Size: 2 Veggie Capsules
Servings Per Container: 20
Other Ingredients: Vegetable Capsule (Hypromellose), Silica, Ascorbyl (Vitamin C) Palmitate.
Directions: As a dietary supplement, take 2 capsules 30 minutes before bed. Genius Sleep Aid is best when taken 5 nights per week with two days off. We recommend using on nights where good sleep is especially important.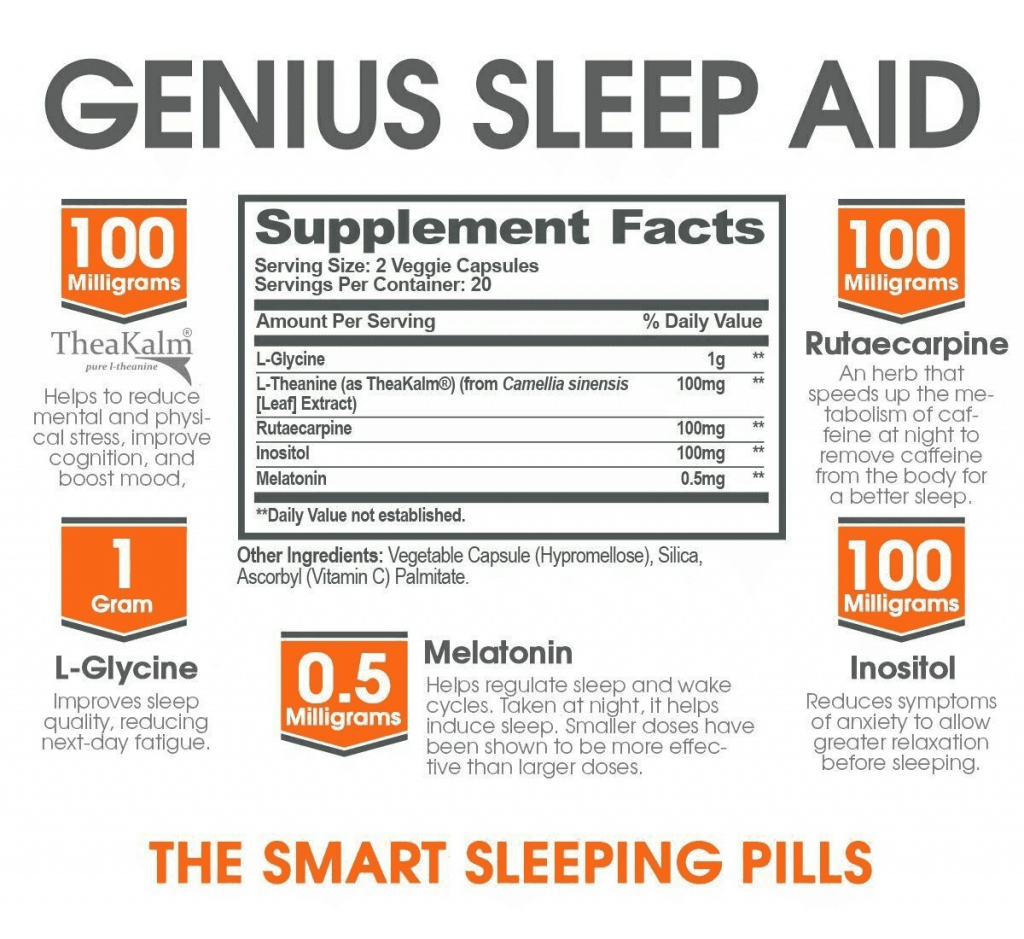 Sleep aid supplements should be simple and, fortunately, Genius Sleep AID keeps its simple with its 5-ingredient formula. Check it out:
Genius Sleep AID Review: Ingredients
L-Glycine – This is a popular amino acid among bodybuilders for its muscle building benefits. However, Genius Sleep AID seems to include it primarily for its sleep enhancing benefits. One study found the amino effective at improving "subjective sleep quality" at 3g dosages. With that in mind, this 1g serving seems on the low end.
L-Theanine (as TheaKalm®) – Sourced from green tea leaves (Camellia sinensis), L-theanine is an anxiolytic amino acid and a great nootropic all around. By promoting alpha brainwaves and reducing anxiety, L-theanine works as both a daytime productivity cognitive enhancer and a nighttime relaxant. It's not a sedative, so no worries there. And yet its calming effects may improve sleep quality. More on L-Theanine.
Rutaecarpine – This is a sleep aid by being a caffeine cleanse aid. By potentially increasing metabolism and urinary excretion of caffeine, rutaecarpine may help remove any residual stimulation from the day's coffee(s) prior to bedtime.
Inositol – In heavy dosages (like, in the 10+ gram range), inositol seems to have an anti-anxiety effect on cognition. However, this 100mg is substantially below that marker. Even so, its inclusion here may subtly improve pre-sleep relaxation.
Melatonin – You know what it is: melatonin is one of the most popular go-to sleep aids for its reliable effects on sleep quality. Many sleep aid supplements overshoot by supplying excessive amounts of this sleepy-time neurotransmitter, so this modest 0.5mg amount seems smart. Although, it seems Genius Sleep AID is using your usual synthetic melatonin, as opposed to the naturally sourced stuff (e.g., like the cherry tart extracted melatonin found in Performance Lab Sleep's formula: read the review here). Synthetic melatonin tends to vary in its potency, whereas standardized natural extracts come in more reliable concentrations.
Genius Sleep AID Review: Minimally Effective Nighttime Support
Achieving better sleep is a life changer in many, many ways. As a stubborn night owl who practically needs someone to shoot me with a tranquilizer gun to get me to bed at a reasonable hour, I can attest to the various life quality and health improvements that come with simply getting better sleep.
If you've got 99 problems, the first one you need to solve is sleep. The rest will fix themselves shortly after.
So, with that in mind, if Genius Sleep AID helps you achieve better sleep, then, yes, your life, your mood, your work productivity — all of that — will significantly improve. But having said that, I don't see Genius Sleep AID as the best sleep supplement available.
In the year 2019, the amount of sleep aid supplements available to us are overwhelming, which seems somewhat ridiculous considering how readily available good ol' melatonin pills are. For me, reviewing any melatonin-driven sleep aid comes down to two simple questions: 1) is the melatonin properly dosed at a minimally effective dosage?; and 2) is the melatonin natural or synthetic? If the answer to both is "Yes" …then that means I misread the last question.
If the answers are "Yes" and "natural," respectively, we have good melatonin on our hands.
But if the answers are "No" and "synthetic," then, nahh — thank u next.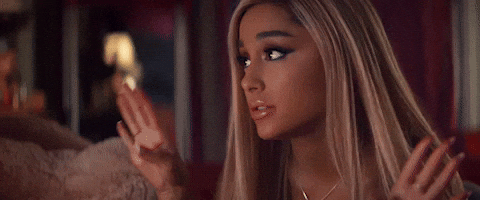 Too much melatonin may help you fall asleep, but it also leaves you feeling groggy and froggy the next morning, usually with a headache. And that's entirely counterproductive if you're supplementing a sleep aid to improve daytime work productivity. Fortunately, Genius Sleep AID supplies a small, modest amount of melatonin; however, it's difficult to gauge its effectiveness and potency due to its synthetic form.
Likewise, the other ingredients are decent, especially the TheaKalm® branded L-theanine. But they generally suffer from weak dosages and questionable efficacy as well. (For example, the rutaecarpine sounds good in theory, but does it actually work as intended?) On the whole, I trust that Genius Sleep AID may help improve nighttime calm and relaxation. But I think the "Adrenal Support" claims are somewhat overstated. Rhodiola rosea would be a better adrenal support option here.
The Pros
Minimally effective melatonin dosage. This is key to boosting sleep quality without impairing daytime work productivity or next-morning mood levels.
The ingredients all make sense, and even the more experimental addition (the rutaecarpine) makes theoretical sense in an interesting, exciting way. ("You mean I can drink coffee all day and not reap the punishment in the evening??")
Reasonably priced. This isn't a bank-busting, ball-busting, super-premium sleep aid. It's simple and simply priced.
The Cons
Some ingredients are possibly below minimally effective dosage levels, namely the glycine and inositol.
Synthetic melatonin, while modestly dosed, unpredictably varies in its potency and effectiveness.
Again, the rutaecarpine is interesting and exciting, yet only theoretically so.
Pricing
$19.95 for 40 capsules, a 20-day supply
$1.00 per serving
Who Takes Genius Sleep AID?
Less stress, more sleep — with such advertised health benefits, Genius Sleep AID seems particularly tailored to the health conscious type who's neurotic about his/her sleep-derived neurosis. "If only I could relax and fall asleep, then I could relax and fall asleep better!" Truly, better sleep is one of the best pathways to a better, healthier, happier mindset. Genius Sleep AID works for anyone looking to improve their sleep and, consequently, mood levels.
Where to Buy It
You can buy Genius Sleep AID through The Genius Brand website or Amazon. The Genius Brand products in general seem to do very well due to their success on Amazon, so odds are that's where you'll find this stack. (Odds are that's where you do your shopping anyways, you cretinous, world-destroying consumer… and I'm right there with you.)
Conclusion: Does Genius Sleep AID Work?
Yes, I do feel like Genius Sleep AID helps with nighttime relaxation. And that's not a trivial benefit. Although, I feel like I've achieved better sleep results from other sleep aid supplements in ways that leave me feeling fresher and clearer and happier in the morning.
Genius Sleep AID doesn't exactly hit that sleep better then get up and go sweet spot delivered by really smart sleep supplement stacks.
It does relax the mind a bit at night, which may be enough to help certain customers get those Zzz's. But, for me, I wouldn't rely on this particular sleep stack to solve all of my stubborn, nighttime sleep issues. All in all, it's a decent stack at a pretty decent price. Can't really complain too much about this one.
Final Rating
Formulation Strategy

Brainpower Benefits

Brain Health Benefits

Transparency

Quality

Value

Average