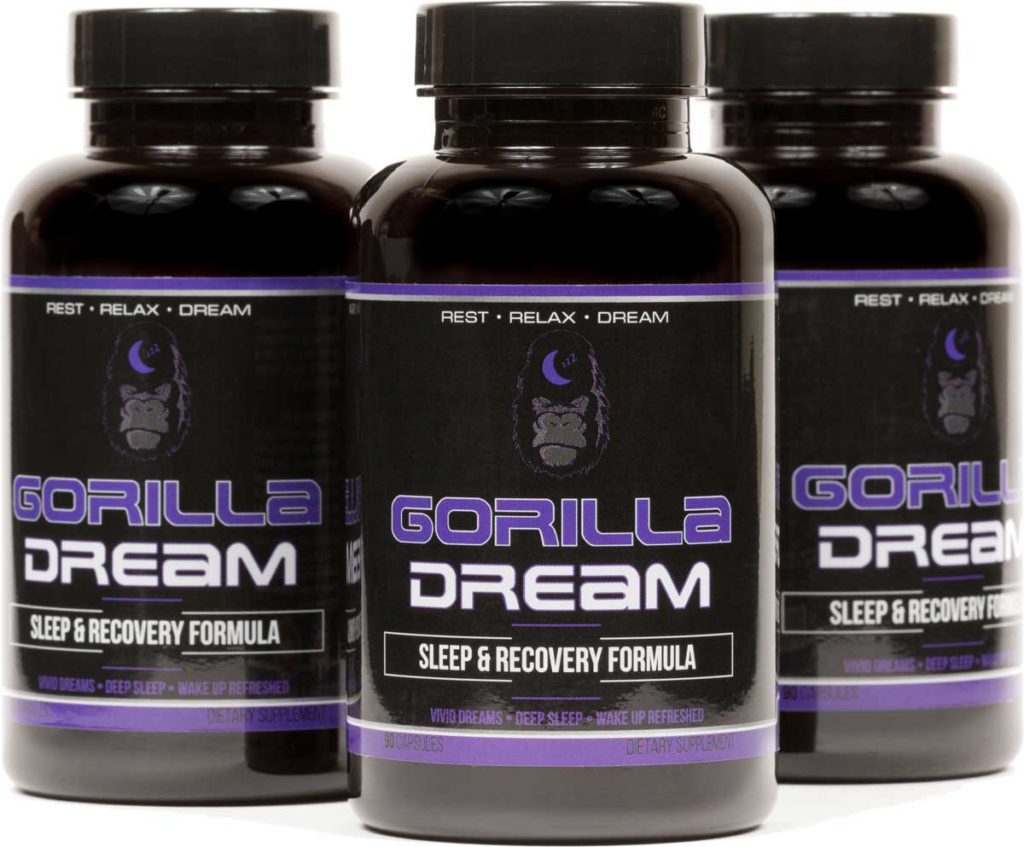 Gorilla Mind makes it very easy to riff on their products — namely because having a gorilla mind would be a significant regression from the more advanced human mind. However, Gorilla Dream seems to have figured it out by removing "Mind" from its name, making it a much less memeable supplement.
Which is actually pretty boring.
And boredom is a slippery slope to sleep, so perhaps that's all part of this sleep aid stack's formula design? Let's hope so, because the featured ingredient here (GABA), while associated with sleep and relaxation, doesn't actually work when supplemented in oral form.
Are we looking at a Gorilla Dreamer or a Gorilla Doer here? Let's read the Gorilla Dream review to find out.
About Gorilla Dream
Manufactured by Gorilla Mind, Gorilla Dream is a Sleep & Recovery Formula designed to …well, enhance sleep and recovery.
Gorilla Dream sacrifices its heaviest dosage on GABA, a neurotransmitter responsible for healthy sleep and relaxation, yet ineffective as an oral supplement.
The other sleep boosters work, though: Valerian Root, Chamomile, L-Theanine, Melatonin, and more.
ZMA and L-Dopa also give Gorilla Dream an ergogenic edge, broadening the "Recovery" aspect of this formula to muscle and athletic recovery as well.
Gorilla Dream Ingredients

Ingredients
Amount Per Serving
Gorilla Dream Patented Blend
2237 mg
Vitamin B6 (as Pyridoxine HCl)
39 mg (2294% DV)
Magnesium (as Aspartate)
225 mg (56% DV)
Zinc (as aspartate and monomethionine)
15 mg (100% DV)
GABA (gamma-aminobutyric acid)
500 mg
Phenylalanine
375 mg
Valerian Root
300 mg
L-Ornithine HCL
250 mg
L-Theanine
250 mg
Chamomile Root
175 mg
Mucuna Pruriens Extract
105 mg
 (standardized to 98% L-Dopa)
Melatonin
3 mg
Serving Size: 3 Capsules
Servings Per Container: 30
Other Ingredients: Gelatin (capsule), Magnesium Stearate, Silicon Dioxide, Titanium Dioxide, FD&C Red #40, FD&C Blue #1
Directions: Take 3-6 capsules 30 minutes prior to bedtime, or as directed by your physician. Start with 3 capsules to evaluate tolerance. New users and females may want to start with 1 or 2 capsules. Don't exceed 6 capsules in any 24-hour period.

Unlike the other Gorilla Mind nootropic stacks, Gorilla Dream transparently displays its ingredient dosages. Good on them there. Plus, the stack begins with a classic sports nutritional vitamin and mineral combo (called ZMA) believed to improve sleep quality, especially for mineral-sweating athletes:
Vitamin B6 – Hefty dose of an awesome mood boosting B vitamin; although, pyridoxine HCl is the weaker form here (P-5-P is better).
Magnesium – Athletes sweat and thus lose quite a bit of magnesium, which has been associated with healthy sleep and neuronal activity.
Zinc – Again, athletes sweat and thus lose quite a bit of zinc, an important mineral to general health and wellbeing — as well as testosterone.
If it seems like Gorilla Dream is geared towards a more athletic crowd, that's because it likely is. However, the non-vitamin, non-mineral ingredients below seem more universal, targeting anyone hoping to achieve better sleep.
Gorilla Dream Review: Ingredients
GABA (gamma-aminobutyric acid) – Not a great start to this formula. Yes, GABA is the neurotransmitter responsible for relaxation and sleepy-time cognition. But, no, GABA supplements don't seem to work all that great. This is why biochemists developed Picamilon and Phenibut, synthetic forms of GABA that are capable of crossing the blood-brain barrier, unlike standard GABA supplements.
Phenylalanine – A precursor to L-tyrosine, an awesome anti-stress nootropic that converts to other feel-good catecholamines (e.g., dopamine and norepinephrine). Phenylalanine may assist in the production of melatonin, indirectly improving sleep quality. Yet, excessive phenylalanine accomplishes the opposite: poor sleep quality. Which seems a strange risk for Gorilla Dream to take, considering that the supplement already supplies melatonin.
Valerian Root – Valerian is a classic sleep aid herb, potentially due to its modulation of the GABA receptor. Granted, much of valerian's sleep aid value seems conditional and somewhat unreliable; yet, personally, valerian works for me in catching those Zzz's. More on Valerian Root.
L-Ornithine HCL – A smart sleep aid choice here, seeing that L-ornithine research pins this bad boy down as having "the potential to relieve stress and improve sleep quality related to fatigue, both objectively and subjectively," without inducing cognitive impairing sedative side effects.
L-Theanine – I love L-theanine. Everyone loves L-theanine. It's one of the best nootropics for day-time focus and nighttime relaxation. 250 mg L-theanine is a sizable dosage, enough to ease anxiety and fall asleep. More on L-Theanine.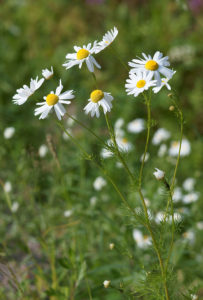 Chamomile Root – Another ancient, legendary herb with noticeable sleep enhancement effects. Its muscle relaxant benefits are welcomed by bodybuilders.
Mucuna Pruriens Extract (std. to 98% L-Dopa) – Potent source of L-dopa, a precursor to feel-good dopamine; also has a reputation as a male sex enhancer and aphrodisiac. Taking before sleep may not only improve sleep quality but muscle growth as well.
Melatonin – Gorilla Dream could have just supplied melatonin and it'd still qualify as a sleep aid. Melatonin supplements are somewhat hit or miss, seeing that many sleep aid supplements use synthetic melatonin. Synthetic melatonin significantly varies in its actual melatonin concentration, which is why sometimes you may experience morning grogginess with melatonin — or no effects at all.
Gorilla Dream Review: Bodybuilding Zzz's
Similar to other Gorilla Mind products, Gorilla Dream seems primarily geared towards the bodybuilding bros. This is good: one of the biggest mistakes athletes (and, frankly, nootropic nerds) make in their daily health routine is not getting enough sleep.
Torn up muscle regenerates and grows overnight.
And, likewise, the brain fixes itself during sleepy-time as well.
However, simply supplementing melatonin won't cut it for many — especially given how unreliable and inconsistent many melatonin supplements are. Which is why sleep aid supplements such as Gorilla Dream stack melatonin with other brain healthy ingredients, such as L-Theanine, L-Dopa, and L-Ornithine. The mix is smart, particularly for the bodybuilder bros, as I mentioned earlier. L-Dopa potentially improves testosterone and HGH activity, whereas L-Ornithine improves fatigue-related sleep disorders — which sounds somewhat oxymoronic, but makes perfect sense to the overworked, yet wired exercisers.
One significant issue with Gorilla Dream: GABA.

It's widely known that standard GABA, when taken orally, has a hard time crossing the blood brain barrier. The fact that the Gorilla Mind team features this as their highest dosed ingredient here reveals a surprising amount of either ignorance or incompetence on their part. Either way: waste of money for the consumer.
Even so: Most ingredients here are on-point and sufficiently dosed — and the ZMA trio is a notable perk for sweaty athletes.
The Pros
L-Theanine, L-Ornithine, L-Dopa — all these L-boys do a solid job at enhancing non-sedative sleeptime cognition, with notable benefits on muscle recovery as well.
Valerian Root and Chamomile possess legendary sleep enhancement benefits, backed by centuries of use and promising research. Plus, they're natural, baby.
Unlike Gorilla Mind Rush and Gorilla Mind Smooth, Gorilla Dream eschews the bogus proprietary blend tactic for a more transparent label.
The Cons
Standard GABA is damn near worthless as an oral supplement, yet Gorilla Dream invests heavily in this ingredient. Why?
L-Phenylalanine is suspect. Not necessarily for a sleep aid supplement that already supplies melatonin — especially given that this ingredient may worsen sleep, if used superfluously.
Melatonin is melatonin — either you love it or you hate it (and you still use it). Yet, there are better quality melatonin ingredients out there. Gorilla Mind's bugging when they claim to supply the "best" on the market.
Pricing
$25.99 for 90 capsules, a 30-day supply
$0.87 per serving
Less than a dollar per serving is coolio. At time of writing, if you buy with bitcoin, Gorilla Mind's advertising an "End of August Bitcoin 25% Off Sale All Orders!" deal. On that note, there's a strange push for bitcoin by Gorilla Mind that seems unearned, given that Gorilla Dream (and other Gorilla Mind products) isn't out of the ordinary enough to warrant out of the ordinary spending. I could see bitcoin being spent on the likes of imported peptides — or other big-time nootropic compounds — but a GABA + melatonin + OTC noots stack? Nah.
Who Takes Gorilla Dream?
Gorilla Mind products seem to attract a mix of budget bodybuilders and "think outside the box" affiliate marketing types. Due to Mike Cernovich's association with Gorilla Mind, the manufacturer has its share of unwarranted detractors and promoters; thus, making it hard to gauge who actually enjoys (or dislikes) Gorilla Mind products based on their own merit. Gorilla Mind's Derek uses this to obscure the difference.
On the whole: Gorilla Dream (and other Gorilla Mind products) seem primarily geared towards the bodybuilder crowd.
Where to Buy It
You can buy Gorilla Dream at the Gorilla Mind website. As far as I know, it isn't sold anywhere else — however, you can buy the Gorilla Mindset book at Amazon, which is pretty neat.
Conclusion: Does Gorilla Dream Work?
Gorilla Dream works because melatonin works, because L-theanine works, because valerian works, and so on… You may find contestable research on behalf of the likes of valerian and chamomile; however, personal research — as well as centuries of use — back up these natural sleep aids.
Plus, Gorilla Dream is a pretty cheap, affordable sleep enhancement option, which is nice.
The ZMA and L-Dopa also qualify this sleep aid as a recovery stack as well. Having said that, if you're already receiving these ingredients via other supplements, there isn't much reason to take Gorilla Dream. The featured ingredient in this stack (GABA) doesn't work as advertised, and L-Phenylalanine may work better as a daytime mood and motivation booster, especially when stacked with L-tyrosine and more B vitamins.
Frankly, you can do better than Gorilla Dream — but, if for whatever reason you can't do better than Gorilla Dream, you can rest assured (no pun intended) that you can also do much worse than Gorilla Dream.
Final Rating
Formulation Strategy

Brainpower Benefits

Brain Health Benefits

Transparency

Quality

Value

Average