Here we are again: a new year, a new decade, a new Best Nootropic Supplements to Buy list! …Except, unlike the past few years' lists, this list truly is a new new list, given that it's my first list of the new decade. It's hard to believe it, but I've been writing as the Nootropic Geek for nearly half a decade. That's a lot of sitting and thinking and typing. You'd think that by now I'd have said everything that needs to be said about nootropics.
But no!
With each new year, the nootropics just keep on coming. And while the 2010's perhaps marked the rise of nootropics in the mainstream, beginning with 2011's movie Limitless, I anticipate seeing nootropics becoming even more mainstream, perhaps even reaching the degree of prevalence of coffee. And so, with that in mind, you don't want to start the new decade off with any ol' nootropic supplement. You want the best!
Read on to learn about the Best Nootropic Supplements to Buy in 2020.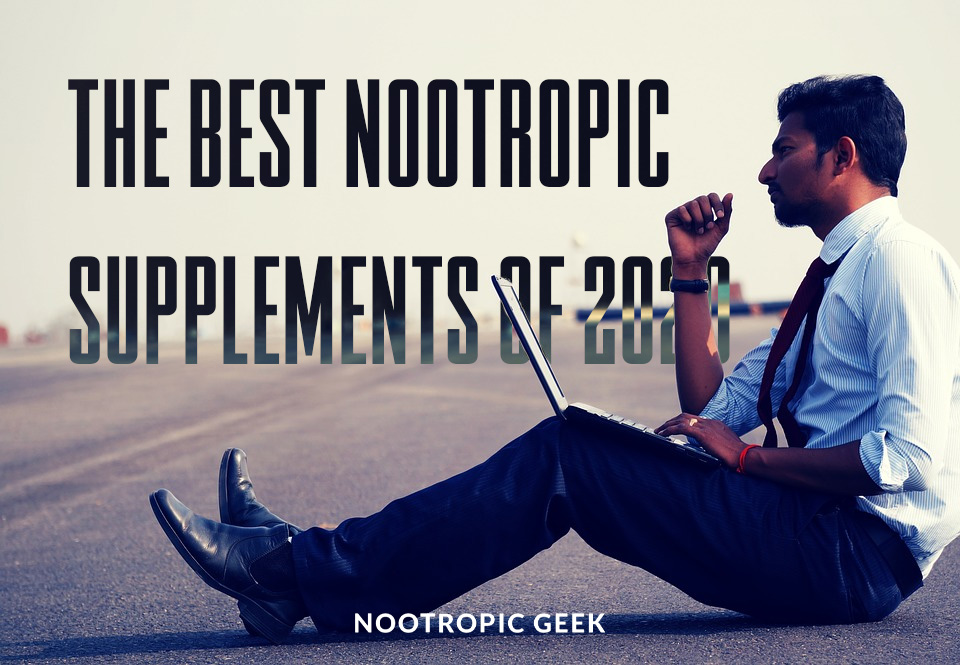 Best Nootropic Supplements to Buy in 2020
I won't waste your time here. You want to know what are the best nootropic supplements to buy in 2020 and I'm going to tell you exactly what are the best nootropic supplements to buy in 2020. Let's get right to it!
Mind Lab Pro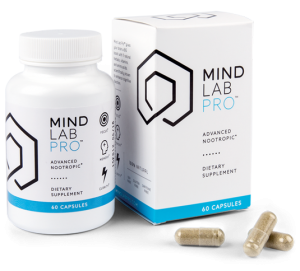 Easily the best nootropic supplement to buy in 2020, one of the best nootropic stacks of all time, is Mind Lab Pro, an advanced, highly potent brain support stack for short- and long-term cognitive performance. Here's the deal on this one (or rather deals) — Mind Lab Pro is:
Entirely comprised of natural nootropics
Safe to use for daily, ongoing supplementation
Stim-free and synthetic-free
Whereas the trend of late seems to entail cramming as many ingredients into tiny capsule space as possible, presumably with the intent of *comprehensively* covering all facets of brain health, Mind Lab Pro sticks to its simple, sleek formula design, focusing only on the key cognitive pressure points of brain health and performance. This formula design minimizes any risk of negative ingredient interactions or nutrient absorption competition.
But what do I mean by "key cognitive pressure points"? Essentially, what I'm saying is that Mind Lab Pro only focuses on enhancing the six primary brain bio-pathways, optimizing only what's important, thereby naturally improving the secondary and tertiary "downstream" brain bio-pathways associated with the primary six, which are:
Six Brain Pathways
Brain Energy – via enhanced ATP production and fuel delivery;
Brain Chemicals – via raw precursor donation and synthesis co-facilitation;
Blood Flow – via nitric oxide (N.O.) boosting and blood vessel protection;
Brainwaves – namely alpha brainwaves via L-theanine's bio-activity;
Neuroprotection – via antioxidant and anti-inflammatory bio-activities;
Neuroregeneration – via NGF and BDNF activity enhancement.
All 11 ingredients in Mind Lab Pro's formula target a set of specific brain bio-pathways. However, altogether, these ingredients synergize, enhancing each other's bio-activities and effects for a "1 + 1 = 3" degree of multiplied brain benefits.
The result: 100% Brainpower, baby.
Want some?
Get the best deal on Mind Lab Pro here.
Unique Features
Synthetic, stimulating nootropics certainly have their place in the realm of cognition enhancement. However, too many premade manufacturers are turning towards these ingredients to mask how truly ineffective their formulas are at improving actual brain health and performance. By sticking to all-natural, high-quality nootropics, Mind Lab Pro offers a formula that not only improves cognitive performance but may actually stack well with an optional stim stack in such a way that shaves off the jittery, edgy side effects of your go-to stims — while also preserving your brain health for the long run.
Potency & Quality
Every ingredient in this formula comes in top-notch form. All in all, Mind Lab Pro supplies: Citicoline (as Cognizin®), Bacopa Monnieri Extract (24% bacosides, 9 bioactives), Lion's Mane Mushroom (full spectrum), Phosphatidylserine (as Sharp-PS® Green), L-Tyrosine (as N-Acetyl L-Tyrosine), L-Theanine (as Suntheanine®), Rhodiola Rosea (3% rosavins, 1% salidrosides), and Maritime Pine Bark Extract (min. 95% proanthocyanidins).
Extra Geek Points
The ingredients here are great, but so are the "Other Ingredients" — i.e., the additives — namely because there's so few of them. Really, there's only the capsule, and it's not just any ol' capsule but Plantcaps® capsule, a food-derived (from fermented tapioca) capsule that's easy on the gut and easy to digest. No junky additives or fillers or FD&C colors here!
Want some? Get the best deal on Mind Lab Pro here.
Read my full Mind Lab Pro review
Performance Lab Mind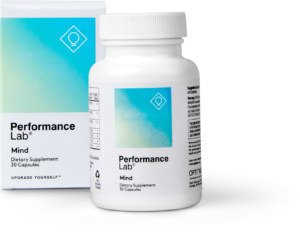 As the feature nootropic stack of the Performance Lab product line, Performance Lab Mind is an impressively powerful, yet sleek cognitive enhancer that can be taken alone or stacked with other brain and body supplements. With this brainy stack being my entry point into Performance Lab (hey, I'm the Nootropic Geek, baby), I've grown increasingly impressed by Performance Lab in toto, namely by the diversity and volume of this brand's list of supplements.
From a vision support stack (Performance Lab Vision) to a couple multivitamin formulas (Performance Lab Whole-Food Multi) to the supplement of interest here (Performance Lab Mind), Performance Lab seems to offer something of everything for everyone of all fitness and health lifestyles. And what's really cool about these supplements is how you can mix-and-match them to create your personally customized Performance Lab supplement stack.
Or you can just order and take one of them, such as Performance Lab Mind, which works well on its own as a daily support stack.
By avoiding stimulants and synthetics, Performance Lab Mind is safe to use for daily, ongoing supplementation. And when taken daily, you can expect a range of mental performance boosts in areas related to focus, energy, clarity, working memory, mood, and more, thanks to the following ingredients:
Performance Lab Mind Ingredients
Citicoline (Cognizin®) – promotes energy production and synaptic plasticity;
Phosphatidylserine (Sharp-PS® Green) – optimizes cell-to-cell communication;
L-Tyrosine (Ajipure®) – replenishes catecholamine brain chemical levels;
Maritime Pine Bark Extract – enhances cerebral circulation and antioxidant capacity.
By supporting the brain structures underlying cognitive performance, Performance Lab Mind works as a foundational brain support supplement upon which you may stack (and bolster the effects of) other nootropic supplements and ingredients.
Want some?
Get the best deal on Performance Lab Mind here.
Unique Features
The simple, yet powerful formula design here allows for a greater degree of customization not otherwise found in other nootropic stacks. Taken alone, Performance Lab offers a significant, daily boost on long-term cognitive performance. However, by keeping it simple, Performance Lab may also be easily stacked with other nootropics, potentially even enhancing the effects of other nootropic stacks with its pro-energy, pro-catecholamine bio-activities.
Potency & Quality
All ingredients here are natural and high quality. We're looking at Citicoline (as Cognizin®), Phosphatidylserine (as Sharp-PS® Green), L-Tyrosine (as Ajipure®), and Maritime Pine Bark Extract (min. 95% proanthocyanidins).
Extra Geek Points
There really isn't another formula that matches Performance Lab Mind in terms of power and stackability. Typically, a compromise is made between the power of a nootropic stack and that stack's ability to work well with others. By supplying the best, most important nootropics for daily brain support, Performance Lab Mind sets a sturdy foundation for a multi-supplement nootropic stack.
Want some? Get the best deal on Performance Lab Mind here.
Read my full Performance Lab Mind review
Performance Lab Stim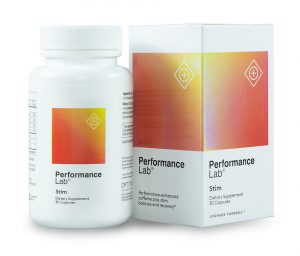 I think it's important for nootropic supplements to keep the caffeine out, seeing that we have plenty of caffeine options readily available to us. And the best part about caffeine options is that they're optional, whereas caffeinated nootropics don't really give you much of an option. Either you take the caffeinated stack or you get zero brain boosts — it's an uncompromising all-or-nothing, which can be a big-time bummer if you're already feeling fried on stims.
Yet, we still enjoy our stims, right? Thankfully, Performance Lab Stim allows us to enjoy our stims (i.e., caffeine) as an optional add-on to our main nootropic stack. Or… thanks to Performance Lab Stim's caffeine-balancing ingredients and modest caffeine dose, you could just enjoy Performance Lab Stim as your main nootropic stack, if a daily rush of cognitive energy is what you're mainly after.
No doubt, caffeine is an effective brain booster. Its effects are reliably predictable, and they feel good in a motivating way. But the problem with caffeine: too much of it comes with jittery, cognitive impairing side effects.
By minimizing the jitter with L-theanine's calming effects while also replenishing the mood- and focus-related neurochemicals lost to caffeine's diuretic effects, Performance Lab Stim offers a more stable caffeine pill option that you can optionally take with or without your perhaps less optional daily nootropic supplement stack.
Performance Lab Stim Ingredients
NutriGenesis® Caffeine Balance B-Complex – B2, B6, B9, and B12, baby;
Natural Caffeine – sourced from Coffea robusta seeds (coffee beans);
L-Theanine (Suntheanine®) – relaxing green tea amino acid;
L-Tyrosine (Ajipure®) – stress relieving amino acid for catecholamine replenishment.
Many nootropic enthusiasts enjoy the caffeine + L-theanine combo for good reason: it works very well. However, the unique additions of L-tyrosine and B vitamins give Performance Lab Stim a more "balancing" effect that helps counteract the post-stim crash often associated with caffeine and other stimulants.
Want some?
Get the best deal on Performance Lab Stim here.
Unique Features
Caffeine + caffeine-balancing B-vitamins and aminos. This is the best way to go about formulating a caffeine pill — and it's so obviously the best way that I'm surprised many more supplement brands don't offer similar stim-stacked formulas as part of their product lines. Performance Lab Stim is the best caffeine pill by far, and it's an incredibly smart addition to your nootropic stack, especially if you're looking for a healthy, nootropic-enhanced source of optional caffeine.
Potency & Quality
The B vitamins come in bio-enhanced NutriGenesis® forms, a more bioavailable version of these B vitamins. The caffeine? Naturally sourced from coffee beans, and the L-theanine and L-tyrosine are both high-quality brands — Suntheanine® and Ajipure®, respectively.
Extra Geek Points
Most caffeine pills go overboard with their caffeine content, ironically supplying an unhealthy source of stimulation in their quote-unquote "health" supplements. Performance Lab Stim definitely qualifies as the best caffeine pill of 2020, as well as one of the best nootropic supplements you can buy in 2020, especially if you buy it in conjunction with Mind Lab Pro or Performance Lab Mind.
Want some? Get the best deal on Performance Lab Stim here.
Read my full Performance Lab Stim review
Final Thoughts
Best Nootropic Supplements 2020: Build Yourself a Better Brain for the New Decade
Phenylpiracetam, modafinil, Semax — with each passing year, these big bad cognitive enhancers are entering the mainstream more and more. In fact, in many areas of the world, especially on college campuses, these sorts of "smart drugs" are the mainstream's go-to cognitive enhancers. And while I do think there's a way to cycle them to your benefit, the Best Nootropic Supplements of 2020 are more intended for daily and healthy cognition enhancement — the type that doesn't require on-and-off cycling.
New years are great for starting over, for wiping the slate clean and getting a fresher, healthier start. New decades, however, are even better, as they encourage us to look even beyond the next year into the next ten years. And what better way to start the next ten years than with a better brain!? There is no better way, and the supplements listed above may help you start the decade with a healthier mindset that will last you the entire decade.
To learn more about Mind Lab Pro, head to mindlabpro.com
To learn more about Performance Lab, head to performancelab.com