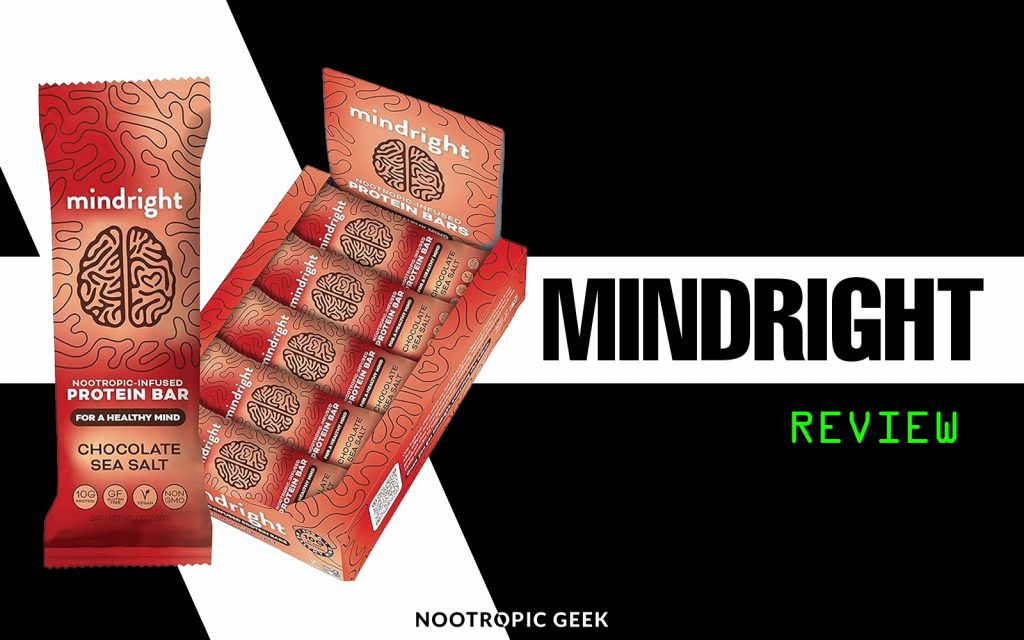 Summary: Mindright Review
Here is my Mindright Review, your ultimate guide on Rob Dyrdek's nootropic-infused protein bars. As part of a little series of reviews I'm running on healthy snack bars with touted brain health benefits, my foray into Mindright's products has been disappointing compared to the other health snack products I've tried. All in all, Mindright is a mid product, with mid nootropic benefits, mid protein content, and a mid taste. You can tell that the Mindright creators' hearts just weren't into it with these snacks. It's fairly common for entrepreneurial types (like Dyrdek) to dip their toes into the supplement game, as there's a lot of money to be made in performance health nutrition. However, Mindright didn't stray far enough from the minimum, delivering an overall underwhelming product. (Not that you should necessarily be overwhelmed by a snack bar, you fatso lol.) All in all, Mindright is just aight. Nothing I'd outright recommend, given the other superior options.
About Mindright Nootropic-Infused Protein Bars
Mindright Nootropic-Infused Protein Bars are exactly as they sound: nootropic-infused protein bars, with 10g protein and a proprietary Nootropic Blend fit with three brain health ingredients.
The 10g protein (and other macros—fats and carbs) are gluten-free, vegan, and non-gmo, safe for diets of all restrictions.
The Nootropic Blend, the bar's main selling point, is fairly mid: MCT oils are great, but best taken as oil; magnesium is great… but it's just a mineral; and CognatiQ is lowkey a bogus ingredient.
For what it's worth, Mindright's taste is decent. Not my favorite though, as far as health bars go.
Mindright Ingredients (Blueberry Almond)

Nutrition Facts
Amount Per Serving
Total Fat
11g (14% DV)
  Saturated Fat
1g (5% DV)
  Trans Fat
0g
Cholesterol
0mg (0% DV)
Sodium
95mg (4% DV)
Total Carbohydrate
23g (8% DV)
  Dietary Fiber
8g (29% DV)
  Total Sugars
7g
    Includes 3g Added Sugars
(10% DV)
Protein
10g
Vitamin D 0% • Calcium 2% • Iron 10% • Potassium 2% • Magnesium 10%
Serving Size: 1 Bar (50g)
Servings Per Container: 12
Ingredients: Almonds, Prebiotic Vegetable Fiber, Pea Protein, Cashew Flour, Coconut Sugar, Dried Blueberries, Dates, Glycerin, Nootropic Blend: (MCT Oil Powder, Magnesium [Aquamin™], Whole Coffee Fruit Extract [Cognatiq®]), Vanilla Extract Flavor, Natural Flavors, Sea Salt.
Mindright has several other flavors, but the above represents the Blueberry Almond Nutrition Facts. Nonetheless, Mindright's Nootropic Blend (a proprietary blend… blehh) is found in all flavors, so let's take a look at the three cognitive enhancers in this blend.
Mindright Review: Ingredients
MCT Oil Powder (as MCT Smart®): The best form of MCT oil is still MCT oil; however, MCT Smart is cool in how it allows supplement and snack manufacturers to sneak in the benefits of MCT in powder form, as they do for Mindright. MCT is an essential for keto dieting, as well as a healthy, fast-acting energy source while intermittent fasting. Basically, medium-chain triglycerides (MCTs) fuel brainpower through a ketogenic pathway in the absence of carbs (glucose). While Mindright isn't carb-free (this is a positive imo), MCT Smart augments the energetic side of this protein bar in a way that's particularly conducive towards bolstering brain energy and cognitive performance.
Magnesium (as Aquamin™): I'm a big fan of supplement magnesium, not least of all because many of us are deficient in this mood-stabilizing mineral. Essentially, magnesium helps calm the brain and body to alleviate anxiety and improve sleep quality. I typically take magnesium at night for this reason, although sometimes when taken during the day, the mood boost can make my workday that much better. Having said that, even when supplied in this premium form (Aquamin), magnesium is a fairly underwhelming ingredient for this "nootropic blend." I'd hope to see something more exotic than a multivitamin ingredient here. More on Magnesium.
Whole Coffee Fruit Extract (as CognatiQ®): The main nootropic selling point for Mindright is the bar's 100mg dose of CognatiQ, a coffee fruit extract that supplies neuroprotective antioxidant polyphenols believed to support healthy levels of BDNF (brain-derived neurotrophic factor). One clinical study on CognatiQ found cognitive improvements among a very small (sample size 8) group of "older adult" participants. Obviously this study is bogus and provide any valuable conclusions for the likely consumer demographic for these bars (healthy, active adults).
Mindright Review: My Experience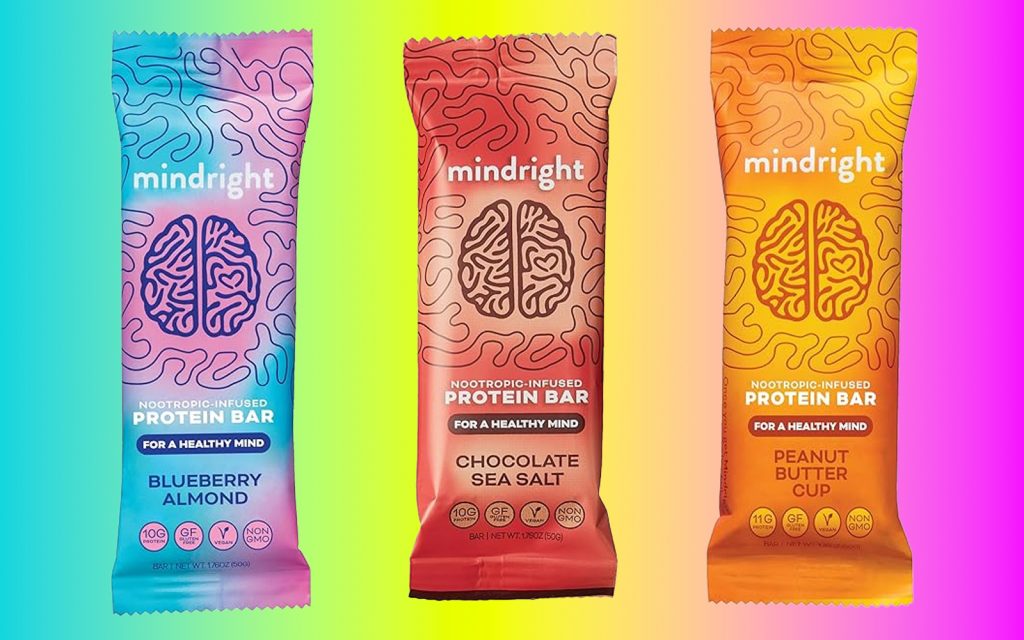 Off the bat, let me say: Mindright Nootropic-Infused Protein Bars are underwhelming, both for brain health and protein content. While 12g protein isn't a massive jump over 10g, the typical healthy protein bar supplies at least 12g—ideally 20g. Mindright is on the lower end here, which means they need to compensate for this on the brain health end of the bargain.
Unfortunately, Mindright's cognitive benefits are a bit weak sauce.
Granted, two of the chosen "nootropics" aren't necessarily bad for brain health:
MCT Oil: excellent source of fast-acting keto energy
Magnesium: essential for calm thinking and restful sleep
And I suppose there's theoretical potential for CognatiQ, even if their clinical study is bogus.
However, given the fact that CognatiQ's research doesn't validate the company's health claims, added to the fact that "magnesium" (as much as I love it and recommend it) is far from the most exciting nootropic they could have chosen here, there's just not much to recommend here with Mindright. Especially given how saturated the "healthy alternative" snack bar trend has gotten in the past few years.
There are plenty of better health bars you can choose over Mindright.
All the same, Mindright is a healthy bar, even if it's not the most effective for cognitive performance. None of these ingredients come with notable side effects, and the macros (carbs, fats, proteins) all come from healthy nutritional sources: prebiotic fibers, coconut sugar, cashew flour, etc. etc.
If all you're looking for is a relatively healthy snack bar to keep your appetite in check in between meals and workouts etc. with marginal nootropic benefits, Mindright does enough to overcome that low bar. ("bar" ha ha.) Like its formula and proprietary blend, Mindright's flavors are fairly mid as well. Tasty enough, but after having tried plenty other health bars in the weeks leading up to this review, this is far from my favorite.
Sorry, Mindright. Not a bad protein bar. Just mid.
The Pros
All things considered, Mindright is a decently tasty protein that works as a fairly healthy alternative to your typical gas station snack.
The clean, green, GF, vegan, non-GMO formula is safe for all diets.
The Cons
The Nootropic Blend is mid, delivering mid brain health benefits.
The protein content is mid and slightly outpaced by other popular health bars.
Mindright is simply mid, maybe the most mid health bar I've come across during my recent weeks of nootropic snack bar exploration.
Pricing
12 Bars
$29.99 for 12 bars, a 12-day supply
$2.50 per serving
12 Bars
$89.97 for 36 bars, a 36-day supply
$2.50 per serving
Mindright also offers a Subscribe & Save 15% option that (as stated) gets you a 15% discount on the order.
Who Takes Mindright?
Mindright Co-Founder Rob Dyrdek. Whatever you think of this type of entrepreneurship (I'm not necessarily a fan), I'll always have a soft spot for Rob for being a figure in my MTV adolescence. Jonas Brothers, Marcus Lemonis, and Travis Barker are also listed as "celebrity investors and advocates" for Mindright, so you can gather that this is a bit of a money move for the "entrepreneurs" involved in the creation of this brand. Nonetheless, they formulated a decently healthy snack bar with marginal brain health benefits and an okay amount of protein (10-11g). If you're a serious big-time bodybuilder or athlete, Mindright obviously won't cut it for you, but if you'd like to have something to snack on at the office that's not Snickers, Mindright is a decent option.
Where to Buy Mindright
You can buy the Mindright protein bars through the Mindright website, on Amazon, as well as through various IRL retailers located on Mindright's store tracker site.
Conclusion: Does Mindright Work?
At roughly $2.50 per bar, Mindright isn't a bad protein snack with some marginal brain health benefits. Plus, even the ergogenic benefits aside, Mindright does simply work as a healthy snack option over your typical gas station variety of bars.
With MCT oil powder and coffee fruit extract, Mindright offers some clean brain energy and neuroprotection, which (when eaten daily) may go a little ways in sustaining competitive cognitive function. I wouldn't necessarily expect any major nootropic effects the likes of an actual nootropic supplement, but if you're already taking nootropics and/or you're looking for a healthy snack that'll aid in your overall brain health supplement regimen, Mindright does an okay enough job.
Not an overall impressive "nootropic-infused protein bar," but I won't say no if you offered me one.
Final Rating