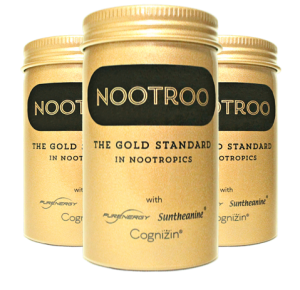 Not to be confused with T-Pain's "hangin', swangin', drankin'" Silver & Gold–i.e. two shots of Patrón Tequila: one silver, one gold (yes, it's good)–Nootroo is a "Silver" and "Gold" nootropic product that provides literal silver and gold flakes in its two-for-one stack-in-stack supplement.
But don't get it twisted: The silver formula is designated only as an every-other-day switch-up for Nootroo's Gold Standard stack.
Or is the Gold Standard stack the every-other-day switch-up for the Silver formula?
Wouldn't that make Nootroo as much the Silver Standard in nootropics as it claims to be the "The Gold Standard"??
Who cares. All that matters is: Are the nootropics good?
Let's hit the review to find out:
About Nootroo
Formulated by Silicon Valley zeitgeist Eric Matzner, Nootroo is a sleek, shiny two-in-one stack-within-a-stack stack of premium, branded nootropic drugs.
The two primary nootropic drugs of each stack are Noopept & Phenylpiracetam–two big names in the nootropic game, one banned for competitive athletes.
The product claims 6 hours of enhanced cognition, but customer reviews suggest this is an overestimate. Might be a dosage problem, but we won't know until Nootroo reviews its ingredient dosages.
Nootroo Ingredients

Ingredients
Amount Per Serving
Gold Formula
675 mg
Noopept
**
SmoothCaffeine™, a proprietary blend of caffeine and L-Theanine
**
Cognizin® CDP Choline
**
Silver Formula
675 mg
Phenylpiracetam
**
SmoothCaffeine™, a proprietary blend of caffeine and L-Theanine
**
Cognizin® CDP Choline
**
Serving Size: 1 Capsule
Servings Per Container: 30
Other Ingredients: Edible 23.5kt Gold Flakes, Edible 100% Pure Silver Flakes
Directions: Take 1 Capsule Per Day. Alternate Between Silver & Gold Capsules.
No joke: There are gold & silver flakes in Nootroo's Gold & Silver formula. And that's not the only unique feature of this 2-stacks-in-1 product, which requires that you alternate stacks every other day. It's a smart directive to prolong tolerance buildup for the racetam(-like) drugs assigned to each formula:
Gold Formula Only
Noopept – Not quite a racetam, but a racetam-like compound similar in structure & function to piracetam, except more potent & immediate in effect. Believed to enhance cognition by stimulating neurotransmitter acetylcholine activity. More on Noopept.
Silver Formula Only
Phenylpiracetam – Phenylracetam is a true racetam, with comparable potency & effect to Noopept. Except phenylpiracetam is believed to be stimulating to the point that it's earned a spot on the WADA Banned Substances list. More on Racetams.
Gold & Silver Ingredients
SmoothCaffeine™ – A smart combination of caffeine & Suntheanine®, a branded form of L-Theanine, which helps offset the jitters of caffeine while maintaining the drug's focus. More on L-Theanine.
Cognizin® CDP Choline – Citicoline is one of my favorite nootropics, delivering two-parts choline & cytidine, a precursor compound to uridine, which acts as a nootropic on its own. More on Citicoline.
Nootroo: Real Gold & Silver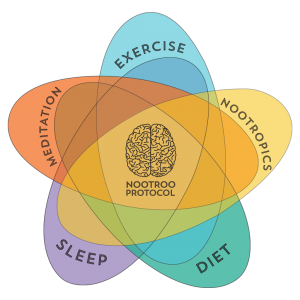 The iPhone isn't the iPhone simply for being a competent smartphone.
The iPhone is the iPhone thanks in large part to its marketing.
Nootroo, being a Silicon Valley creation itself, runs a similar pattern: It's a competent nootropic stack that draws major appeal simply for the way it's marketed. Even if you're not too hot on the nootropics, the gold & silver flakes concept is interesting. It's an I-need-to-frickin'-see-this premise that holds no measurable value on the product's nootropic status, but, dammit… I need to frickin' see it!
However, past the techie glitz & glam, the nootropics still hold up pretty well, providing smart, simple cocktails of drugs & compounds that synergize & complement each other's effects:
Noopept/Phenylpiracetam + Citicoline: The racetam(-like)s enhance acetylcholine expression, while citicoline provides choline material for acetylcholine synthesis.
Caffeine + L-Theanine: Caffeine amps up the energy & focus, while L-Theanine minimizes the caffeinated jitters for a, *eherm*, smooooth caffeine experience.
The only problems: The proprietary blends hide Nootroo's individual ingredient dosages, which is annoying. Based on customer reviews, I suspect that the caffeine content overwhelms L-theanine's relaxation benefits due to a lopsided dosage ratio that's being hidden from us. Additionally, the formula's effects are relatively short-lived, lasting up to about lunch-time if you take them in the morning.
So you may have to cram your work output in the A.M. hours, but, hey, that should free up the rest of your day, right? Finally, an excuse to get your procrastinatin' ass out of bed in the morning.
The Pros
Noopept & Phenylpiracetam are rarely found in manufactured stacks, and almost never found in the same product. Alternating daily between the two is a smart opportunity.
The remaining ingredients (caffeine, l-theanine, & citicoline) are in premium branded forms, delivering higher potency & quality.
The minimilistic design is not only sleek & sexy, but works for how well Nootroo's few ingredients work together.
The Cons
The proprietary status of Nootroo's stacks is the obvious downside of this product, hiding individual ingredient dosages from paying customers.
Customer reviews report incidents of excess energy & jitters, side effects of caffeine that should be nullified by l-theanine (however, it could just be the user's personal caffeine sensitivity).
Nootroo isn't the cheapest product, and I'm damn sure it'd be much cheapier with the gold & silver flakes removed (which, by the way, do nothing for cognition).
Pricing
$64.95 for 30 capsules, a 30-day supply
$2.20 per serving
Who Takes Nootroo?
Tech-heads & neckbeards. Nootroo exudes major Silicon Valley style, appealing to the mythically young & talented Bay Area professionals. Which likely means that the young, talented Bay Area professionals are supplementing this stack, in addition to the socially inept geniuses who read & speak in computer codes (i.e. the geeks).
Where to Get It
Unfortunately, you can't buy Nootroo on Amazon or eBay, but Nootroo sells the product directly from their site in monthly orders & subscriptions.
Conclusion: Does Nootroo Work?
Scientifically speaking, the jury is still out on Noopept & phenylpiracetam, namely on their long-term safety & efficacy. However, personally, I consider the anecdotal evidence strong enough to support these drugs' usage for (at least) short-term enhancements on cognition.
And the "alternate every other day" directive is a smart design decision to keep their effects fresher for the long run (although, I'm curious to know whether a tolerance build-up to Noopept may affect phenylpiracetam's effects, and vice versa).
Aside from Noopept & phenylpiracetam, Nootroo packs in a few high quality nootropics that evenly round out the formulas' benefits for quick bursts mental & memory energy.
Frankly, if I were to design a personal stack centered on Noopept or phenylpiracetam, it would look very similar to Nootroo.
Final Rating
Formulation Strategy

Brainpower Benefits

Brain Health Benefits

Transparency

Quality

Value

Average