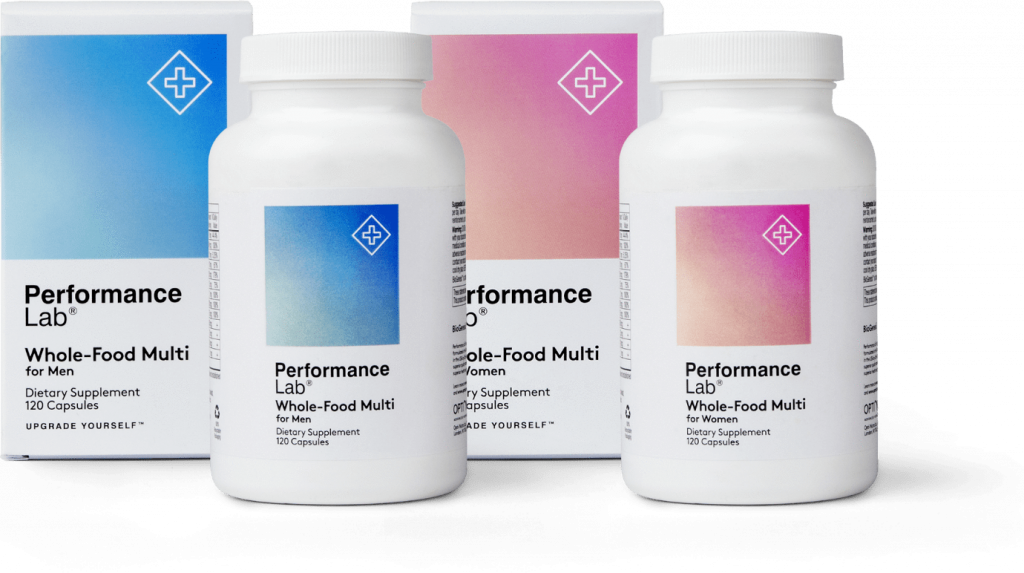 So, you plant a few multivitamins in the ground, water them for a month or two, and — voila — you have yourself a wicker basket full of healthy fruits and vegetables, right? No more running to the grocery store to buy actual foods?
Nah, contrary to what many supplement manufacturers would have you believe: you can't skip on a healthy diet by augmenting your junk diet with a multivitamin supplement. That's not how nutrition works, unfortunately.
Fortunately, this manufacturer makes no such claims. In fact, Performance Lab Whole-Food Multi understands its role as part of a healthy, nutritious diet and simply works by filling in the gaps that seem to increasingly widen with the increase in modern food processing technology. But, even so, is a multivitamin supplement necessary? And if necessary, is Performance Lab Whole-Food Multi the right multivitamin for the job? Read my Performance Lab Whole-Food Multi review to find out!
About Performance Lab Whole-Food Multi
Performance Lab Whole-Food Multi is a multivitamin supplement stack that splits into two formulas: Whole-Food Multi for Men and Whole-Food Multi for Women.
The "For Men" formulation offers a greater emphasis on muscle growth and testosterone boosting activity.
The "For Women" formulation focuses on more female-oriented health compounds, such as iron and vitamin B9.
BioGenesis™ ferment processing ensures that all ingredients are bio-available and bio-active, setting this multivitamin stack leagues above other competing multivitamins.
Performance Lab Whole-Food Multi Ingredients

Ingredients
Amount Per Serving
Vitamin A
1000 IU (20% DV)
Vitamin C
60 mg (100% DV)
Vitamin D3
1000 IU (250% DV)
Vitamin E
30 IU (100% DV)
Vitamin K1 + K2
100 mcg (125% DV)
Vitamin B1
8 mg (533% DV)
Vitamin B2
4 mg (235% DV)
Vitamin B3
20 mg (100% DV)
Vitamin B5
20 mg (200% DV)
Vitamin B6
4 mg (200% DV)
Vitamin B7
300 mcg (100% DV)
Vitamin B9
400 mcg (100% DV)
Vitamin B12
50 mcg (833% DV)
Calcium
18 mg (1.8% DV)
Iodine
150 mcg (100% DV)
Magnesium
17 mg (4.25% DV)
Zinc
22.5 mg (150% DV)
Selenium
125 mcg (179% DV)
Copper
1.5 mg (75% DV)
Manganese
2 mg (100% DV)
Chromium
120 mcg (100% DV)
Molybdenum
75 mcg (100% DV)
Strontium
150 mcg
Inositol
25 mg
Vanadium
10 mcg
Boron
4 mg
Serving Size: 4 Plantcaps®
Servings Per Container: 30
Other Ingredients: Plantcaps® Pullulan Capsule.
Directions: Take 4 capsules daily. Best taken as 2 capsules, twice per day. Take with or without food. For men seeking additional nutritional reinforcement, up to 6 capsules daily may be taken.
Two Formulas: For Men vs. For Women
The Supplement Facts listed above represents the "For Men" version of Performance Lab Whole-Food Multi, the version I took — because I am a MAN. Here are the Supplement Facts for the "For Women" formulation:
Performance Lab Whole-Food Multi for Women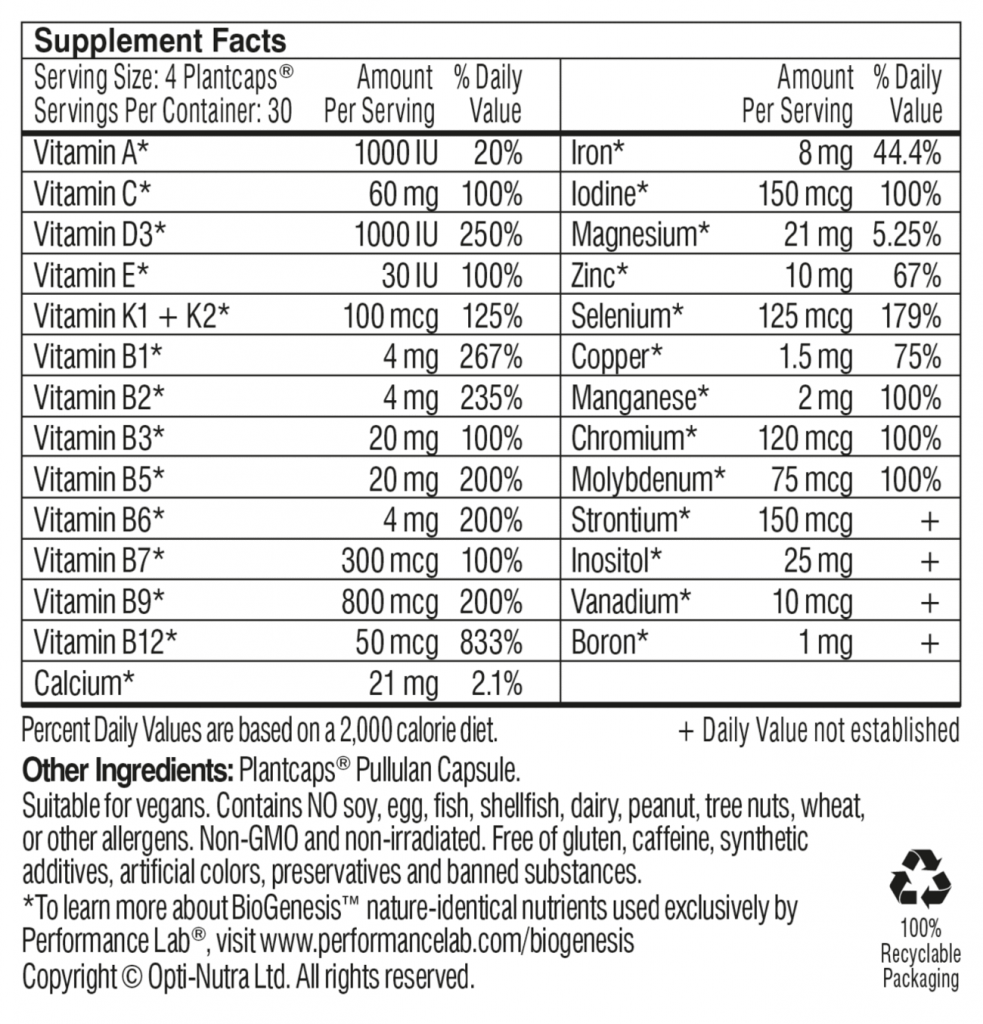 Compared to the "For Men" formula, the Women's version differs in a few key areas: less vitamin B1 (from 8mg to 4mg), more B9 (from 400mcg to 800mcg), more calcium (from 18mg to 21mg), the addition of iron (8mg), more magnesium (from 17mg to 21mg), less zinc (from 22.5mg to 10mg), and less boron (from 4mg to 1mg).
A few of these changes may seem familiar — e.g., vitamin B9 (folate) is commonly emphasized in women's multivitamins. However, I'll explain the health benefits of all ingredients in greater detail below.
Okay, here's what's happening: I'm going to dive into each and every ingredient in this formula to explain how they improve brain and body health individually. When it's inappropriate, I may somewhat elaborate on how one ingredient's benefits are linked to another. But if you simply want to know what this mix of ingredients does in toto for brain and body health, I recommend skipping ahead to the formula analysis section (cleverly) entitled "Performance Lab Whole-Food Multi Review: Micronutrients for Macro Results."
Otherwise, here are the ingredient descriptions for Performance Lab Whole-Food Multi:
Performance Lab Whole-Food Multi Review: Ingredients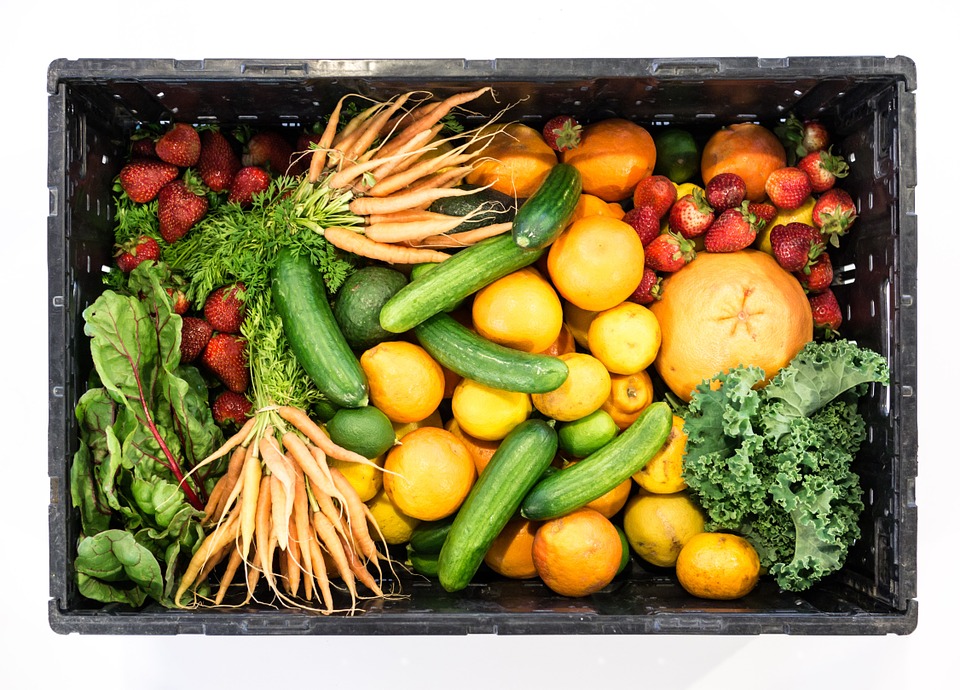 Vitamin A – an antioxidant and anti-inflammatory compound, vitamin A's health benefits are wide-ranging and have a positive influence on vision, complexion, immune function, bone health, and protein synthesis.
Vitamin C – a well-known antioxidant, vitamin C (ascorbic acid) helps with tissue development and repair, as well as the maintenance of bones, teeth, and cartilege. A great vitamin for boosting immunity.
Vitamin D3  – this is an important vitamin to supplement during the dark seasons of the year, due to the body's ability to convert sunlight to natural vitamin D, a compound important to bone health and testosterone levels.
Vitamin E – often taken with vitamin C, this antioxidant also supports immune function, cardio health, and tissue repair. Not to mention this vitamin's role in skin, hair, and nail health.
Vitamin K1 + K2 – a fat-soluble vitamin that's important for blood clotting, bone health, and regulating calcium levels. K is key for bone and cardio health.
Vitamin B1 – known as thiamine (think: sulbutiamine, a nootropic that binds two B1's into a single compound), vitamin B1 supports the nervous system, brain health, and electrolyte balance.
Vitamin B2 – known as riboflavin, B2 plays a key role in red blood cell formation, cell growth and development, energy production, and oxygen utilization.
Vitamin B3 – known as niacin, B3 is the pre-workout ingredient responsible for the "niacin flush" feeling; the feeling of hotness in the face and skin when taken at high dosage levels. B3 is important to circulation, protein and fat metabolism, and nervous system health.
Vitamin B5 – essential to human life, B5 (pantothenic acid) is required for blood cell formation and the conversion of food to energy.
Vitamin B6 – one of the more nootropic B vitamins, B6 co-facilitates brain chemical conversions and syntheses — e.g., for dopamine and serotonin — and supports the nervous system and cardiovascular health. More on Vitamin B6.
Vitamin B7 – biotin, a robotic-sounding B vitamin often used for skin, hair, and nail health; although this vitamin also assists with energy metabolism and cell growth.
Vitamin B9 – folic acid or folate, B9 is required for blood cell formation and the synthesis of DNA, making it particularly important for tissue growth and development.
Vitamin B12 – known as cobalamin, B12 is involved in hundreds of enzymatic pathways, including, again, red blood cell formation and energy metabolism. As we age, the need for B12 supplementation increases to help sustain cognitive performance. More on Vitamin B12.
Calcium – strong bones, heart health, muscular and nervous function — the reasons for supplementing calcium are fairly well-known. Calcium works with vitamin D to maintain bone and cardio health.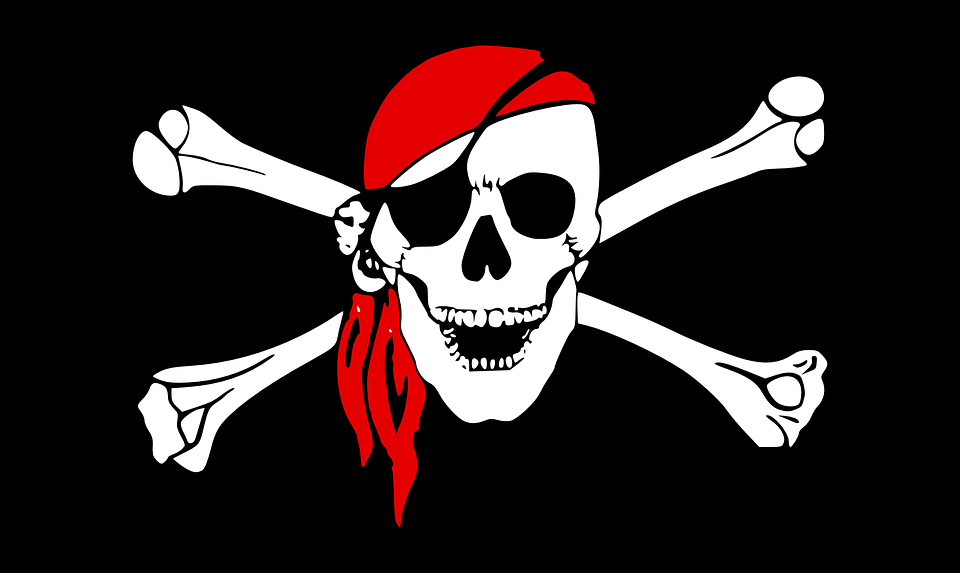 Iodine – used by the thyroid to make thyroid hormones related to cell growth, repair, and energy metabolism.
Magnesium – nootropic enthusiasts favor this mineral for its well-documented benefits on brain health support and relaxation, particularly in the face of excess cognitive excitation. It's used by Performance Lab Sleep to help calm an excited brain prior to sleepy time.
Zinc – an important mineral to testosterone synthesis, immune and vision health, and cell growth. Mineral-sweating athletes and bodybuilders may particularly benefit by supplementing zinc and magnesium (with B6 to complete the sports nutritional ZMA trio).
Selenium – a powerful antioxidant that assists with free radical reduction, immune health, and thyroid health.
Copper – an important essential mineral required for the formation of red blood cells and the maintenance of nerve cells and the immune system. Due to zinc's negative effect on copper levels, it's smart to stack a little supplementary copper with supplementary zinc.
Manganese – an antioxidant mineral that's helpful in improving bone health, regulating blood sugar, reducing inflammation, and enhancing weight management (via the mineral's metabolic benefits).
Chromium – many fat burners include chromium for this mineral's effect on insulin sensitivity and blood sugar levels. Additionally, chromium may help control appetite by reducing hunger cravings and, consequently, the risk of binge eating.
Molybdenum – found in high concentrations in grains, organ meats, and legumes, this mineral is a key enzyme cofactor that helps with the removal of harmful sulfites and toxin build-up across the body.
Strontium – often taken for bone health, this mineral is found mostly on the surface of bones; although calcium should be emphasized over strontium where bone health is a concern.
Inositol – taken in high dosages, inositol (vitamin B8) seems to possess anxiolytic (anti-anxiety) effects that help calm the mind. It seems to work possibly by effecting serotonin activity and energy metabolism.
Vanadium – recommended under diabetic and pre-diabetic conditions, vanadium helps control blood sugar levels while also benefiting cardio health, bones, and growth factor activity.
Boron – many testosterone boosters include boron, which seems to inhibit aromatase, the enzyme responsible for converting testosterone to estrogen. This is key for bodybuilders who require an anabolic, muscle-building ratio between testosterone and estrogen.
For more details on exercise enhancing supplements, see "Nootropics for Exercise: Today's Nerds Can Bench-Press, Too"
"For Women" Ingredient Modifications
As mentioned above, the "For Women" formula version makes a few key changes to prioritize the needs of women's health. The only ingredient added to this list is Iron, a well-known mineral that's vital to immune function and red blood cell health. Menstruation may lead to significant loss in iron, hence the particular need for iron here.
Additionally, the "For Women" version adds more Vitamin B9 (Folic Acid), which is often included pre-natal multivitamin supplements, as well as more calcium and magnesium. The "For Men" formula, on the other hand, supplies more zinc and boron, likely due to these minerals' importance to testosterone levels.
Performance Lab Whole-Food Multi Review: Micronutrients for Macro-Results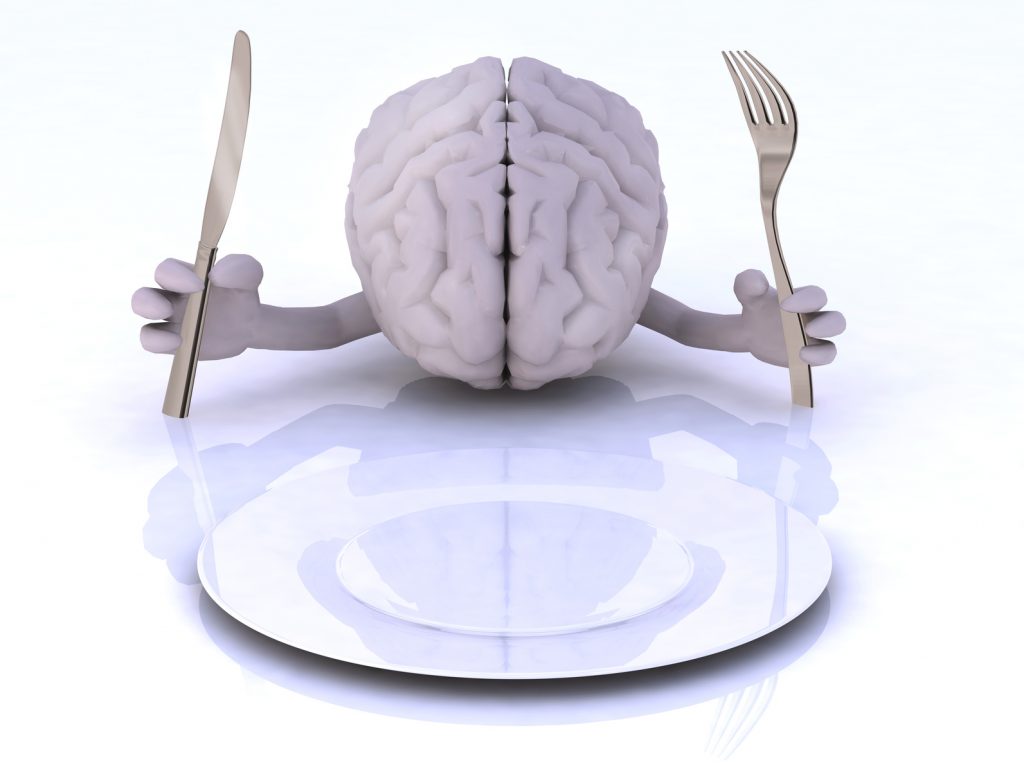 I've tried various multivitamin supplements, often on a whim, and the only satisfaction I got out of these supplements was the self-satisfaction I felt in supplementing a multivitamin. And this self-satisfaction lasted maybe a week, after which I'd forget about the multivitamin completely because, really, I felt deep-down that the multivitamin was bogus.
Who needs multivitamins when we can just eat apples and bananas?
Well, Performance Lab Whole-Food Multi changed my mind on much of this. My entry point into the Performance Lab line of supplements was Performance Lab Sleep, another health supplement that changed my mind on a particular genre of supplements: the melatonin-driven sleep aid supplements. Due to my trust in Performance Lab Sleep, I decided to give Performance Lab Whole-Food Multi a try, and I've been happy with my results.
Here were the problems I hoped Performance Lab could help me with:
Better sleep quality and overnight recovery
A more stable metabolism and weight management
No more feelings of being vaguely sick and stuffy
This last one in particular had been tiring me out. Being sick used to be fun when it'd get me out of school, but, now, being sick sucks. Prior to trying this supplement, I was in a downward spiral of stress leading to late work nights, which involved a bit of booze-drinking to ward off the stress, and poor sleep quality, which increased my stress and fatigue levels the next day.
The mix of stress, booze, and poor sleep had sapped my energy and nutrient levels dry.
Of course, these are poor life decisions, and thus solved by making good life decisions. But while I made the commitment to get better sleep and lay off the booze, adding Performance Lab Whole-Food Multi to my daily routine definitely helped me stabilize my internal micronutrient environment. Mental and physical recovery and performance quickened and, now that everything's back on track, I feel this multivitamin has given me a strong nutritional foundation upon which to get the most out of my other nootropic stacks and workout supplements.
For more details on the best nootropic stacks, see "Best Nootropic Supplements to Buy in 2019"
Quality & Potency
Had I tried other multivitamin supplements, I don't think I'd get the same results as I've been getting with Performance Lab Whole-Food Multi. And I think this comes down to the exceptional quality and potency of this multivitamin's ingredients.
Absorption is everything here. It's the reason that obtaining an adequate amount of natural, dietary minerals and vitamins is so difficult. By using a patented fermentation process called BioGenesis™, Performance Lab offers these minerals and vitamins in their nature-identical forms, avoiding the cheap, lab-synthesized stuff that the body struggles to absorb.
Health Benefits
The specific health benefits targeted by P-Lab's unique multivitamin approach are:
Energy – B vitamins for cell energy; minerals for metabolism regulation.
Strength – protein synthesis, muscle growth, and antioxidant muscle protection.
Brainpower – enzyme co-factors for brain chemicals; myelin sheath support.
Vision – retinal antioxidants plus zinc for additional eye health support.
Sleep – the aforementioned ZMA trio (zinc + magnesium + B6) is great for this.
Testosterone – magnesium, zinc, and boron in particular assist with testosterone levels.
To specifically target any of these health benefits, Performance Lab offers specified health supplements — e.g., Performance Lab Vision, Performance Lab Sport T-Booster — that work well with this multivitamin.
To see the full Performance Lab supplement line, click here.
Is a Multivitamin Supplement Necessary?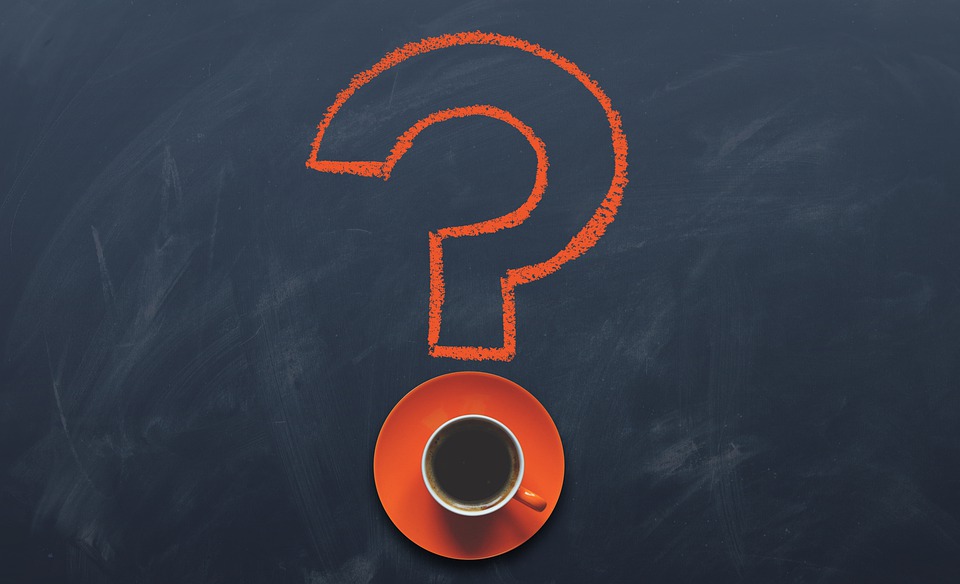 This is a question pertinent to all supplements. And yet the answer's in the name: supplements are supplementary to a well-balanced diet, healthy lifestyle, etc. Smart supplement manufacturers don't partake in the bogus and irresponsible "meal replacement" illusions sold by the sort of Just Add Water! dietary formulas. They know what they are: supplements.
Multivitamins, by supplying the sort of micronutrients that define a "well-balanced" diet, are interesting in that they supply nutrients that are essential to our health and yet, in this format, are supplementary. If you're able to receive sufficient nutrient levels via a well-balanced diet, all the power to you. The only problem is many of us aren't 100% sure if we're receiving sufficient nutrient levels. And given how modern food processing techniques deplete foods of their natural vitamin and mineral levels, some skepticism is warranted here.
With that in mind, supplementing a smart, effective multivitamin stack is, more often than not, a good idea. Especially if you're an athlete or bodybuilder whose nutrient demands are higher than the average folk.
The Pros
Performance Lab Whole-Food Multi doesn't simply supply vitamins and minerals but offers them in their appropriate ingredient forms, ensuring that your body can actually absorb and use these nutrients.
No gimmicky "hybrid" ingredients to make this multivitamin artificially stand out from the rest. Instead, P-Lab simply focuses on making sure its ingredients work as intended.
Splitting the formulas into "For Men" and "For Women" versions is smart. While the differences between the two aren't massive, they're significant enough and do address the particular needs of men and women.
Weird "pro" but… I accidentally held the capsules in my mouth for too long, causing the capsule to dissolve and the formula to spill into my mouth, and, well, the contents of the formula taste pretty damn good and natural and healthy; especially when compared to, say, GNC's multivitamin tablets, which have a bunch of junky additives masked by artificial flavors.
The Cons
You can only buy Performance Lab Whole-Food Multi through the Performance Lab online store. Sorry, Amazon Prime members.
May need to supplement additional magnesium. (Which I receive through Performance Lab Sleep.)
Pricing
1 Box of Performance Lab® Whole-Food Multi
$40 for 120 capsules, a 30-day supply
$1.33 per serving
2 Boxes of Performance Lab® Whole-Food Multi
$76 for 240 capsules, a 60-day supply
$1.27 per serving
3 Boxes of Performance Lab® Whole-Food Multi
$108 for 360 capsules, a 90-day supply
$1.20 per serving
Buying two boxes per order saves you 5% on the price per serving, and buying three boxes per order saves you 10%. If you plan on taking this daily supplement for the long-run (as is recommended with an effective multivitamin), the 3-box order is the most cost-efficient option.
Who Takes Performance Lab Whole-Food Multi?
Performance Lab Whole-Food Multi is designed for everyone, really. Whereas some multivitamins are specially geared towards a specific demographic, Performance Lab Whole-Food Multi takes a more universal, comprehensive approach to micronutrient replenishment, one that may benefit anyone.
Neurohackers, academics, athletes, bodybuilders — nerds and jocks alike may benefit by adding this stack to their diet/health regimen.
Where to Buy It
You can buy Performance Lab Whole-Food Multi (and all other Performance Lab supplements) exclusively through the Performance Lab website. By avoiding the Amazon market, Performance Lab smartly takes advantage of its website space, supplying a wealth of interesting nootropic info without the over-abundance of SEO/keyword jargon.
Want some? Buy Performance Lab Whole-Food Multi here
Conclusion: Does Performance Lab Whole-Food Multi Work?
Yes, Performance Lab Whole-Food Multi works, and it works really well. And this is coming from a guy who's generally skeptical of the "necessity" of multivitamins.
Most controversy regarding multivitamin supplements focuses on whether or not that many ingredients in a tiny capsule actually absorb into the body or not. (Or do we just shit them out?) The problems that I generally see are: poor ingredient forms that aren't conducive to digestion, weak dosage levels all around, and junky additives and fillers that (again) impair absorption rates. Fortunately, Performance Lab Whole-Food Multi doesn't dabble in any of that BS, offering a clean, green complex of vitamins and minerals that actually work.
Whatever your exercise and health goals, a good multivitamin supplement may help. Performance Lab Whole-Food Multi offers a sturdy micronutrient foundation upon which to build a healthy daily routine, nootropic stack regimen, exercise supplement stack, etc. Definitely one of my favorites.
To learn more about Performance Lab Whole-Food Multi, click here.
Final Rating
Formulation Strategy

Brainpower Benefits

Brain Health Benefits

Transparency

Quality

Value

Average