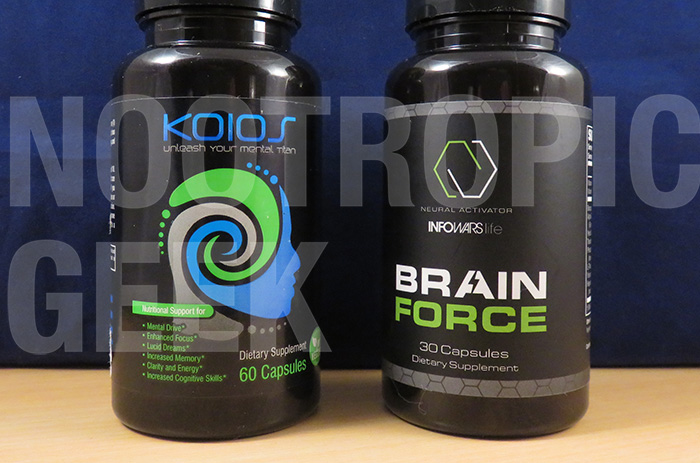 Do you want to unleash the power or seize control?
Those are our nootropic options between KOIOS ("Unleash Your Mental Titan") and Infowars' Brain Force ("Seize Control of Your Mind!!"), the former playing off of the ancient Greek myth of Coeus (or Koios), mental titan of intellect, and the latter just sort of yelling in that special conspiratorial brand of Alex Jones.
Yet, despite their wild differences in advertising, KOIOS & Brain Force have much more in common than they are different.
Check it:
Formula Design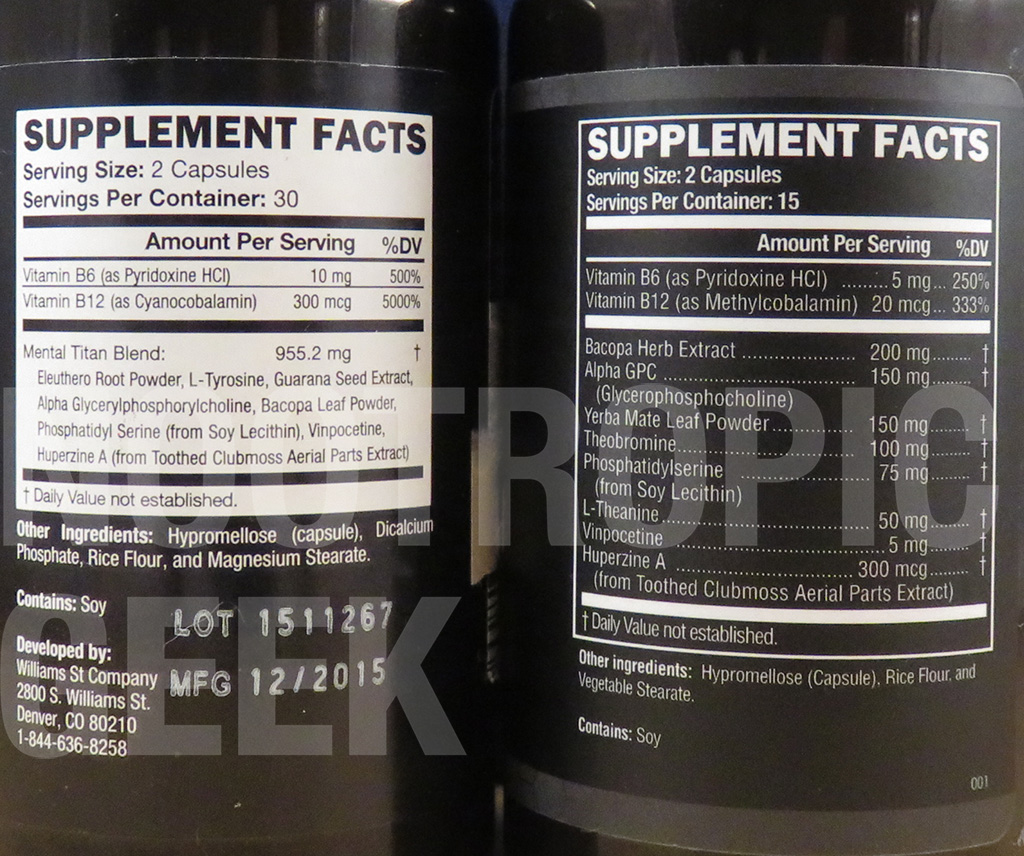 Without the product names above these Supplement Facts, I'd have close to no idea which one is which. Both KOIOS and Brain Force rely on a similar nootropic base of ingredients, designed to support a similar range of bio-benefits & brain functions.
Even so, there are subtle differences in design to set these formulas apart:
KOIOS: Unleash the Mental Titan
With exception to a couple B vitamins (Vitamin B6 & Vitamin B12), KOIOS' formula is entirely contained in a proprietary blend. The Mental Titan Blend, a combination of:
Anti-stress adaptogens: Eleuthero + L-Tyrosine
Memory boosters: Alpha-GPC + Bacopa + PS
Brain energizers: Vinpocetine + Hup-A
Caffeinated stimulation: Guarana Extract
The result is a potential nootropic synergy that may help promote stress-free focus, albeit caffeinated. Given the proprietary status of KOIOS' blend, I'm leery of the caffeine content. Otherwise, KOIOS sports a well-crafted, diverse array of natural nootropic ingredients. Read my in-depth review on KOIOS.
Brain Force: Seize Control of Your Mind!!
According to Alex Jones, The government is using airplanes to spray chemtrails overnight to control the population!! This is why we need Brain Force (and Brain Force Plus) to give the population control of its mind back. Infowars speak aside, the online news show actually does "the population" a solid with Brain Force, a non-proprietary nootropic stack full of well-researched herbs & compounds (several shared by KOIOS) as well as a questionable addition of Yerba Mate (for caffeine) and Theobromine, the "love drug" of chocolate.
If there truly is a "war on for your mind!!" Infowars' all-natural, "mind-seizing" supplement offers decent resistance. Read my in-depth review on Brain Force Plus.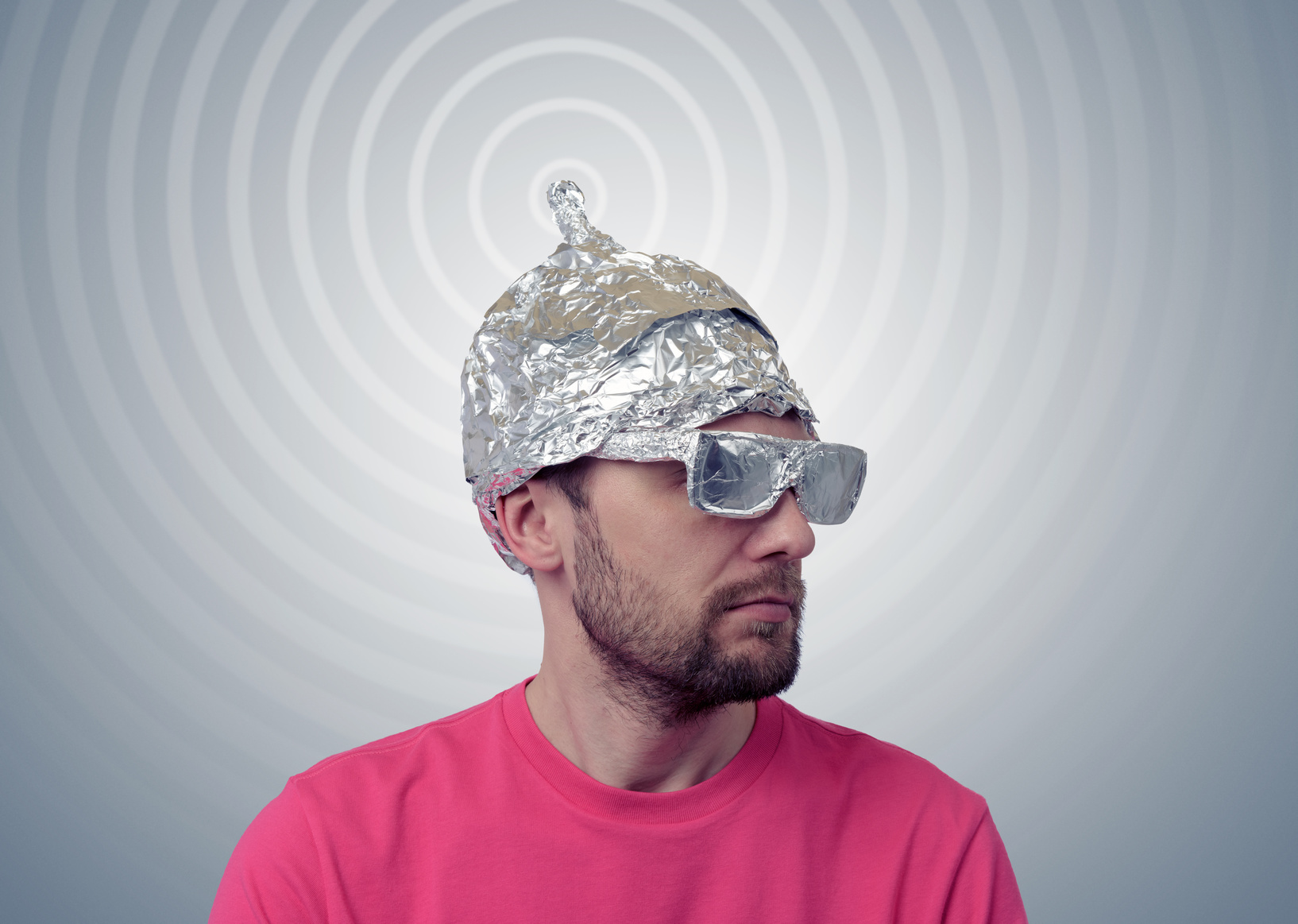 Unique Features
Looking at the lists of ingredients, there's very little to distinguish these formulas. Even down to the "Other Ingredients" these products are damn near identical. Having said that, listed below are the few differences that might make all the difference between KOIOS and Brain Force:
KOIOS
Eleuthero Root Powder. Not the best Eleuthero form (an extract would've been better), but KOIOS has it, and Brain Force does not.
L-Tyrosine. More anti-stress action on KOIOS' side thanks to this awesome anti-stress amino. Works best during conditions of stress (e.g. exam day).
Guarana Seed Extract. KOIOS doesn't go into too much detail on this, but I'm suspecting caffeine. Guarana has a higher caffeine concentration than coffee.
Brain Force
Vitamin B12 as Methylcobalamin. Both KOIOS & Brain Force have Vitamin B12, but Brain Force has better B12, opting for healthier methylcobalamin over cyanocobalamin.
Bacopa Extract. Both KOIOS & Brain Force have Bacopa, but Brain Force has better Bacopa, opting for Bacopa Extract over plain powder Bacopa.
L-Theanine. Green tea amino acid that supports alpha brain waves for states of "relaxed wakefulness," complementing caffeine's stimulation well.
Black Pepper Extract. Piperine of black pepper helps enhance nutrient absorption, increasing the overall bioavailabilty of this formula.
Yerba Mate Powder. Supplies caffeine as well as mood-elevating compounds.
Potency & Quality
Neither supplements completely outshine the other in this section, yet Brain Force does display a significant lead on potency & quality over KOIOS entering & exiting this segment of the review. However, before we get into potency & quality, let's discuss quantity: Because KOIOS isn't showing it.
The problem with proprietary blends is that they hide individual ingredient dosages. I know that KOIOS supplies 955.2 mg for 8 of its ingredients, but I don't know how that 955.2 mg is allocated. Granted, that should be enough to cover these herbs & compounds, but compared to Brain Force, which shows all of its dosages (they look good), the whole proprietary practice is looking pretty laaaame.
And what's even laaamer are the cheap quality of KOIOS ingredients: Plain herbal powders, low quality B vitamins, soy-derived Phosphatidylserine… 
Brain Force doesn't exactly wow me with its quality (it also supplies soy-derived PS, instead of the more premium sunflower-derived stuff), but at least it has extracts on its herbs, better B12, and black pepper extract, which increases the overall potency of its formula.
Brain Force doesn't have outstanding potency & quality, but it has better potency & quality.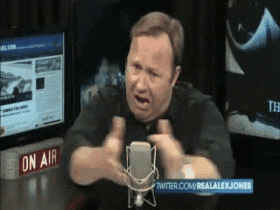 Value: KOIOS vs. Brain Force

Price
Servings
Price Per Serving
KOIOS
$44.95
30
$1.50
Brain Force
$39.95
18
$2.22
KOIOS or Brain Force: Which is better?
KOIOS is better for stress-free focus.
One sizable advantage KOIOS has over Brain Force is its adaptogenic Eleuthero and anti-stress L-Tyrosine, of which Brain Force has no match. These stress reducing herb & compound provide a solid complement to KOIOS' caffeine content. If only the rest of KOIOS' ingredients were of a better quality.
Brain Force is better for memory.
The items that support memory in Brain Force's formula are also found in KOIOS (Bacopa, Hup-A, Phosphatidylserine), yet Brain Force's Bacopa is in extract form and seems to have a higher dosage as well. Bacopa is one of my favorite nootropics for its well-demonstrated benefits on memory (and stress, too), so it was smart of Brain Force to double down on this herb.
My Recommendation
Unleashing the power, seizing control–in the end they're practically the same thing. After all, power needs to be unleashed to seize control, right? People aren't just going to give you shit in life! Except that's exactly what Infowars does with its Brain Force Plus formulation of the Brain Force series by supplying additional capsules for the same price as the original Brain Force supplement (why even mess around with the original Brain Force product then??).
Already I was leaning towards Brain Force in this review, but Brain Force Plus ultimately seals the deal for me over KOIOS. Not that KOIOS is significantly worse than Brain Force. But Brain Force seems to get more right than KOIOS, which is enough to earn my recommendation.
Brain Force Plus > KOIOS