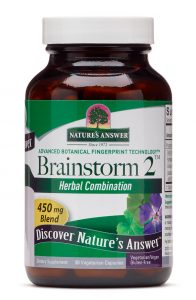 Man questions. Nature answers.
And usually it's "no" or simply "lol."
But this time Nature answers "Yes!" which is great! Except our question wasn't a yes-or-no question — our question was: "How can we naturally enhance cognition in a way that's healthy & safe?" So, now we have to wonder, based on Nature's strange answer, if Nature is mentally equipped to even give us an answer.
To clear things up, the Nootropic Geek (me!) has an answer as well: This nootropic review on Nature's Answer Brainstorm 2.
About Nature's Answer Brainstorm 2
Manufactured by Nature's Answer, Brainstorm 2 is an Herbal Combination of three well-researched ingredients, stacked in a 450 mg proprietary blend.
The "Nature" aspect of this formula is no joke: The formula is all herbal, the capsules are veggie based, and the manufacturer abides by a patented Advanced Botanical Fingerprint Technology™ system that's entirely unique to their products.
Despite the supplement's impressive cleanliness, most of its formula comes in plain powder, which might be an issue given the questionable formula dosage.
Brainstorm 2 Ingredients

Ingredients
Amount Per Serving
Proprietary Herbal Blend
450 mg
Gotu Kola (Centella asiatica) (whole herb)
**
Ashwagandha (Withania somnifera) (root)
**
Ginkgo biloba Leaf Extract (standardized for 24% Ginkgo Flavonoid Glycosides and 6% Terpene Lactones)
**
Serving Size: 1 Capsule
Servings Per Container: 90
Other Ingredients: Vegetable Cellulose (capsule), Rice Flour, Calcium Silicate.
Directions: As a dietary supplement, take one (1) capsule two (2) times a day with food or water.

On the Brainstorm 2 product box, you'll see the Supplement Facts I've listed. On the Brainstorm 2 label advertised online, you'll see the image above, which swaps ashwagandha for periwinkle. In case you received this formula (which seems to be a previous formulation), I'll add a blurb on the nootropic potential of periwinkle, i.e., vinpocetine — otherwise, assume this review on the formula listed in my Supplement Facts. Shanksh! Now, on with the review: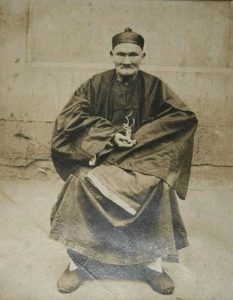 Gotu Kola – Reportedly the herb that lengthened the life-span of Li Ching-Yuen, the man who reportedly lived 256 years. Do I believe this? Yeah, sure, why not — seems reasonable …regardless, is gotu kola, or Centella asiatica, a good nootropic ingredient? Gotu kola seems to reduce anxiety while supplying neuroprotective antioxidants to the brain. Noice. More on Gotu Kola.
Ashwagandha – This Ayurveda masterpiece translates from Sanskrit to "smell of horse sweat" for its (you guessed it) horse-like smell. But that's not why I like this herb — I like it for its potent, noticeable reduction in anxiety. Ashwagandha relieves stress via sedation — sometimes easing cognition for better focus, other times impairing it with too much calm. Either way, it feels groovy. More on Ashwagandha.
Ginkgo Biloba Std. Extract – Traditionally recommended for elderly cognition, ginkgo found a place in the nootropic (& bodybuilder) community for its well-demonstrated circulatory benefits, which help increase delivery of oxygen & nutrients to the brain, as well as its working memory support. More on Ginkgo Biloba.
Periwinkle Ingredient?
 The label simply states periwinkle, but the nootropic advantage of this herb lies in vinpocetine, the bioactive constituent of periwinkle. Similar to ginkgo, vinpocetine increases cerebral circulation — however, plain periwinkle isn't potent enough to do this. As such, the ashwagandha option seems to be the superior nootropic product. 
More on Vinpocetine.
Brainstorm 2: Anxiety-Free Flow
The sequel, baby — Brainstorm 2: Um… The Second One.
Unfortunately, as everyone knows, the sequel is rarely better than the original, and I'm not sure the former was all that great to begin with — not to say that it was bad, I'm just unfamiliar with Brainstorm 1, which I hear is a 3,000 mg proprietary blend liquid.
Brainstorm 2 is a 450 mg proprietary blend capsule, allocating that 450 mg across three herbal ingredients — two that come as plain powders (Gotu Kola, Ashwagandha), one as a potent extract (Ginkgo). This isn't the highest quality formula I've seen, but it's not the worst — after all, I've supplemented plain Gotu Kola powder before and have felt noticeable anxiolytic effect. Ditto for Ashwagandha, yet I still have to wonder: Is 450 mg enough to cover these three herbs?
This question wouldn't be much of an issue if Brainstorm 2 hadn't done two things:
Used plain powders on gotu kola & ashwagandha.
Hid its dosages under a proprietary blend.
As it stands, I'm not all too confident that Brainstorm 2 works as advertised. Perhaps older consumers might benefit from these herbs — gotu kola & ginkgo are best for elderly cognition — otherwise, the average, healthy nootropic user will just have to wait for the inevitable Brainstorm 3: How You Like Me Now? formulation. (Feel free to take that title, Nature's Answer.)
The Pros
Brainstorm 2 may be short & simple but it mixes a unique trio of well-researched ingredients, each demonstrated to benefit cognitive well being in different ways.
The all natural status extends beyond the formula into the capsules, fulfilling the implicit promise carried by the manufacturer's "nature" name.
Holy cheap, Batman! — at only $14.99 on GNC (check other retailers as well), this product is incredibly affordable.
The Cons
The proprietary status of Brainstorm 2's blend is annoying, preventing us from seeing the individual ingredient dosages.
Nature's Answer earns points with its Advanced Botanical Fingerprint Technology™ that it loses with its plain plant powders.
Customer reviews are virtually non-existent — if there's a high incidence rate of side effects, then it's currently unknown. (For the record, I'm not expecting any adverse effects with this supplement.)
Pricing
$14.99 for 90 capsules, a 45-day supply
$0.17 per serving
Who Takes Brainstorm 2?
Nature's Answer doesn't pinpoint the elderly community as its target audience, yet I can't see younger users getting much out of this supplement. Having said that, the standalone ingredients are great for all ages, so don't write it off completely, doods & doodettes.
Where to Get It
You can buy Brainstorm 2 through Nature's Answer's website as well as various 3rd-party retailers, including Amazon, GNC, Vitamin World, Whole Foods, Vitamin Shoppe, and way, way more.
Conclusion: Does Brainstorm 2 Work?
I like these ingredients. If you were to ask this question three times with regards to each respective ingredient in Brainstorm 2's formula, I'd answer Yes, Yes, and Yes. And I'm pretty sure I already answered Yes to these ingredients in their individual reviews.
However, Brainstorm 2 remains a mystery due to its: A) proprietary status, and B) questionable dosage. Plus the plain quality herbs don't do much for my confidence either.
Even so, you're getting a hefty supply of servings at only $14.99, so if you're really stressed out on whether or not to buy Brainstorm 2, don't be: It's a steal of deal. And, incidentally, these ingredients are actually great at reducing stress out moments, too — so there is that.
Final Rating
Formulation Strategy

Brainpower Benefits

Brain Health Benefits

Transparency

Quality

Value