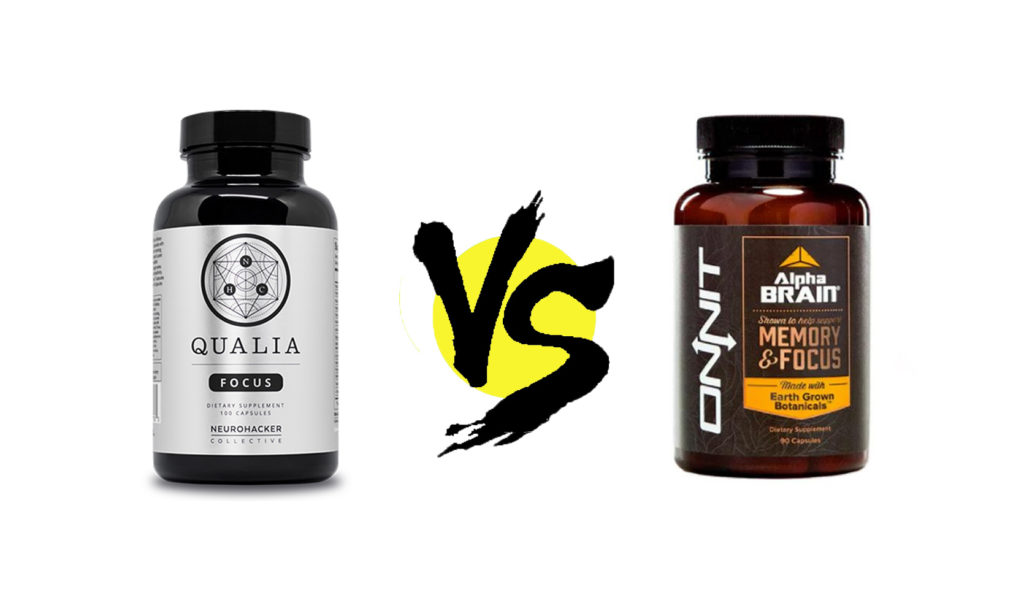 Qualia Focus vs. Alpha BRAIN represents a nootropic match-up between two hugely popular brain booster brands that take seemingly opposite philosophical approaches towards cognitive enhancement. While Qualia Focus wears a more techy, Silicon-Valley style on its label, Onnit's Alpha BRAIN (like many Onnit products) goes for the more sporty, Earth-grown look. If Qualia Focus and Alpha BRAIN were illicit drugs, Qualia Focus would be LSD and Alpha BRAIN would be shrooms… but, of course, they're not illicit drugs.
One of them doesn't even supply caffeine.
For the most part, these supplements are natural, safe, and side effect-free. But what about their main effects? And more importantly: which one is more effective at enhancing brain health and cognition? Let's read the Qualia Focus vs. Alpha BRAIN match-up to find out.
Formula Design
Qualia Focus and Alpha BRAIN have different styles, but do their styles accurately represent their content? Before diving into content differences in their formula designs, let's first take a look at the ingredients filling their formulas.
Qualia Focus vs. Alpha BRAIN: Ingredients
Qualia Focus Supplement Facts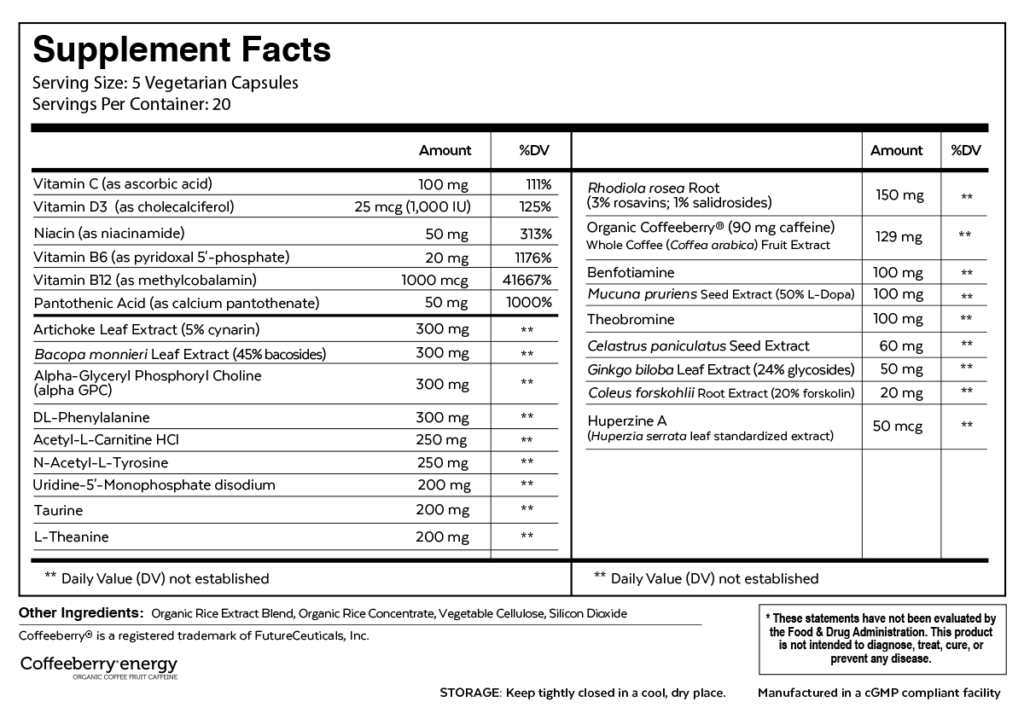 Qualia Focus Directions: As a dietary supplement, take 5 capsules with water first thing in the morning before eating. If stomach upset occurs, take with breakfast instead. Optimal dosage will vary based on body weight and sensitivity. Do not take more than 7 capsules at once or more than 9 capsules in a day.
Alpha BRAIN Supplement Facts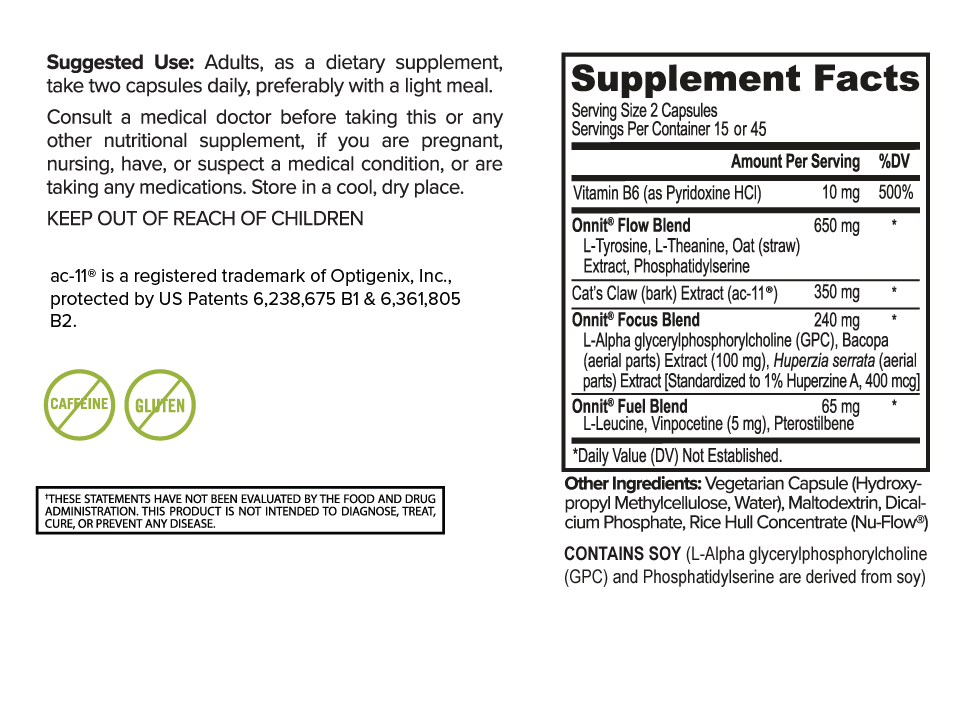 Alpha BRAIN Directions: Adults, as a dietary supplement, take two capsules daily, preferably with a light meal.
Qualia Focus: The Budget Qualia Option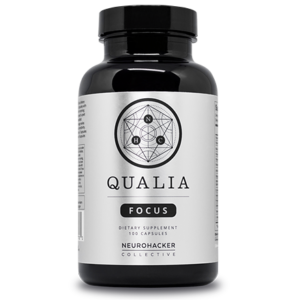 The Qualia brand desperately needed a cheaper nootropic supplement in their Qualia series, and Qualia Focus seems to fit that bill. Compared to its predecessor Qualia Mind, Qualia Focus supplies nearly the same ingredient-heavy formula, only with a few key ingredients removed.
And, unfortunately, yes, they're some of Qualia Mind's best nootropic ingredients — e.g., citicoline, phosphatidylserine, PQQ.
However, for the most part, Qualia Focus still delivers an impressive, comprehensive, Qualia experience, supplying 24 ingredients total with its 5 capsule serving sizes. Although, strangely, Qualia Focus doesn't add any special "focus boosters" to earn the "Focus" in its name — at least in comparison to other Qualia products, e.g., Qualia Mind. If anything, Qualia Mind is a better focus sharpener than Qualia Focus.
But that's between Qualia Focus and Qualia Mind. As far as this comparison review between Qualia Focus and Alpha BRAIN goes, Qualia Focus stacks an impressive, competitive list of nootropic brain boosters.
Read my in-depth review on Qualia Focus.
Alpha BRAIN: Flow, Focus, and Fuel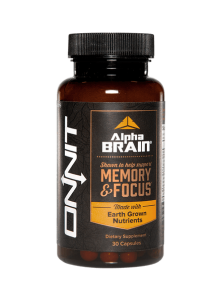 Alpha BRAIN earns the "alpha" in its name with its focus on alpha brainwave promotion (via L-theanine) and alpha-GPC cholinergic brain boosts. However, these encompass only two ingredients of Alpha BRAIN's total formula design, which splits into three proprietary (yes, proprietary, unfortunately) blends:
Flow – supplies L-theanine and oatstraw for alpha brainwave flow (i.e., free-flow thinking) and L-tyrosine for mood balance.
Focus – boosts acetylcholine activity via alpha-GPC, bacopa monnieri extract, and huperzine-A.
Fuel – enhances cerebral circulation for better brain nourishment and antioxidant status for reduced free radical damage.
Aside from the proprietary blends, Alpha BRAIN also supplies ac-11® branded Cat's Claw extract, an antioxidant-rich herb with significant neuroprotective potential. As far as cognition enhancement goes, it's hard to say how much cat's claw accomplishes until we see more clinical research on this bad boy. But it's awesome for long-term brain health nonetheless.
Read my in-depth review on Alpha BRAIN.
Unique Features
With so many ingredients on Qualia Focus' side, it's hard to list many relatively "unique features" on the Alpha BRAIN side. But there are some worth noting. First I'll list a few (not all because that'll take forever) of Qualia Focus' unique nootropics and features before jumping into Onnit's stack.
Qualia Focus
More Vitamins – Compared to Alpha BRAIN's one B vitamin (B6), Qualia Focus supplies three more B vitamins in addition to vitamin C and D3.
Acetyl-L-Carnitine – A hugely popular ingredient in nootropic stacks, ALCAR seems to enhance brain energy by promoting mitochondrial energy output.
DL-Phenylalanine – Not a bad stack option with B vitamins and L-tyrosine, given that this amino also partakes in the catecholamine conversion process towards better mood and motivation.
Uridine – Qualia Focus doesn't use citicoline, which supplies cytidine (a precursor to uridine); however, mixing alpha-GPC with uridine may accomplish similar benefits to citicoline.
Caffeine (as Coffeeberry®) – Alpha BRAIN is caffeine-free, whereas Qualia Focus supplies decent quality caffeine, delivered in premium Coffeeberry® form.
And More – This only covers a few of Qualia Focus' great nootropics. If you want a full take on this formula's ingredients, check out my single review on Qualia Focus. More on Qualia Focus.
Alpha BRAIN
ac-11® Cat's Claw Extract – Only Onnit sells this patented extract of cat's claw, an antioxidant-rich herb. (Not actual cat claws.)
Oat Straw Extract – Oat straw extract is backed by fairly reliable research that pins this noot down as a decent acute cognitive enhancer (but not for long-term enhancement).
Phosphatidylserine – Qualia Mind supplies phosphatidylserine, yet Qualia Focus skips out on it. This is unfortunate: PS is a great, brain healthy nootropic.
Vinpocetine – Qualia Focus uses Ginkgo biloba extract for cerebral circulation. Alpha BRAIN sides with vinpocetine, a low dosage-requiring circulatory booster.
Caffeine-Free – Qualia Focus has a moderate amount of caffeine. Alpha BRAIN goes completely stimulation free, giving its users the option to stack it with caffeine (e.g., coffee) or not.
Potency & Quality
I'll tell you right now, unless Alpha BRAIN hits the high quality marks for all of its ingredients, then it's simply not taking this round. Qualia Focus skips no corners when it comes to the potency and quality of its ingredients.
It's an impressive feat for Qualia Focus, given how many ingredients it stacks in its formula. Most supplements that supply 20+ ingredients tend to do so by either sacrificing their ingredient quality or quantity (i.e., dosages) — however, Qualia Focus' many ingredients are both high quality and sufficiently dosed.
Alpha BRAIN has decent quality ingredients. They do more than enough to supply an effective formula, but a few improvements could be made — e.g., B6 should be P-5-P (not pyridoxine HCl), the herbal extracts could be better explained, and either alpha-GPC could be replaced with citicoline or supplemented with uridine. Also, Alpha BRAIN goes the proprietary blend route, which is annoying — although, to their credit, they detail the individual dosages of a few ingredients, helping us to fill in the blanks on their formula a bit.
Even so, all in all, Qualia Focus demonstrates better quality ingredients at (presumably) higher dosages than Alpha BRAIN's stack.
Value: Qualia Focus vs. Alpha BRAIN

Price
Servings
Price Per Serving
Qualia Focus
$69.00
20
$3.45
Alpha BRAIN
$32.95
15
$2.20
Bottle to bottle, Qualia Focus more than doubles the price of Alpha BRAIN. And while Qualia Focus does supply way more capsules and servings, the superstack still significantly outweighs Alpha BRAIN on the price per serving scale as well.
Simply put: Qualia Focus is way more expensive than Alpha BRAIN.
Having said that, it's pretty annoying that neither product supplies the somewhat standard 30 servings. Although, if you buy Alpha BRAIN Instant, you'll receive a month's worth of supply for a cheaper price per serving, too. Qualia Focus also has a Subscribe & Save option, which decreases its monthly per bottle price, but even so: Qualia Focus is way more expensive than Alpha BRAIN.
(And Qualia Focus is the cheapest Qualia option thus far.)
Qualia Focus or Alpha BRAIN: Which is better?
Qualia Focus is a more premium, comprehensive cognitive enhancer.
Which sounds a lot like "Qualia Focus is the better supplement here"… and, yea, I'd say that's fair in this comparison review. The Neurohacker Collective team clearly understands nootropics and how to put together a comprehensive nootropic formula. Perhaps they go a little too balls to the wall, stacking damn near everything on the nootropic periodic table of elements. (Which leads to a way too expensive supplement.) But I'm impressed by their products nonetheless.
Alpha BRAIN is great for memory and relaxed (caffeine-free) thinking.
Due to the largeness of the Onnit brand, as well as all of the well-known personalities involved with Onnit, some may like or dislike Alpha BRAIN based on factors not at all related to the supplement's nootropic merit. For the most part, I can say that Alpha BRAIN is a competent brain boosting stack that's at least worth a try — especially if you get your hands on Alpha BRAIN Instant, which is better than the original Alpha BRAIN formula. Plus, it's caffeine-free, which is a bonus for the non-stim nootropic enthusiasts.
My Recommendation
I basically already told you: Qualia Focus is the better supplement.
And Qualia Focus earns that win on several measurements — from the quality of its ingredients to its selection of ingredients to their dosages, so on and so forth. Granted, it's also much more expensive than Alpha BRAIN, but there's an obvious reason for this: Qualia has more high quality nootropics than Alpha BRAIN.
You might be surprised to learn that Qualia Focus is the budget option within the Qualia line of supplements… but that's just the way it goes. Having said that, if you have the dough to spend, Qualia Focus is definitely the preferred option over Alpha BRAIN. And yet if you'd like to save your dough on even better nootropic supplements, I recommend checking out my Best Nootropic Supplements of 2018 list.
Qualia Focus > Alpha BRAIN