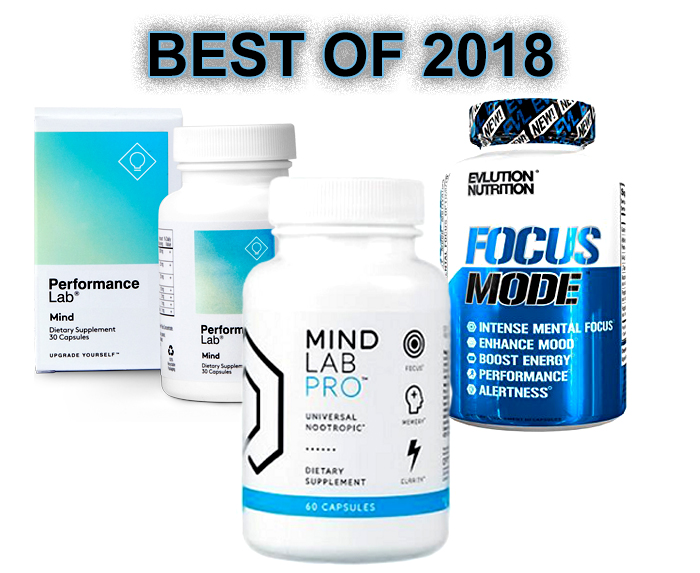 New Year, New You, New Noots! Right?
Well, sort of.
After all, if the same nootropic substances have been bettering the human mind for the past however many centuries, why would we switch up the game now? Bacopa monnieri still improves memory and learning. And green tea is still the G.O.A.T.
Having said that, we've still made massive amounts of progress, especially in recent years, in terms of advanced nootropic forms and potencies. Ever since Dr. Giurgea's discovery of the first lab synthesized "nootropic," we've made massive headway in isolating nature's most bio-active nootropic constituents and stacking them in supplement form.
And when I say "we" I mean the nootropic supplement manufacturers behind the latest and greatest cognitive enhancing products on the market. On that note, I've compiled a short guide on the Best Nootropic Supplements to Buy in 2018.
Without further ado, let's read on.
The Best Nootropic Supplements in 2018
Mind Lab Pro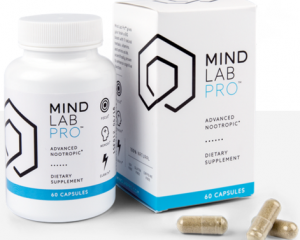 Throughout the years, Mind Lab Pro has stood by two key promises:
100% Brainpower
Universal Nootropic Benefits
And, amazingly enough, Mind Lab Pro continues to deliver on these ambitious promises, despite the supplement's significant reformulations over the year. Furthermore, the universal nootropic's changes have progressively improved the formula with each upgrade. The most recent update including:
Better B Vitamins. I'm absolutely B-lighted by Mind Lab Pro's BioGenesis brand of B vitamins, including highly potent B6, B9, and B12.
More Bio-Active Bacopa. Mind Lab Pro's Bacopa monnieri extract now includes nine bio-active bacoside constituents for a fuller Bacopa experience.
New Pine Bark Extract. And the most exciting addition, the Pinus pinaster extract, further boosts Mind Lab Pro's antioxidant, attention, and circulatory benefits.
But, okay, hold on. Mind Lab Pro already works. So, why continually "fix" it?
Opti Nutra only seems to "fix" nootropic ingredients by swapping them with their more bio-active counterparts. Or by swapping them altogether with new nootropics that enact the same or similar bio-activity …only better.
As for the overall formula design, three things remain constant with Mind Lab Pro:
All ingredients are nootropic.
Each nootropic comes in its most potent form.
Every brain bio-pathway is covered.
And as long as Mind Lab Pro keeps these features constant, no matter the reformulations and upgrades, it can expect to remain a leader in the 2018 nootropic game and beyond.
Unique Features
Mind Lab Pro achieves 100% brainpower not by cheap, temporary stimulation but through a compound synergy of all the brain bio-pathways: Metabolic Energy, Neurotransmitters, Circulation, Brainwaves, Neuroprotection, and Neuroregeneration. I mean, what else is there? Telepathy? X-ray vision??
Actually, don't put it past Opti-Nutra…
Potency & Quality
The entire formula qualifies as potent and high quality. By opting for clean, premium grade nootropics over the standard stuff, Mind Lab Pro supplies a formula truly designed to work. And work well.
Altogether, Mind Lab Pro's enhanced ingredient forms include: BioGenesis® B Vitamins, Cognizin® Citicoline, Full Spectrum Bacopa monnieri Extract, Full Spectrum Lion's Mane Mushroom, Sharp PS® Phosphatidylserine, N-Acetyl-L-Tyrosine (better than L-Tyrosine), Suntheanine® L-Theanine, Std. Rhodiola rosea Extract (3% rosavins, 1% salidroside), and Std. Maritime Pine Bark Extract (95% proanthocyanidins).
Extra Geek Points
Within the capsules, Mind Lab Pro's formula is noice. However, this supplement deserves additional bonus points for:
The capsules themselves. Those clean, green Plantcaps also look noice.
Non-proprietary label. Thanks for transparently displaying all ingredient dosages.
No caffeine or synthetic smart drugs. Caffeine is a cheap, easy crutch.
Additionally, Mind Lab Pro transparently displays the purpose and research backing each ingredient used in its cognitive enhancing supplement. Which is prettay, prettayyy, pretty good.
Read my full Mind Lab Pro review
Performance Lab Mind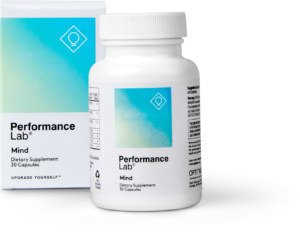 Here's a question for you: Do you suck at a lot of things?
Okay, fine, here's the more polite way to ask that: Could your performance perhaps use some improvement?
You're damn right it can use improvement — and not only some but a lot! — which is why we have Performance Lab Mind, a laser-focused, super-tight nootropic brain health stack that may not only enhance your mind performance but nourish your brain cells. And with only four (count 'em: four!) nootropics. Those four nootropics being:
Citicoline – for increased acetylcholine and brain energy levels.
Phosphatidylserine – for enhanced cognitive clarity and longevity.
N-Acetyl L-Tyrosine – for better focus and mood amidst stress.
Maritime Pine Bark Extract – for better circulation and antioxidant activity.
Had you only four ingredient slots with which to craft a nootropic supplement, you'd have to make up an extremely solid argument to win against any of these nootropics, as they're currently some of the best in the game. And what's perhaps most impressive about their use in Performance Lab Mind's formula is how well they seem to work together. (The key word here being: synergy.)
By covering several of the key, primary pathways involved in brain power and recovery — brain chemicals, brain energy, brain cell membranes, and brain circulation — Performance Lab Mind packs a powerful brain booster punch with each capsule. And the return-on-investment for this bad boi is great, increasing in value over time as you continue to supplement this stack daily.
While it's not exactly the most comprehensive brain health stack, Performance Lab Mind hits the most important pressure points on cognitive enhancement, making it an essential building block to a full, well-rounded, daily nootropic supplement regimen.
Unique Features
Similar to Mind Lab Pro, Performance Lab Mind demonstrates exceptional ingredient quality in its formula, delivering some of the best herbal extracts and compounds. However, what's really unique and impressive about Performance Lab Mind is how it accomplishes so much with so little. By focusing on only four ingredients, Performance Lab Mind doubles down on ingredient quality and dosages, ensuring that everything in its formula not only works but works very, very well.
Potency & Quality
Performance Lab Mind shows off a couple impressive, patented ingredients, including: Cognizin® (Citicoline) and Sharp-PS® (Phosphatidylerine). However, the remaining ingredients — N-Acetyl L-Tyrosine and Maritime Pine Bark Extract — still impress on the potency and quality scales, outperforming their plain, respective L-tyrosine and non-extract counterparts.
Not to mention, Performance Lab Mind also encases its formula in clean Plantcap® vegan capsules. Booyah.
Extra Geek Points
With Performance Lab Mind's energizing citicoline and mood-boosting NALT, this formula is perfect for the geek life. And I'm also referring to the fun side of the geek life — e.g., video gaming, exercising, staying up way late to read Finnegans Wake. (Yes, this last one isn't only fun but absolutely exhilarating.)
Few nootropic supplements can pull off the short, sweet, and simple approach to brain boosting. Most fail by either giving us low quality crap or simply wrong ingredients altogether. By achieving such a sweet, simple design, Performance Lab Mind is one of the best stacks to stack with other awesome stacks. It's a stackable stack! Wee!
Read my full Performance Lab Mind review
EVL FocusMode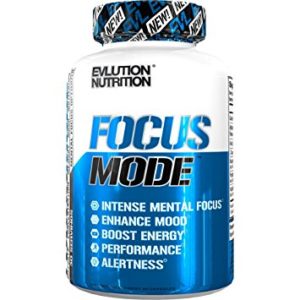 EVLUTION Nutrition typically focuses on bodybuilder "beast mode" style of supplements. And, well, EVL FocusMode turns out to be no exception, except that: EVL FocusMode powers up beast mode for the brain.
As such, EVL FocusMode bridges the space between the gym junkies and book worms, supplying an exceptionally clean source of mental stimulation — Guarana Extract and Theacrine, similar to Study Juice — and cholinergic memory effects, by way of Alpha-GPC and Huperzine-A.
In fact, there's very little in this formula that doesn't support cognitive performance without also providing a significant boost on workout performance as well. For example:
N-Acetyl L-Tyrosine – This anti-stress amino improves performance under conditions of both physical and mental stress and activity.
Caffeine + L-Theanine – A smart nootropic stack duo that simultaneously stimulates and relaxes at the same time for peak energy and focus.
Alpha-GPC – Not only does this improve neurotransmitter acetylcholine status but A-GPC may increase growth hormone expression following exercise.
Altogether, EVL FocusMode is a powerful, packed nootropic supplement stacked with research backed ingredients for better mind-muscle results. Best taken in anticipation of stressful exams and intense workouts.
Unique Features
Every supplement on this list supplies the quality form of L-tyrosine: N-Acetyl L-Tyrosine. However, EVL FocusMode stacks the most NALT in its formula, coming it hot at a hefty 600 mg NALT. Few nootropic formulas carry this much. And given EVL FocusMode's emphasis on physical performance, this large supply of anti-stress amino may go a long way in maintaining a competitive cognitive edge to your physical, and (of course) mental, game.
Potency & Quality
Due to the all-around high potency and quality of this formula, it'd be easier to point which ingredient is not up-to-par. That ingredient being: Choline Bitartrate, a non-nootropic cholinergic ingredient. Fortunately, EVL FocusMode still supplies a nootropic choline source in its potent formula, which includes:
N-Acetyl L-Tyrosine, Guarana Seed Extract (contains natural guaranine and caffeine), Alpha-GPC (std. min. 50% A-GPC), TeaCrine® (Theacrine), Zembrin® (Sceletium tortuosum), and Huperzia serrata extract (std. min. 1% Huperzine A).
Extra Geek Points
There still exists this notion that all geeks are basement dwelling weebos, who literally roll out of bed towards their computers. And while, yes, we are basement dwelling weebos, we do care for our physical health enough to not roll but rather jump out of bed in the morning. After all, exercise remains the best solution for a slow brain. Having said that, EVL FocusMode helps break that stigma by simultaneously appealing to the bodybuilders and Dark Souls enthusiasts, who, as it turns out for this Nootropic Geek, are the same person.
Read my full EVL FocusMode review
Conclusion
And there you have it: The Best Nootropic Supplements to Buy in 2018.
Of course, you're only seeing a tiny slice of the nootropic supplement market at large. However, I believe these cognition enhancing supplements to be the cream of the cream of the cream. The safest and most effective of all that's safe and effective in the land of brain bio-hacking.
Granted, what makes being a nootropic geek so fun is concocting DIY nootropic stacks tailored to my particular, wavering needs. Even so, the supplements chosen on this list provide solid nootropic base stacks, each product delivering some of the best, time-tested, all natural nootropic ingredients that have been used by intellectuals for the past God knows how many centuries.
What we're seeing here are only these legendary herbs and compounds in their latest, updated forms. Yet, if 2017 has been any indication, we're likely to see more supplement reviews covering these nootropic ingredients, tightening the competitive race towards next year's Best Nootropic Supplements of 2019.
Until then, I look forward to what's apt to be the best year in nootropic history to date.
See y'all geeks later.