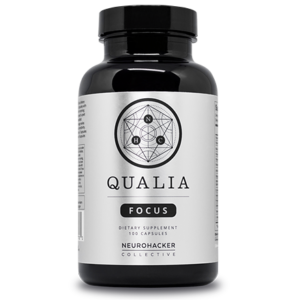 If Qualia Mind is the "Qualia 2.0" stack, as compared to the Qualia Original Stack duo, then Qualia Focus is the "Qualia Mind 0.8" stack, a downgrade from the upgrade of the original Qualia formulas. Having said that, Qualia Focus still shares many of the quirks and perks of the other Qualia supplements, namely:
High ingredient count
Exceptional ingredient quality
Sufficient ingredient dosages
Ballsy price tag
Yet, by simplifying its formula, removing several of the key premium nootropics found in Qualia Mind, Qualia Focus works as a more affordable Qualia option here. But does that make it the overall lesser stack in the Qualia line of supplements? Let's read the Qualia Focus review to find out.
About Qualia Focus
By Neurohacker Collective, Qualia Focus is an all natural nootropic superstack similar to its predecessor Qualia Mind.
Does Qualia Focus boost focus? Sure, but not to any special or greater degree than Qualia Mind.
The key differences between Qualia Focus and Qualia Mind: ingredient count and price tag.
Qualia Focus Ingredients

Ingredients
Amount Per Serving
Vitamin C (as ascorbic acid)
100 mg (111% DV)
Vitamin D3 (as cholecalciferol)
25 mcg (1,000 IU) (125% DV)
Niacin (as niacinamide)
50 mg (313% DV)
Vitamin B6 (as pyridoxal 5′-phosphate)
20 mg (1176% DV)
Vitamin B12 (as methylcobalamin)
1000 mcg (41667% DV)
Pantothenic Acid (as calcium pantothenate)
50 mg (1000% DV)
Artichoke Leaf Extract (5% cynarin)
300 mg
Bacopa monnieri Leaf Extract (45% bacosides)
300 mg
Alpha-Glyceryl Phosphoryl Choline (alpha GPC)
300 mg
DL-Phenylalanine
300 mg
Acetyl-L-Carnitine HCl
250 mg
N-Acetyl-L-Tyrosine
250 mg
Uridine-5′-Monophosphate disodium
200 mg
Taurine
200 mg
L-Theanine
200 mg
Rhodiola rosea Root (3% rosavins; 1% salidrosides)
150 mg
Organic Coffeeberry® (90 mg caffeine) Whole Coffee (Coffea arabica) Fruit Extract
129 mg
Benfotiamine
100 mg
Mucuna pruriens Seed Extract (50% L-Dopa)
100 mg
Theobromine
100 mg
Celastrus paniculatus Seed Extract
60 mg
Ginkgo biloba Leaf Extract (24% glycosides)
50 mg
Coleus forskohlii Root Extract (20% forskolin)
20 mg
Huperzine A (Huperzia serrata leaf standardized extract)
50 mcg
Serving Size: 5 Vegetarian Capsules
Servings Per Container: 20
Other Ingredients: Organic Rice Extract Blend, Organic Rice Concentrate, Vegetable Cellulose, Silicon Dioxide
Directions: As a dietary supplement, take 5 capsules with water first thing in the morning before eating. If stomach upset occurs, take with breakfast instead. Optimal dosage will vary based on body weight and sensitivity. Do not take more than 7 capsules at once or more than 9 capsules in a day.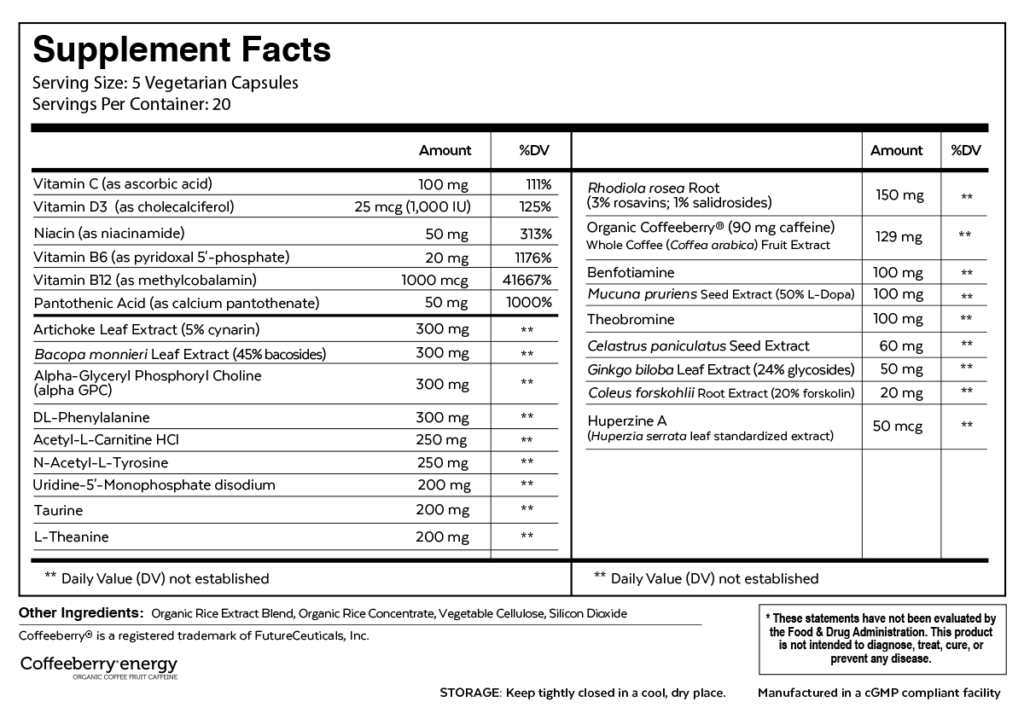 Another intense and heavy Qualia Supplement Facts — although this label is simpler than that of Qualia Mind's and Qualia Original Stack's. Altogether, Qualia Focus supplies 24 ingredients, including the following vitamins:
Vitamin C – a great antioxidant for free radical reduction in the brain.
Vitamin D3 – when vitamin D depletes, overall health falters. Not a bad idea here.
B Vitamins – four B vitamins altogether, each supplied in potent forms. Great brain chemical balance, mood enhancement, and cerebral circulation. More on B vitamins.
However, those are just the vitamins. Let's get into the nootropic meat of this supplement.
Qualia Focus Review: Ingredients
Artichoke Leaf Extract (5% Cynarin) – May have antioxidant and cerebral circulation benefits. A smart stack option with Coleus forskohlii (see below), giving it a pass here. But as a standalone nootropic? Nothing especially special.
Bacopa Monnieri Leaf Extract (45% Bacosides) – An awesome Ayurvedic adaptogen for memory and learning, a great aid for students (of academia and life). Qualia Focus supplies a potent dosage at a hefty dosage. More on Bacopa Monnieri.
Alpha-Glyceryl Phosphoryl Choline (Alpha-GPC) – Supplies a solid concentration of brain healthy choline, which converts to phosphatidylcholine and neurotransmitter acetylcholine. While I prefer citicoline for brain boosts (due to the compound's combination of choline and cytidine), alpha-GPC is a solid brain boosting option. More on Alpha-GPC.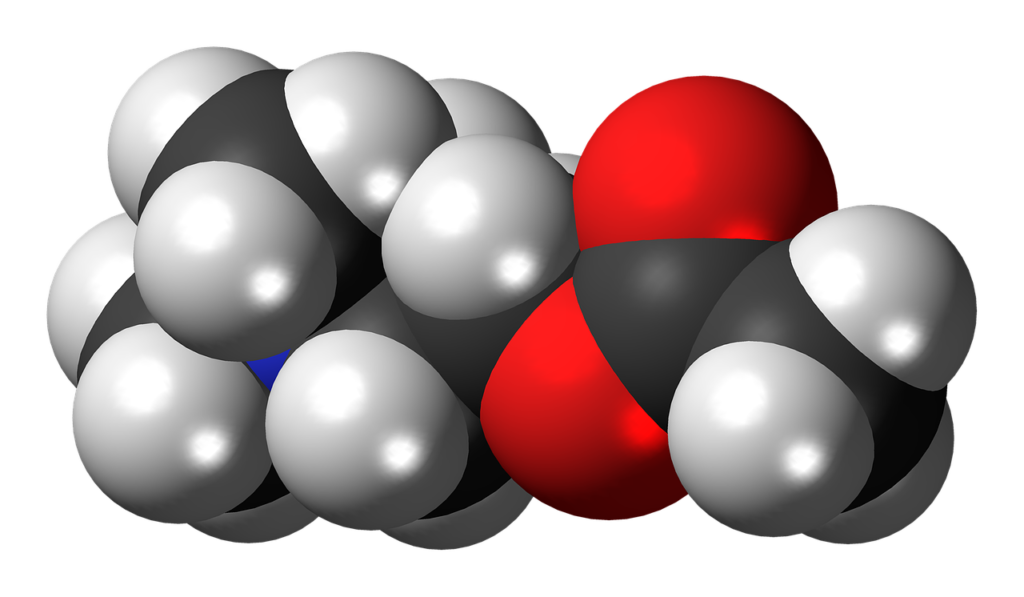 DL-Phenylalanine – May improve mood and anxiety levels. Takes part in the catecholamine conversion pathway, similar to L-tyrosine (see below).
Acetyl-L-Carnitine HCl – Some love it, some don't really care — ALCAR seems to improve energy metabolism by increasing fatty acid fuel delivery to mitochondria (for ATP energy production). May improve cognitive energy levels for cognitive longevity. More on ALCAR.
N-Acetyl-L-Tyrosine – When the brain is stress, natural tyrosine levels drop as they convert to catecholamines, the brain's "stay alert and focus" chemicals. Supplementing N-acetyl-L-tyrosine may help resist the brain burnout associated with stress and fatigue. More on L-Tyrosine.
Uridine-5′-Monophosphate disodium – As an RNA nucleotide, uridine plays a key role in the production of HUMAN LIFE, baby. But as a nootropic, this compound seems to possess significant brain energy and neuroregenerative potential. More on Uridine.
Taurine – Favored by energy drinks, taurine seems to… well, it's hard to say. Some research pins this antioxidant amino down as a relaxing sedative. The "antioxidant" aspect may warrant supplementation alone — although, again… it's hard to say. More on Taurine.
L-Theanine – Awesome brain health compound, great nootropic — L-theanine is the anxiety reducing compound sourced from green tea that simultaneously enhances cognitive calm and focus; without sedation. More on L-Theanine.
Rhodiola Rosea Root (3% rosavins; 1% salidrosides) – A powerful, fast-acting adaptogen for stress and fatigue reduction. Great for mental and physical performance, especially by way of an early morning or late afternoon pick-me-up. More on Rhodiola Rosea.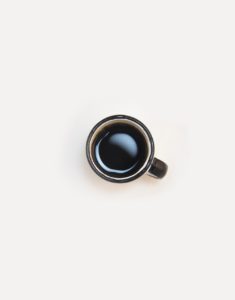 Organic Coffeeberry® (90 mg caffeine) – Quality source of caffeine. 90 mg isn't an overbearing amount, supplying roughly an 8 oz cup of coffee's worth of caffeine. Pairs well with the L-theanine above. More on Caffeine.
Benfotiamine – Essentially a more bioavailable of thiamine (vitamin B1). Benfotiamine is a synthetic S-acetyl derivative of thiamine, used therapeutically for neuropathic pain.
Mucuna pruriens Seed Extract (50% L-Dopa) – As a natural, rich source of L-dopa, Mucuna pruriens is a unique herb, supplying potent mood boosts (via L-dopa's conversion to dopamine) as well as sex hormone balance (via LH/FSH upregulation).
Theobromine – Referred to as the "Love Drug", theobromine is a feel-good compound often associated with dark chocolate that may possess vasodilatory benefits.
Celastrus paniculatus Seed Extract – Known as the "Intellect Plant", Celastrus paniculatus is an antioxidant-rich cognitive enhancing herb that boosts the brain's neuroprotective potential and memory capacity. More on Celastrus Paniculatus.
Ginkgo biloba Leaf Extract (24% glycosides) – Traditionally used for elderly health and cognition, Ginkgo biloba seems to work by increasing circulation and enhancing working memory. Its boosts on memory may benefit both elderly and young users. More on Gingo Biloba.
Coleus forskohlii Root Extract (20% forskolin) – A smart stack option with artichoke extract, as the Coleus + Artichoke combo seems to improve LTP neuronal growth. Due to the extract's boost on cAMP activity, Coleus forskohlii is a popular ingredient in fat burner supplements.
Huperzine A (Huperzia serrata leaf standardized extract) – Semi-synthetic nootropic compound sourced from Chinese club moss. Hup-A improves the brain's cholinergic activity by inhibiting acetylcholinesterase, the enzyme responsible for breaking down neurotransmitter acetylcholine. More on Huperzine A.
Qualia Focus Review: Basically, the Simpler, Less-Good Version of Qualia Mind
The Qualia line of nootropic supplements is impressive for a number of reasons. Well, actually, a lot of numbers of reasons, given the high ingredient counts found in their formulas. And Qualia Focus is no exception, coming in hot with its 24-ingredient formula. Many manufacturers attempt the "loaded" formula design. Few pull it off.
Yet, Qualia Focus makes it work by:
Supplying each ingredient in highly potent form.
Dosaging each ingredient adequately.
Bumping up the serving size count to 5 caps per serving.
One of the biggest hang-ups on previous Qualia supplements was their extremely high price tag. The original Qualia stack (which doesn't seem to be listed on the Neurohacker Collective website anymore?) as well as Qualia Mind sell themselves in the $100+ per bottle range.
Of course, a high number of high quality ingredients comes at a high price.
However, Qualia Focus seems by far the most affordable of the bunch. (Although, it's still on the higher end of supplement pricing — see the "Pricing" section below.) And I have to imagine this partially due to the stack's removal of certain key nootropic ingredients, such as: Citicoline, Phosphatidylserine, DHA, and PQQ. This mix of ingredients works great for ATP energy production and brain cell membrane function. Yet, aside from the removal of these ingredients, I'm having a hard time figuring out where the "Focus" comes into play here.
In other words, which focus-enhancing ingredients distinguish Qualia Focus from Qualia Mind? All-in-all, Qualia Focus isn't much of a departure from Qualia Mind — not enough to warrant calling Qualia Focus the "focus enhancing" version of Qualia Mind — and the few changes this stack make seem to diminish the product's overall nootropic scope.
Having said that, Qualia Focus' simpler formula may reduce negative ingredient interaction, and if these changes significantly decrease the price, then cool: here's a Qualia formula that more of us can actually afford.
The Pros
Qualia Focus hits many of the same positive notes as its Qualia predecessors: high quality ingredients, adequate dosages, sufficient serving sizes.
For the most part, Qualia Focus' formula makes sense and stays consistently committed to enhancing cognition and brain health.
Qualia sorely needed a cheaper product in its line-up. Qualia Focus seems to fulfill that need, even if it's still a bit pricey.
The Cons
Qualia Focus doesn't really add anything particularly "focus sharpening", as compared to the Qualia Mind formula.
Qualia Focus simplifies the ingredient count, yet does so by removing some of Qualia Mind's best nootropic ingredients.
Qualia Focus is certainly the cheaper Qualia option, yet their advertising on this point is a bit disingenuous (as you'll see in the next section).
Pricing
$69 for 100 capsules, a 20-day supply
$3.45 per serving

If you order Qualia Focus with the "Subscribe & Save" option toggled, then, yes, the first shipment runs you $2.45 per serving (at $49 for the first shipment). After which, Qualia Focus' price increases to $59 per month thereafter. The price I have listed above represents the single bottle order option — $69 when you buy Qualia Focus with "Purchase this time only" toggled.
Who Takes Qualia Focus?
Throughout the past year, I've seen continued refinement in Qualia products. However, the company remains grounded in their holistic, collectivist "total body" design. The sort of creepy collectivism that was apparent with their first Qualia original stack has been toned down, as the Neurohacker Collective website seems primarily focused on nootropic health enhancement now. The "new science" appeal of their brand is a bit jargony, attracting your more tech-progressive Silicon Valley types (as opposed to, say, your more earthy Onnit athlete jocks). And, of course, Qualia supplements appeal to those with money, because you'll need quite a bit of it to afford a Qualia habit.
Where to Buy It
Qualia Mind and the Qualia Original Stack still hold listings on Amazon. But, at time of writing, it seems you can only buy Qualia Focus through the Neurohacker Collective website at the pricing options listed above.
Conclusion: Does Qualia Focus Work?
Yes, Qualia Focus works. And despite having such a large formula, each of Qualia Focus' ingredients make sense for brain health and function. However, does Qualia Focus work better than Qualia Mind? More specifically, does Qualia Focus work better than Qualia Mind at increasing focus?
It's hard to say. My bet is: not really.
On the one hand, by simplifying its formula, Qualia Focus may reduce the risk of negative ingredient interactions, as compared to Qualia Mind's slightly larger formula. However, Qualia Focus simplifies its design by removing a few of Qualia Mind's best nootropics. But, hey, that's why Qualia Focus is the cheaper option here!
If you want in on the Qualia experience but don't quite have the dough, Qualia Focus seems to be the more affordable option — even if it doesn't provide the best Qualia experience. On that note, if you simply want a good nootropic experience, at a much more reasonable cost, check out my Best Nootropic Supplements of 2018 list.
Final Rating
Formulation Strategy

Brainpower Benefits

Brain Health Benefits

Transparency

Quality

Value