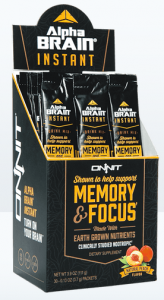 Remember when those Crystal Light packets were a big deal?
(To be honest, they're still a big deal in my life.)
Well, Alpha BRAIN Instant is bringing it back by reformulating the original Onnit Alpha BRAIN nootropic stack into Crystal Light-esque powder drink packets: Pour content & just add water, baby!
The BIG idea: Liquid is easier, and thus quicker, to absorb (hence the "Instant"), leading to faster-acting boosts on focus & flow. If you weren't that much of a fan of the capsulated Alpha BRAIN formula, you probably won't like Alpha BRAIN Instant that much either–given that it uses essentially the same ingredients.
However, if you're on the fence on Alpha BRAIN, consider Alpha BRAIN Instant to be the push you needed. (Let's just hope you land on the right side.)
About Alpha BRAIN Instant
Onnit has been on it for awhile now, and they seem to be even more on it with Alpha BRAIN Instant, a rehash of their first nootropic stack: Alpha BRAIN.
The first obvious difference between Alpha BRAIN & Alpha BRAIN Instant: The former is contained in capsules, the latter in powder drink packets.
Between the Alpha BRAIN products is essentially the same formula, except Alpha BRAIN Instant makes a few significant changes.
Alpha BRAIN Instant Ingredients

Ingredients
Amount Per Serving
Vitamin B-6 (Pyridoxine HCl)
10 mg (500% DV)
Onnit® Flow Blend: L-Tyrosine, L-Theanine, Oat (straw) Extract, Phosphatidylserine
1,150 mg
ac-11® Cat's Claw Extract
350 mg
Onnit® Focus Blend: L-Alpha-Glycerylphosphorylcholine (GPC), Bacopa monniera (aerial parts) Extract, Huperzia serrata (aerial parts) Extract
240 mg
Onnit® Fuel Blend: L-Leucine, Vinpocetine, BioPerine® Black Pepper (fruit) Extract, Pterostilbene
71 mg
Serving Size: 1 Packet (3.7 g)
Servings Per Container: 30
Other Ingredients: Maltodextrin, Natural Flavors, Sodium Citrate, Stevia (leaf) Extract, Fructooligosaccharides, Silicon Dioxide, Citric Acid, Acacia Gum, Tricalcium Phosphate, Silica
Directions: Adults, as a dietary supplement, take one packet mixed with 8 ounces of cold water, preferably with a light meal. Do not take more than one packet in any 24-hour period.

Like a true echo, Alpha BRAIN Instant imitates the words of its predecessor, Alpha BRAIN, but comes back just a little bit distorted. Let's see if these distortions improve or worsen the original Alpha BRAIN formula, starting with the individual ingredients of the product:
Vitamin B6 – Of the B vitamins, B6 has the most nootropic potential for its benefits on neurotransmitter status & cerebral circulation. More on Vitamin B6.
ac-11® Cat's Claw Extract – Not a true cognitive enhancing nootropic, but a quality extract of Cat's Claw herb, a potent source of neuroprotective antioxidants. Only Alpha BRAIN supplements carry this specific ac-11 brand.
Onnit Flow Blend
L-Tyrosine – Feeling stressed? Try TYROSINE! One of the best nootropics for maintaining focus & mood through otherwise stressful conditions. Although it doesn't seem to work during non-stressful conditions (plus N-Acetyl-L-Tyrosine form would work better than this form of Tyrosine). More on L-Tyrosine.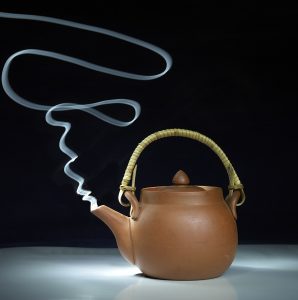 L-Theanine – Nootropic nerds are all about L-Theanine for its unique advantage on boosting alpha brain waves, the brain state associated with creativity & "wakeful relaxation." More on L-Theanine.
Oatstraw Extract – Oatstraw is also commonly associated with alpha brain waves, however not to the degree that L-Theanine is. More than anything Oatstraw seems to enhance circulation, giving it relevance to both nootropics & physical performance enhancer supplements. More on Oat Straw.
Phosphatidylserine – I'm always down for some PS, given its well-demonstrated support on brain cell membranes & neuron communication. It's such a reliable nootropic that I almost think it weird when nootropic stacks don't carry this compound. More on Phosphatidylserine.
Onnit Focus Blend
Alpha-GPC – While I prefer the Citicoline route to choline, Alpha-GPC actually supplies a higher concentration of choline, the precursor to neurotransmitter acetylcholine & membrane component phosphatidylcholine. More on Choline Sources.
Bacopa monniera Extract – This Ayurveda adaptogen has various nootropic purposes, making it one of the more popular substances of discussion on reddit boards. It's best benefits include: Less stress and enhanced memory & learning. More on Bacopa.
Huperzia serrata Extract – In tiny doses Huperzine-A can have significant effect on neurotransmitter status & cognition. Its inhibition of acetylcholinesterase complements the ACh-promoters (Alpha-GPC, Bacopa) in Alpha BRAIN Instant very well. More on Huperzine A.
Onnit Fuel Blend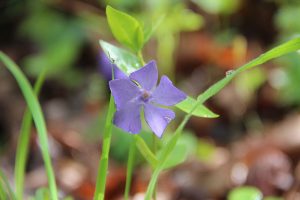 L-Leucine – Not sure what this is doing here. L-Leucine is commonly found in protein & post-workout supplements for its role in protein synthesis, but there's no evidence of it supporting cognition.
Vinpocetine – Similar to Hup-A, Vinpocetine has significant effect in tiny doses, enhancing cerebral circulation for an increased delivery of oxygen & nutrients to the brain. More on Vinpocetine.
BioPerine® Black Pepper Extract – Onnit smartly adds this black pepper extract to their Alpha BRAIN Instant formulation, not previously found in the regular Alpha BRAIN supplement. In small doses BioPerine can significantly enhance nutrient absorption, increasing the overall bioavailability of this formula.
Pterostilbene – Resveratrol gets all of the attention for its antioxidant benefits, but this resveratrol analogue is actually 4x more potent than regular resveratrol. More on Pterostilbene.
Alpha BRAIN Instant: Liquid Powder Brainpower
Alpha BRAIN Instant is essentially Alpha BRAIN, the same almost exact formula, with exception to 3 key differences that just might make all the difference:
More Flow – Alpha BRAIN Instant's Flow blend is dosed as 1,150 mg, nearly double that of the original formula's 650 mg dosed Flow blend.
Different Form – Alpha BRAIN comes in capsules. Alpha BRAIN Instant comes in powder mix packets, designed to mix with water for instant effect.
BioPerine – Alpha BRAIN really doesn't have an excuse for not providing black pepper extract (you only need like 5 mg of the stuff). Fortunately, Onnit includes it in the Instant formulation.
For all intents & purposes, Alpha BRAIN Instant is the same formula as its predecessor, delivering all of the same benefits: Enhanced focus, creativity, & relaxation; Reduced stress & fog. Plus, it's non-caffeinated. Which makes me wonder how this stuff might taste if mixed with coffee? Probably really horribly awful, but the L-Theanine + Caffeine combo might be worth it.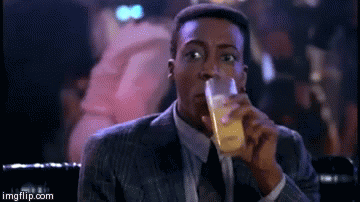 I was a fan of the original Alpha BRAIN formula, despite the customer reviews calling it ineffectual & overpriced (it is pretty pricey). But the changes made by the Alpha BRAIN Instant formulation has elevated the product to the elite ranks of my Best Nootropic Supplements of 2017 list.
Onnit is the real deal when it comes to supplement manufacturing, evidenced by their willingness to put their Alpha BRAIN formula to the clinical test. Whether or not you're a fan of Onnit products, you have to give them props for their ethics here (if only they'd apply it to the removal of their proprietary blends).
All-in-all, the benefits of Alpha BRAIN Instant are subtle, not so much for enhancing cognition as just keeping it clean. But ain't nothing wrong with clean cognition.
The Pros
Alpha BRAIN Instant makes significant improvements upon their original formula, nearly doubling the dose of its leading blend & adding BioPerine.
Onnit crafts clean supplements, and Alpha BRAIN Instant is no exception, even going the non-caffeinated route, which is rare these days.
The drink powder mixes are convenient & fun (not the most important factors in a nootropic review, I know), plus they're pretty damn tastay.
The Cons
I wasn't too big on the proprietary blends in the original formula. I don't like them in this one none too much neither!
The quality of certain ingredients can be improved–e.g. Pyridoxine HCl to P-5-P, L-Tyrosine to NALT, soy-derived PS to sunflower-derived PS.
Switching to powder form was smart, yet it introduced a number of junk additives, such as maltodextrin, flavors, etc.
Pricing
$59.95 for 30 packets, a 30-day supply
$2.00 per serving
Who Takes Alpha BRAIN Instant?
Joe Rogen & Co. The sportsy cool-guy MMA dood is essentially the face of Onnit products and seems to be the target audience of Alpha BRAIN: Athletic men & women who like to maintain a mental edge. I view Alpha BRAIN & Alpha BRAIN Instant as let's chill out & get to work supplements, so if that sounds good to you, then maybe you'll be the one taking this stack.
Where to Get It
You can buy Alpha BRAIN Instant directly from Onnit as well as Bodybuilding & MMA Warehouse. You won't find this product on Amazon or eBay.
Conclusion: Does Alpha BRAIN Instant Work?
Alpha BRAIN works.
And Alpha BRAIN Instant works even better.
However, given the increasing attitude on online forums (i.e. /r/Nootropics) that the best nootropics are the riskier nootropic drugs, many online users describe Alpha BRAIN's "Earth-grown" formula as a scam: "It doesn't werk, maaan!!" I'd argue that they're, well… WRONG.
Alpha BRAIN & Alpha BRAIN Instant do work–only in subtle ways that are more in support of clearer minds than massively enhanced cognition. My recommendation for getting the most out of this product: Take it if you're a caffeine consumer. Or even if you take heavier, stimulating cognitive enhancers. Alpha BRAIN Instant's L-Theanine + L-Tyrosine are great for polishing off the jittery edge of stimulants, while the remaining ingredients focus on long-term brain health & memory.
Or just don't take Alpha BRAIN Instant. What the hell do I know, right? I'm just some guy who's trying to, like, help you guys out and stuff… whatever.
Final Rating
Formulation Strategy

Brainpower Benefits

Brain Health Benefits

Transparency

Quality

Value

Average