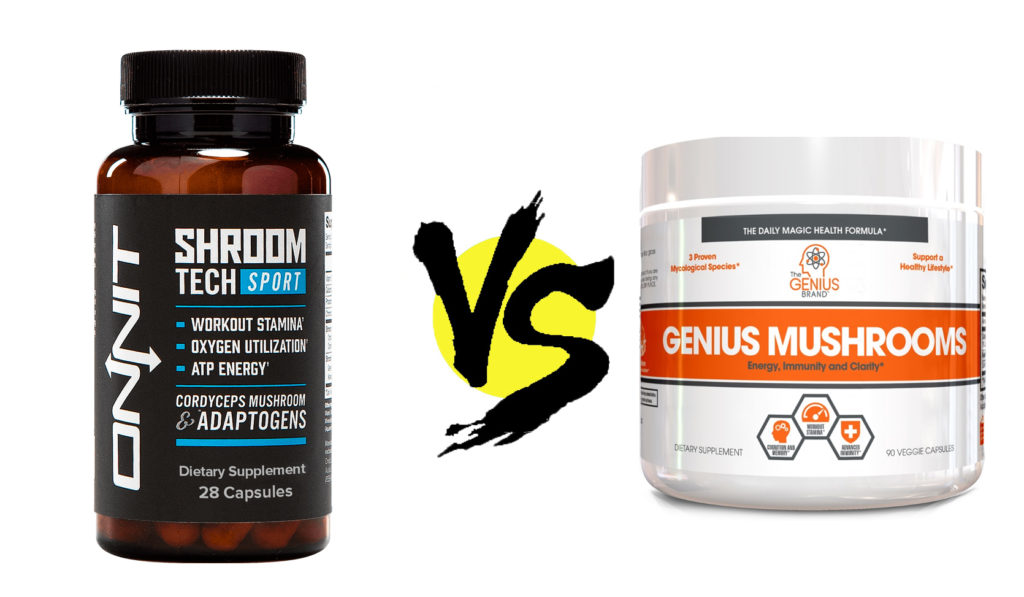 Shroom TECH Sport vs. Genius Mushrooms pits one fun guy against another fun guy in this mushroomy match-up. As fungal performance enhancement supplements, both Shroom TECH Sport and Genius Mushrooms don't strictly target brain health and cognition, instead taking a more brain and body enhancement route to better performance.
And I dig it: shrooms work. Or at least these shrooms work.
But what you want to know is: which shroomy supplement works better?? Which shroomy supplement should you buy? Well, you'll need to read my Shroom TECH Sport vs. Genius Mushrooms comparison review to find out!
Formula Design
Despite Shroom Tech Sport vs. Genius Mushrooms' shared interest in mushrooms, these supplements sport significantly different formula designs, as you can see by their significant difference in ingredients.
Shroom TECH Sport vs. Genius Mushrooms: Ingredients
Shroom TECH Sport Supplement Facts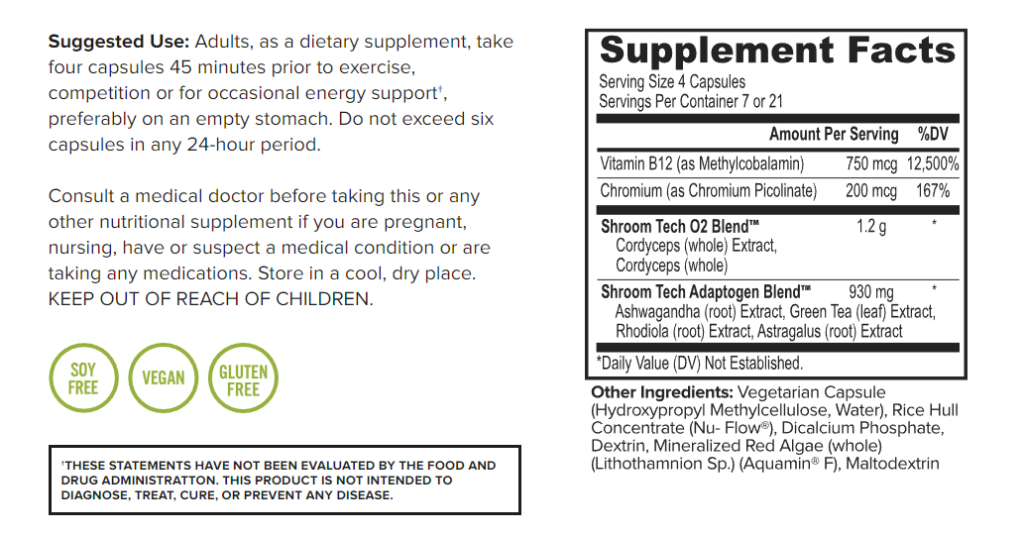 Shroom TECH Sport Directions: Adults, as a dietary supplement, take four capsules 45 minutes prior to exercise, competition or for occasional energy support, preferably on an empty stomach. Do not exceed six capsules in any 24-hour period.
Genius Mushrooms Supplement Facts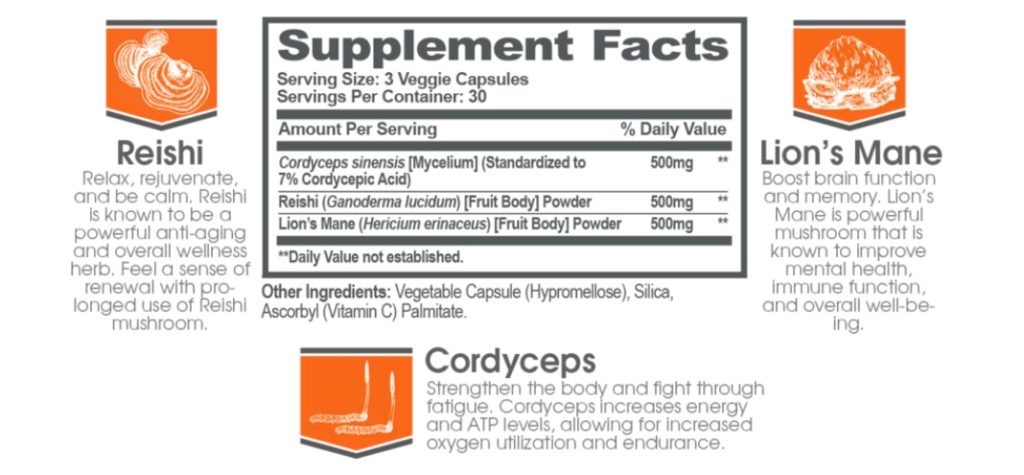 Genius Mushrooms Directions: As a dietary supplement, take 1 capsule with an 8oz glass of water, 20 minutes before meals three times daily.
Shroom TECH Sport: Cordyceps + Herbal Adaptogens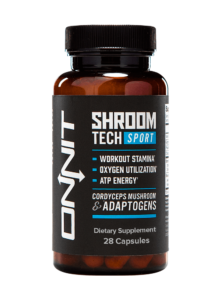 Here's what's cool about the shroom route to better energy, as opposed to the more common caffeinated pathway: fungal energy enhancement actually enhances ATP energy production. Caffeine and other cheap stimulants simply flush the brain with synthetic stimulation, often times impairing (rather than enhancing) cognition.
Shroom TECH Sport supplies cordyceps (the world-ending fungus from The Last of Us), a fungus that grows on insect larvae, in addition to a few feel-good adaptogens for stress and fatigue regulation. Its primary performance enhancing ingredients split into the following proprietary blends:
Shroom Tech O2 Blend – featuring cordyceps extract and full spectrum cordyceps.
Shroom Tech Adaptogen Blend – ashwagandha, green tea extract, rhodiola, and astragalus.
While the proprietary status of these blends is annoying (as it obscures the individual ingredient dosages), this mix of cordyceps ATP energy and stress reducing herbal adaptogens hits a clean, green angle on exercise performance enhancement not otherwise found in many energy supplements. Granted, if you were looking for a more comprehensive shroomy stack, this ain't it. The only shroom that Shroom TECH Sport supplies is cordyceps.
Even so, this is an impressive workout stamina stack nonetheless.
Read my in-depth review on Shroom TECH Sport.
Genius Mushrooms: Cordyceps + Reishi + Lion's Mane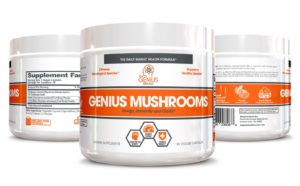 As compared to Shroom TECH Sport, Genius Mushrooms supplies a more comprehensive shroomy stack, supplying a total of three awesome energy and immunity enhancing shrooms:
Cordyceps Sinensis – for a boost on ATP energy production.
Reishi Powder – for a boost on immunity, stress relief, and detox.
Lion's Mane Powder – for a boost on NGF brain repair and longevity.
While the formula only gives us three ingredients, it hits a wide spectrum of health benefits, targeting both immediate effects (energy and mood enhancement) and long-term neuroprotection. Similar to Shroom TECH Sport, Genius Mushrooms is a bit of a nootropic/ergogenic hybrid, enhancing both cognitive and physical performance.
However, whereas Shroom TECH Sport's adaptogens provide more same-day benefits on anxiolytic stress relief, I view Genius Mushrooms more as a daily repair stack.
Read my in-depth review Genius Mushrooms.
Unique Features
Aside from cordyceps, there's practically zero overlap between Shroom TECH Sport and Genius Mushrooms' ingredient choices. Shroom TECH Sport has herbal adaptogens and a vitamin+mineral duo, whereas Genius Mushrooms has more mushrooms. Check it:
Shroom TECH Sport
Ashwagandha Extract – An increasingly popular anti-anxiety, anti-stress adaptogen herb of Ayurveda fame, ashwagandha may also possess strength and testosterone boosting benefits. More on Ashwagandha.
Green Tea Extract – Green tea is so awesome. The antioxidant polyphenols from green tea may help reduce oxidative stress and increase rates of neuroregeneration. Great for the highly active bodybuilder and athlete.
Rhodiola Extract – Powerful, fast-acting boosts on mood, mental clarity, and stress relief. Rhodiola helps regulate stress hormone cortisol levels, lowering excess stress and fatigue across the brain and body. More on Rhodiola Rosea.
Astragalus Extract – Purportedly an aid to cordyceps, astragalus may possess anti-inflammatory, pro-longevity benefits for the brain and body.
Vitamin B12 + Chromium – B12 helps optimize cerebral circulation and brain chemical synthesis, whereas chromium seems to help balance blood sugar levels, making it a popular item in fat burner/weight loss supplements. More on Vitamin B12.
Genius Mushrooms
Reishi (Ganoderma lucidum) Powder – Great for long-term neuroprotective support, Reishi seems to boost immunity, liver support, and detox while also providing a bit of stress relief.
Lion's Mane (Hericium erinaceus) Powder – Seems like more and more nootropic stacks are supplying this shroom, and for a good reason: Lion's Mane seems to boost nerve growth factor (NGF) activity, enhancing brain growth and repair. More on Lion's Mane.
More Servings Per Bottle – Normally, I don't add this as a "Unique Feature" on these comparative reviews; however, Shroom TECH Sport's serving count is bad enough to make special mention of it. Genius Mushroom supplies significantly more for less, as you'll see in the pricing section below.
Potency & Quality
Okay, so Shroom TECH Sport and Genius Mushroom may have the best mushrooms in the game, but that means little if they're weak and low quality stuff. However, what's the difference between high quality shrooms and low quality shrooms?
That's hard to say. We have a generally good sense of what constitutes high quality herbal extracts, as they're much more common than these fungal ingredients. For many shrooms it's yet to be seen whether it's better to take the full spectrum of the fungus' compounds or only extract/isolate the bio-active compounds of shrooms.
Onnit Shroom TECH Sport does both, supplying:
Cordyceps Extract – presumably cordycepic acid extract.
Cordyceps Full Powder – the whole shebang in powder form.
Whereas Genius Mushrooms supplies
Cordyceps Extract – for 7% cordycepic acid.
Reishi Powder – the whole powdery shebang.
Lion's Mane Powder – the whole shebangy powder.
Either way, I'd say the shrooms in these stacks are looking good. And Shroom TECH Sport demonstrates further exceptional quality control in the herbal adaptogen department by supplying herbal extracts as opposed to plain herbal powders.
However, Onnit fails to detail the actual bio-active contents of these extracts.
Value: Shroom TECH Sport vs. Genius Mushrooms

Price
Servings
Price Per Serving
Shroom TECH Sport
$23.29
7
$3.33
Genius Mushrooms
$29.99
30
$1.00
The pricing for Shroom TECH Sport is a little wonky. On the Onnit online store, two versions of this supplement are sold: the 28ct bottle and the 84ct bottle. If you buy the larger supplement, the price per serving decreases to $2.66. However, whichever bottle you buy, Shroom TECH Sport is definitely the more expensive option here — and annoyingly so when you consider that Shroom TECH Sport doesn't even supply a full month's worth of servings.
Shroom TECH Sport or Genius Mushrooms: Which is better?
Shroom TECH Sport stacks one shroom with a few herbal adaptogens.
If you're looking for straight-up shrooms, Shroom TECH Sport ain't it. It's one straight-up shroom in addition to other awesome performance enhancing ingredients, just of the herbal variety. However, don't get it twisted: Shroom TECH Sport is altogether an impressive natural energy booster for actual boosts on energy production. If you can afford each bottle's short lifespan, Shroom TECH Sport is a pretty decent daily workout stamina aid.
Genius Mushrooms supplies a more comprehensive shroom stack.
Genius Mushrooms is straight-up shrooms, with a greater emphasis on brain health than workout performance. (Although, the cordyceps here still qualifies as an ATP energy booster.) While it's not the best nootropic supplement by the Genius Brand, Genius Mushrooms is one of the best shroom nootropics of 2018; definitely worth checking out if you're looking to add a more comprehensive shroom stack to your daily noot stack.
My Recommendation
Pricing aside, Shroom TECH Sport and Genius Mushrooms each have their merits. And, really, what I think it's going to come down to is: do you want more shrooms than cordyceps or is Shroom TECH Sport's cordyceps + adaptogens combo work for you?
Frankly, the cordyceps + adaptogens combo does work. And it works very well. However, in a shroom to shroom comparison, Genius Mushrooms outperforms Shroom TECH Sport; plus, Genius Mushrooms' Lion's Mane gives it a significant advantage over Shroom TECH Sport in the brain health department.
Then when you factor in the pricing comparison… there really isn't much of a comparison. As much as I like Onnit and Shroom TECH Sport, I'd say Onnit overplayed their hand on this one. Thus, my recommendation:
Genius Mushrooms > Shroom TECH Sport