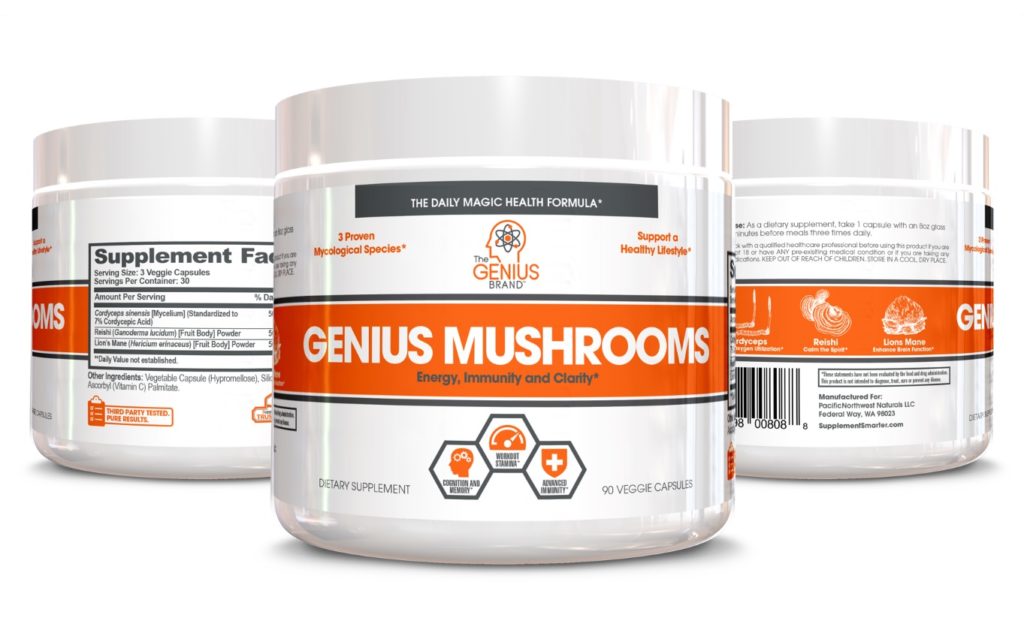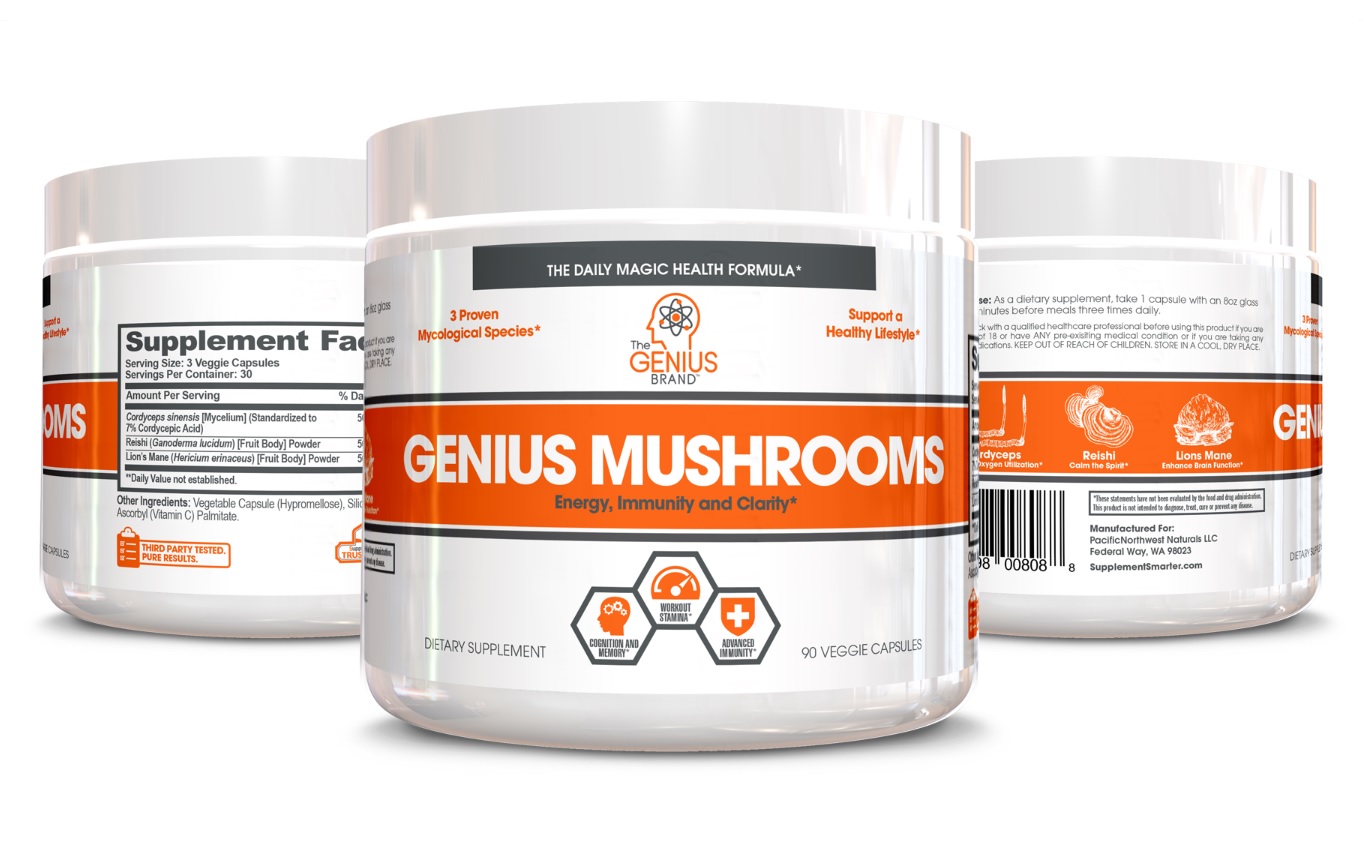 Genius Mushrooms Review Summary
Here it is: my Genius Mushrooms Review, the review to end all reviews on all mushroom brain health supplements. Crafted by one of the more popular supplement manufacturers (thanks to smart Amazon advertising), Genius Mushrooms is a Daily Magic Health Formula that, despite having overblown health claims, does supply an impressively healthy mix of shrooms that may benefit your cognitive and immunity health. Not a bad stack for general daily health improvement, though I wouldn't necessarily recommend it for on-the-spot performance boosts.
About Genius Mushrooms
As part of the Genius Brand's nootropic line, Genius Mushrooms is a "Daily Magic Health Formula" for energy, immunity, and clarity.
No magic here, only mycology: Genius Mushrooms is exactly what it says it is, which is: mushrooms. Brain healthy shrooms.
Non-proprietary, adequately dosed — Genius Mushrooms stays open and honest with its supplement label. Noice.
Genius Mushrooms Ingredients

Ingredients
Amount Per Serving
Cordyceps sinensis [Mycelium] (Standardized to 7% Cordycepic Acid)
500 mg
Reishi (Ganoderma lucidum) [Fruit Body] Powder
500 mg
Lion's Mane (Hericium erinaceus) [Fruit Body] Powder
500 mg
Serving Size: 3 Veggie Capsules
Servings Per Container: 30
Other Ingredients: Vegetable Capsule (Hypromellose), Silica, Ascorbyl (Vitamin C) Palmitate.
Directions: As a dietary supplement, take 1 capsule with an 8oz glass of water, 20 minutes before meals three times daily.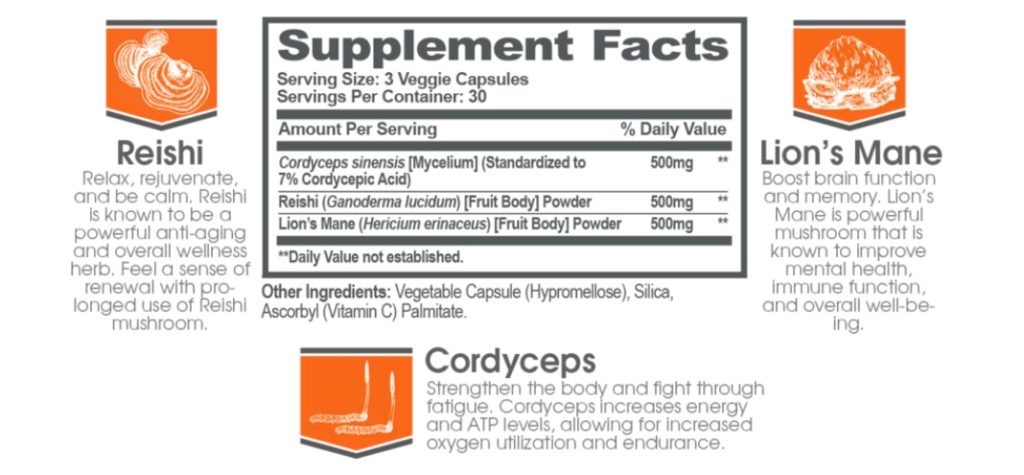 Genius Mushrooms isn't lying: there are mushrooms in that bottle. Three mycological species to be exact, each with their own list of health benefits. Let's check them out.
Genius Mushrooms Review: Ingredients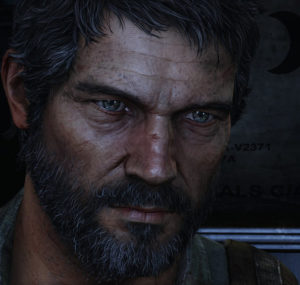 Cordyceps Sinensis (Std. to 7% Cordycepic Acid) – Thanks to the Onnit crowd, Cordyceps has a stronger reputation as a sports nutrition shroom, with ergogenic and testosterone boosting potential, more so than as a nootropic. Yet, the shroom's boost on ATP production and oxygen utilization may theoretically improve cognition, at least in "anti-fatigue" terms.
Read my Best Energy Supplements to Buy list here.
Reishi (Ganoderma lucidum) Powder – The Genius Brand claims to use Reishi mushroom powder for immune boosting, as well as stress relief, liver support, and detox. For long-term neuroprotective support, Reishi mushroom is a solid choice with plenty of clinical and anecdotal evidence on its side.
Lion's Mane (Hericium erinaceus) Powder – Due to this mushroom's significant brain growth and repair potential, I consider Lion's Mane one of the best nootropic shrooms. It's an awesome natural brain booster with plenty of neuroprotective and neuroregenerative promise. More on Lion's Mane Mushroom.
Lion's Mane + Nootropics
For long-term brain health enhancement, Lion's Mane is one of the best. However, if you're looking to enhance cognition right now while also reaping the long-term benefits of Lion's Mane supplementation, look into a nootropic brain stack that includes more than shrooms. One of the best Lion's Mane-containing options is Mind Lab Pro, a comprehensive nootropic complex that supplies a full spectrum bio-active dose of Lion's Mane in addition to several more fast-acting nootropics. Read my Mind Lab Pro review.
Genius Mushrooms Review: Energy, Immunity, and Clarity Boosters
All mushrooms are equal, right? NOPE. Aside from the obvious differences between psychedelic shrooms and the more nutritious dietary shrooms, some mushrooms deliver significant antioxidant benefits whereas others may help balance your hormones.
As far as Genius Mushrooms' shrooms go, the supplement's manufacturers distinguish its shroomy ingredients by the following descriptors:
Cordyceps – The Performance Mushroom
Lion's Mane – The Cognitive Mushroom
Reishi – The Longevity Mushroom
And this somewhat matches Genius Mushrooms' purported health benefits: Cognition and Memory, Workout Stamina, and Advanced Immunity.
Genius Mushrooms targets both brain and body health benefits, doubling as an ergogenic, nootropic hybrid supplement.
Combined, Genius Mushrooms' ingredients seem to provide a surprisingly well-rounded range of competition-oriented health results. I view Genius Mushrooms as a sort of "stay healthy" supplement that's particularly equipped for athletes and exercisers who rely on their bodily health to get by — relative to someone like me, a writer, who sits on his lazy ass all day typing words.
Don't get it twisted, though: Genius Mushrooms is a valuable nootropic supplement — or at least a valuable brain health booster to add to your cognitive enhancing nootropic stack. As a standalone supplement, Genius Mushrooms may not deliver any significant exam-day advantages. But it's a quality brain stack, nonetheless.
The Pros
Genius Mushrooms supplies a simple stack of the fungi that matter for brain and body health and enhancement — nothing more, nothing less.
The mushrooms' quality and dosages are on-point — or at least to a high enough standard to get their jobs done.
The Genius Brand is a well-respected name, partly due to the manufacturer's avoidance of proprietary blends and unnecessary cap fillers.
The Cons
Mushrooms — that's it. No false advertising there. Yet, you'll need to stack this tightly focused stack with other nootropics for comprehensive cognition coverage.
Genius Mushrooms works as a daily supplement, but it doesn't provide acute boosts on mental performance that will, say, help you with today's test that you just remembered.
Cordyceps might contribute to the inevitable zombie outbreak (à la The Last of Us), and I'm simply not down for that.
Pricing
$29.99 for 90 capsules, a 30-day supply
$1.00 per serving
This is the price listed on The Genius Brand website. However, the pricing of Genius Mushrooms significantly varies, depending on where you buy. Strangely enough, The Genius Brand website links to the Amazon listing, which sells at $21.95 — or $20.85, if you select the Subscribe & Save order option.
Who Takes Genius Mushrooms?
Active nerds. Due to the ergogenic hype surrounding these fungal ingredients, Genius Mushrooms arguably benefits the body more so than the brain — even though The Genius Brand lists this supplement under "Nootropics". As such, Genius Mushrooms seems to be a hot item among the active, "Aubrey Marcus"-style of nootropic users, rather than your techy, "smart drug" doods.
Where to Buy It
You can buy Genius Mushrooms through Amazon, as well as eBay and a few more obscure health supplement retailers. From what I've seen at the point of writing this review, Amazon by far sells the most affordable Genius Mushrooms bottles.
Conclusion: Does Genius Mushrooms Work?
On one hand, the health benefit claims from Genius Mushrooms seem overstated. After all, this is only a three ingredient stack. Having said that, the health benefits of these shrooms, when dosed correctly, are immense. And Genius Mushroom doses its shrooms correctly.
So, I think it's fair to say: Yes, Genius Mushrooms works.
Granted, its benefits are best geared for the active, athletic types, and thus to get the most out of this supplement, you'll need to put in the work yourself. However, any supplement that makes work seem less like work is a high value supplement in my book.
Read my Best Pre-Made Nootropic Supplements list here.
Final Rating
Formulation Strategy

Brainpower Benefits

Brain Health Benefits

Transparency

Quality

Value