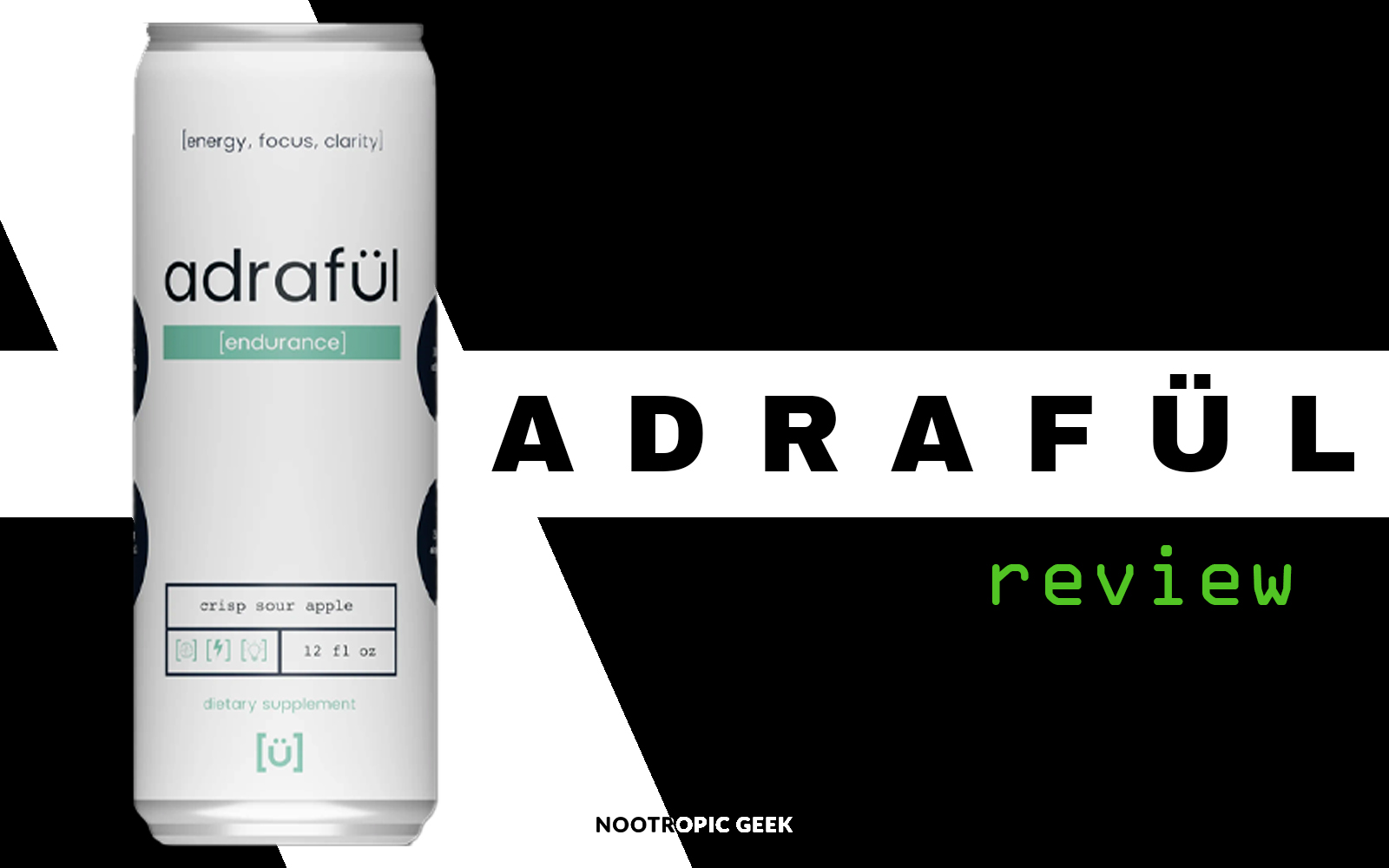 Summary: adrafül Review
Pronounced ad-ruh-fuel — adrafül is an adrafinil-fueled energy drink that, unlike traditional energy drinks, actually sustains energy and focus throughout a good portion of your day, without the consequent sugar- or caffeine-crash. After more or less writing off modafinil (and, by that token, adrafinil) as a viable nootropic, I was pleased to learn that adrafül's energy boosts are fairly even and consistent throughout the day and don't leave me zonked and irritable later in the afternoon/evening. At this point I think it's fair to say that, as far as "smart drug" energy drinks go, adrafül is easily the best.
About adrafül
adrafül is a true "productivity enhancer" energy drink, powered by adrafinil, which is essentially the milder form of prescription "alert drug" modafinil.
This form of adrafinil in a can beats all other forms of the wakefulness-promoting stimulant — this is easily the most "measured" form of adrafinil I've ever taken. No volatile spikes or drops in energy or cognitive performance.
The bottle says "endurance" and this certainly seems to be true: adrafül's energy and focus boosts are consistently sustained for hours after drinking a bottle.
The taste is great, which is impressive, as anyone who has tried powder adrafinil can attest that adrafinil usually tastes like pure ass.
adrafül Ingredients
Ingredients
L-Theanine, Adrafinil (150 mg), Caffeine (100 mg)
Serving Size: 1 can
Servings Per Container: 1
Other Ingredients: Water, Carbonated, Flavoring (Citric Acid, Maltodextrin, Sucralose), Vegetable Glycerin
Directions: From the company's FAQs page: "Adrafül is extremely effective in a single can — that being said, if you ever find yourself pulling an all-nighter or other similar situation, we recommend no more than two to three cans every twenty-four hours. Customers who choose to consume greater than one adrafül in any given day should remember to stay hydrated."
Adrafül is a sugar-free adrafinil-powered energy drink. Simple as. However, while adrafinil is this main selling point to this canned drink, there is a little more going on under the hood here. Let's check out the ingredients.
adrafül Review: Ingredients
Adrafinil: Essentially the legal version of modafinil (you don't need a prescription to buy adrafinil), adrafinil is an alertness-promoting (eugeroic) substance demonstrated in research to promote alertness, memory, and cognition. As a prodrug, adrafinil circumvents the legal system by being technically inactive until metabolized in vivo into an active stimulant. This additional metabolic step is fundamentally what distinguishes adrafinil from modafinil. More on Adrafinil.
What's the Difference: Adrafinil vs. Modafinil
Functionally, adrafinil acts as a milder, more manageable form of modafinil. Many swear by modafinil. I can certainly attest that modafinil works, but I wouldn't necessarily recommend it — not even to my adderall junky buddies. Unlike adderall, vyvanse, etc., which (for me at least) have a fairly clean comedown by the evening (so long as I'm taking my adderall comedown nootropics), modafinil leaves me feeling totally zapped and zonked and irritable by the afternoon. Modafinil's mood- and focus-boosting benefits are soon outweighed by just how irritable and impatient I feel. Adrafinil, conversely, provides a much more measured experience, so long as you find a good source. Adrafül is a good source of adrafinil.
Caffeine: One of the odd things about adrafinil/modafinil, at least in my experience, is how the stimulation makes me crave caffeine even more. Adding a little caffeine (100mg) is a smart move for adrafül, especially with the next ingredient (L-theanine) which helps mitigate the jittery side effects of caffeine. Essentially, the caffeine here provides an initial familiar energy boost that synergizes well with adrafinil's long-lasting effects. More on Caffeine.
L-Theanine: It's almost always a good idea to add some L-theanine to your nootropic stack. I have many friends who, after dealing with anxiety most their life, found significant improvements in their day-to-day lives by adding L-theanine to their daily regimen. In the case of adrafül, the L-theanine is a smart addition for smoothening out the formula's stimulation for greater focus. More on L-Theanine.
adrafül Review: My Experience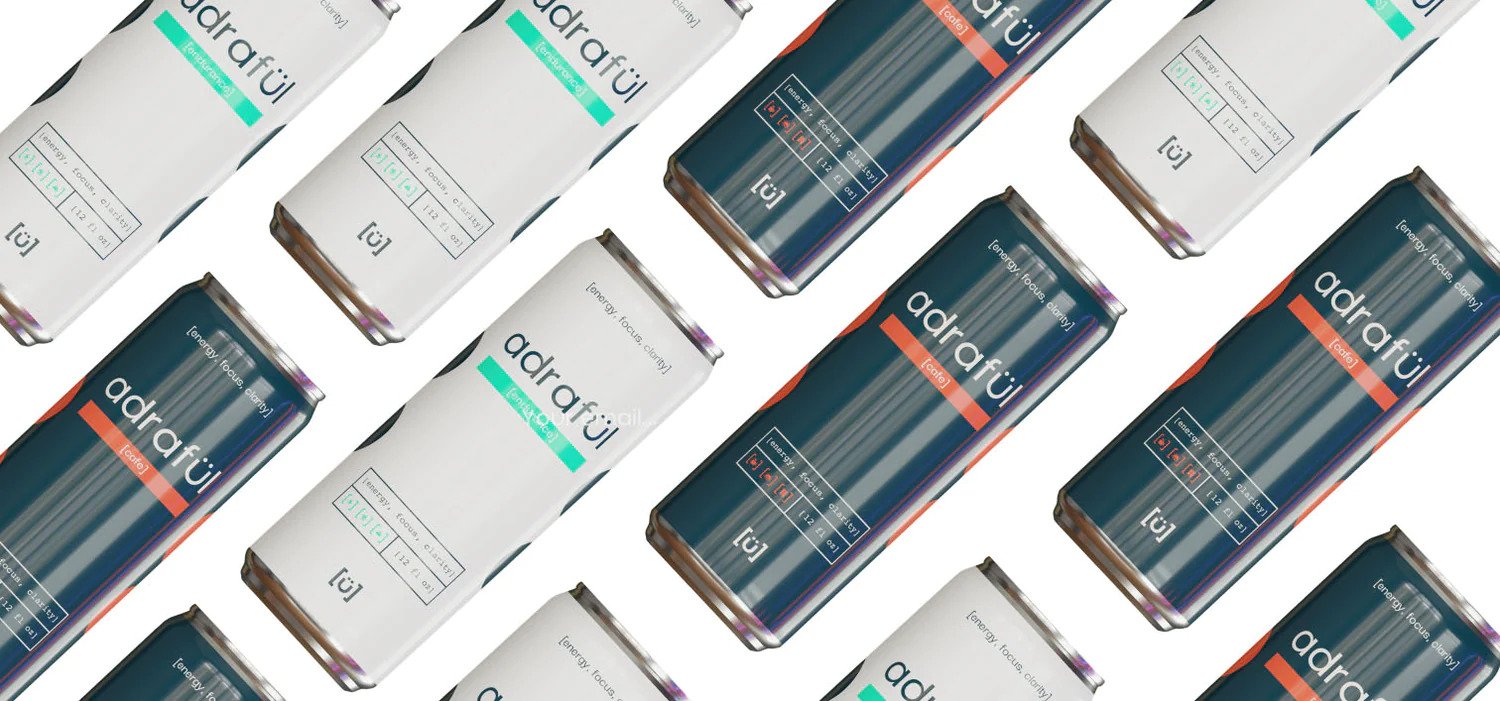 Prior to trying adrafül, I had mostly given up on both adrafinil and modafinil. Before trying modafinil, I bought some adrafinil powder from Nootropics Depot, which has since discontinued selling the brain booster. Notoriously, adrafinil takes like butt; however, the butt taste wasn't what ultimately deterred me from continuing adrafinil.
Instead, I stopped taking Nootropics Depot's adrafinil because the benefits were short-lived compared to the lengthier, brain-drain comedown.
The same could be said for the modafinil I tried for the better part of a summer, except the benefits were more pronounced for 2-3 hours in the morning, after which I felt totally zonked and extremely irritable for the rest of the day. Not to mention how the moda negatively impacted my sleep.
Adrafül is different. I really enjoyed adrafül and was sad when I finished my first 12-pack supply.
Unlike other sources of adrafinil, adrafül feels like a much cleaner, smoother, and longer-lasting stimulatory high, without the subsequent comedown and crash in the afternoon. Not to mention that the taste (I had the crisp sour apple flavor; there is also a "cafe" flavored adrafül) is way, way better than the powder I previously tried. Granted, I'm sure adrafinil newcomers will find the energy drink taste a little off (I genuinely liked it), but this is truly the best case scenario as far as adrafinil supplementation goes.
In fact, I had to hide my adrafül supply once I girlfriend caught onto it, as she started plowing through them each morning.
I'm sure your mileage may vary, however I can't imagine anyone drinking more than a can per day. For me, on the days I needed/wanted it, I took one can of adrafül first thing in the morning and I was cruising through the rest of my exceptionally productive day. This is truly a great, unique product, one that actually does what every other energy drink claims to do.
The Pros
adrafül is easily the best adrafinil supplement (and best adrafinil period) that I have yet to come across; exactly what you would want from an adrafinil-powered energy drink.
The caffeine + L-theanine combo is a smart addition here, and I'm happy to see that there isn't too much caffeine, which many other supplement companies would do to mask the ineffectiveness of their formula's other ingredients.
No sugar. Obviously, the term "energy drink" rightfully comes with a negative connotation, given how historically unhealthy they have been in the past several decades, but adrafül keeps it clean.
The Cons
Anyone looking for a "natural nootropic alternative" to energy drinks, this isn't the drink for you.
Pricing
6-Pack
$23.49 for 6 cans, a 6-day supply
$3.92 per serving
12-Pack
$40.49 for 12 cans, a 12-day supply
$3.37 per serving
If you're planning on taking adrafül regularly, adrafül also offers a "subscribe & save 10%" option, which the choice to deliver every 14 days or 30 days.
Who Takes adrafül?
The "productive class," as adrafül puts it. Anyone who enjoys the stimulation of caffeine but is looking for more, without having to dive into the world of prescription smart drugs, would certainly enjoy adrafül. Especially if you just want to buckle down and get a lot of shit done, it's nice to have adrafül at the ready.
Where to Buy It
To buy adrafül, head to their website: adraful.com
Conclusion: Does adrafül Work?
Yes, adrafül works.
Really, all types of adrafinil and modafinil I've taken have worked to various degrees. However, all of them left me feeling awful by the afternoon. Because of this, I more or less swore off adrafinil/modafinil, until I came across adrafül. I had a hunch that this one was going to work, and guess what: your boy was right.
If you're at all curious about taking adrafinil or, like me, have been looking for the right adrafinil supplement, adrafül is easily your best choice.
Final Rating