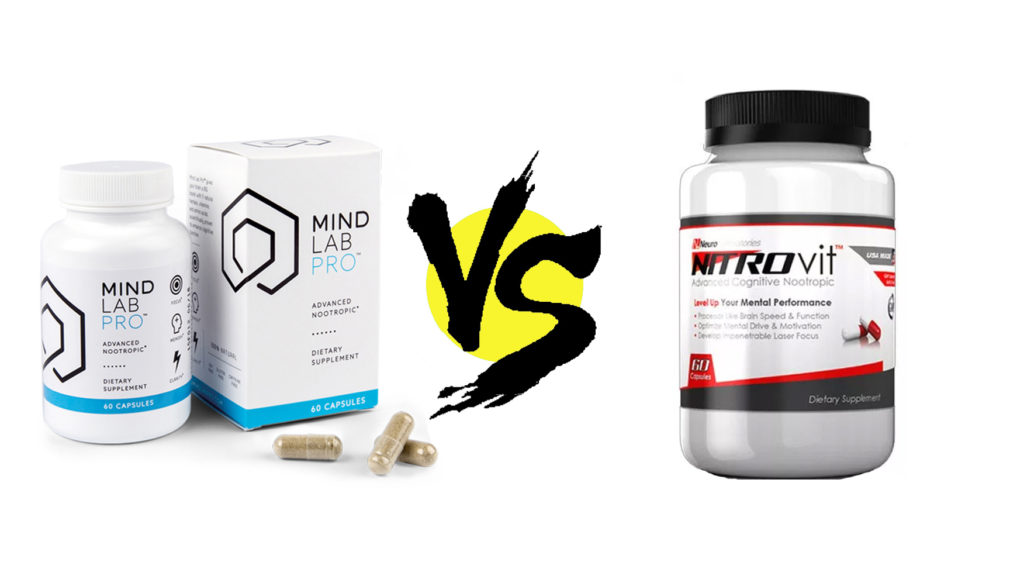 Cup after cup after cup of coffee…
After liter after cup after gallon…
All that coffee, day in and day out, and you're still dumb as rocks. And you want to know why? Because: Caffeine is not a real nootropic.
I may get some flak over that, but that's okay. I stand by it: Caffeine isn't a real nootropic, because it doesn't truly enhance cognition. It simply delivers cheap, feel-good stimulation in increasingly shorter bursts, potentially at the cost of long-term cognition.
The only way to do caffeine is to mix it with L-theanine. The only problem here is: Mind Lab Pro has the L-theanine, while NITROvit has the caffeine.
What to do?
Check out the review:
Formula Design
Mind Lab Pro sports a clean blue and white pharmaceutical design.
NITROvit opts for an edgy, aggressive red.
While looks aren't everything, this difference in color schemes seems to effectively indicate the formulaic differences between these two supplements, the former of which delivers a clean, potent nootropic experience. The latter supplying a caffeinated energy boost.
Let's start this review clean:
Mind Lab Pro: Premium Brain Power
I'm a simple man: I see Mind Lab Pro. I take it.
When I'm not concocting my own DIY nootropic stack, I resort to Mind Lab Pro, as it essentially has everything I prefer in my own stack (except at a higher quality). What's impressive about this supplement, too, is the number of brain benefits it manages to adequately cover without the use of caffeine: Energy, Neurotransmitters, Circulation, Brainwaves, Antioxidant Protection, and Neuroregeneration.
The combined effect of these benefits accomplishes comprehensive coverage of brain functionality, targeting a number of key cognitive functions for, as MLP calls it: "100% Brain Power." I'll go into further detail on the list of MLP ingredients found in the next section below. Read my in-depth review on Mind Lab Pro.
NITROvit: Plain and Caffeinated
NITROvit also targets multiple brain pathways, hitting the cholinergic system, cerebral circulation, and antioxidant status. It also amps up the stimulation with a modest 100 mg dosage of caffeine, which may or may not be viewed as a valid nootropic option to you.
Howevaaa… NITROvit drops the ball in a couple of areas, the first of which I'll explain in further detail in the "Potency & Quality" section:
Ingredient potency and quality are looow
Several ingredients are under-dosed
Namely, oat straw, ALCAR, and citicoline, which may require you to double down on NITROvit's dosages to reach somewhere closer to Critical Mass Dosage levels (thus doubling the price of NITROvit supplementation). Read my in-depth review on NITROvit.
Unique Features
Despite the differences in appearance and formula designs, there is a significant amount of similarities between these supplements: B vitamins, citicoline, bacopa, phosphatidylserine… However, even the ingredients shared between these two products possess differences in value based the forms utilized in each formula.
As you'll notice, Mind Lab Pro has the longer list of uniquely "high-quality" ingredients:
Mind Lab Pro
B Vitamins – MLP and NITROvit both have B6 and B12 vitamins, but MLP does the B vitamins better, opting for active P-5-P and methylcobalamin vitamin forms.
Citicoline (as Cognizin®) – MLP's citicoline is better than NITROvit's as well, given MLP usage of the well-researched Cognizin brand of citicoline.
Bacopa Extract (45% Bacosides) – Likewise, MLP delivers a potent 45% extract of bacopa, whereas NITROvit's bacopa is plain powder.
Lion's Mane Mushroom (Full Spectrum) – NITROvit has no NGF-supporting counterpart to MLP's shroomy brain regenerator.
Phosphatidylserine (as Sharp-PS®) – NITROvit has plain, soy-derived phosphatidylserine. MLP has the premium Sharp-PS sunflower-stuff.
Pterostilbene – Resveratrol is a big name antioxidant polyphenol, but pterostilbene is even better, delivering similar benefits with 4x more bioavailability.
N-Acetyl-L-Tyrosine – Tyrosine is an awesome anti-stress amino, but N-Acetyl-L-Tyrosine is the better, more potent form.
L-Theanine (as Suntheanine®) – Oddly, NITROvit has the caffeine, but no L-theanine, whereas MLP has the L-theanine without the caffeine.
Rhodiola Rosea Extract (3% rosavins, 1% salidroside) – I'm currently on Rhodiola while writing this, because I friggin' love it. MLP delivers a potent 3% and 1% standardized extract of the powerful anti-fatigue adaptogen.
NITROvit
Acetyl-L-Carnitine – ALCAR is the better carnitine for brain health for the compound's ability to cross the blood-brain barrier, delivering energy benefits to tired, old brains.
Alpha Lipoic Acid – Referred to as the "Universal Antioxidant," ALA isn't necessarily a cognitive enhancer, but it does potentially enhance the antioxidant capacity of the brain.
Taurine – Popular energy drink amino acid with calm, relaxing effects of the neurotransmitter GABA variety.
Caffeine – Not a calm relaxer. Caffeine is the world's most popular mental stimulation. Not a true nootropic but a reliable source of energy.
Potency & Quality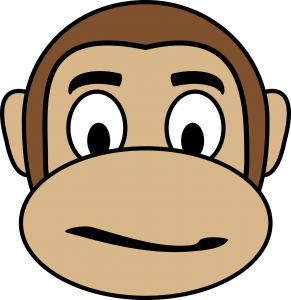 The major difference between these formulas isn't their ingredients, as there's actually quite a bit of bioactive overlap between Mind Lab Pro and NITROvit, but rather the Potency and Quality and their ingredients. Quite simply, the summary of this difference can be simplified as:
Mind Lab Pro is highly potent and high quality
NITROvit is not
Mind Lab Pro doesn't leave much room for competition with its BS-free formula.
The average formula tends to cut corners on the low priority ingredients (e.g. opting for pyridoxine HCl instead of P-5-P). Mind Lab Pro, on the other hand, holds a high standard for all of its nootropics, even the B vitamins.
NITROvit cuts corners on both low and high priority items, opting for cheap B vitamins and plain herbal powders. The oat straw may as well not even be in this formula, given that oat straw extract seems to be the only effective means of achieving oat straw's nootropic benefits in supplement form.
All-in-all, MLP outshines in nearly every way on the subjects potency and quality.
Value: Mind Lab Pro vs. NITROvit

Price
Servings
Price Per Serving
Mind Lab Pro
$65.00
30
$2.17
NITROvit
$58.97
30
$1.97
Mind Lab Pro or NITROvit: Which is better?
Mind Lab Pro is potent and non-caffeinated.
I'm unsure if this makes me a Luddite, but I'm happy to see a manufactured nootropic supplement opt for bona fide, brain healthy nootropics over cheap, caffeinated stimulation. (Granted, caffeine has been around forever, so maybe Luddite isn't the correct term?) Mind Lab Pro is an impressive formula for how it manages to amp up high levels of brainpower without any use of druggy stimulants: No sulbutiamine. No racetams. Some may consider this a con, and that's understandable, but I send major props to MLP for stacking up such a clean, natural, and (most importantly) effective supplement.
NITROvit is low-quality, caffeinated stimulation.
NITROvit chooses most of its ingredients well, stacking up an impressive selection of memory and focus enhancing herbs with well-researched brain boosters — e.g. citicoline, phosphatidylserine, vinpocetine. However, NITROvit drops the ball by selecting the cheap-o forms of these ingredients, massively decreasing its bioactive potential to such a low point that I wonder if many of its ingredients are even capable crossing the blood-brain barrier. For the most part, what you're getting here is a healthy, nootropic-themed caffeine pill with the upside of protecting your neurons against cognitive-killing free radicals.
My Recommendation
NITROvit sort of reads like the Kmart version of Mind Lab Pro, despite being only a little bit cheaper than its superior counterpart: It has the citicoline, the bacopa, the vinpocetine…
But what NITROvit doesn't have is The Swag.
And Mind Lab Pro has a lotta Swag.
If you're intent on supplementing NITROvit, there is also NITROamp, which may be stacked on the side of NITROvit, so long as you're not caffeine sensitive: NITROamp is essentially Caffeine + L-Theanine.
But if it were up to me, I'd simply take Mind Lab Pro with a side cup of coffee, if you must. That way you get your L-theanine + caffeine mix, in addition to way, way more nootropic cognitive benefits.
Mind Lab Pro > NITROvit
If you you'd like to learn more about Mind Lab Pro and other information on Mind Lab Pro's ingredients, hit the following link: Click here to learn more about Mind Lab Pro.