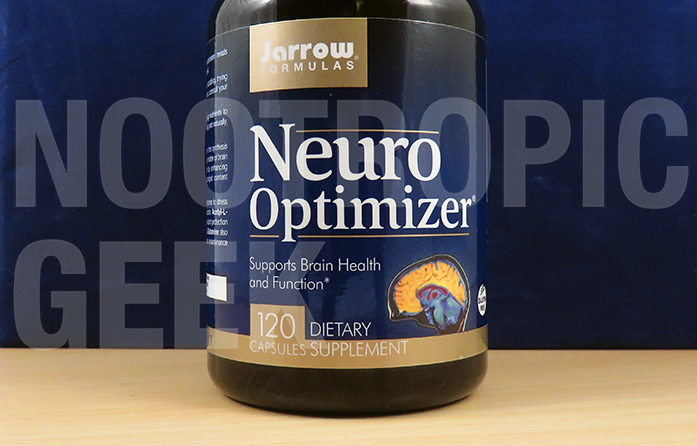 Everyone forgets "where the hell" they put their keys.
Regardless of age.
But such brain farts seem to occur increasingly over time, and eventually it's not just your keys, but it's your shoes & your wallet & your pants & your car & your dog & your pants & your this & your that, until one day–BAM!… Wait, what am I even talking about?
Oh yes, the nootropic review: Neuro Optimizer is here to reduce the brain farts while increasing the brainpower.
Regardless of age.
About Neuro Optimizer
Jarrow Formulas Neuro Optimizer packs in "7 Neuro-Nutrients & Protectants" for immediate & long-term enhancements in brain health, power, & memory.
Citicoline & Phosphatidylserine provide the heaviest punches in this formula, both backed by promising research & supplied in top quality forms.
Neuro Optimizer optimizes various aspects of brain health. Bio-actions include: Enhancing brain metabolism, supporting brain chemicals, & protecting brain cells.
Neuro Optimizer Ingredients

Ingredients
Amount Per Serving
 Acetyl-L-Carnitine (from Acetyl-L-Carnitine Hydroxide)
500 mg
 L-Glutamine
500 mg
 Taurine
500 mg
 Cytidine 5′-diphosocholine (Cognizin®)
300 mg
 Phosphatidylcholine
120 mg
 Phosphatidylserine (PS) (Sharp-PS®)
100 mg
 Alpha Lipoid Acid
50 mg
Serving Size: 4 Capsules
Servings Per Container: 30
Other Ingredients: Silicon dioxide, magnesium stearate (vegetable source) and cellulose. Capsule consists of gelatin.
Directions: Take 4 capsules per day with juice or water between meals or as directed by your qualified healthcare professional.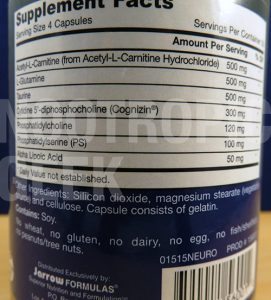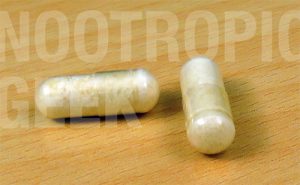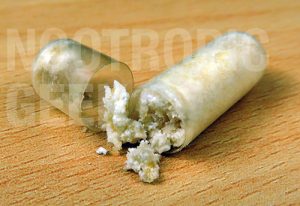 Seven ingredients doesn't stack up to much for most nootropic-oriented nutritional supplements, but Jarrow Formulas Neuro Optimizer makes it work. Let's review 'em:
Acetyl-L-Carnitine – While it's particularly geared towards elderly mental health function, ALCAR shows brain energy promise for its ability to form & regulate neurotransmitters and support brain cell mitochondria. More on ALCAR.
L-Glutamine – Used to create GABA, a "downer" neurotransmitter that reduces excessive excitatory neuroactivity for mood balancing effects. But I'm not sure it's all that necessary in this formula. More on Glutamine.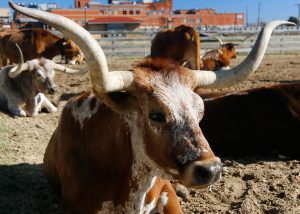 Taurine – Notable antioxidant with surprisingly significant sedative action on anxiety, while promoting sleep & relaxation. I say "surprisingly" because Taurine is overwhelmingly used in energy drinks. More on Taurine.
Cognizin – One of the best nootropics, if not the best, and in quality branded Cognizin® form. Citicoline supports brain energy, brain chemicals, & brain regeneration, and works really well as a whole-brain optimizer. More on Citicoline.
Phosphatidylcholine – Essentially a nutritional choline donor used in the synthesis of acetylcholine, a neurotransmitter for memory & learning, as well as mood.
Phosphatidylserine (Sharp-PS) – Backed by an FDA health claim, PS reduces brain toxin levels & maintains brain cell membranes for clear thinking & enhanced short-term memory. It is pretty great for brain regeneration. More on Phosphatidylserine.
Alpha Lipoic Acid – Not necessarily a nootropic, but recognized as the "Universal Antioxidant" for its brain-protective antioxidant support. More on Alpha Lipoic Acid.
Neuro Optimizer: Award-Winning Booster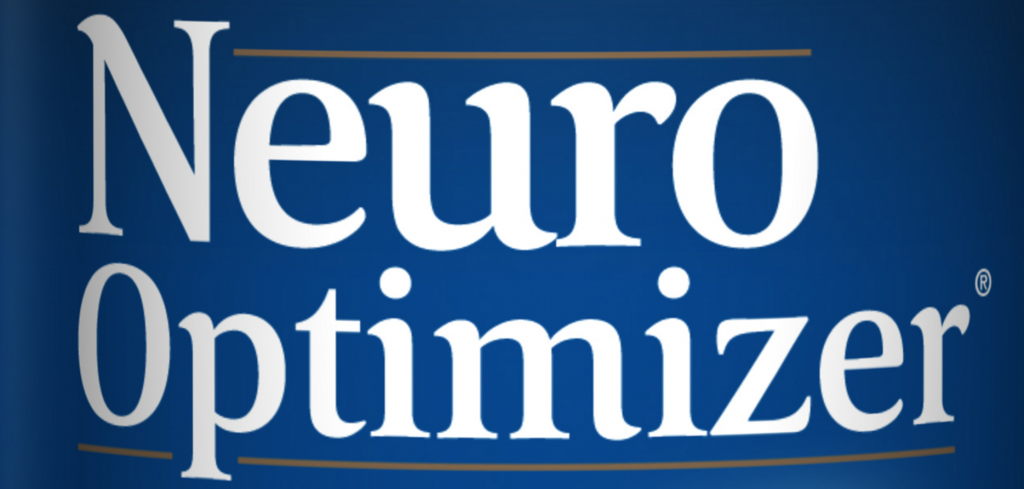 If the Neuro Optimizer brand wasn't so modest, I'd let the nootropic speak for itself.
But it takes the marketing high-road, eschewing the vaguely defined benefits & garish "miracle" claims that have practically become a staple of supplement advertising. Its only self-description:
Neuro Optimizer® is nutrition for the brain, combining nutrients to enhance brain metabolism and antioxidant protection safely and naturally, without the use of stimulants."
Which is all true, but doesn't seem to paint the full picture.
The full picture:
7 Notable Stimulant-Free Nootropics – Mixing brain healthy cognitive boosters with brain healthy antioxidants & aminos–minus cheap caffeine & sugar.
High Quality Brands – The Cognizin® (Citicoline) and Sharp-PS® (Phosphatidylserine) brands seem to indicate the overall quality of this formula.
2 Awards – Winning Better Nutrition Magazine's "Best of Supplements" (2011) and Vitamin Retailer Magazine's "Vity Award" (2010).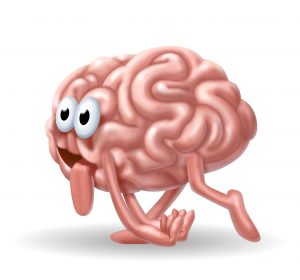 Combined, these qualities classify Jarrow Neuro Optimizer as a clean, reputable, well-designed nootropic stack, suitable not only for immediate boosts in cognition & brainpower, but for long-term mental aptitude. Considering the price as well, I could see this as a stack to start supplementing early for its neuroprotective advantages and continuing well into old age for its neurorestorative benefits.
Consider Neuro Optimizer a Now & Later nootropic that's better to start now than later.
The Pros
You had me at high-quality branded Citicoline + PS. These two nootropics alone are worth the investment in Neuro Optimizer.
The simple, straightforward design & marketing not only looks clean, but leaves out all of the BS for simple, straightforward brain boosts.
Better Nutrition Magazine & Vitamin Retailer Magazine also agree that this is a top, award-worthy nootropic stack.
I read good customer reviews overall, though I bet a lot of them are Jarrow Formulas loyalists. Not that there's anything wrong with that.
The Cons
Some of the doses on some of the ingredients (e.g. ALCAR) should be increased.
Um… The serving size is 4 capsules, inducing a nasty side effect: heavy swallowing… Yeah, there aren't many Cons with this product.
Pricing
$35 for 120 capsules, a 30-day supply
$1.17 per serving
Who Takes Jarrow Formulas Neuro Optimizer?
Any age group looking for a little extra mental power may benefit from Neuro Optimizer, but Jarrow Formulas seems to primarily target the older ladies & gents, typically around the 50+ age range.
Where to Get It
You can buy Jarrow Formulas Neuro Optimizer through various supplement retailers, like iherb and amazon. It's a relatively easy product to find in brick and mortar natural health food stores too. This is because Jarrow has been making health products for decades now — they have lots of shelf space.
Conclusion: Does Neuro Optimizer Work?
Neuro Optimizer supplies two major, researched-backed nootropics with brain-boosters that only increase with value the more you age. Compared to many other brain booster stacks that attempt attracting customers through flashy, over-complicated formula designs, Neuro Optimizer is a breath of healthy fresh air.
Not that Jarrow Formulas Neuro Optimizer covers all the bases on brain boosting with its short 7 ingredient formula, but it hits enough important pressure points to keep your mental processes in working order.
After factoring in the price as well, there's little reason to pass up this dietary supplement. Let's get to those ratings…
Final Rating
Formulation Strategy

Brainpower Benefits

Brain Health Benefits

Transparency

Quality

Value