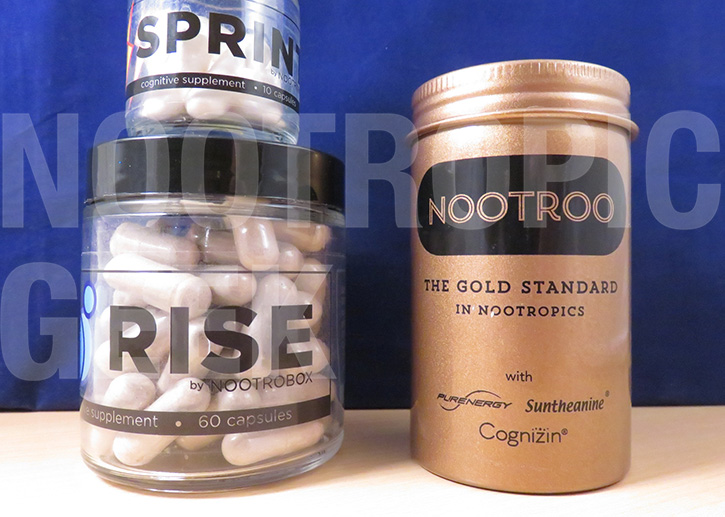 If you're a working resident of Bay Area, it seems you have only two options:
or
Perhaps even both? Mix a little acid with some green tea before hitting the office? For all the techie entrepreneurs who'd like to not fry their money-makers on illicit drugs, there are brain stacks like the two of this Nootropic Geek review: Nootrobox & Nootroo.
Based on the bottles, both of these products seem to be high-level, prem-O supplements. Yet, I'm less concerned with how these stacks look and more interested in how they work.
With that, let's get to it:
Formula Design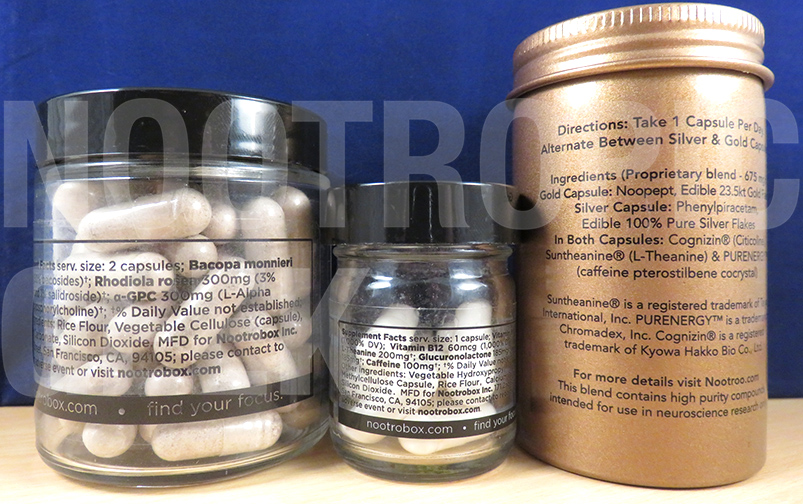 San Fran tech-heads rejoice: Based on appearances, Nootrobox & Nootroo were designed for the Silicon Valley techie aficionados. Even the 2-supplements-in-1 package deals come across as geek-style snazz by mistaking needless overcomplication for glam.
Was that a jab at the Bay Area?
No matter. Let's see what's under the hoods of these stylish stacks:
Nootrobox: RISE and SPRINT
If I had to sum up Nootrobox's two stacks in quick bulletin points, I'd say:
RISE: Supplies daily nootropic nourishment.
SPRINT: Supplies caffeinated mood boosts.
Naturally, as a nootropic geek, I'm a bigger fan of the RISE formula over SPRINT–yet, the latter remains integral to the overall Nootrobox experience. RISE packs the heavier nootropic punch by notching in three well-chosen, high-quality ingredients–Bacopa monnieri, Rhodiola, Alpha-GPC–which combine to support learning, memory, & mental energy, while reducing stress & fatigue.
SPRINT smartly stacks L-Theanine with Caffeine, resulting in relaxed, energized focus. The remaining B vitamins & compounds are decent for optimizing mood & maintaining optimal cognitive performance. Read my in-depth review on Nootrobox.
Nootroo: GOLD and SILVER
If Nootrobox asks you to RISE and SPRINT, Nootroo's style is less demanding & more generous, instead simply offering you GOLD and SILVER:
GOLD: Supplies Noopept.
SILVER: Supplies Phenylpiracetam.
Of course, both of these stacks supply more than these nootropic drugs, which are both derivatives of the racetam class of nootropic drugs. Aside from these potent & powerful drugs, Nootroo also notches in quality Smooth Caffeine branded mix of Caffeine & L-Theanine, in addition to Cognizin branded Citicoline, which is perhaps one of the best nootropics you could supplement.
All around major brain boosts in these simple, refined stacks. Read my in-depth review on Nootroo.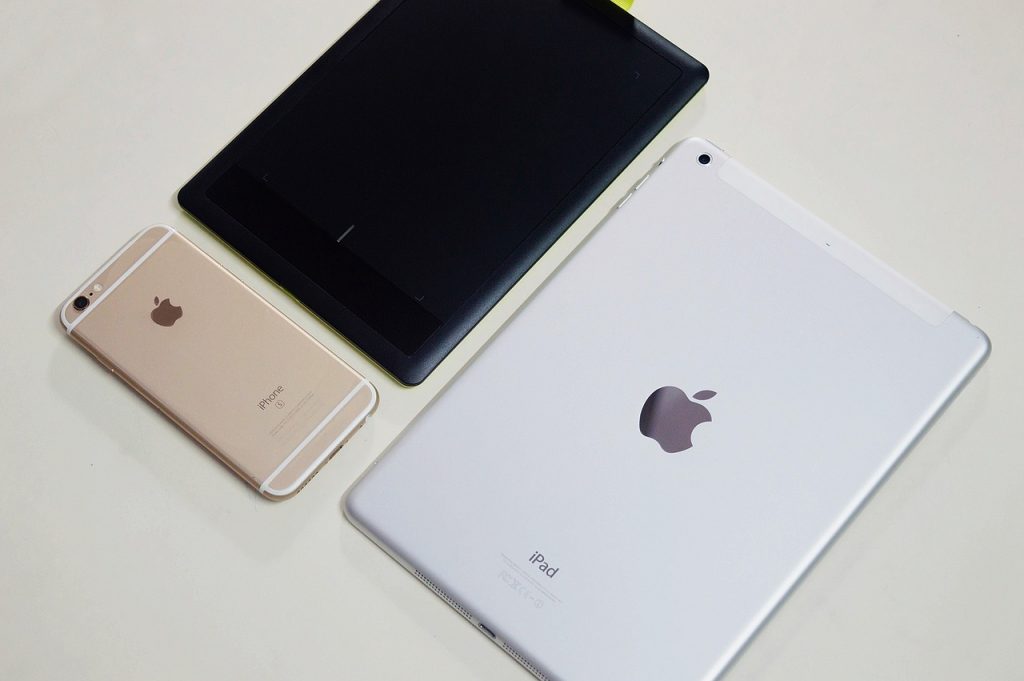 Unique Features
The only common ingredients between these stacks: L-Theanine & Caffeine.
I'm happy about this as it's one of the smartest nootropic duos, giving any product to utilize it instant supplement cred. Yet, the rest of these formulas are entirely unique from each other, providing the following features:
Nootrobox
Bacopa Monnieri (50% bacosides): Potent extract of an awesome classroom & workplace nootropic. Requires long-term supplementation to reach peak benefit levels.
Rhodiola Rosea (3% rosavins, 1% salidrosides): Quality standardization of one of the (if not the) best adaptogenic herbs available.
Alpha-GPC (L-alpha glycerylphosphorylcholine): I prefer Citicoline as a nootropic, yet Alpha-GPC is still a major nootropic choline source.
B Vitamins (B12 as Methylcobalamin): Nootrobox strangely doesn't reveal which B6 it uses (I'm hoping for P-5-P), but at least the B12 is in the preferred methylcobalamin form.
Nootroo
Noopept: Essentially a potent version of piracetam. Helps boost acetylcholine for enhanced mental performance, often described as psychostimulatory.
Phenylpiracetam: Another potent racetam derivative, strongly associated with relaxed mental stimulation. Believed to offer such significant cognitive advantages that its banned by the World Anti-Doping Agency (WADA). Competitive athletes beware.
Smooth Caffeine™: Very appropriately named considering the complementary "smoothing" action of L-Theanine on Caffeine's jittery side effects.
Cognizin® CDP-Choline: Or Citicoline, one of my favorite nootropics, in premium Cognizin brand form, which has been thoroughly studied for brain health & cognition.
Potency & Quality
Nootroo only has 6 ingredients combined (4 different ingredients, technically), yet refuses to reveal its dosages. Not even in a proprietary blend format. This is annoying and diminishes some of the cred established by its super potent, high-quality ingredients. Not enough for me to toss out the formulas–I'm still confident that they work–but enough to have me questioning how much I should trust the manufacturers.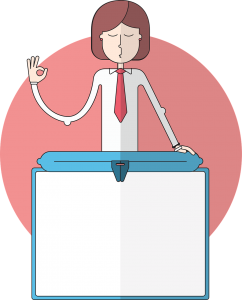 Nootrobox, on the other hand, smartly opts for total transparency, eschewing the proprietary blend shenanigans to reveal each individual ingredient dosage. And guess what: They look good.
Aside from quantity, Nootrobox also checks the boxes on potency & quality as well for RISE and SPRINT's impressive herbal extracts and bio-active compounds. Yet, Nootroo still impresses more by using brand name extracts that have been widely researched, namely Cognizin, which may very well be the best brand name nootropic available.
On the whole, both formulas demonstrate high measures of potency & quality. Nootroo particularly excels in these categories, yet drops the ball with regards to quantity by completely hiding its dosages.
Not a smart tactic by an otherwise smart stack.
Value: Nootrobox vs. Nootroo

Price
Servings
Price Per Serving
Nootrobox
$49 – RISE
$15 – SPRINT
30 – RISE
10 – SPRINT
$1.64 – RISE
$1.50 – SPRINT
Nootroo
$64.95
30
$2.20
Nootrobox or Nootroo: Which is better?
Nootrobox is all-natural memory & focus.
By default, if you're a competitive athlete, or anyone involved in a competitive arena subjected to drug testing, then Nootrobox should be your go-to over Nootroo. For mind-driven techies, Nootrobox is a solid choice for its memory & focus benefits, but I'd even go so far to say that its improvements on focus & fatigue (à la Rhodiola) may benefit physical activity as well.
Nootroo is synthetic memory & natural focus.
Racetam drugs such as Noopept & phenylpiracetam are powerful nootropics with surprisingly high toxic ratings. For reference, piracetam has been deemed less toxic than table salt. Noopept & phenylpiracetam are obviously a different story than piracetam, and therefore require more caution, but their use in Nootroo is unique, considering nootropic supplements rarely add racetams to their formulas.
With that in mind, Nootroo is especially unique for combining major choline donor Citicoline with racetams, a powerful synergetic duo for long-term memory, focus, & all-around cognition.
My Recommendation
Nootrobox is all-natural. Nootroo is synthetic + natural. These stacks are nearly parallel in their cognitive benefits and nootropic value, so much that the factors of price & organic status may be the ultimate factors that determine your decision. While Nootroo combines GOLD + SILVER together, Nootrobox requires that you buy RISE & SPRINT separately, which is a comparative drag to Nootroo's stacking scheme.
For me, I'm ultimately deciding on which product packs the heaviest nootropic punch. I like both of these stacks, but in a side-by-side comparison my gut instinct is to go with Nootroo. The combination of racetams and Citicoline, as well as mental boosters Caffeine + L-Theanine, is essentially all you need for boosted brain power.
Nootrobox accomplishes similar benefits, but Nootroo does them even better.
Nootroo > Nootrobox