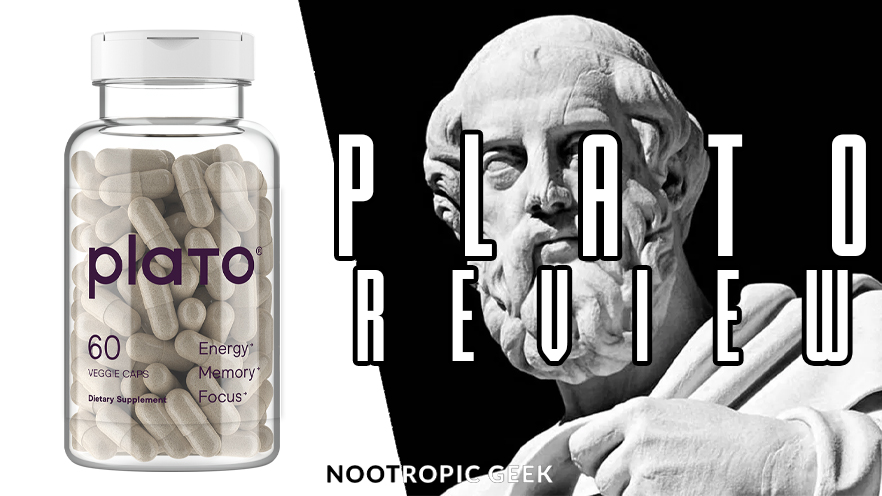 Natural, Simple, Daily Nootropic for a Subtle Boost
Pretty bold move naming your supplement after big dogg Plato, one of Ancient Greece's foremost philosophers and the founder of the Academy, the Western World's first institution of higher learning.
Especially considering that Plato would likely frown on the marketing tricks preferred by today's supplement manufacturers.
However, frankly, I don't care what Plato, the nootropic supplement, calls itself. All I care about is: Does Plato Nootropic work or not?
Read my Plato Nootropic Review to find out!
About Plato
Manufactured by Vernon Health, Plato is a simple, natural, daily nootropic stack designed to naturally boost your memory, focus, and resistance to stress.
4 ingredients, 3 are plants — and the non-plant ingredient is sourced from a plant, specifically green tea leaves, which supply the well-known nootropic L-theanine.
Taking notes from the now defunct Nootrobox, Plato's marketing follows the clean, sleek, monochromatic trends of today's "simple, natural" nootropic supplements; although, a few design decisions call into question this formula's overall efficacy.
Plato Ingredients

Ingredients
Amount Per Serving
Bacopa (Bacopa monnieri) whole plant extract (BaCognize®) (12% bacopa glycosides)
300 mg
Rhodiola (Rhodiola rosea) root extract (Rhodiola5PlusTM) (3% rosavins, 2% salidrosides)
100 mg
Asian ginseng (Panax ginseng) root extract (27-30% ginsenosides) (from Indena S.p.A Italy)
60 mg
L-Theanine
200 mg
Serving Size: 2 Capsules
Servings Per Container: 30
Other Ingredients: Rice powder, hydroxypropyl methylcellulose, magnesium stearate, and silicon dioxide.
Directions: Take two capsules together daily, ideally with a meal containing fat, like nuts, oil, eggs, or fish for best absorption.
Stack Nootropics with MCT Oil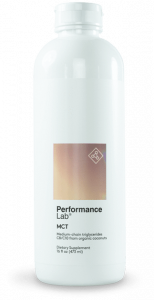 As the "Suggested Use" directions suggest, taking Plato with a fat source, such as nuts, oil, eggs, or fish, may significantly improve absorption of fat-soluble nootropics. In general, this is best practice when it comes to supplementing nootropics, which is why I down my nootropics with Performance Lab MCT, a pure stack of C8 + C10 MCTs sourced from 100% organic coconuts. By simultaneously enhancing the bioavailability of fat-soluble nootropics and fueling natural brainpower, medium-chain triglyceride (MCT) oil has taken my nootropic game to the next level.
Want some? Get the best deal on Performance Lab MCT here.
Read my in-depth review on Performance Lab MCT here.
Plato Review: Ingredients
Bacopa Extract (as BaCognize®) – the smarty pants plant, Bacopa monnieri is often viewed as the "Student's Nootropic," thanks to this herb's well-documented benefits on memory, learning, and high-order cognitive processes. This particular Bacopa brand has been found in clinical research to safely improve cognitive performance among medical students. More on Bacopa Monnieri.
Rhodiola Rosea Extract (as Rhodiola5Plus™) – one of my favorite herbs, Rhodiola rosea is an incredible nootropic, an incredible adaptogen, and an incredible performance enhancer. The cortisol-control provided by this herb pairs well with Bacopa's adaptogenic benefits, as well as asian ginseng's (the next awesome herbal nootropic list here). More on Rhodiola Rosea.
Asian Ginseng Extract – ginseng is one of the best botanical nootropics you can add to your daily routine. Ginseng uniquely boosts energy and relaxation for all-around better brain-and-body balance. Plato supplies a potent Ginseng extract standardized to 27-30% ginsenosides. More on Panax Ginseng.
L-Theanine – is this the greatest nootropic OF ALL TIME?? L-theanine is certainly a favorite among natural nootropic users, mainly because no other ingredient works quite like L-theanine. It's a subtle cognitive enhancer: L-theanine, as the anxiolytic amino acid found in green tea leaves (Camellia sinensis), calms the mind without sedation. The experience is sort of like being "in the zone": you're calm, yet focused. Paired with caffeine, L-theanine can be an especially effective cognitive enhancer. More on L-Theanine.
Plato Review: My Experience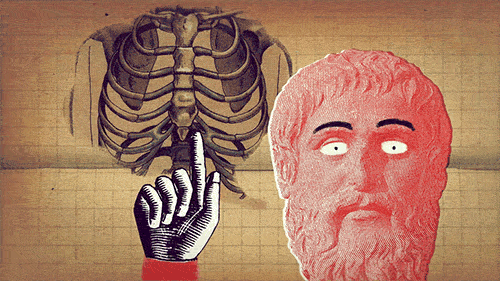 Plato has four ingredients altogether: Bacopa, Rhodiola, Ginseng, and L-Theanine — and, yes, these are awesome herbal nootropics that you could (or, rather, should) be taking on a daily basis to improve your cognitive function.
But do you want to get them via buying Plato? That's the question.
Otherwise, here're your alternatives:
Buy each ingredient individually (in bulk).
Find a better nootropic supplement that has these same ingredients.
Frankly, though these are awesome nootropics, this isn't the most unique formula. And "uniqueness" is exactly what you should hope for when buying a simple 4-ingredient supplement.
But there are other nootropic supplements that supply these ingredients (and then some) within a similar price range [SEE: Mind Lab Pro (review here), which supplies Bacopa, Rhodiola, L-Theanine, and 8 more nootropic ingredients.] And I've personally experienced better results with those nootropic stacks over what Plato provides.
Don't get me wrong: Plato works.
But the experience is very subtle, not enough to warrant the price tag in my opinion — again, especially considering how common these particular nootropics are. The effects of the Rhodiola and L-Theanine here are most noticeable, as they help ease and "de-stress" the mind while sharpening mental focus and clarity. I felt the familiar relaxation benefits of these nootropics.
Even so, I'd recommend finding these ingredients elsewhere.
The Pros
Four ingredients, three are plants — the emphasis on "natural" brain boosts here is great, and these natural brain boosters work.
The Rhodiola and L-Theanine are notably potent. I noticed these two nootropics the most (and tbf Bacopa monnieri takes weeks of supplementation to reach peak effect).
No proprietary blends, no artificial ingredients. Plato is a clean health stack.
The Cons
Despite the all-natural quality of Plato's ingredients and additives, the "Other Ingredients" are somewhat cheap — Plato cut corners on capsule quality.
Bacopa, Rhodiola, Ginseng, Theanine — all brain healthy stress relievers that I recommend, yet there's a notable lack of diversity in cognitive performance benefits. Expect a subtle boost on mood and memory, but not much else.
Pricing
One-Time Purchase Offer
$46 for 60 capsules, a 30-day supply
$1.53 per serving
Subscribe and Save 15%
$39/month for a monthly refill
$1.30 per serving
When you buy Plato at the GoPlato website, you're offered a "One-Time Purchase Offer" or a "Subscribe and Save 15%" option, of which the latter gets you the best deal in the long run.
Who Takes Plato?
Plato's marketing seems geared towards the "young worker" type who shops at Trader Joe's and regenerates lost hair with hims® products. Anxiety of choice is a real dilemma in today's overcomplicated, artificial world, and so the "Simple + Natural" appeal of Plato's marketing and formula design is sure to attract the sort of Silicon Valley-ish millennial worker who's overwhelmed by their options. (And guess what, Mr. Millennial! Plato's anxiolytic herbs can help you with that anxiety of choice by eliminating the anxiety altogether!)
Where to Buy It
You can buy Plato at the GoPlato website. At time of writing, there are no listing on Amazon or GNC or elsewhere.
Conclusion: Does Plato Work?
Yes, Plato works. With these ingredients, Plato is sure to work. This is a rather safe selection of popular, well-researched herbal nootropics and compounds.
But perhaps it's a bit too safe.
Because, frankly, I see no special reason to buy Plato over any other herbal nootropic formula that supplies more or less the same ingredients (and then some) at a comparable price. The banality of this formula contrasts poorly with Plato's exceptional marketing and website design. Makes it seem like Plato invested more in the appearance of their online storefront than what they're actually selling.
Either way, Plato does offer some awesome herbal extracts. And you'll definitely notice the calming benefits of Plato's L-theanine, especially if you're a coffee drinker. But personally I recommend finding these ingredients elsewhere.
Read my Best Nootropic Supplements to Buy in 2020 list here.
Read my Best Nootropics for Stress in 2020 list here.
Final Rating
Formulation Strategy

Brainpower Benefits

Brain Health Benefits

Transparency

Quality

Value