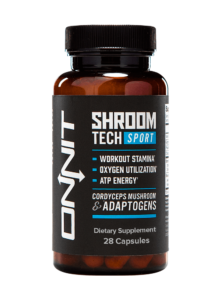 High Energy, Low Stress Exercise Enhancement
Cordyceps energy is a different kind of energy than you're probably used to. (Assuming that when you think "energy" you think caffeine.) Caffeine is stimulant energy. Cordyceps is sports energy, hence Shroom TECH Sport, a cordyceps-powered energy booster for athletes.
When exercise takes a toll on your brain and body, then, sure, caffeine and other stimulants might help for a short, temporary boost. However, what your fatigued muscles really need is increased oxygen and ATP levels. They need actual-factual muscle fuel, something to ramp up the stamina for a few more sets, rounds in the ring, etc.
Shroom TECH Sport supplies the shrooms — or rather the shroom — but is that it? Why not go for a cheaper cordyceps supplement, if that's the gist of this sports stack. Fortunately, that's not all I'm seeing here, but we'll need to read the Shroom TECH Sport review to see if it's all any good or not.
About Shroom TECH Sport
By Onnit, the makers of Alpha BRAIN, Shroom TECH Sport is a cordyceps-powered ATP energy booster and herbal adaptogen stress reducer, designed primarily for exercisers and athletes.
Shroom Tech O2 Blend: here's where the cordyceps are stored, supplied in extract form and "whole" non-extract form for comprehensive cordyceps coverage.
Shroom Tech Adaptogen Blend: in addition to the cordyceps, Shroom TECH Sport supplies a few stress resisting herbal extracts, antioxidants, anti-inflammatory compounds, etc. Not a bad mix at all.
Shroom TECH Sport Ingredients

Ingredients
Amount Per Serving
Vitamin B12 (as Methylcobalamin)
750 mcg (12,500% DV)
Chromium (as Chromium Picolinate)
200 mcg (167% DV)
Shroom Tech O2 Blend™
1.2 g
Cordyceps (whole) Extract, Cordyceps (whole)
Shroom Tech Adaptogen Blend™
930 mg
Ashwagandha (root) Extract, Green Tea (leaf) Extract, Rhodiola (root) Extract, Astragalus (root) Extract
Serving Size: 4 Capsules
Servings Per Container: 7 or 21
Other Ingredients: Vegetarian Capsule (Hydroxypropyl Methylcellulose, Water), Rice Hull Concentrate (Nu-Flow®), Dicalcium Phosphate, Dextrin, Mineralized Red Algae (whole) (Lithothamnion Sp.) (Aquamin® F), Maltodextrin
Directions: Adults, as a dietary supplement, take four capsules 45 minutes prior to exercise, competition or for occasional energy support, preferably on an empty stomach. Do not exceed six capsules in any 24-hour period.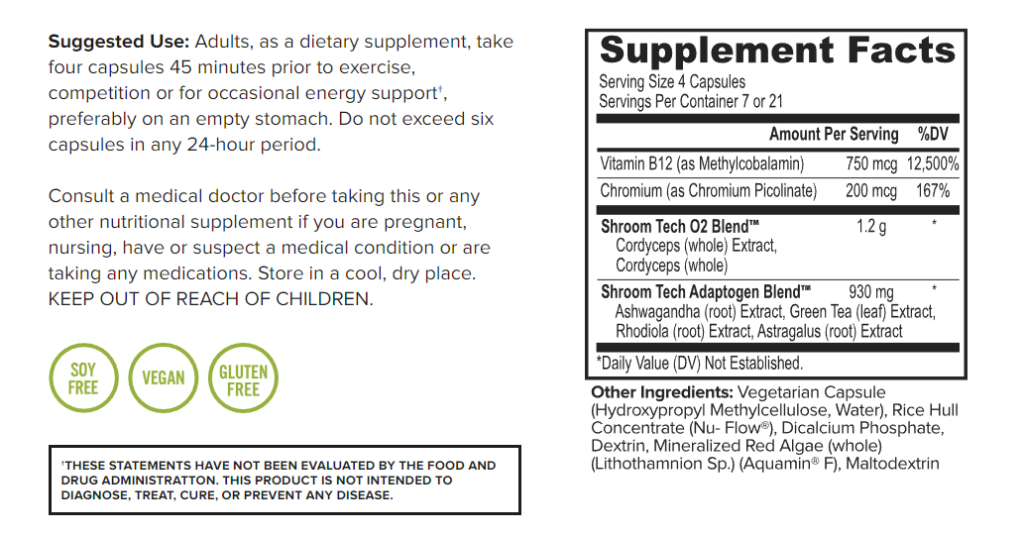 Okay, so one shroom — cordyceps — in addition to a few herbal extracts and a vitamin + mineral. Not exactly a shroom-filled supplement, yet it's an awesome mushroom ingredient nonetheless. And so are the non-shroom ingredients pretty awesome, too. Check it:
Shroom TECH Sport Review: Ingredients
Vitamin B12 – quality form (methylcobalamin is better than cyanocobalamin) at a hefty dosage; B12 helps reduce homocysteine damage and partakes in hundreds of enzymatic pathways. Not something you want to be deficient in.
Chromium – may help balance blood sugar levels; a popular item in fat burner and weight loss supplements.
Shroom Tech O2 Blend
Cordyceps Extract (+ Non-Extract) – The Shroom Tech O2 Blend supplies cordyceps in extract and non-extract forms; the extract presumably supplying cordycepic acid and other bio-active phytonutrients that may assist with aerobic exercise and ATP cellular energy. As a performance enhancer, cordyceps is pretty great stuff, essentially optimizing oxygen utilization across the body. As a cognitive enhancer, cordyceps basically qualifies as a brain energy booster.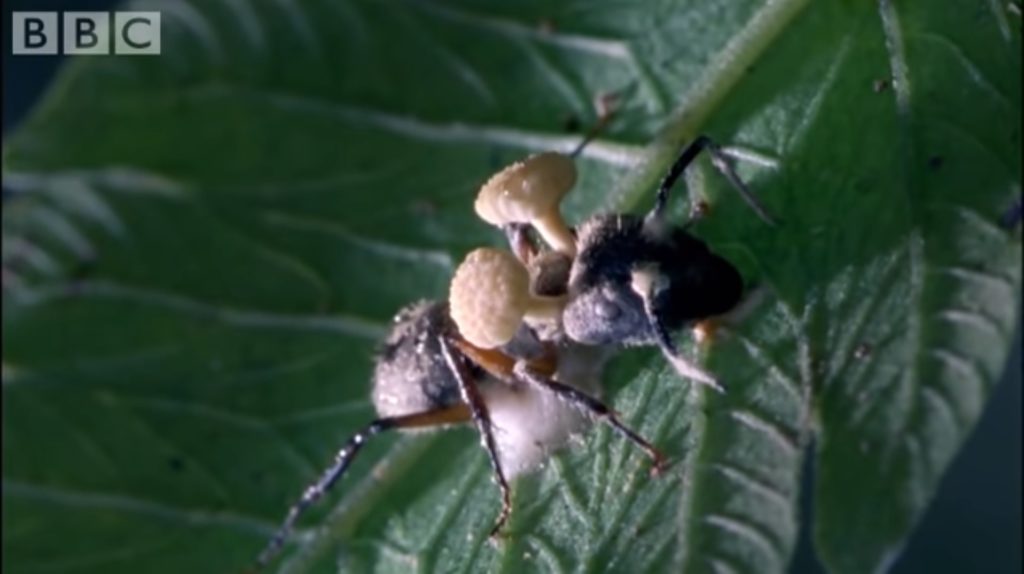 Shroom Tech Adaptogen Blend
Ashwagandha Extract – Pretty groovy Ayurvedic adaptogen herb. Ashwagandha helps limit the negative effects of stress while also reducing anxiety for better mood control. In fact, the anxiety reduction might be too strong for some, erring on the side of sedation, but it's an awesome adaptogen, nonetheless.. More on Ashwagandha.
Green Tea Extract – Green tea supplies a rich mix of neuroprotective catechins, polyphenols, and EGCG — as well as the nootropic amino L-theanine. Typically, green tea extract ingredients mainly supply the antioxidant constituents of the green tea leaf, helping combat free radical damage and potentially boosting brain building factors, such as BDNF.
Rhodiola Extract – One of the best herbs for cognitive clarity and physical performance, Rhodiola is great for reducing stress and fatigue. Best taken as a morning pick-me-up or later in the afternoon as a keep-going motivation boost. More on Rhodiola Rosea.
Astragalus Extract – Potentially a smart complement to cordyceps, helping unlock "the full capability of Cordyceps mushrooms," as Onnit claims. As a standalone ingredient, astragalus seems to possess anti-inflammatory, pro-longevity benefits for the brain and body.
Read my Best Nootropic Supplements for Exercise in 2020 list here.
Shroom TECH Sport Review: High Energy, Low Stress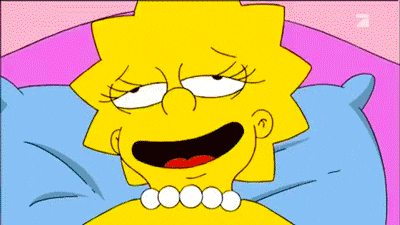 Nothing disrupts positive workout momentum like high stress and low energy. Fatigue and stress often go hand in hand, and Shroom TECH Sport seems to know this with their smartly crafted mix of cordyceps ATP energy boosters and adaptogenic stress reducers. Altogether, Shroom TECH Sport claims to improve:
WORKOUT STAMINA
OXYGEN UTILIZATION
ATP ENERGY
And, for the most part, these benefit claims seem to check out.
As a performance enhancer, Shroom TECH Sport seems to primarily benefit exercise stamina. On the nootropic end of the spectrum, Shroom TECH Sport may also improve mood and focus, putting the mind in a more "Zen-like" zone, allowing athletes and thinkers to visualize their targets more clearly. I prefer Rhodiola rosea as a standalone ingredient for these exact reasons, and I'm happy to see it alongside the likes of cordyceps and ashwagandha for further physical and mental performance enhancement.
However, that about covers the positives of this sports stack. As we've seen with other Onnit supplements, Shroom TECH Sport commits the error of using proprietary blends, which obscure the individual dosages of its ingredients. Sort of annoying. Not only that but, as you'll see below in the "Pricing" section, this isn't the cheapest supplement, especially if you exercise frequently.
You might be better off supplementing cordyceps separately with whichever pre-workout or nootropic stack you currently favor. Unless these are the exact ingredients you're looking for, in which case: hell yea, you've found your match with Shroom TECH Sport.
Read my Best Energy Supplements to Buy in 2020 list here.
The Pros
For exercise performance, cordyceps' ATP and oxygen boosts are preferred over the vasoconstrictive stimulation associated with caffeine and the like.
Herbal adaptogens help round out the clear-thinking mental aspects of exercise and activity.
Although Onnit fails to detail the contents of its extracts, every herb (and fungus) comes in an enhanced, potent extract form for increased bioavailability.
The Cons
Despite the self-hype, Shroom TECH Sport isn't that much of a standout cordyceps supplement. Not enough to warrant the price tag, which is the next con.
Shroom TECH Sport is overpriced. You're not even receiving a full month's worth of servings at the more expensive option.
The proprietary blends hide the individual ingredient dosages.
Pricing
28ct Bottle
$23.29 for 28 capsules, a 7-day supply
$3.33 per serving
84ct Bottle
$55.89 for 84 capsules, a 21-day supply
$2.66 per serving
If you buy through the Onnit online store, the 84ct bottle is cheaper than the 28ct on a price per serving basis. For both supplements, Onnit supplies a Subscribe & Save 15% order option that (as you can see) saves you 15% per automatically shipped bottle. Not a bad idea, if you plan on taking Shroom TECH Sport for longer than 7 or 21 days.
Who Takes Shroom TECH Sport?
Shroom TECH Sport appeals to the more natural focused athletes and exercisers. However, because this supplement does boost energy and focus naturally, Onnit customers may enjoy this stack even in non-athletic settings — e.g., at the office — for its boost on mental energy as well.
Where to Buy It
You can buy Shroom TECH Sport through the Onnit online store or through Amazon; however, the Amazon listing is slightly more expensive than that of Onnit. Plus, Amazon doesn't supply the Subscribe & Save order option.
Conclusion: Does Shroom TECH Sport Work?
Yes, I'm a particular fan of cordyceps for the fungus' noticeable boost on muscular energy and stamina. While I'm sure its energy boosting benefits assist my mental stamina as well, I notice this supplement most during exercise. And so I recommend Shroom TECH Sport more so as a performance enhancer than a nootropic brain booster.
Even so, I'm not as hyped on this particular cordyceps stack as other cordyceps options. Not to say that this is a bad supplement by any means — it's actually pretty damn good, smartly mixing cordyceps with anti-stress adaptogens — but it feels like this supplement values itself too much on its name brand. Buying Shroom TECH Sport sort of feels like buying a decent pair of shorts for $50 extra because of the "Nike" label on the side.
In other words, Shroom TECH Sport is the Nike stack of the cordyceps supplement world: decent quality, yet over-valued simply due to the brand association.
Read my Best Nootropic Supplements to Buy in 2021 list here.
Final Rating
Formulation Strategy

Brainpower Benefits

Brain Health Benefits

Transparency

Quality

Value