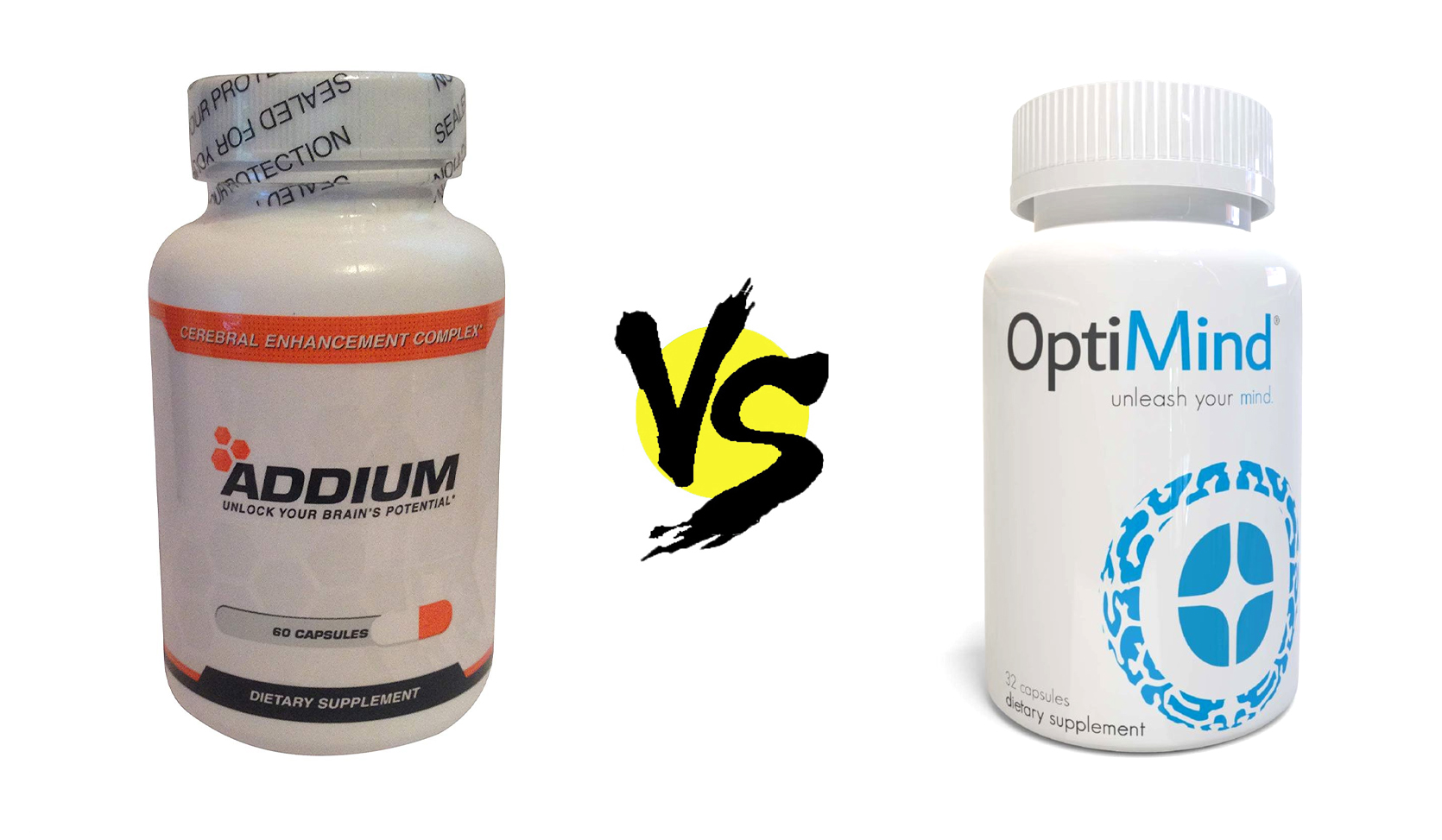 Here we have the Alpha & Omega of nootropic supplements:
ALPHA: Addium.
OMEGA: OptiMind.
Except not really at all. I'm just being alphabetically clever with the names of these popular nootropic supplements. In reality, they're, well… they're alright, mixing well-chosen nootropics of decent potency & quality for reliable boosts on brainpower & cognition.
However, there's a fair share of shenanigans shared between these shupplements. Whether or not they're deal-breakers are up to you, but let's see if we can find a way to minimize the shenanigans by comparatively reviewing these two supplements, inside & out.
Formula Design
Addium sits on the "Limitless" Adderall alternative design.
OptiMind opts for the pharmaceutical blue-&-white color scheme.
Yet, the primary source of brainpower for these supplements: Caffeine.
However, it's how these formulas handle (or don't handle) their caffeine content that makes all the difference, in addition to a number of perks & quirks unique to each product. To kick off this review, let's begin alphabetically:
Addium: Two Formulas, Sold Separately!
Searching online, you'll find two formulas sold under the Addium name.
The one advertised by Addium's manufacturers: Vitamin B3, Vitamin B6, Caffeine, GABA, Bacopa Monnieri, Alpha GPC, L-Theanine, Phosphatidylserine, L-Tyrosine, Vinpocetine, Huperzine A.
And the one advertised on Amazon (the one I reviewed): Vitamin B6, Acetyl-L-Carnitine, L-Theanine, Caffeine, Rhodiola Rosea Extract, Bacopa Monnieri Extract.
While I'm not accusing Addium of any blatant shenaniganry (the mismatch could be due to outdated formulas still in circulation), I am accusing them of sloppiness. It's never a good thing not knowing exactly what you're getting while ordering a supplement. Although, for the record, I'm a bigger fan of the Amazon formula for its herbal extracts & higher dosages.
OptiMind: 10-Ingredient Proprietary Blend
OptiMind has only one mislabel issue: "Vitamin B12 as Pyridoxine HCl"
This can't be, because pyridoxine HCl is B6, not B12.
Sloppy, but not the most egregious mistake I've seen. Other than that, the formula isn't bad. In actuality, it's nearly identical to the formula advertised by Addium's manufacturers with exception to one notable nootropic: Sulbutiamine.
Not too many manufactured nootropic stacks carry this nootropic drug. It does come with a slight risk, due to the brain's tolerance buildup to sulbutiamine, but the inclusion of it alongside OptiMind's other well-chosen ingredients isn't a bad move. Read my in-depth review on OptiMind.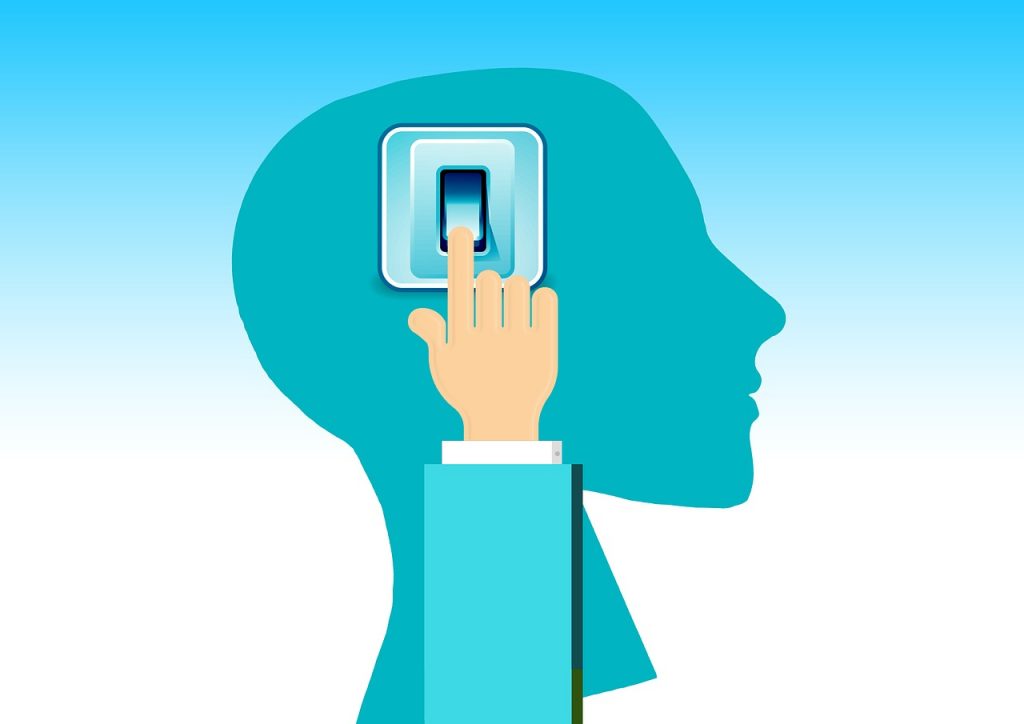 Unique Features
Again, if we're looking at the Addium advertised by the manufacturers, there'd be plenty of similarities between these two supplements. But considering that the one most likely being bought is the Amazon formula, I'll continue reviewing the Amazon formula in relation to OptiMind.
On that note, let's begin with the unique features of the Amazon Addium formula:
Addium
Acetyl-L-Carnitine – ALCAR is able to cross the blood-brain barrier, delivering carnitine's metabolic energy benefits to brain cells.
L-Theanine – Not exceptionally high quality L-theanine (e.g. Suntheanine®), but plain L-theanine is still highly effective at promoting relaxed focus. Offsets caffeine's jittery side effects.
Rhodiola Rosea Extract (3% Rosavins) – Delivering anti-stress, anti-fatigue boosts on mental & physical performance, Rhodiola is presented here in a potent 3% standardized extract.
OptiMind
Bacopa Extract (50% Bacosides) – Addium has a 20% standardized Bacopa extract, but OptiMind tops that with this 50% extract.
SerinAid® Phosphatidylserine – Quality brand of a valuable nootropic: Phosphatidylserine, a lipid membrance component with promising neuroprotective potential.
Sulbutiamine – Synthetic compound of two Thiamine (B1) molecules, seems to deliver various benefits on memory & cognition, namely in reducing brain fog & fatigue.
Huperzine A – Potent natural-synthetic drug, Hup-A inhibits acetylcholinesterase enzyme in tiny doses for increases on neurotransmitter acetylcholine bioactivity.
Vinpocetine – Another potent naural-synthetic drug that requires tiny doses for effect. Vinpocetine enhances cerebral circulation for an increased delivery of oxygen & nutrients to the brain.
Potency & Quality
Neither supplement entirely outshines the other, yet both earn above-average grade marks with OptiMind slightly edging out Addium with an even abover-averager grade, thanks to OptiMind's:
More potent bacopa extract
Branded phosphatidylserine
Granted, Addium impresses by using a standardized Rhodiola extract while also offsetting its caffeine content with L-theanine, which is really the only forgivable way to utilize caffeine in a nootropic stack.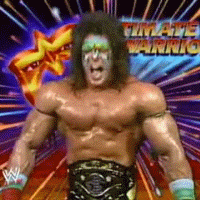 OptiMind's caffeine is wild 'n out, delivering unchecked energy to an unknowable* degree. (*OptiMind's dosage masking proprietary blend.) L-Tyrosine may help alleviate the hyped up energy of caffeine with its anti-stress mood boosts, but L-theanine's calming effects are just as necessary when it comes to maximizing your caffeine's power.
Regardless, OptiMind displays slightly more potency & quality over Addium, fixing in two potent compounds (Hup-A & Vinpocetine) that require very small dosages for effect. The effort reads more like a nootropic stack intent on working, rather than a cheap-o "Adderall alternative" supplement.
For Better Brain Boosts, look into Performance Lab Stim, a natural stim supplement stack that supplies caffeine with L-theanine and L-tyrosine (and more) for a more comprehensive (and cleaner) approach to boosting high-energy mental and physical performance. Learn more about Performance Lab Stim here.
Value: Addium vs. OptiMind

Price
Servings
Price Per Serving
Addium
$51.98
30
$1.73
OptiMind
$43.31
32
$1.35
OptiMind may be the cheaper option, but a number of customer reviews hold complaints of autoshipment issues, namely in how the company reportedly refuses to honor their money-back guarantees or cancel requested autoship subscriptions. My suggestion: Avoid the "FREE" 14-day trial.
Addium or OptiMind: Which is better?
Addium is better for smooth energy.
While the L-theanine + caffeine stack is far from groundbreaking, or really all that unique (I'm slightly surprised that OptiMind doesn't have L-theanine as well), it is something that Addium has over OptiMind, in addition to a healthy, potent dose of Rhodiola. The combination creates a stable supply of physical & mental energy, with the upside of long-term memory boosts (thanks to bacopa).
OptiMind is better for feel-good energy & memory.
However, OptiMind's bacopa is better, delivering more than twice the potency value of Addium's. Furthermore, OptiMind serves more nootropics in its formula, most of which are prioritized higher than its caffeine content, which is important in a caffeinated proprietary blend stack. The sulbutiamine is a major selling point for this supplement as well, considering it's rarely utilized in manufactured nootropic stacks.
My Recommendation
There's weirdness on both sides of the aisle here: Addium's various advertised Supplement Facts, OptiMind's autoshipment shenanigans.
Yet, considering that the autoship issues may be avoided by not enrolling in autoshipment, I find Addium's issues to be more egregious to OptiMind's. (Also, OptiMind's formula is simply better than Addium's, despite the proprietary blend.) Frankly, neither product ranks anywhere near the products on my Best Nootropic Supplements of 2020 list, but you know what: Let's take it easy on the whole "standards" thing today, alright?
My final judgment for this comparison review:
OptiMind > Addium