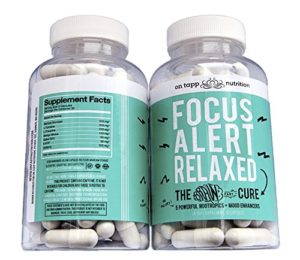 Focus. Alert. Relaxed. — no, that isn't a read on On Tapp Nutrition's cognitive enhancing supplement's health benefits. It's the name of the supplement: Focus Alert Relaxed. (But also it's more or less the cognitive benefits of this brain health stack.)
Comedy writers know this: when listing items, list them in threes, and throw a curveball with the third listed item. In Focus Alert Relaxed's case, the "punch-line" comes with "Relaxed" — after all, alertness and relaxation don't often go hand-in-hand, do they?
They do if you're a nootropic geek who knows what the hell he's doing. And my first impression on this stack: these guys seem to know what the hell they're doing. Although, on closer inspection, there are a few peels in Focus Alert Relaxed's shiny varnish. So, let's read the Focus Alert Relaxed review to get a better view on this supplement.
About Focus Alert Relaxed
Manufactured by On Tapp Nutrition, Focus Alert Relaxed calls itself "The Brain Fart Cure" which is just so ha-ha LOL.
Focus Alert Relaxed accurately lists its cognitive brain benefits in its name — no false advertising here.
Props to On Tapp Nutrition for keeping this formula free of proprietary blends. All ingredients are transparently displayed, and their dosages look pretty alright.
Focus Alert Relaxed Ingredients

Ingredients
Amount Per Serving
Bacopa Monnieri
300 mg
L-Tyrosine
300 mg
L-Theanine
250 mg
Ginkgo Biloba
150 mg
Alpha GPC
50 mg
5-HTP
50 mg
Caffeine
100 mg
Serving Size: 2 Capsules
Servings Per Container: 30
Other Ingredients: Gelatin Capsules, Rice Flour, Magnesium Stearate
Directions: Add Focus Alert Relaxed to your daily routine or take one before a workout to get a metabolic boost.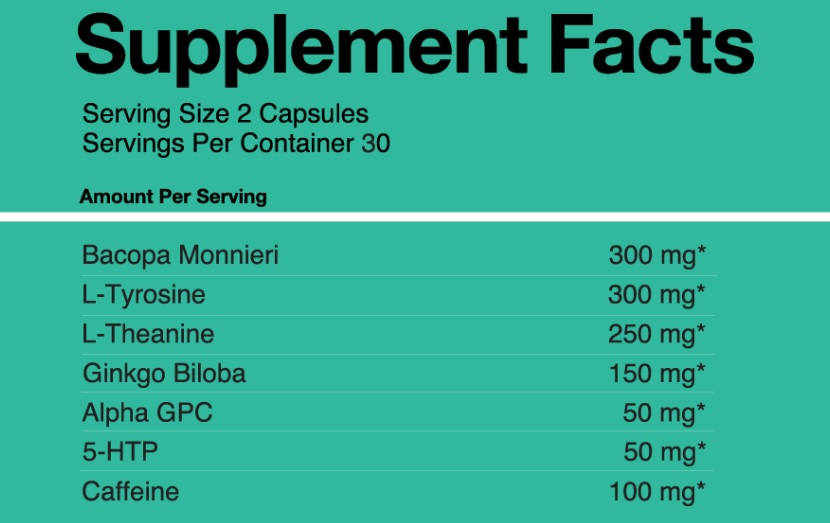 I'm seeing plenty of fan favorites in this stack — from Bacopa monnieri (a hugely popular natural nootropic) to the über popular L-theanine + caffeine mini-stack. But how's the quality of these fan favorites? Or their dosages? Let's find out.
Focus Alert Relaxed Review: Ingredients
Bacopa Monnieri – An awesome, powerful Ayurvedic adaptogen with significant benefits on memory and learning. Focus Alert Relaxed supplies a decent 300 mg of this stuff; although, it doesn't seem to come in the preferred, potent extract form. More on Bacopa Monnieri.
L-Tyrosine – Another hefty 300 mg for this guy, L-tyrosine, an anti-stress amino that noticeably boosts mood, motivation, and focus during otherwise stressful conditions. Granted, the N-acetyl L-tyrosine form seems to be the preferred tyrosine option over standard L-tyrosine. More on L-Tyrosine.
L-Theanine – Remember this dosage: 250 mg. That's a solid dosage for L-theanine, an anxiolytic amino that may help reduce the jittery side effects of caffeine while sustaining the stimulant's boost on focus, attention, and energy. More on L-Theanine.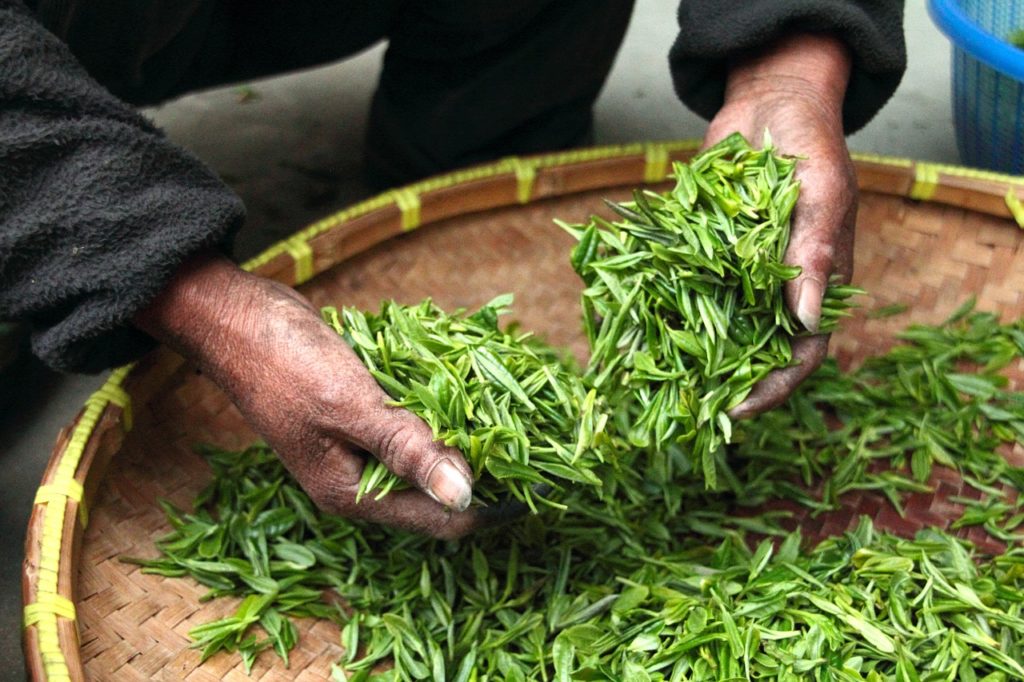 Ginkgo Biloba – Often associated with elderly health and cognition, ginkgo seems to also improve the circulation and working memory of the younger, average, healthy user. Plain powder ginkgo works, yet I'd prefer to see this in extract form when crammed into those tiny capsules. More on Ginkgo Biloba.
Alpha GPC – Weak dosage (50 mg) of an otherwise decent cholinergic nootropic. Alpha-GPC has one of the densest choline concentrations that's able to cross the blood-brain barrier, potentially increasing the brain's acetylcholine levels for better memory and learning. More on Alpha GPC.
5-HTP – Happy, relaxed brain chemistry — as a precursor compound to serotonin, 5-HTP operates as a feel-good chemical compound. However, if supplemented for too long, 5-HTP may disrupt your natural serotonin equilibrium. (It's also generally recommended to avoid 5-HTP supplements, if you're already on pharmaceutical antidepressants.) More on 5-HTP.
Caffeine – 100 mg caffeine roughly equals an 8 oz cup of coffee. Compared to the 250 mg L-theanine, Focus Alert Relaxed's caffeine content is significantly overpowered, allowing for the L-theanine + caffeine duo to work properly. Flipping this ratio would otherwise impair L-theanine's effects, thereby eliminating the nootropic nature of this popular combo. More on Caffeine.
Focus Alert Relaxed Review: For Focus, Alertness, and Relaxation
Why not just get straight to the point? After all, there's a reason why Ernest Hemingway is one of the most emulated writers of recent times: his writing gets to the damn point. (Having said that, James Joyce's writing does the complete opposite, and he's revered as potentially the greatest writer of all time.) So, on that note, there's immense, immediate value in Focus Alert Relaxed, which states its purpose directly in its name:
Focus Alert Relaxed is a nootropic supplement that boosts focus, alertness, and relaxation.
What else do you need to know?
Well, of course, you'll next want to know: does it work?
And, for the most part, I can say: yes, Focus Alert Relaxed works at boosting focus, alertness, and relaxation. Or at least it supplies many of the correct parts for these cognitive health benefits. Nothing in this formula stands out as odd or out-of-place — there's a purpose to each chosen nootropic, and each purpose contributes to the ultimate goals of this product.
However, just because Focus Alert Relaxed works doesn't mean it can't work better. And I suspect it might've worked much better had On Tapp Nutrition invested in higher quality ingredients, as opposed to these plain, non-extract plant forms. Fortunately, these manufacturers make up for the meh quality of their ingredients by sufficiently dosing them (with exception to alpha-GPC). 300 mg L-tyrosine? Oh hell yes, my friends.
Quality issues aside, Focus Alert Relaxed is an impressive enough formula that delivers on its promises. Good for quick bursts of calm mental energy, potentially more with Bacopa's boosts on memory and learning.
The Pros
Focus Alert Relaxed stacks up a formula that's not only all nootropic but all focused on the advertised cognitive goals: focus, alertness, and relaxation.
The caffeine + L-theanine combo makes a welcomed appearance here in the correct more L-theanine than caffeine ratio for nootropic results.
For the most part, the dosages are all adequate. And not only that but they're also transparently shown — none of that proprietary nonsense.
The Cons
Almost all of the ingredients in this formula could improve their quality.
Alpha-GPC needs a better dosage.
5-HTP might be a no-go for certain users. For everyone else, the precursor compound poses potential health risks with long-term use.
Pricing
$24.99 for 60 capsules, a 30-day supply
$0.83 per serving
This represents the price listed on the On Tapp Nutrition website. The Amazon listing for Focus Alert Relaxed runs you basically the same price. Maybe you save a few quarters. Not too much. (But you can get quite a bit for a few quarters, if you're thrifty!)
Who Takes Focus Alert Relaxed?
The fun, zany, minimalist design of Focus Alert Relaxed seems geared towards the younger, healthy, active nootropic user. While it's not exactly a pre-workout supplement, Focus Alert Relaxed's directive to "take one before a workout to get a metabolic boost" sort of gives this product away as a more youthful feel-good supplement, as opposed to a more long-term brain health solution.
Where to Buy It
You can buy Focus Alert Relaxed through Amazon as well as the On Tapp Nutrition website.
Conclusion: Does Focus Alert Relaxed Work?
As a supplement reviewer and a writer, I like Focus Alert Relaxed. I wish all supplements were as clean and straightforward as this stack — it'd make writing these reviews much, much easier. And not only do I like this supplement for its straightforward demeanor but because yes — Focus Alert Relaxed works.
Granted, as I stated earlier, Focus Alert Relaxed doesn't quite live up to its full potential. Had these manufacturers supplied this ingredients in their most premium formats, then we'd be looking at a serious powerhouse of a brain booster. As it stands, Focus Alert Relaxed is an only somewhat-serious brain booster, as suggested by the goof-ass "The Brain Fart Cure" descriptor on the product's label.
All-in-all, Focus Alert Relaxed is a smartly crafted caffeinated supplement that's at the least worth a try. For bigger, better, more long-term brain boosts, I have other recommendations. But for relaxed, caffeinated brainpower, Focus Alert Relaxed will do.
Final Rating
Formulation Strategy

Brainpower Benefits

Brain Health Benefits

Transparency

Quality

Value