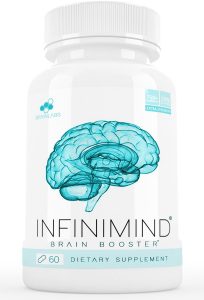 Funny enough, writing the intros to these reviews encompass the most difficult part of the product review process. Usually I can latch onto an interesting point of the product I'm reviewing and extrapolate a theme or topic with which to write on.
Not with Infinimind. Which means either two things:
I'm losing my juice.
This nootropic stack simply sucks.
And by "sucks" I mean it's boring — average, unimpressive, etc. It sticks with the most common brain health compounds and slaps a "brain booster" claim on the box. Not that this is a bad thing: nothing wrong with sticking with what's tried & true.
But are these ingredients of the tried-&-true variety? Hard to say… let's find out:
About Infinimind
Manufactured by Brain Labs, Infinimind sells itself simply as a "BRAIN BOOSTER" for general mental performance.
The stack is all natural, mixing an impressive herbal array with a few brain restorative compounds.
The formula is proprietary, hiding the individual ingredient dosages, virtually nullifying the "impressive" claim held in the previous point.
Infinimind Ingredients

Ingredients
Amount Per Serving
Ginkgoxine™ Ginkgo Biloba (24% extract)
50 mg
Proprietary Formula
727 mg
St. John's Wort (0.3% extract)
**
Glutamine (L-Glutamine Hydrochloride)
**
Phosphatidylserine Complex
**
Bacopa Monnieri (20% Bacosides)
**
Dimethylaminoethanol Bitartrate
**
Acetyl-L-Carnitine
**
Vinpocetine
**
Serving Size: 1 Capsule
Servings Per Container: 60
Other Ingredients: Gelatin, Magnesium Stearate, Di-Calcium Phosphate
Infinimind doesn't believe in limits: this supplement manufacturer wants your mind to live on foreverrrr. Ironically, the formula is rather limited, given its dosage-masking proprietary status. All the same, let's take a look under the hood to see what's cooking here:
Ginkgoxine™ Ginkgo Biloba (24% Extract) – Likely 24% extract of glycosides, although I can't find any information on the Ginkgoxine trademark — my guess: a typical potent standardized extract of ginkgo biloba, an awesome nootropic for cerebral circulation & working memory. More on Ginkgo.
Proprietary Formula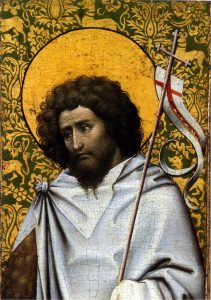 St. John's Wort (0.3% Extract) – Hypericum extract standardized to 0.3% hypericin, one of the few natural serotonergic antidepressants. Not recommended if you're currently on pharmaceutical antidepressants. More on St. John's Wort.
Glutamine (L-Glutamine Hydrochloride) – The most abundant amino acid in the body, practically essential to organic LIFE AS WE KNOW IT …but do we need to supplement it? Not really — although it may benefit athletic/bodybuilding cognition. More on Glutamine.
Phosphatidylserine Complex – Awesome nootropic compound for cognitive longevity, becomes more & more essential as you age. More on Phosphatidylserine.
Bacopa Monnieri (20% Bacosides) – Nearly synonymous with "nootropic" now for its immense popularity as a natural memory enhancer, although it requires long-term supplementation to reach peak effect. More on Bacopa.
Dimethylaminoethanol Bitartrate (DMAE) – Often sold as a beauty compound, might benefit elderly cognition but for the average, healthy nootropic user DMAE won't do much. More on DMAE.
Acetyl-L-Carnitine (ALCAR) – The right form of carnitine for cognition, ALCAR is able to pass the blood-brain barrier, assisting with brain mitochondrial energy output, but again only for elderly cognition — younger users don't have much use for this. More on ALCAR.
Vinpocetine – A semi-synthetic compound sourced from periwinkle plants, further enhances the circulatory benefits of this formula for further enhanced delivery of oxygen & nutrients to the brain. More on Vinpocetine.
Infinimind: Brain (& Mood) Booster
Infinimind doesn't attempt exceed the limits of cognition but rather one of the limiting factors of cognition: aging — and it does this through a number of bio-mechanisms:
Cerebral Circulation – Ginkgo + Vinpocetine enhancement on blood flow.
Mitochondrial Output – ALCAR delivery of fatty acids for ATP energy.
Brain Detox – DMAE & PS bolster the brain's antioxidant status.
And more — including the respective antidepressant & adaptogenic benefits of St. John's Wort extract & Bacopa Monnieri extract. Altogether, the ingredient choices & bio-activities mix well for elderly brain health & cognition, but there are a couple issues I have with this formula:
Proprietary – the formula's proprietary status masks the individual ingredient dosages, preventing me from knowing whether or not Infimind's ingredients are enough.
Overall Dosage – plus the 727 mg set aside for these ingredients is questionable, lowering my confidence that there's even enough for each ingredient to have an effect.
Taken twice per day (two capsules per day), Infimind isn't bad, potentially providing full-day coverage on cognition & brain health. But as a cognitive enhancing nootropic supplement, it misses out on all of the big boys (e.g., citicoline, NALT, L-theanine) that would make this stack worthwhile for the more enthusiastic nootropic users. All the same, the customer reviews are generally on positive on this one.
The Pros
Infimind stacks quality herbal extracts with well-researched compounds to take on the task of alleviating age-related cognitive decline.
Depressed/anxious users may benefit from Infinimind's St. John's Wort extract, a unique addition to this brain booster supplement.
The product's standard pricing is reasonable, yet much, much cheaper if you buy through Amazon.
The Cons
Not the most powerful cognitive enhancer, focusing almost entirely on age-related cognitive decline as opposed to healthy cognitive enhancements.
The proprietary status is the most offensive feature of this supplement, obscuring the true contents of Infinimind's formula.
A questionable overall dosage of the proprietary formula decreases my confidence in this stack's bio-efficacy.
Pricing
$34.99 for 60 capsules, a 60-day supply
$0.58 per serving
Who Takes Infinimind?
Infinimind's appearance seems to target the brain-hacker crowd, yet the formula is more suitable for the elderly community. Either way, I have a hunch a lot of people take this supplement for how cheap it is.
Where to Get It
You can buy this supplement through a number of retailers, including Amazon which hacks off over half of the product's price.
Conclusion: Does Infinimind Work?
Infinimind works as a brain booster, sure. But it doesn't work unanimously — its bio-benefits seem to discriminate by age, gearing towards the older brain health enthusiasts. Having said that, it's not a bad idea to supplement these ingredients even at a younger age, and there's very little argument against it given how cheap this product is.
Me? I'm passing on Infinimind for the time being. Aside from St. John's Wort (which I have in its raw powder format), Infinimind shells out common brain health ingredients that have been put to better use by supplements that eschew the whole proprietary blend tactic. My advice: If you like Infinimind, find a similar formula that actually shows its ingredient dosages.
Final Rating
Formulation Strategy

Brainpower Benefits

Brain Health Benefits

Transparency

Quality

Value

Average