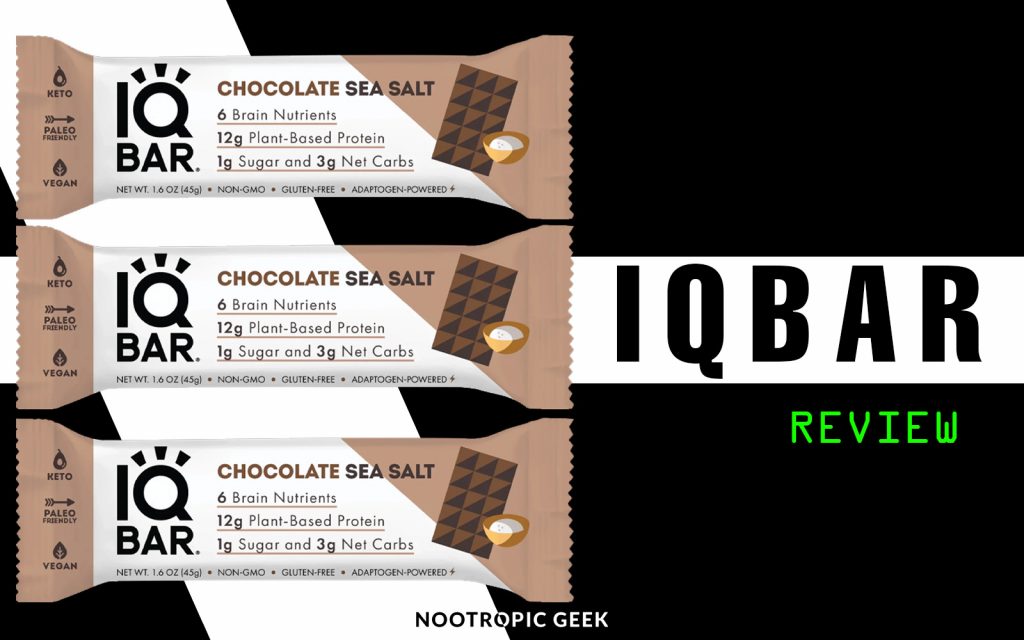 Summary: IQBAR Review
Like other brain + body bars that seem to be answering to this latest trend of "healthy" snack alternatives, IQBAR offers a handful of nootropic "brain nutrients" alongside a decent 12g plant-based protein and a low amount of net carbs (3g) that won't disrupt your ketogenic plans. As far as health bars go, IQBAR is fairly healthy (and clean and green), though its brain-boosting potential is mostly unrealized due to questionable dosages. However, IQBAR is relatively cheap compared to other bars of this category, so this is a case of "you get what you pay for." At the price, it's not a bad bargain, though this isn't my favorite brain health bar.
About IQBAR
IQBAR is a keto-friendly brain + body health bar that supplies 12g of plant (pea) protein.
The 6 brain nutrients here are omega-3, MCT, lion's mane mushroom, flavonoids, vitamin E, and choline.
While IQBAR works as a healthy, tasty protein bar, the brain health side of this bar is lacking and not quite competitive with other brain health bars that purport to have the same benefits.
All the same, IQBAR is reasonably priced, so you are getting a bargain bar at a bargain value here.
IQBAR Ingredients (Chocolate Sea Salt)

Nutrition Facts
Amount Per Serving
Total Fat
14g (18% DV)
  Saturated Fat
3g (15% DV)
  Trans Fat
0g
Cholesterol
0mg
Sodium
140mg (6% DV)
Total Carbohydrate
11g (4% DV)
  Dietary Fiber
8g (29% DV)
  Total Sugars
1g
    Includes 0g Added Sugars
(0% DV)
Protein
12g (24% DV)
Vitamin D
0.1mcg (0% DV)
Calcium
80mg (6% DV)
Iron
2.4mg (15% DV)
Potassium
200mg (4% DV)
Vitamin E
12.3mg (80% DV)
Serving Size: 1 Bar (45g)
Ingredients: Almonds, Tapioca Fiber, Plant-Based Protein Crisps (Pea Protein, Tapioca Starch), Natural Flavors, Pea Protein, Flaxseeds, Cocoa, Unsweetened Chocolate, Gum Acacia, Coconut Oil, Cocoa Butter, Water, Sunflower Lecithin, Vanilla Extract, Sea Salt, Non-GMO Steviol Glycosides, Lion's Mane, Vitamin E
Listed above are the nutrition facts of IQBAR's Chocolate Sea Salt flavor. Though there's some variation between flavors, this is the basic nutritional profile of all IQBARs, which come in the following flavors: Chocolate Sea Salt, Almond Butter Chip, Peanut Butter Chip, Toasted Coconut Chip, Banana Nut, Lemon Blueberry, Wild Blueberry, and Matcha Chai—plus a few holiday themed flavors that are currently on offer (at time of writing).
With that in mind, rather than cover all the nutrients in these bars, I'll give a breakdown on the brain nutrients highlighted on the IQBAR website.
Let's take a look.
IQBAR Review: Ingredients
Omega-3s: Everyone knows what these are by now, right? Along with the next ingredient (MCTs), omega-3s essentially function as "good" fats—the type of fats that fuel brainpower and support general cognitive function. Throughout our lives, omega-3s play a crucial role in brain development. As we get older, supplementing omega-3s becomes a smart way to support both brain and heart health. For cognition, omega-3s are suggested to promote brain-derived neurotrophic factor (BDNF) for new neuron formation.
MCTs: I start every morning with a spoonful of MCT oil (A) because I like the taste and (B) because medium-chain triglycerides work as a fast-acting source of brain energy in the absence of glucose (or carbs). Anyone familiar with ketogenesis or intermittent fasting is likely familiar with MCTs. By providing quick cognitive energy fuel, MCT supplementation is a great way to boost brainpower early and throughout the day. While IQBAR doesn't supply enough MCT here to match the brain benefits of a full-blown MCT supplement, it's a decent complement to these bars' low carb content (3g net carbs).
Lion's Mane: First things first, take a look at how low on the ingredient list Lion's Mane is placed. Second to last, right? That's enough Lion's Mane for this ingredient to really matter here. Nonetheless, this is arguably the best nootropic mushroom, given its well-documented benefits on NGF (nerve growth factor). Lion's Mane may also help you combat anxiety… again, if dosed properly. More on Lion's Mane.
Flavonoids: "Flavonoids" refers to a wide range of hydroxylated polyphenolic compounds (let's just say "antioxidants") that are known to improve blood flow to the brain, as well as synaptic plasticity. In general, they're great for reducing oxidative stress. In the case of the Nutrition Facts listed above (for Chocolate Sea Salt), the flavonoids are likely coming from the cocoa.
Vitamin E: Another well-known antioxidant, vitamin E plays a critical role in protecting the brain against free radicals. As a fat-soluble vitamin, E embeds itself with cell membranes to shield neuronal tissue against the deleterious effects of the cognitive aging process. This is definitely not a vitamin you want to be deficient in if you're at all concerned about your cognitive longevity.
Choline: Very, very important nutrient required for the formation of acetylcholine, the neurotransmitter associated with high-order cognitive process (involved in learning and memory), and of phosphatidylcholine, a structural unit within the cell membrane. Choline is a great precursor nootropic, as well as a key nutrient for healthy, smooth neuromuscular function. More on Choline.
IQBAR Review: My Experience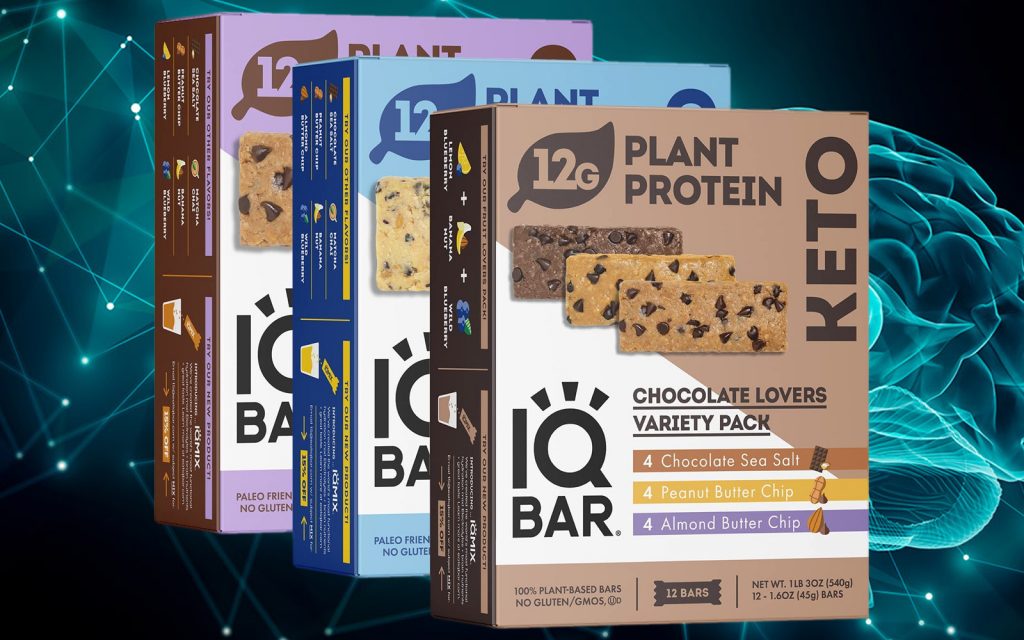 Listen, I'm not the pickiest when it comes to snack bars. Like pizza, it's difficult to muck up an energy/protein bar. (Though it does happen!) So, even before trying out IQBAR, I was confident that these bars, if nothing else, were going to at least taste pretty good.
And I was right. Per usual.
However, as much as I'd be happy to eat an IQBAR if presented one, I wouldn't say it's my favorite of the protein "brain health" bars I've recently been trying. In fact, I'd locate it somewhere on the lower end of my brain health bar ranking—not just in terms of taste and satiety but also in terms of perceived health benefits.
The main things you want with a bar like this are:
Appetite Control
Adequate Protein
Brainpower Boosts
I'll say that IQBAR handles the first two well enough: when I'm hungry but not quite ready to eat a full-blown meal (say, because I'm busy or about to work out), IQBAR does enough to satiate my appetite and tide me over until its meal time. Likewise, 12g is pretty decent for a snack bar and does help towards achieving your daily protein goals, especially if you're trying to increase your protein intake.
Yet, these aren't exactly unique benefits to IQBAR. Many other health bars do as much while also delivering on the additional purported brain health benefits associated with their more nootropic style ingredients, such as (in this case) lion's mane and MCTs.
While the omega-3s, MCTs, and flavonoids are naturally occurring in IQBAR's (truly) healthy, nutritional ingredients, I'd say they're not sufficient for me to view IQBAR as a bona fide "brain health" bar. Likewise, the lion's mane is basically sprinkled into the formula.
With that in mind, IQBAR is reasonably priced, so you're essentially getting what you pay for here. Other (superior) bars are roughly a dollar more on a price per serving basis. So, if you're content to buy a relatively lower priced health bar—that's actually healthy and good for you (not to mention safe for most diets)—IQBAR is a good choice.
The Pros
IQBAR delivers clean, green, nutritious protein bars that work great for appetite control and bumping up your daily protein intake.
$2.08 per serving is a pretty great deal, and the value only gets better if you buy IQBAR in bulk.
While it's a bit lackluster on the nootropic end, IQBAR's ingredients are brain healthy, for what it's worth.
The Cons
But yes: the nootropic side of IQBAR is lackluster.
IQBAR's reasoning for not divulging their ingredient dosages ("there is no official DV for these ingredients") is BS. Knowing the daily value of, say, lion's mane isn't a prerequisite to revealing how much lion's mane is in your product.
Pricing
$24.99 for 12 bars, a 12-day supply
$2.08 per serving
As far as protein bars go, $2.08 per serving is pretty great. It gets even better if you opt for IQBAR's Subscribe & Save 15% autoship option. There are also plenty other buying options beyond the 12-bar packs—e.g., the 7 Bar Sampler, Chocolate Lovers Bundle, Fruit Lovers Bundle, 72-Bar Custom Cases, etc.—with the price per serving ranging anywhere from $1.77 to $2.14.
Who Takes IQBAR?
Of all the brain health protein bars I've recently tried, IQBAR is one of the most dubious in terms of cognitive benefits (even if the ingredients themselves make sense for boosting brainpower). However, IQBAR is a decent protein bar with a marginal amount of carbs, making it a good nutritional snack for your keto diet or intermittent fasting regimen.
Ketogenic, vegan, and "Paleo friendly" (as IQBAR calls it) are the terms IQBAR uses to describe itself.
Where to Buy IQBAR
You can buy IQBAR through their website, on Amazon, and at various IRL retailers.
Conclusion: Does IQBAR Work?
Kind of a loaded question, since IQBAR makes several broad health claims while basically functioning as a snack. ("Does this snack work???") If this question seems absurd, I apologize: I typically review supplements, and within supplement reviews, this question makes total sense.
All the same, IQBAR does sort of offer itself as a fitness and health supplement—or at the least it's a snack with health supplement qualities—so I can somewhat assess it on that level. And, frankly, the brain health side of IQBAR is lacking. I wouldn't say it's "bad" per se, but it's not as good as other protein/energy bars that are attempting the same thing.
This likely explains IQBAR's relatively low price.
However, I can say that these are tasty bars that do function well as a flavorful source of 12g protein. If you're looking to either gain muscle or burn fat (or both), swapping unhealthy snacks with a clean protein bar like this is an excellent move. On that end, I can recommend IQBAR. Otherwise, I wouldn't expect any significant results on the cognitive end here.
Final Rating