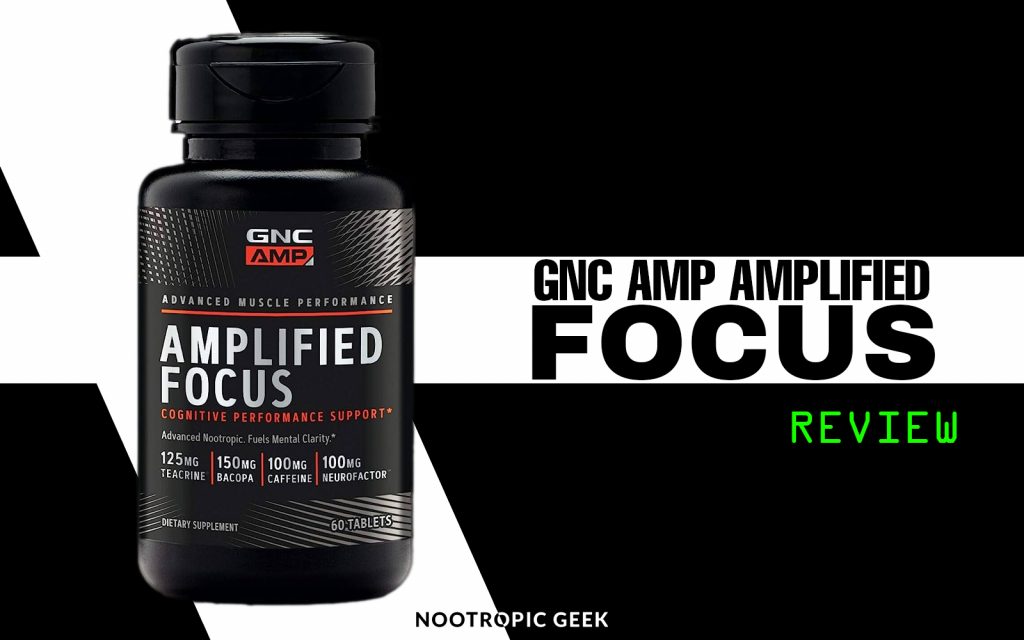 Summary: GNC AMP Amplified Focus Review
With a combined interest in physical health and cognitive performance, GNC AMP Amplified Focus sounds great on paper — not mention that this formula also sounds very GNC-y… however, in execution, this formula leaves much to desire. In other words, I wouldn't expect much performance enhancement, both body-wise and brain-wise. Though this formula does make some decent ingredient choices, you can do much better. Hit the following link to see some of my favorites:
Okay, so you don't just want better focus. You want amplified focus, which means you're probably here wondering if you want GNC AMP Amplified Focus, the Cognitive Performance Support supplement by, well… GNC. And lucky you! — that's the whole intent of this GNC AMP Amplified Focus review: to let you know if this supplement's worth the buy.
(I'm literally here to tell you whether or not you want Amplified Focus. This is all about mind control, meaning me controlling your mind.)
However, cognitive performance isn't the only target goal of this supplement GNC AMP Amplified Focus also makes physical performance health claims, sort of taking a mental-physical hybrid approach to cognitive enhancement. Which is a groovy idea …so long as it works.
My first impression suggests that GNC AMP Amplified Focus might have the cognitive aspect of this formula down, but I'm not so sure about the physical part. But, again, that's just my first impression. To get my second, third, fourth — and so on — impressions, you'll need to read my GNC AMP Amplified Focus review.
About GNC AMP Amplified Focus
GNC AMP Amplified Focus is one part Cognitive Performance Support and another part Advanced Muscle Performance.
Herbal extracts and natural stimulation, GNC AMP Amplified Focus takes a more legitimate, legal, modest approach to performance enhancement.
Mind Over Matter — this is great advice from a personal trainer or sport coach, yet I'm afraid Amplified Focus places too much emphasis on brain health over physical performance in this mental-muscle hybrid stack.
GNC AMP Amplified Focus Ingredients

Ingredients
Amount Per Serving
Choline (as Choline Bitartrate)
100 mg (18% DV)
L-Tyrosine
250 mg
Rhodiola rosea Root Extract
150 mg
Bacopa Whole Herb Extract (Bacopa monnieri)
150 mg
TeaCrine® Theacrine
125 mg
Phosphatidylserine
100 mg
NeuroFactor™ Dried Whole Coffee Fruit Concentrate (Coffea arabica)
100 mg
Caffeine Anhydrous
100 mg
Lutemax® 2020 Lutein
10 mg
Huperzine A
100 mcg
Serving Size: Two Tablets
Servings Per Container: 30
Other Ingredients: Microcrystalline Cellulose, Hydroxypropylcellulose, Croscarmellose Sodium, Hydroxypropyl Methylcellulose, Crospovidone, Silicon Dioxide, Povidone, Stearic Acid Vegetable Source, Titanium Dioxide (Mineral Whitener), Magnesium Stearate Vegetable Source, Polyethylene Glycol,Talc.
Directions: As a dietary supplement, take two tablets daily.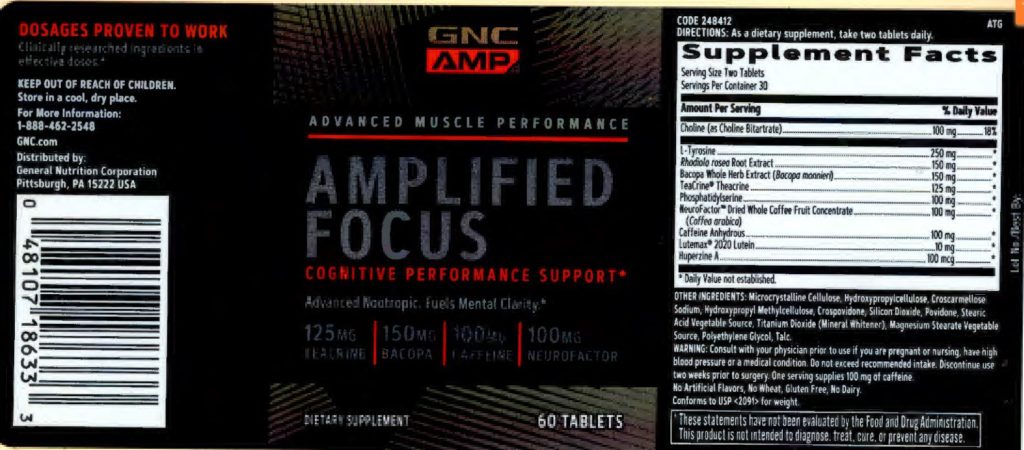 When people shop GNC, they typically look for bodybuilding supplements or other workout-related nutrition. In other words, nootropics aren't top of mind on the average GNC shopper. However, GNC AMP Amplified Focus seems to bridge the gap between mind and body with its ingredient profile.
Let's take a look.
GNC AMP Amplified Focus Review: Ingredients
Choline (as Choline Bitartrate) – Choline is great for brain health, due to its role in phosphatidylcholine and acetylcholine syntheses… however, choline bitartrate, as an ingredient, isn't great for brain health, as it has a hard time crossing the blood-brain barrier. Citicoline or alpha-GPC would've been better nootropic options. More on Choline.
L-Tyrosine – Awesome anti-stress amino acid, L-tyrosine helps sustain mood and focus under conditions of heavy stress and fatigue. Great for the sleep-deprived students and overworked athletes. More on L-Tyrosine.
Rhodiola Rosea Root Extract – Another awesome anti-fatigue ingredient, Rhodiola is a powerful herbal adaptogen for natural stress and fatigue resistance. I use this for both mental and physical performance enhancement. More on Rhodiola Rosea.
Bacopa Whole Herb Extract – This multi-purpose Ayurvedic adaptogen helps boost memory and learning while also reducing amyloid plaque buildup. Students may enjoy this herb for its memory benefits, whereas everyone may enjoy this herb's cognitive longevity boosts. More on Bacopa Monnieri.
TeaCrine® Theacrine – Supplement manufacturers often include this caffeine-like compound with caffeine for its supposed extending benefits on caffeine's effects. Essentially qualifies as a semi-stimulant. Like mild focus boosts without the jittery side effects.
Phosphatidylserine – This phospholipid plays an important role in brain cell membrane health. As a nootropic ingredient, PS helps improve memory and cognitive longevity. More on Phosphatidylserine.
NeuroFactor™ Dried Whole Coffee Fruit Concentrate – An increasingly popular coffee bean extract that uses the full phytochemical profile of coffee beans. May enhance the brain's neuroprotective resistance against free radicals, improving brain building factors such as NGF and BDNF.
Caffeine Anhydrous – You know what this is: caffeine, the world's favorite drug. This dosage (100 mg) puts it near the 8oz cup of coffee range, not an incredible amount. More on Caffeine.
Lutemax® 2020 Lutein – Taken primarily for eye and vision health, lutein is essentially an antioxidant that helps reduce oxidative free radical damage.
Huperzine A – Sourced from Chinese club moss, huperzine-A is a semi-synthetic nootropic compound that may help resist cognitive degeneration by inhibiting acetylcholinesterase, the enzyme responsible for acetylcholine breakdown. More on Huperzine-A.
GNC AMP Amplified Focus Review: Formula Analysis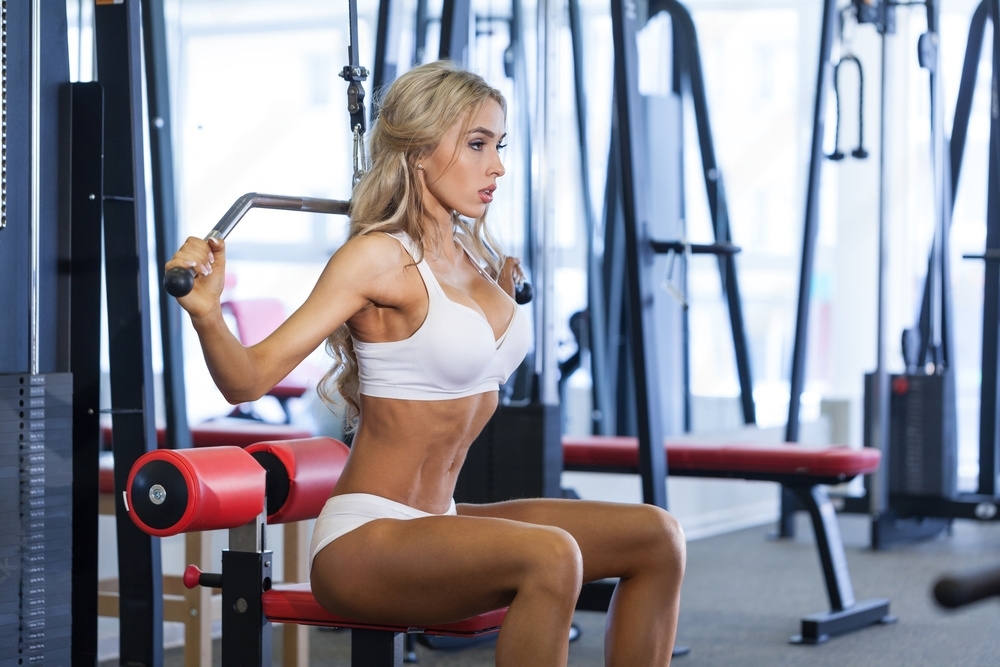 Most GNC buyers I know buy through GNC primarily for their workout supplements. So, I'm not surprised to see GNC AMP Amplified Focus placing equal emphasis on mental and muscle performance, at least in its ad copy. As a formula, however, there's not much to gain here on the muscle end.
Here are the two ingredients I'd qualify as potential "muscle performance" enhancers:
Choline Bitartrate – this does practically nothing for cognitive performance, yet it may improve the cholinergic pathways within the neuromuscular junction (the point at which nerve tissue meets muscle tissue).
Rhodiola Rosea – by regulating the release of stress hormone cortisol, a catabolic (muscle diminishing) agent, Rhodiola may help sustain an anabolic (muscle building) metabolic profile.
Rhodiola rosea is great. Yet, you may find this ingredient elsewhere — or even as a standalone ingredient to stack with a more focused nootropic brain health stack. And the remaining ingredients are pretty decent for brain health, ranging from the acute mental performance enhancers (e.g., L-tyrosine, theacrine, caffeine) to the more long-term brain health support items (e.g., bacopa, phosphatidylserine, NeuroFactor™).
So, I'd say GNC AMP Amplified Focus qualifies as a decent nootropic formula, yet struggles as a muscle performance enhancer. However, that's a judgment solely on the formula's contents. If we also factor in the delivery form of this formula, the tablets containing the formula… well, they don't look that great. Just read the "Other Ingredients" list and count how many additives go into those tablets. It's a lot.
And, generally speaking, a lot of additives usually amounts to weak ingredient absorption.
In other words, while GNC AMP Amplified Focus does showcase some impressive ingredients (and they deserve credit for transparently showcasing those ingredients without any proprietary blends), I have legitimate concerns regarding the overall quality and bio-availability of this supplement stack.
The Pros
Despite a couple hiccups, most ingredients in this nootropic stack are impressive and make sense with regards to boosting cognitive performance.
The premium, patented ingredients (TeaCrine® and NeuroFactor™) demonstrate some attention to quality control in this formula.
Even if muscle performance isn't quite there, these ingredients may help improve workout-related cognitive functions.
The Cons
But, yes, the muscle performance aspect isn't quite there. I wouldn't recommend this for boosting your exercise results.
Choline bitartrate is a weak cholinergic. A real bummer, considering the immense benefits of other cholinergics (e.g., citicoline).
The overall quality of this supplement is pretty junky. GNC has a strange attachment to additive-filled tablets.
Pricing
$49.99 for 60 tablets, a 30-day supply
$1.67 per serving
At time of writing, GNC AMP Amplified Focus is listed at the discounted price of $34.99. Other retailers also sell this product at this "discounted" price. However, if you buy through the GNC online store, you may save 10% (+ free shipping) per shipment by selecting the AUTO-DELIVER & SAVE order option.
Who Takes GNC AMP Amplified Focus?
GNC AMP Amplified Focus appeals to the bodybuilding fitness types with its descriptions of "Advanced Muscle Performance" and "Cognitive Muscle Support"; even though it's primarily a brain health supplement. As I said before, I wouldn't recommend this for exercise performance, yet it does supply some brain healthy nootropics.
Where to Buy It
You can buy GNC AMP Amplified Focus through GNC (of course), as well as other online retailers such as Amazon.
Conclusion: Does GNC AMP Amplified Focus Work?
I mean… meh, maybe? For physical performance, I suppose GNC AMP Amplified Focus has ingredients that technically work for exercise (e.g., Rhodiola). However, considering the formula's greater emphasis on brain health, as well as the supplement's overall poor quality, I wouldn't expect any significant improvements in your bench press while taking this supplement stack.
N.O. boosters, creatine, herbal adaptogen complexes — these natural performance enhancers seem better geared for greater exercise results. GNC AMP Amplified Focus, on the other hand, is too sporadic in its focus (ironically enough) for it to be all that good for any health benefit in particular. Having said that, if you have a GNC Gift Card and are limited to GNC sold products, you could do much worse than GNC AMP Amplified Focus.
Best Pre-Made Nootropic Supplements
Final Rating
Formulation Strategy

Brainpower Benefits

Brain Health Benefits

Transparency

Quality

Value