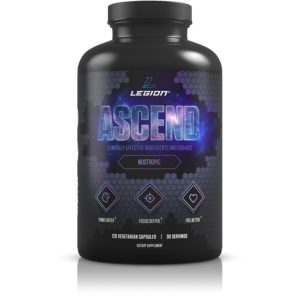 Here's the TL;DR version of my Legion Athletics ASCEND review: It's pretty damn good.
Not good in that it's all good — in that it covers all cognitive issues and brain pathways — but what ASCEND does cover, it covers very, very well. And Legion does this by taking a far too underappreciated approach to brain health: The Building Block Approach.
By focusing on the basic units of cognitive health and function, Legion Athletics ASCEND supplies a fundamentally key nootropic supplement that may work for just about anyone looking for enhanced mental performance.
But how does Legion Athletics ASCEND go about doing all of that? We'll need to read the Legion Athletics ASCEND Review to find out.
About Legion Athletics ASCEND
From Legion Athletics, ASCEND is a nootropic brain builder stack with benefit claims on focus, memory, mental speed, creativity, mood, and overall brain health.
With a healthy mix of choline donors and uridine, ASCEND delivers the fundamental building block compounds necessary for neurogenesis and neurotransmitter synthesis.
The highest dosed ingredient, Agmatine Sulfate, not only enhances N.O. pumped circulation but may also have neuroprotective advantages as well.
Legion Athletics ASCEND Ingredients

Ingredients
Amount Per Serving
Agmatine Sulfate
500 mg
Bacopa Monnieri (50% bacosides)
330 mg
Citicoline
300 mg
L-Alpha Glycerylphosphorylcholine (GPC)
300 mg
Uridine Monophosphate
250 mg
Serving Size: 4 Capsules
Servings Per Container: 30
Other Ingredients: Microcrystalline Cellulose, Magnesium Stearate, Silicon Dioxide.
Directions: To support cognitive health and performance, supplement with one serving of ASCEND every day, preferably with food. You can take a full serving all at once or split it into two equal doses taken several hours apart (we recommend that you try both ways and see which you like best).
THINK FASTER. FOCUS DEEPER. FEEL BETTER. These are the claims attached to Legion Athletics ASCEND's 120 vegetarian capsules. The manufacturers also claim to deliver "CLINICALLY EFFECTIVE INGREDIENTS AND DOSAGES", so let's check out the ingredients one-by-one to see if there's any truth to this. (Fortunately, Legion Athletics kept their stack non-proprietary, revealing their individual ingredient dosages. Noice jobe, guyys.)
Legion Athletics ASCEND Review: Ingredients
Agmatine Sulfate – This is an interesting choice on Legion Athletics part. For one, Agmatine Sulfate is typically supplemented for its N.O. pump enhancing benefits, qualifying it more so as a pre-workout agent than a nootropic. Yet, Legion Athletics impressively explains the purpose of this ingredient as a nootropic by listing a few studies that found improvements on the brain's serotonin activity and stress resistance with Agmatine supplementation.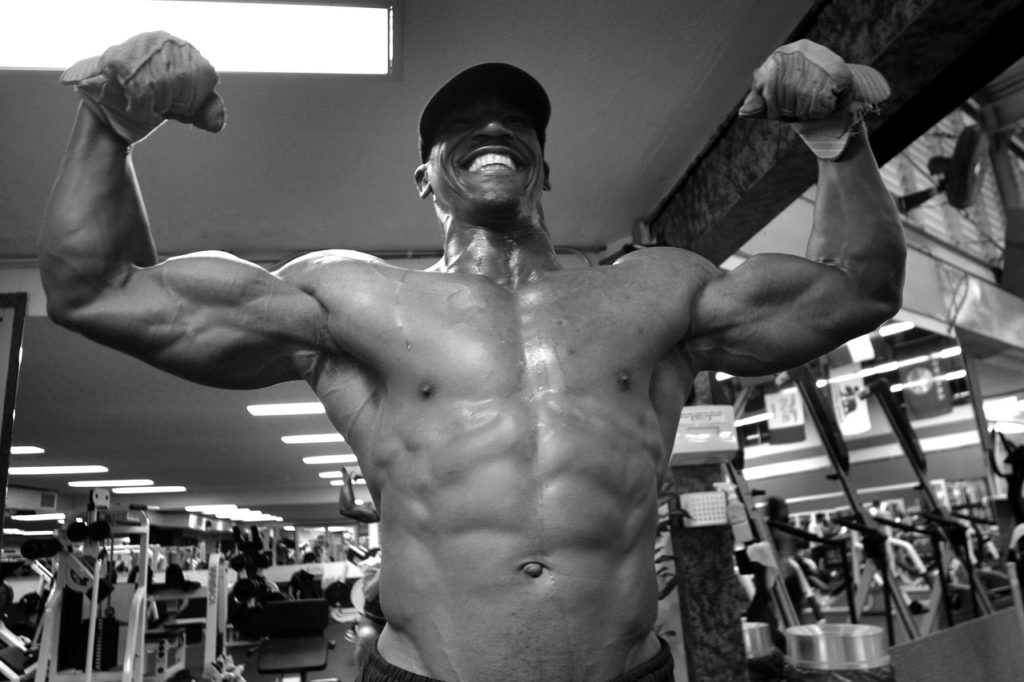 Bacopa Monnieri (50% bacosides) – I recommend this herbal adaptogen to students for its well-documented benefits on memory and learning. Legion Athletics supplies Bacopa as a potent 50% bacosides extract at a solid 330 mg per serving. More on Bacopa Monnieri.
Citicoline – CDP-Choline is one of the best nootropics in the game, delivering two key brain health compounds: 1. choline for acetylcholine production, and 2. cytidine for uridine synthesis. Together, these two brain building compounds may improve brain energy and plasticity. More on Citicoline.
L-Alpha Glycerylphosphorylcholine (GPC) – More choline, except in the form of a more choline-rich nootropic: Alpha-GPC. While I favor citicoline over alpha-GPC for the former's additional cytidine, alpha-GPC is still a valuable nootropic choline source. More on Alpha-GPC.
Uridine Monophosphate – Citicoline provides an indirect uridine source, yet Legion Athletes supplies even more uridine — 250 mg more, to be exact. Essentially, uridine assists with neuroplasticity, helping the brain regenerate neurons. More on Uridine.
Legion Athletics ASCEND Review: Brainy Building Blocks
From the get go, I have at least three positive things to say about Legion Athletics ASCEND:
Nootropic Choices – They're good.
The Dosages – They're hefty.
The Synergy – It's there.
I'll address the third point first.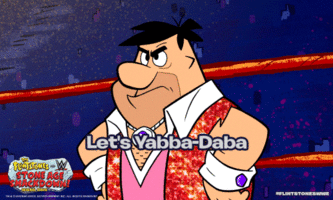 Of the ingredients, three are cholinergic brain boosters: Bacopa Monnieri, Citicoline, and Alpha-GPC. Together, these nootropics enhance the brain's cholinergic status by increasing raw choline material for acetylcholine synthesis (citicoline and alpha-GPC) and by inhibiting acetylcholinesterase, the enzyme responsible for acetylcholine breakdown (Bacopa monnieri).
As a result, ASCEND may not only increase acetylcholine levels but keep them active for longer.
The remaining two ingredients — Agmatine Sulfate and Uridine — benefit the brain via non-cholinergic pathways. While I was initially scratching my head at Agmatine, the scientific literature helps make sense of Legion's decision to include it. Likewise, uridine seemed somewhat of an odd choice, given that citicoline already supplies uridine.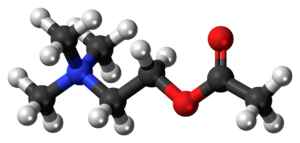 Yet, as Legion pointed out in their ad copy, more uridine isn't at all a bad idea here. Essentially, the two constituents of citicoline (choline and uridine) are further matched by alpha-GPC's choline and the uridine monophosphate.
While Legion Athletics ASCEND's narrow focus on cholinergic brain power leaves many other cognitive pathways untouched — e.g., dopamine, brainwaves, etc. — the synergistic "building block" design does set ASCEND up as an awesome "base" stack with which to build upon. A smart start for any new nootropic enthusiast looking to jump into the zany world of brain-hacking.
The Pros
Legion Athletics ASCEND takes a two-prong approach to cholinergic brain boosting with its raw choline donors and acetylcholinesterase inhibitor. The result: better memory and learning.
Agmatine Sulfate is a unique nootropic choice, yet fitting for an athlete-geared nootropic supplement. The N.O. boosts may assist with PWO circulation.
Each serving comes with four packed capsules, supplying plenty enough space for each nootropic to work. Better yet: these hefty servings are reasonably priced.
The Cons
Not the most diverse nootropic supplement I've come across. Choline status is a MAJOR cognitive concern, yet it isn't the only important brain pathway.
Sort of grasping here …but the Magnesium Stearate in the "Other Ingredients" is somewhat of a bummer, given that it may impair nutrient absorption.
Pricing
$40 for 120 capsules, a 30-day supply
$1.33 per serving
Who Takes Legion Athletics ASCEND?
As the manufacturer's name suggests, ASCEND seems particularly geared towards the more athletic communities. Essentially, fit health enthusiasts who also value clear, quick thinking, focus, memory, mood, creativity, etc., etc.
The "building block" design of this brain stack seems to deliver a fundamental nootropic product that may improve the cognitive health and function of just about anyone.
Where to Buy It
You can buy Legion Athletics ASCEND through a few retailers, including Amazon and the Legion Athletics website. GNC does include other Legion supplements… but I'm not seeing ASCEND in their online catalog. Hoh well.
Conclusion: Does Legion Athletics ASCEND Work?
Yes, Legion Athletics ASCEND works.
At least it works at boosting the brain's cholinergic pathways.
While it's not the most diverse acting nootropic supplement, falling significantly short of the universal nootropic rank, ASCEND is a powerful stack with significant brain building potential. Whereas most athletic nootropic supplements opt for a more synthetic, druggy, caffeinated approach to brainpower, ASCEND seems to operate with a bigger picture in mind: long-term mental performance.
My suggestion: Don't expect major brain boosts right away. Nootropics such as Bacopa require long-term supplementation to reach peak nootropic effect.
Give it a few weeks, see how it works, then, of course, check back here to let me know what you think. Or don't …But please do. (I'm so lonely.)
Final Rating
Formulation Strategy

Brainpower Benefits

Brain Health Benefits

Transparency

Quality

Value