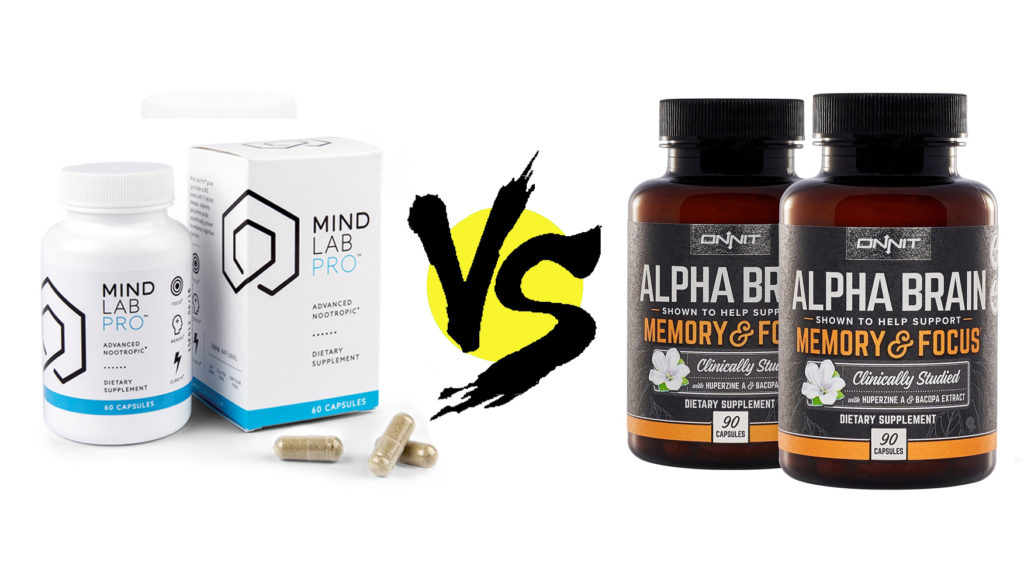 According to /r/Nootropics, the nootropic geeks are getting even geekier, eschewing the manufactured nootropic stacks for their own DIY concoctions. However, there are a few big name products that occasionally find their way on reddit threads, including: Mind Lab Pro vs. Alpha BRAIN.
While I can't fault the geeks for sticking with their own custom creations (I'm crafting my own perfect stack as well), it'd be a shame if they completely forego being a customer of these premade stacks, each backed by a wealth of positive reviews.
And it'd also be a bigger shame if the geeks chose the lesser of the two.
So, let's find out which one is the greater.
Formula Design
While these products carry completely disparate designs — Alpha BRAIN opting for the Earthy, sporty green; Mind Lab Pro sporting a pharmaceutical blue and white — their formulas aren't entirely different, sharing one key feature: No caffeine.
In this day and age, non-caffeination is a feature, whereas caffeination has effectively become a non-feature for its overuse in products that don't necessarily need it. Caffeine isn't a feature, it's a default. (I'm hoping Mind Lab Pro and Alpha BRAIN are starting a nootropic trend here by removing it.)
Non-caffeine aside, how do the actual nootropics hold up in these supplements? Let's take a look at the ingredients, then pick apart the formula designs.
Mind Lab Pro vs. Alpha BRAIN Ingredients
Mind Lab Pro Supplement Facts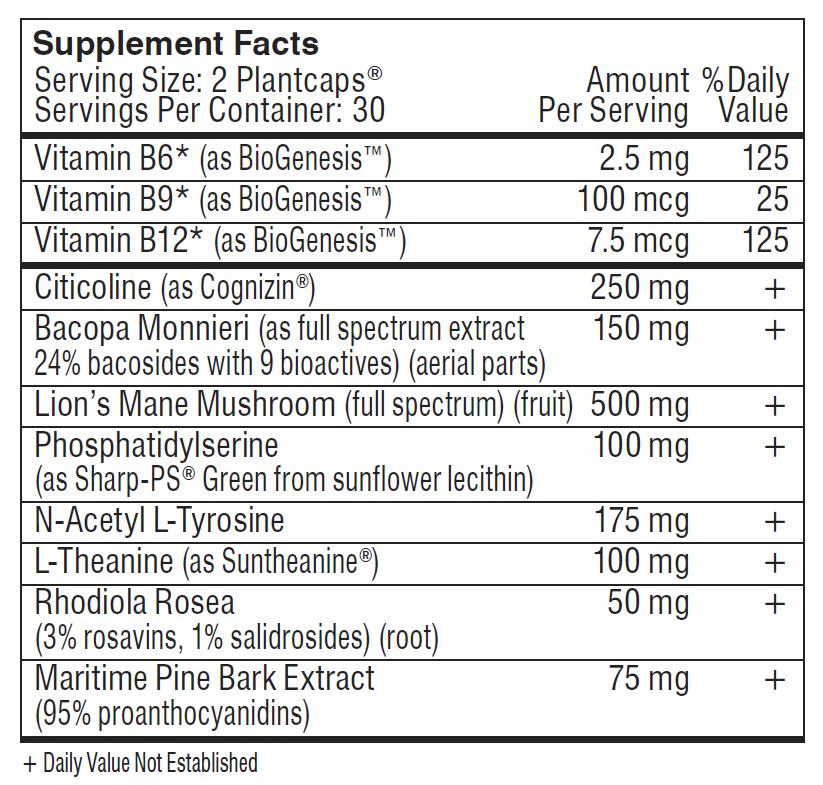 Alpha BRAIN Supplement Facts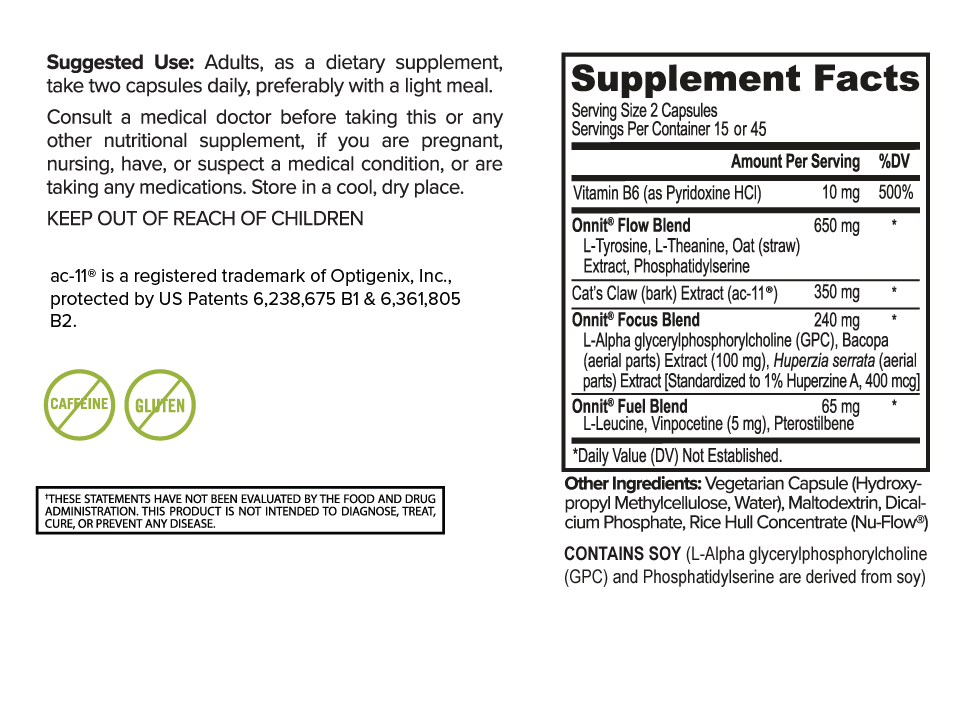 Mind Lab Pro: Full Spectrum Brainpower
Many formulas claim "total brainpower," but only Mind Lab Pro has made a convincing argument for itself. By supplying ingredients that are:
All Nootropic
All Premium Quality
Covering All Cognitive Pathways
Mind Lab Pro effectively sets itself up as a "Universal Nootropic" fit for all brain shapes and size. The synergy-within-synergy design of the ingredient roster ensures that every cog of cognition is turning, resulting in fully optimized brainpower. While some users may complain of its lack of drugs (e.g. racetams), Mind Lab Pro provides perhaps the best non-drug, all-natural formula currently on the market.
Read my in-depth review on Mind Lab Pro.
Alpha BRAIN: Alpha BRAINwave Flow
Alpha BRAIN is all about those alpha brainwaves and Alpha-GPC, supplying alpha levels of flow and focus. However, that covers only two of the purported benefits of this formula, based on the titles of its 3 proprietary blends:
Onnit Flow: As in brain flow, delivered by the promotion of alpha brain waves, which have been associated with creative free-flow thinking.
Onnit Focus: Alpha-GPC, Bacopa, and Hup-A support focus-enhancing neurotransmitter levels for enhanced cognition and memory.
Onnit Fuel: Enhanced cerebral circulation and neuroprotective antioxidants (plus a strange addition of Leucine).
And last but not least is ac-11 Cat's Claw, Onnit's special branded extract of Cat's Claw, an herb touted as a nootropic (it's not really) that gets most of its power from its anti-inflammatory, antioxidant components.
Read my in-depth review on Alpha BRAIN.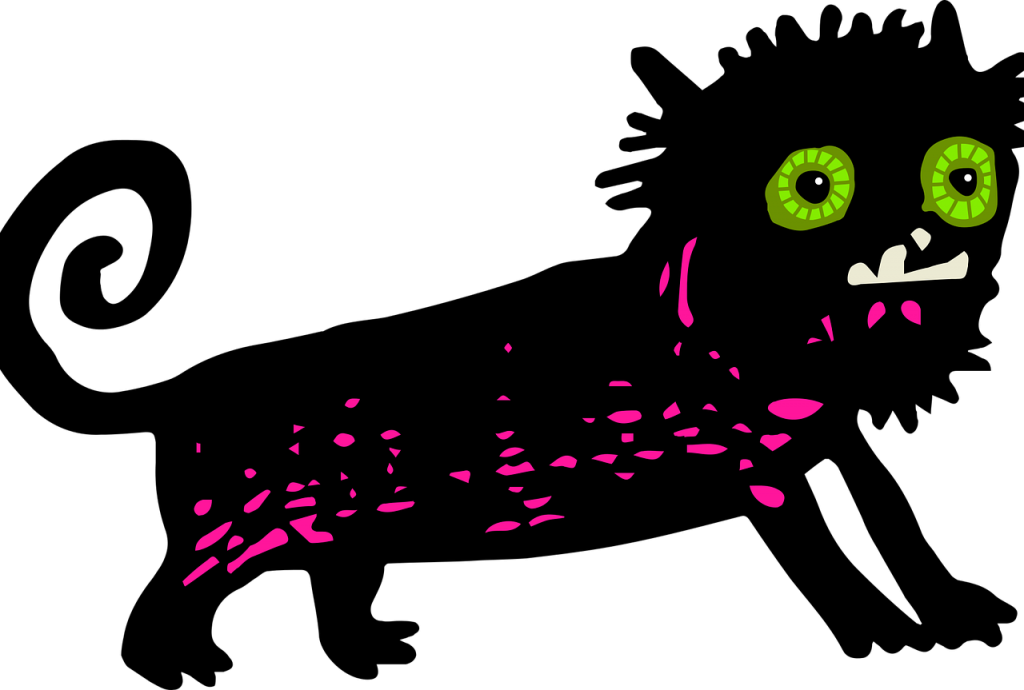 Unique Features
There are plenty of ingredients shared by these formulas: Vitamin B6, L-Tyrosine, L-Theanine, Phosphatidylserine, and Bacopa extract. Yet, it's the quality differences in these ingredients as well as the remaining ingredients unique to each supplement that make all the difference.
Mind Lab Pro
B Vitamins. Alpha BRAIN has pyridoxine HCl form of B6, whereas Mind Lab Pro supplies the potent, premium, patented BioGenesis™ forms of B vitamins.
Cognizin® Citicoline. While Alpha-GPC has a higher choline concentration, Cognizin branded Citicoline supplies both choline and cytidine, a precursor to nootropic uridine.
Bacopa (std.) extract. Both products have Bacopa, but only Mind Lab Pro demonstrates having this potent extract standardized to 9 bioactives.
Lion's Mane Mushroom. The Lion's Mane Mushroom is an exciting nootropic for its neuroregenerative powers via NGF stimulation.
Sharp-PS® Phosphatidylserine. Both products have PS, but only Mind Lab Pro demonstrates having this Sharp-PS sunflower-derived PS.
N-Acetyl-L-Tyrosine. Both products have L-Tyrosine, but only Mind Lab Pro demonstrates having this "active" NALT form.
Suntheanine® L-Theanine. Both products have L-Theanine, but only Mind Lab Pro demonstrates having this Suntheanine® brand of the amino.
Rhodiola (std.) extract. Rhodiola Rosea is a powerful adaptogenic herb, delivered by Mind Lab Pro in a potent standardized extract.
Alpha BRAIN
ac-11® Cat's Claw extract. Only Onnit supplies this particular extract of Cat's Claw, potentially giving their products an edge on the market.
Alpha-GPC. As a choline source Alpha-GPC is one of the better options, operating as a precursor to neurotransmitter acetylcholine.
Oat Straw extract. Similar to L-Theanine, Oat Straw extract promotes alpha brainwaves, but with a particular emphasis on older cognition.
Huperzine A. Hup-A is a smart addition to any formula for its tiny dosage requirements, enacting potent improvements on acetylcholine.
Vinpocetine. This semi-synthetic also requires a tiny dosage to work, significantly increasing cerebral circulation.
Pterostilbene. A potent resveratrol-like antioxidant with significant neuroprotective potential.
Potency & Quality
As you may tell from the "Unique Features" section, the balance of potency and quality between these supplements is a little lopsided in one direction. This is due to:
Mind Lab Pro's across-the-board premium quality.
Alpha BRAIN dropping the ball on a few ingredients.
Whereas Mind Lab Pro provides standardized extracts, Alpha BRAIN provides only extracts. Likewise, whereas Mind Lab Pro provides branded nootropics, Alpha BRAIN doesn't–with exception to ac-11, which is more neuroprotector than cognitive enhancer. (Not that neuroprotection is a bad thing.)

Protect your neuros.
On that note, Alpha BRAIN gets enough right to hold its own against Mind Lab Pro, warranting its high sales count and brand recognition. Yet, even if Alpha BRAIN was able to match MLP's potency and quality, it'd still have a quantity issue due to its use of dosage masking proprietary blends.
Not a good look for an otherwise impressive brand.
To build your confidence in Alpha BRAIN's hidden dosages, I recommend Alpha BRAIN Instant, which increases the milligrams (effectively earning it a spot beneath Mind Lab Pro on my 2017 Best Supplements List — but not 2018).
Value: Mind Lab Pro vs. Alpha BRAIN

Price
Servings
Price Per Serving
Mind Lab Pro
$65.00
30
$2.17
Alpha BRAIN
$32.95
15
$2.20
Mind Lab Pro or Alpha BRAIN: Which is better?
Mind Lab Pro is Potent, Quality Brainpower
When it comes to potency, quality, and ingredient choices, Mind Lab Pro is unmatched. Every item in their product seems chosen for a reason (the Mind Lab Pro website actually details these reasons), all biopathways leading to the ultimate goal of enhanced brainpower. This is an umbrella term for a number of cognitive functions, but in Mind Lab Pro's case it's certainly not a misnomer.
Alpha BRAIN is Flow, Focus, and Fuel
The proprietary status of Alpha BRAIN's blends might be a bummer, but their contents is not. Like Mind Lab Pro, Alpha BRAIN knows what's good in the world of nootropics, and doesn't shy from explaining the role of its ingredients on the Onnit website either. Additionally, Onnit took the extra risk of putting their product to the clinical test, a feat rarely seen in the world of manufactured supplements, so props to Onnit for that.
My Recommendation
I can't fault anyone for going in either direction here. Both products deliver well-rounded formulas that nail the brain benefits claimed in their advertising. On that note, Mind Lab Pro claims more benefits, thus nailing more benefits than Alpha BRAIN.
As such, I'm sticking with my ol' pal Mind Lab Pro in the finale of this comparison review.
Had the contender against Mind Lab Pro been Alpha BRAIN Instant rather than its vanilla predecessor, than the race would've been a little closer. Yet, even then: The Alpha BRAIN formula seems to work for some, whereas Mind Lab Pro is designed for the many.
It's simple math.
Mind Lab Pro > Alpha BRAIN
If you you'd like to learn more about Mind Lab Pro and other information on Mind Lab Pro's ingredients, hit the following link: Click here to learn more about Mind Lab Pro.