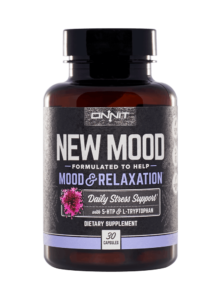 New MOOD isn't simply a mood and relaxation "Stress Support" supplement. It's a shut the hell up, stop worrying about it, and go to sleep! mood and relaxation sleep aid stack. Because for the get-up-and-go types, sometimes it requires aggressive relaxation to withstand an aggressively active mind.
Motivation can be a double-edged sword. Certainly it's great to be motivated. Yet, if you're unable to also chill TF out every once in awhile, then you're on the fast lane to brain burnout — and that's not a fun place to be.
But does New MOOD take too aggressive of a "sleep enhancement" approach, leaving you feeling foggy and groggy the next morning? Does it even work? Let's read the New MOOD review to find out.
About New MOOD
By Onnit, the makers of Alpha BRAIN, New MOOD is a Mood & Relaxation sleep aid supplement that helps with nighttime relaxation for daytime stress support.
New MOOD particularly focuses on the neurochemical pathways to better mood and relaxation, helping boosting serotonergic activity with natural compounds and herbal extracts.
The herbal goods are contained with the Onnit Tranquility Blend, which, unfortunately, is a proprietary blend, thus hiding the herbal extracts' individual ingredient dosages.
New MOOD Ingredients

Ingredients
Amount Per Serving
Niacin (as Inositol Hexanicotinate)
30 mg (150% DV)
Vitamin B6 (as Pyridoxine HCl)
20 mg (1000% DV)
Magnesium (as Magnesium Bisglycinate Chelate) (TRAACS®)
40 mg (10% DV)
Onnit Tranquility Blend™
450 mg
Valerian (root) Extract, Chamomile (flower) Extract, Lemon Balm (aerial parts) Extract, Jujube (seed) Extract
L-Tryptophan
400 mg
5-Hydroxytryptophan (HTP)
150 mg
Inositol (as Inositol Hexanicotinate)
12 mg
Serving Size: 2 Capsules
Servings Per Container: 15 or 30
Other Ingredients: Vegetarian Capsule (Cellulose, Water), Maltodextrin, Organic Rice Hull Concentrate (Nu-Flow®)
Directions: Adults, as a dietary supplement, take two capsules in the evening prior to sleep. A serving of two capsules may be taken during the day for occasional stress support. Do not exceed six capsules in any 24-hour period.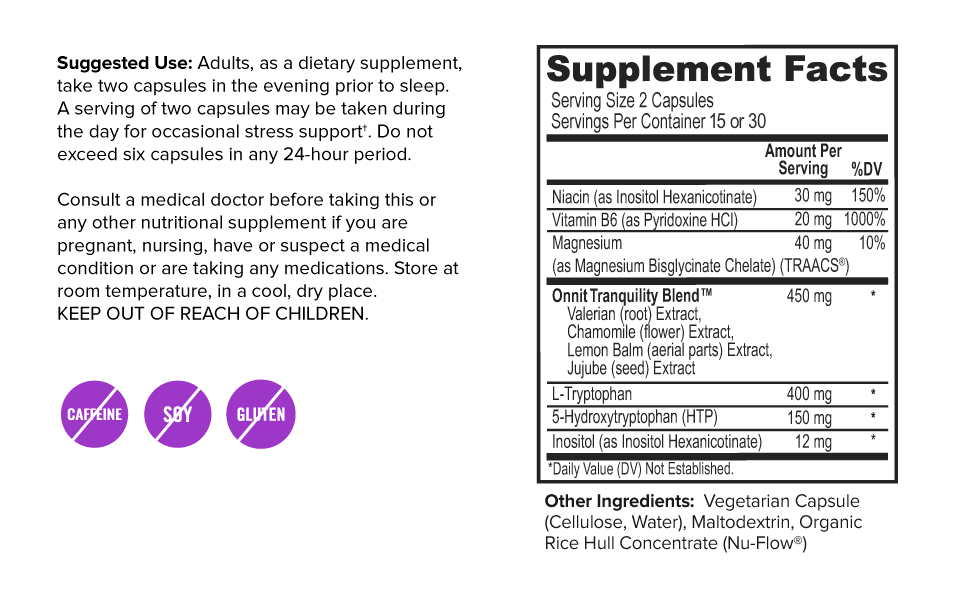 Brain chemical mood boosters and sleep enhancing herbal extract. Not a bad mixture for feel-good sleep drifting. But how do the ingredients rank individually on a dosage and quality basis? Keep reading to find out.
New MOOD Review: Ingredients
There are several pathways to better mood. New MOOD takes a more serotonergic and dopaminergic brain chemical route, starting with a couple blues-busting B vitamins and mental mineral magnesium:
Niacin – supplied in inositol hexanicotinate, doubling as a niacin entry and inositol entry (as I'll cover below). Decent dosage and form.
Vitamin B6 – okay form (P-5-P is better) and adequate dosage; B6 assists with neurochemical conversion processes related to mood.
Magnesium – athletes in particular may benefit by magnesium supplementation, due to the loss of Mg via sweat. Healthy Mg levels contributes to healthy sleep and all-around better mental and physical performance.
Aside from the intro vitamins and mineral, New MOOD stacks a few more brain chemical boosting ingredients, including several sleepy-time herbal extracts in the stack's Onnit Tranquility Blend (a proprietary blend, which sort of sucks).
L-Tryptophan – a reliable sleep booster that converts to serotonin and melatonin for better mood and sleep. The somewhat lengthy conversion process may help engage better mood throughout the next day, if supplemented at night.
5-Hydroxytryptophan (HTP) – as a closer precursor to serotonin and melatonin, 5-HTP seems to be a more powerful serotonergic that L-tryptophan, effecting more immediate mood and relaxation boosts. Take with caution, if you're already on prescription pharmaceutical antidepressant drugs. More on 5-HTP.
Inositol (as Inositol Hexanicotinate) – in high dosages, ranging in the 10+ grams range, inositol seems to possess anxiolytic (anti-anxiety) benefits. However, 12 mg is a far cry away from the observed beneficial dosage for mood boosting.
Onnit Tranquility Blend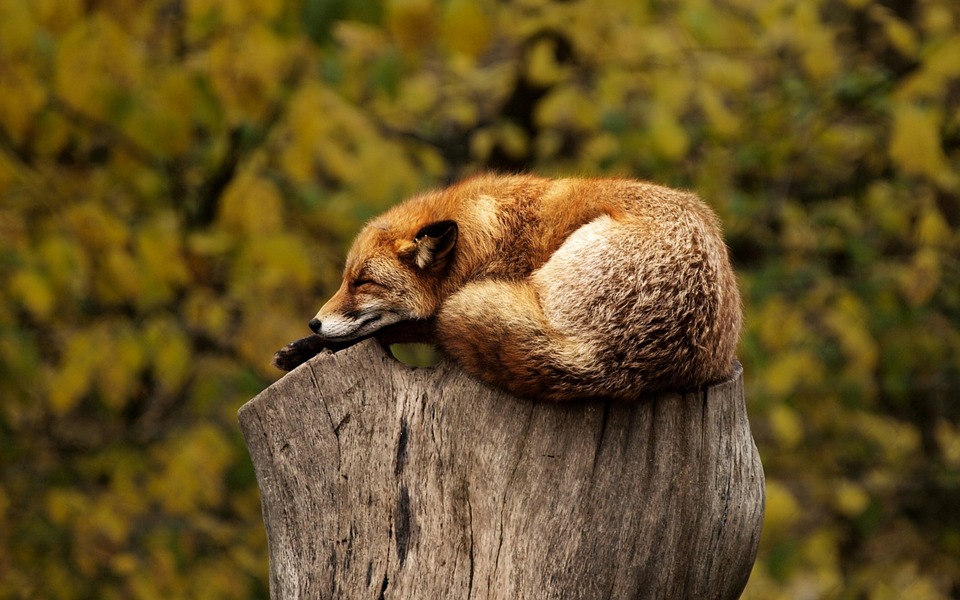 Valerian Extract – this traditional sleep enhancing herb seems to naturally induce better sleep and mood by activating GABAergic pathways (GABA being a relaxant brain chemical) and by protecting against cell death in dopaminergic cells. More on Valerian.
Chamomile Extract – another legendary, natural sleep booster, chamomile seems particularly preferred by bodybuilders due to the plant's potential muscle relaxing benefits.
Lemon Balm Extract – traditionally used to counter the negative effects of stress, lemon balm extract remains a popular, powerful anxiolytic herbal ingredient.
Jujube Extract – popular in Traditional Chinese Medicine, jujube seems to possess anxiety-reducing and sleep-enhancing cognitive benefits.
New MOOD Review: Happy Sleep-Time Brain Chemicals
Neurotransmitters for relaxation — that seems to be the name of the game with Onnit's New MOOD, a daily stress support formula that perhaps may be better defined as a sleep aid supplement. Although, what often gets in the way of good, healthy sleep? Anxiety, stress, worry — i.e., poor mood factors.
Essentially, New MOOD removes the tossing-and-turning "worry" elements involved with casual, common insomnia. It's somewhat a paradox for the hardworker: passionate people who really care about their work may struggle to get to sleep as their workday never feels finished. Yet, their workday may be massively improved simply by getting better sleep. New MOOD seems to have these hardworker types in mind, offering a mood-boosting sleep aid supplement that shuts down the "Yea but I could still do more!" fervor of the overactive brain.
I certainly fall in this category of self-destructive thinking — the more I work, the more I feel I need to work. I started taking Kava for this exact reason, as it's a powerful anxiety reducer that helps me sleep. New MOOD hits the same tension-releasing notes for feel-good relaxation.
Really, it's not too hard to mess up a sleep aid supplement, as we have a pretty good idea of what works for better sleep. However, what's particularly impressive about New MOOD is the stack's emphasis on better mood. Sleep is one thing. Sedatives put people to sleep in ways that may actually impair cognition. New MOOD, on the other hand, lulls the brain while balancing your motivational brain chemicals for better daytime work and activity the following day.
Only issue I see with this ingredient: the proprietary blend. Hard to determine the full potential of this product when it hides its individual ingredient dosages. This is a recurring mild annoyance with Onnit supplements. And mild annoyances put me in a bad mood!
The Pros
New MOOD takes the natural neurochemical pathway to better mood and sleep, easing the mind to relax without disrupting healthy cognitive workflow.
For the most part, New MOOD doesn't supply low quality or ineffective ingredients, such as the (for some reason) popular GABA, which doesn't do much for sleep as an oral supplement.
Vitamin B6 pairs well with the serotonergic ingredients, assisting their conversion processes towards serotonin and melatonin.
The Cons
The proprietary status of the Onnit Tranquility Blend is annoying, as I'd like to see the individual dosages of these herbal extracts.
New MOOD is slightly on the more expensive side, given that nootropic sleep assistance isn't that difficult to come by.
Pricing
30ct Bottle
$29.95 for 30 capsules, a 15-day supply
$2.00 per serving
60ct Bottle
$59.90 for 60 capsules, a 30-day supply
$2.00 per serving
Essentially, both the 30ct and 60 ct bottles are priced evenly, at least on a price per serving basis. For either bottle price, if you buy New MOOD through the Onnit website, you're given a Subscribe & Save 15% order option. Not a bad idea, if you plan on taking this supplement for the long run.
Who Takes New MOOD?
New MOOD seems to target the typical athletic, hardworking Onnit crowd. It's a mood-boosting sleep enhancer for the go-getter worker and athlete who might be struggling with shutting the brain off at night as they anxiously enumerate the remaining tasks they'd like to accomplish.
Where to Buy It
You can buy New MOOD through the Onnit online store, as well as on Amazon, which surprisingly has a more expensive listing than that of the Onnit store (at time of writing).
Conclusion: Does New MOOD Work?
Yes, New MOOD works — and, for the most part, the customer reviews agree. Onnit has concocted a smart mix of serotonergic sleep enhancers that seem to also limit the negative effects of stress and anxiety towards better daytime mood. And thus better daytime work productivity.
Anxiety can be a beezy, greatly and negatively impacting workflow, and so I'm always grateful to review a mood boosting product such as New MOOD. Because it focuses on sleepytime relaxation, New MOOD can't cheaply rely on caffeine for its feel-goods, as many inferior supplements do. Instead, what you have here is a decent quality, smartly stacked sleep aid supplement that benefits brain health and function in the long run. However, if you want something more invigorating for daytime activity, I recommend checking out my Best Nootropic Supplements of 2018 list.
Final Rating
Formulation Strategy

Brainpower Benefits

Brain Health Benefits

Transparency

Quality

Value