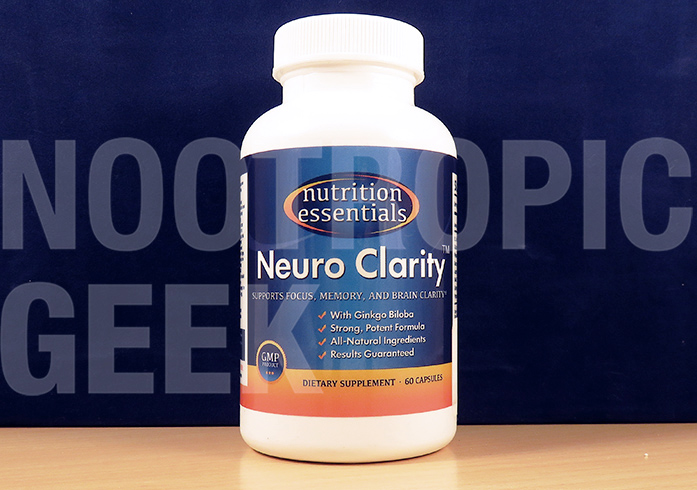 Ever heard of Nutrition Essentials?
Neither have I.
Until I took a look at a Nutrition Essentials' nootropic formula that (SPOILER ALERT) I thought looked purdy damn good. The nootropic stack of this review: Neuro Clarity.
Yet, here's the things about nootropics formulated by "no name" manufacturers (no offense, Nutrition Essentials): They can have the best ingredients in the world, but a formula design shot up with so many question marks and so much BS that it's any wonder how the formulators sleep at night.
Let's see how Neuro Clarity (and, in part, Nutrition Essentials) ranks in this review.
About Nutrition Essentials Neuro Clarity
Manufactured by Nutrition Essentials, Neuro Clarity is a memory & focus enhancer that operates primarily by eliminating stress & anxiety.
In terms of dosages, St. John's Wort is the leading ingredient. Therefore, users on anti-depressants should approach this product with caution.
Neuro Clarity does us all a favor by eschewing the whole proprietary blend trend, instead opting for formula transparency–otherwise known as… clarity!
Nutrition Essentials Neuro Clarity Ingredients

Ingredients
Amount Per Serving
 St. John's Wort (as 3% extract)
250 mg
 Glutamine (as L-glutamine hydrochloride)
150 mg
 Phosphatidylserine Complex
125 mg
 Bacopa Monnieri (20% bacosides)
100 mg
 Acetyl-L-Carnitine
50 mg
 DMAE Bitartrate
50 mg
 Ginkgo Biloba (as 24% extract)
50 mg
 Vinpocetine
2 mg
Serving Size: 1 Capsule
Servings Per Container: 60
Other Ingredients: Gelatin, Magnesium Stearate and Dicalcium Phosphate
Directions: As a dietary supplement, adults take one capsule per day. Do not exceed 2 capsules per day.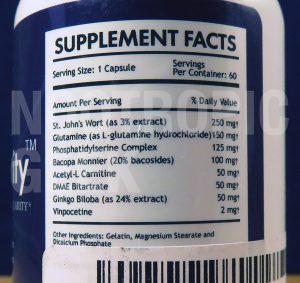 From the get-go, Neuro Clarity reads like one of those hippie herbal feel-good formulas. And frankly, I can get down with that. But first, let's down on the ingredient mini reviews: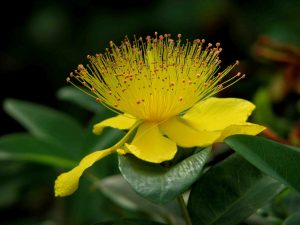 St. John's Wort (as 3% extract) – Quality, potent St. John's Wort extract, which is believed to offer significant anti-depressant effects. So much that supplementing St. John's Wort while on pharmaceutical anti-depressants is generally inadvisable. More on St. John's Wort.
Glutamine (as L-glutamine hydrochloride) – i.e. "Brain fuel" for providing material for glutamic acid & neurotransmitter GABA, compounds involved in the regulation of mood & memory. More on Glutamine.
Phosphatidylserine Complex – One of the best nootropics available, so good that the FDA grudgingly released a health claim stating its value for brain health. Clears brain fog & enhanced mental power. More on Phosphatidylserine.
Bacopa Monnieri (20% bacosides) – Powerful, potent extract of an awesome adaptogen nootropic. Long-term bacopa consumption may improve measures on learning & memory, making it the ideal "Student's Herb." More on Bacopa.
Acetyl-L-Carnitine – This ALCAR form of L-Carnitine is the way to go for brain health due to its ability to cross the blood-brain barrier. For most users, it doesn't do much, but for ze elderly folk, it may support mitochondrial functioning in the brain–in effect, increasing brainpower. More on ALCAR.
DMAE Bitartrate – Major multipurpose nootropic compound for its abilities to boost neurotransmitter acetylcholine, optimize neuron membranes, & settle agitated Theta brainwaves. More on DMAE.
Ginkgo Biloba (as 24% extract) – Quality Ginkgo extract, which has been shown to enhance elderly cognition through improved cerebral circulation–however, all ages may benefit from its bio-effects on memory & attention. More on Ginkgo Biloba.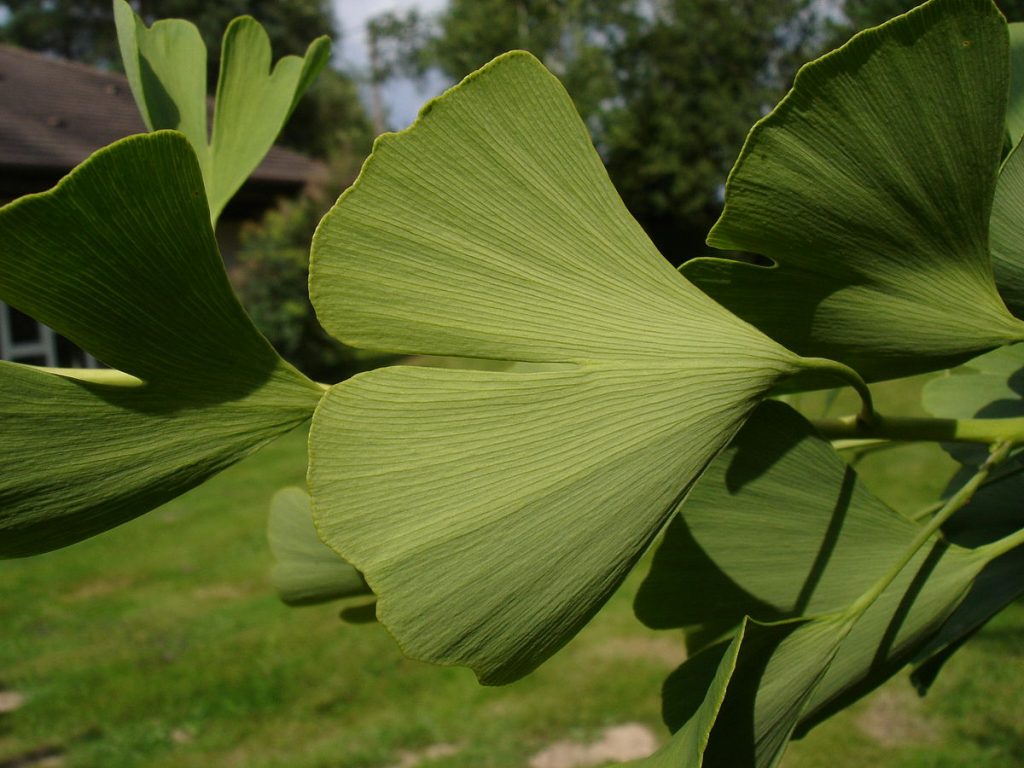 Vinpocetine – This semi-synthetic compound accomplishes plenty of nootropic bio-actions in small dosages. Its antioxidant & anti-inflammatory benefits help increase cerebral circulation & brainpower. More on Vinpocetine.
Nutrition Essentials Neuro Clarity: Turning Smiles into a Lifestyle
I recently read the phrase "Turning smiles into a lifestyle" and I figured I'd save it in my thought-bank to plagiarize later for one of these nootropic reviews. Considering that "recently" here actually means "15 minutes ago," this is a quick thought-bank deposit & withdrawal.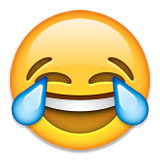 But it's too good to pass up here, especially with Neuro Clarity's emphasis on mood boosts.
The leading ingredient in this formula, St. John's Wort, is one of the most popular natural anti-depressants, powerful enough that it's actually recommended against if you're already taking anti-depressants.
Yet, the primary intent of this stack isn't to boost mood. Decreasing stress, anxiety, & depression are only a few of the pathways taken by this formula towards its ultimate goal: Supporting mental clarity.
The remaining ingredients seem to take a more direct approach to this through a number of bio-mechanisms, including:
Neurotransmitter support
Optimized brain cell membranes
Cerebral circulation enhancement
Antioxidant & anti-inflammatory protection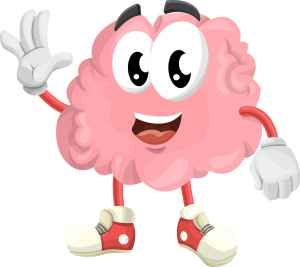 Given the range of bio-benefits, Neuro Clarity is sure to enhance some aspect of cognition & mental power–however, the dosages aren't exactly great. Plus, truth be told, when you look at many other brain health supplements, their formulas are nearly identical to this one. So question of "value" here is worth considering, especially if you can find this same formula for a cheaper price (and you likely can).
All in all, some students & workers may benefit from Neuro Clarity by supplementing it long-term, but ye olden folks are likely to experience to most action with this formula.
The Pros
Neuro Clarity mixes a diverse range of ingredients for a variety of brain benefits that help support mood & cognition for long-&-short time frames.
The label is non-proprietary, allowing you to actually see the ingredient dosages.
The Cons
Users on anti-depressants may require a recommendation by a physician before consuming Neuro Clarity's St. John's Wort content.
Gelatin is animal byproduct. Also, the veggie sourced "Other Ingredient" Magnesium Stearate is known to decrease nutrient absorption.
This formula isn't exactly unique nor sufficiently dosed.
Pricing
$24.99 for 60 capsules, a 30-to-60-day supply
$0.42 per serving
Who Takes Nutrition Essentials Neuro Clarity?
While I believe that men & women of all ages may benefit from Neuro Clarity, it seems to work best for the more maturely aged consumer. These ingredients generally feel-good, but actually optimize brain health and, consequently, cognition in the latter end of age-related cognitive decline.
Where to Buy It
You can buy Nutrition Essentials Neuro Clarity through Amazon.
Conclusion: Does Nutrition Essentials Neuro Clarity Work?
Nutrition Essentials sides with common, research-backed ingredients to supply Neuro Clarity's boosts in memory, brainpower, & cognition. For many, I'm confident that the stack will work. For many others, I wouldn't be surprised if Neuro Clarity does little to nothing.
Personally, I've had similar experience with St. John's Wort: Some times in my life, certain batches work. Other times, it does nothing.
I imagine that Neuro Clarity only increases in value the older you get, so I wouldn't give up on these ingredients if they don't pass the test for you now. If you feel like a boost in mood & memory may help clear your brain fog or get you out of a long mental rut, you can certainly try Neuro Clarity… or you can more confidently choose from one of the nootropic supplements listed on my Best Nootropic Supplements to Buy in 2019 list: link here.
Final Rating
Formulation Strategy

Brainpower Benefits

Brain Health Benefits

Transparency

Quality

Value