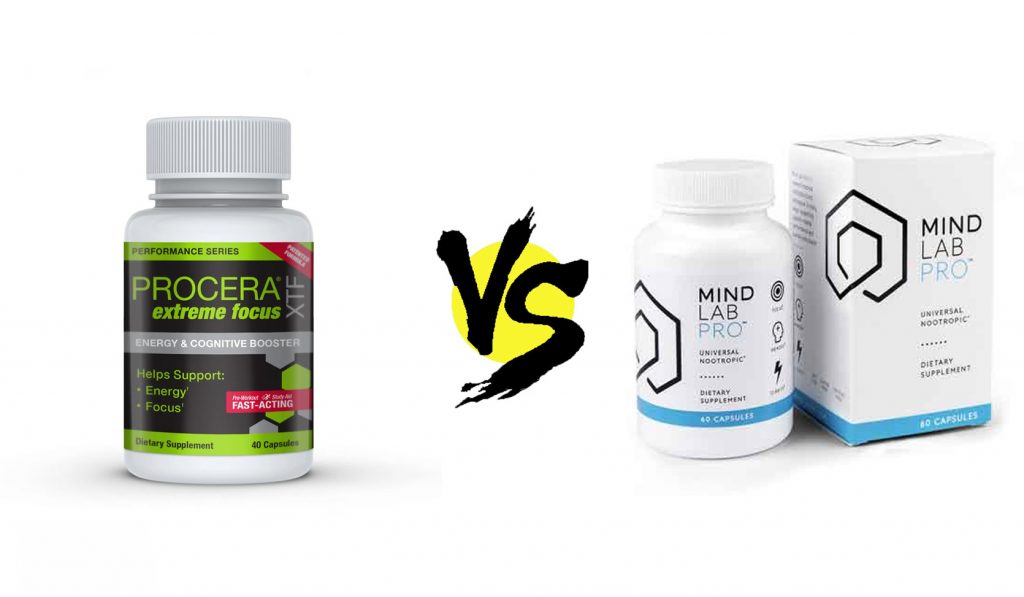 Summary: Procera XTF vs. Mind Lab Pro
Should you go the caffeinated route with Procera XTF or the all-natural nootropic direction with Mind Lab Pro? While both of these formulas have their unique advantages, the upsides of Mind Lab Pro far outweigh those of Procera XTF, which is, at the end of the day, a pretty shoddy formula. You'll get much more mileage out of Mind Lab Pro's finely crafted synergistic formula, which you can also stack with your morning coffee for a complementary caffeine + L-theanine boost. Procera XTF, on the other hand? Nah. There are certainly better nootropics you can choose over Procera, most notably in this case: Mind Lab Pro.
Want some?
Get the Best Deal on Mind Lab Pro here.
Formula Design
Two hugely popular nootropic stacks — one caffeinated, the other stim-free. Before determining which has the better overall formula design, let's take a look under the hood at each product's Supplement Facts:
Procera XTF vs. Mind Lab Pro: Ingredients
Procera XTF Supplement Facts

Ingredients
Amount Per Serving
Vitamin B3 (as Niacin 50%, Niacinamide 50%)
25 mg (125% DV)
Vitamin B6 (as Pyridoxal 5-Phosphate)
25 mg (1250% DV)
Pantothenic Acid (as Calcium D-Pantothenate)
25 mg (250% DV)
Procera Cognitive Blend
757 mg
Acetyl-L-Carnitine HCL, Ginkgo biloba (leaf) extract (standardized to 24% flavone glycosides, 6% terpene lactones), Huperzine A (from Huperzia serrata) (whole plant, aerial parts)
Extreme Focus Blend
346 mg
Rhodiola rosea (root) (3% rosavins & 1% salidrosides), green tea powder (leaf) (50% caffeine), green coffee extract (bean) and guarana (seed) (3-4% caffeine)
Mind Lab Pro Supplement Facts

Ingredients
Amount Per Serving
Vitamin B6* (as NutriGenesis™)
2.5 mg (125% DV)
Vitamin B9* (as NutriGenesis™)
100 mcg (25% DV)
Vitamin B12* (as NutriGenesis™)
7.5 mcg (125% DV)
Citicoline (as Cognizin®)
250 mg
Bacopa monnieri (as full spectrum extract 24% bacosides with 9 bioactives) (aerial parts)
150 mg
Lion's Mane Mushroom (full spectrum) (fruit)
500 mg
Phosphatidylserine (as Sharp-PS® Green from sunflower lecithin)
100 mg
N-Acetyl-L-Tyrosine
175 mg
L-Theanine (as Suntheanine®)
100 mg
Rhodiola Rosea (3% rosavins and 1% salidroside) (root)
50 mg
Maritime Pine Bark Extract (95% proanthocyanidins)
75 mg
Procera XTF Review: Formula Analysis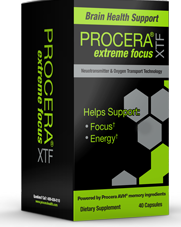 As the "extreme" (read: caffeinated) version of the uber-popular Procera formula, Procera XTF provides more of a focus on acutely enhancing brainpower — energy, focus, attention — more so than Procera AVH. However, having said that, the Procera AVH formula is nestled away as a "proprietary blend" within Procera XTF's formula design, though the AVH formula has been slightly modified (with vinpocetine being replaced by Ginkgo biloba).
Remember: AVH stands for ALCAR (acetyl-L-carnitine), vinpocetine, and huperzine-A — three great ingredients for healthy brain bioenergetics and memory performance — but with vinpocetine being swapped with Ginkgo, another brain-healthy circulation-booster, I feel like Procera XTF has a slight advantage over the standard Procera AVH here. Additionally, Procera XTF's "Extreme Focus Blend" provides more nootropic favorites, namely Rhodiola rosea (perhaps my favorite performance-enhancing herbal adaptogen) and green tea extract — granted, the green tea extract is mainly used here as a source of caffeine.
All in all, Procera XTF isn't a bad formula… yet, I do need to dock some points off here for Procera XTF hiding its formula beneath a couple proprietary blends, which obscure the individual ingredient dosages (this is never good for the consumer). Likewise, the way that Procera XTF qualifies the "extreme" factor here with — wait for it — caffeine is a bit of a letdown. Generally speaking, caffeine is somewhat of a crutch in the nootropic game, as its feel-good stimulatory effects are often used to hide a formula's inefficacy. Read my in-depth Procera XTF review here.
Mind Lab Pro Review: Formula Analysis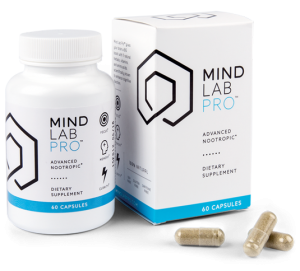 Conversely, Mind Lab Pro, one of the gold standard nootropic formulas, is completely devoid of caffeine (or any other stimulants), as this formula solely delivers all-natural stim-free natural nootropic brainpower. In other words, when you feel Mind Lab Pro working, what you're feeling is the genuine real-deal article — not just a cheap caffeine rush tricking you into thinking that the nootropics are working.
Mind Lab Pro targets total 100% brainpower optimization via optimizing 6 key brain bio-pathways:
Brain Energy
Brain Chemicals
Brain Circulation (Blood Flow)
Brain Waves
Neuroprotection
Neuroregeneration
Taken daily, Mind Lab Pro provides acute fast-acting cognitive performance enhancement (via, e.g., L-tyrosine, L-theanine, etc.) while also assisting with long-term brain health protection and regeneration (via, e.g., maritime pine bark extract, phosphatidylserine, etc.) And by being stim-free, Mind Lab Pro pairs well with an external source of caffeine — say, your morning cup of coffee — as the L-theanine strongly complements the stimulatory benefits of coffee. Or you can just take Mind Lab Pro on its own and enjoy the benefits, stim-free. Read my in-depth Mind Lab Pro review here.
Unique Features
Whereas Procera XTF takes a caffeinated bioenergetic approach to boosting brainpower, Mind Lab Pro deploys a more comprehensive cholinergic strategy for enhancing mental health and fitness. Here are the unique features of each formula that more specifically distinguish the two:
Procera XTF
Procera Cognitive Blend: a modification of the Procera AVH formula (ALCAR + Vinpocetine + Hup-A) that swaps vinpocetine with Ginkgo (so shouldn't it be AGH now?) that I actually like better than the OG formulation.
Green Tea Extract: typically, green tea extract is great for its rich concentration of brain-healthy, fat-burning antioxidant content, though Procera XTF seems to favor green tea extract primarily for its caffeine content. More on Caffeine.
Green Coffee Bean Extract: presumably we're just seeing more caffeine here? Otherwise, green coffee bean extract is also used by fat-burner formulas, but I don't think it serves much of a purpose in a nootropic one.
Guarana Extract: again, the key thing here is presumably caffeine… though the Supplement Facts indicate that this extract only supplies 3-4% caffeine concentration, so perhaps we're getting some other guarana-related bioactive constituents here; but what they are, it's hard to say. More on Guarana.
Mind Lab Pro
Cognizin® Citicoline: the best research-backed citicoline supplement, Cognizin helps elevate brain bionergetics while supplying raw choline for acetylcholine synthesis (the neurotransmitter associated with memory, learning, and high-order cognitive processes). More on Citicoline.
Sharp-PS® Phosphatidylserine: a key phospholipid in the construction and maintenance of brain cell membranes, PS helps promote and protect memory performance while offering general daily brain health support. More on Phosphatidylserine.
Suntheanine® L-Theanine: associated with the calming effect of green tea, L-theanine is an amino that uniquely relaxes the brain without sedating it, making it the perfect complement to caffeine. More on L-Theanine.
Bacopa Monnieri Extract: known as the "Student's Herb," Bacopa monnieri is an Ayurvedic adaptogen that, similar to citicoline, enhances the cholinergic pathway to better memory and learning performance — hence its moniker as the Student's Herb. More on Bacopa Monnieri.
Lion's Mane Mushroom: a tasty fungus with unique NGF-boosting effects, lion's mane mushroom has become increasingly popular among the bio-hacking community for its natural neuroregenerative properties. More on Lion's Mane Mushroom.
Maritime Pine Bark Extract: often recommended in lieu of Adderall for its attention-promoting benefits, maritime pine bark extract simultaneously boosts brain circulation, bolsters brain antioxidant status, and enhances attention performance.
Potency & Quality
There isn't much of a comparison here between Procera XTF vs. Mind Lab Pro. Simply put, Mind Lab Pro is a high-quality, highly potent nootropic formula, whereas Procera XTF comes across as fairly cheap and slightly shady. This is easy to identify when you see all the branded, well-researched ingredients on Mind Lab Pro's Supplement Facts, while on Procera XTF's Supplement Facts you see …well, you don't see any of that. Procera XTF, instead, takes the "good enough" approach.
Rather, on the Procera XTF end, you see several questionably dosed herbal extracts, several of which seem to only supply caffeine (40mg in total) and a mix of obscure unmentioned (hopefully bioactive) constituents.
And then there's the case of the "Other Ingredients" — i.e., the capsule quality. Again, Procera XTF takes the typical cheap approach here, relying on the usual cheap-O additives (magnesium stearate, silicon dioxide, etc.), whereas Mind Lab Pro encapsulates its formula is clean, green, prebiotic NutriCaps® — an all-natural food-based capsule minus any synthetics or artificial additives.
So, all in all, Mind Lab Pro far outperforms Procera XTF here, both in terms of ingredient quality and additive quality.
Value: Procera XTF vs. Mind Lab Pro

Price
Servings
Price Per Serving
Procera XTF
$39.99
20
$2.00
Mind Lab Pro
$69.00
30
$2.30
These are the standard pricings for Procera XTF and Mind Lab Pro, though there are ways to reduce the price per serving of both. In the case of Procera XTF, it's a matter of price-comparing at various third-party retailers — such as Amazon or GNC — however, for Mind Lab Pro, you can drastically lower the price per serving by choosing the Mind Lab Pro vendor's "Buy 3, Get 1 Free" order option (which lowers the price per serving to $1.73).
Procera XTF or Mind Lab Pro: Which is better?
Procera XTF is a semi-healthy caffeine pill, kind of.
Despite its popularity, Procera XTF is a fairly mid-to-low-level nootropic brand. The ingredients are fairly cheap, the formula is mysteriously locked away in obscurely dosed proprietary blends. We do know that you're getting 40mg of caffeine out of these bad boys, but other than that… I wouldn't expect too much beneficial brain activity here. This is, at best, a fairly decent caffeine pill of all-around fairly poor quality.
Mind Lab Pro is the ultimate all-natural noot stack.
Leaving all stimulants and synthetics by the wayside, Mind Lab Pro only supplies clean, all-natural brain boosters in a clean, green, all-natural formula. Really, just one of the best overall nootropic formulas, and you can tell that other competing supplement manufacturers are catching on as they're starting to sell their own MLP knock-off formulas. For caffeine-free brain health and fitness enhancement, you can't do much better than Mind Lab Pro.
My Recommendation
It's an easy call for me: Mind Lab Pro.
While certainly Procera XTF does get a few things right (and it is the superior option over Procera AVH), I can't imagine a time when I would ever choose Procera XTF over Mind Lab Pro. Even from the caffeine angle, I'd much rather just take Mind Lab Pro with my morning coffee (which is exactly what I do). So, with that in mind, here's my final judgment call:
Mind Lab Pro > Procera XTF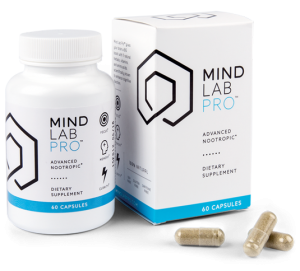 Want some?
Get the Best Deal on Mind Lab Pro here.